Style
The 10 best places to shop for men's clothing online
A cooler wardrobe is a click away.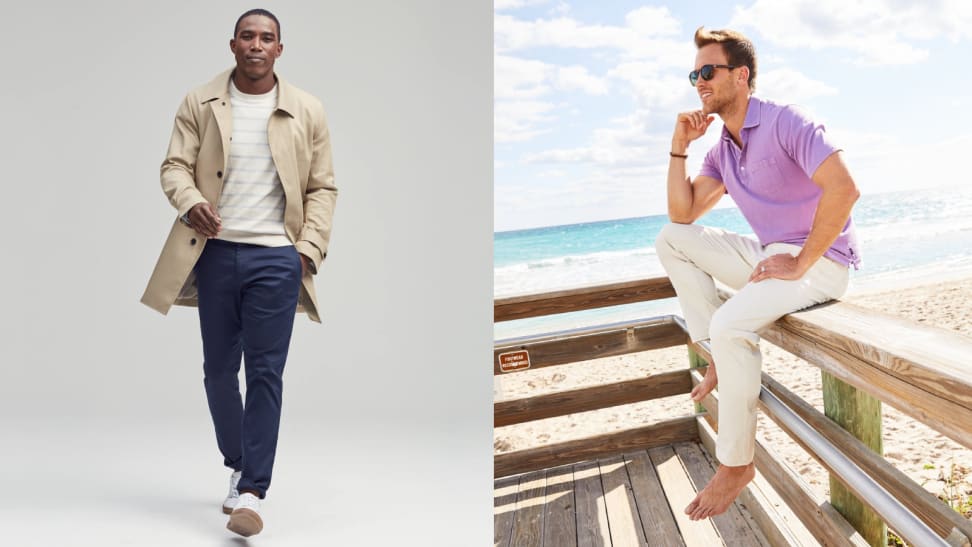 Credit: Banana Republic/Vineyard Vines
We're slowly starting to re-enter society—and that means we're once again going to have to actually put effort into what we're wearing. If you've been rotating between the same pajama pants and sweatshirts all quarantine and are starting to forget how to feel like a well-adjusted adult, a few new extra pieces like a tailored pair of shorts or a crisp white shirt can do wonders in preparing you for what's to come (i.e. being in public). Using our experience searching for the best gear at the best prices (and the best quality), we sourced the 10 top websites to shop online for men's clothing, from Banana Republic to Everlane.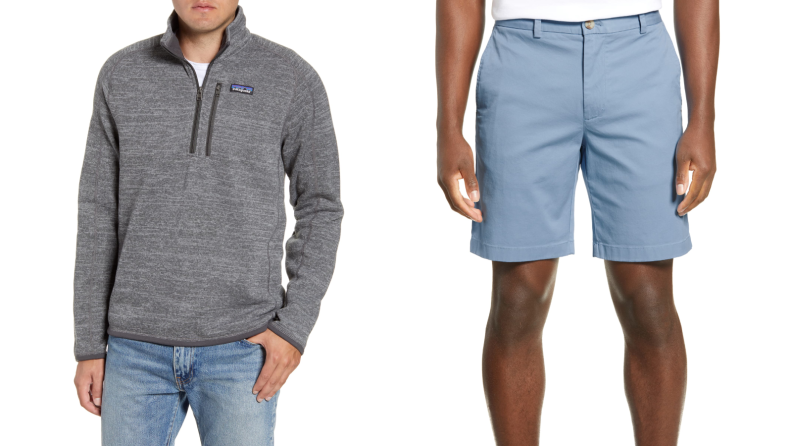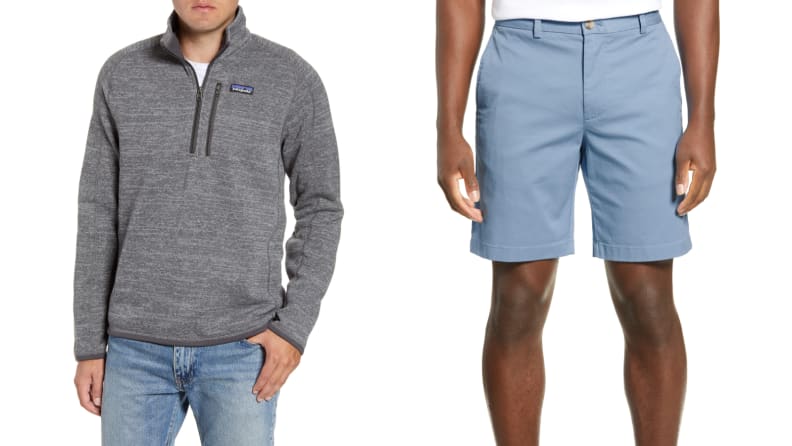 Our favorites:
Sizes: Varies by designer
Prices: $$$
Return/exchange policy: Handled on a case-by-case basis
Nordstrom has got it all and more. The department store has become synonymous with all things au courant and relevant, but because they carry over 6,000 menswear items from dozens of "it" designers like Ted Baker, Burberry, and Nike, you're always bound to find something that fits your unique taste (as opposed to looking like a cookie cutter facsimile of everyone else). Using their top browser, shop by activewear, shirts, jeans, coats and more. For a more targeted shopping experience, search by dress shirts, pajamas and extended sizes via the left side browser.
Shop men's clothing at Nordstrom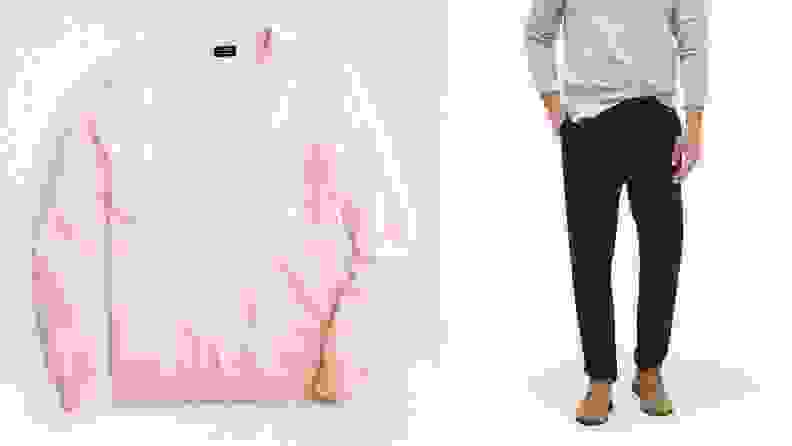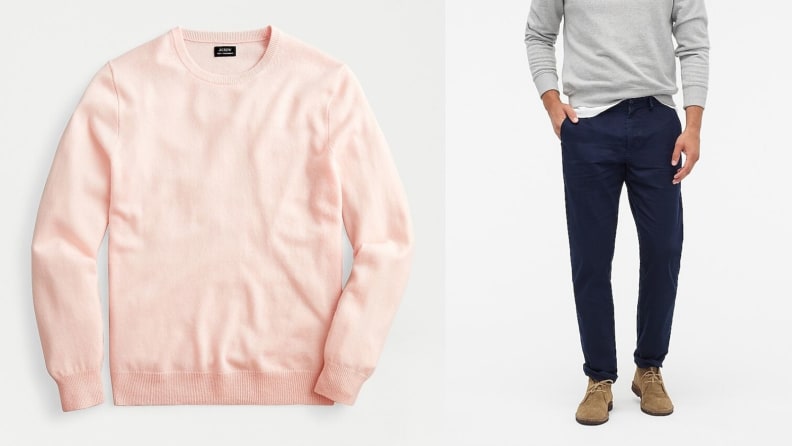 Our favorites:
Sizes: W28-34, XS-XXL
Prices: $$
Return/exchange policy: 30 days
J.Crew is where you shop to look like you went to Harvard without actually having to have gone there. They offer some of the smartest, most refined garments on the market that you can wear every day without feeling stuffy and overly formal. They do cashmere unlike any other brand, offering sweaters, long sleeves and scarves in various cashmere iterations like terry, waffle-knit and more. Their Staycation Shop is a particularly handy destination on their site since it offers a healthy balance of chill-at-home and work-from-home threads in everything from plaid to tie-dye that you'll want to wear every day this summer.
Shop men's clothing at J. Crew
Our favorites:
Sizes: W28-42, XS-XL
Prices: $
Return/exchange policy: 45 days
When you need good quality clothing on a budget, Old Navy has your back. They offer everything from summer basics you'll need for the perfect camping trip to moisture-wicking gear to help you survive a workout. The Cozy at Home and Wear to Work sections are great places to browse whether you haven't left your home in months or are slowly venturing back out into the wilderness that is urban society. What's interesting is that you get to shop from big or tall categories, as opposed to wading through them both in one category.
Shop men's clothing at Old Navy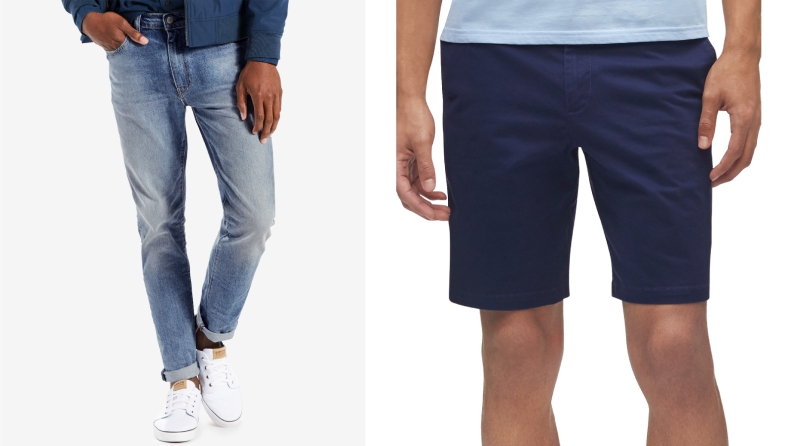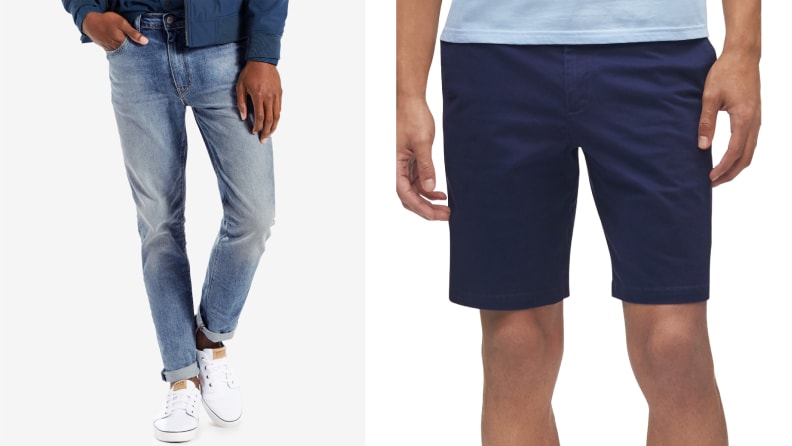 Our favorites:
Sizes: Varies by brand
Prices: $$
Return/exchange policy: 90 days
If you're overwhelmed by all the online shopping options out there, you'll never go wrong with Macy's that operates as a literal one-stop-shop. Its men's clothing section is robust enough to warrant dozens of categories, from polos to pajamas and sweaters to swimwear. If you have an exciting event coming up (whether that's a wedding, vacation, or camping trip), shop by category. Macy's is celebrated for both their affordable and higher-end offerings, and they make it easy to peruse both. Simply head to their designer selection to score great prices and discounts on Lacoste, Ralph Lauren, Hugo Boss and more.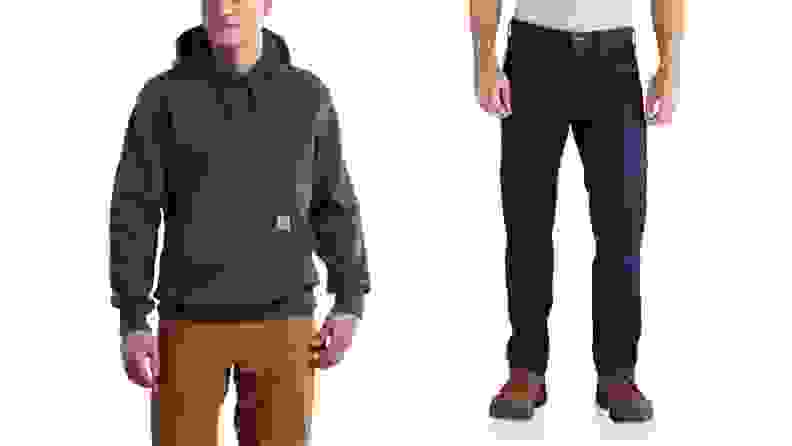 Our favorites:
Sizes: S-2XL, W30-44
Prices: $$
Return/exchange policy: 60 days
Carhartt—the retailer behind our favorite work gloves—is your destination for clothing that works as hard as you do. From highly functional dungarees to get you through all those home renovation projects to overalls, tees, sweaters and more, you can be confident that each purchase you make from Carhartt is of the highest quality. If your day-job (or hobby) is particularly hands-on, shop by industry. The brand will then direct you towards threads that are suitable for everything from construction, transportation, electric utilities, and oil and gas gear. The brand is particularly big and tall-friendly, offering many of their standard styles in extended sizes.
Shop men's clothing at Carhartt
Our favorites:
Sizes: 26W-44W, 34-50, XXS-XXL
Prices: $$$
Return/exchange policy: 45 days
Banana Republic is where you go to look put together without being suffocated by stuffy fabrics. Their whole aesthetic and ethos screams "breathable yet refined," and it certainly helps that their garments retain their original condition even after several years of heavy use (seriously, their Wear Now, Wear Forever section does an excellent job of driving the durability point home).
Shop men's clothing at Banana Republic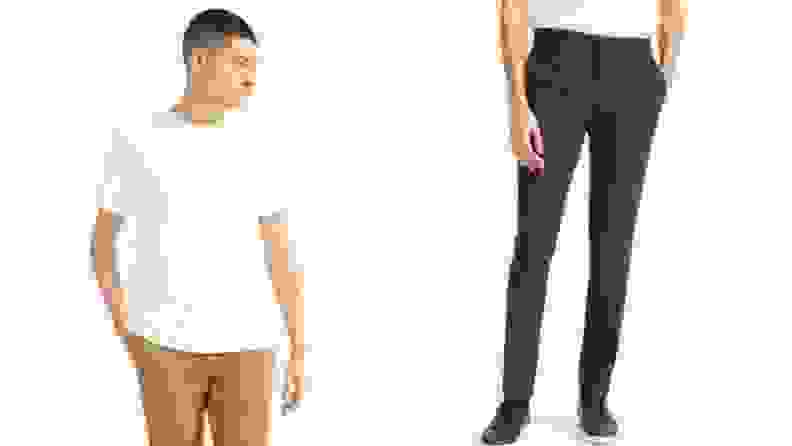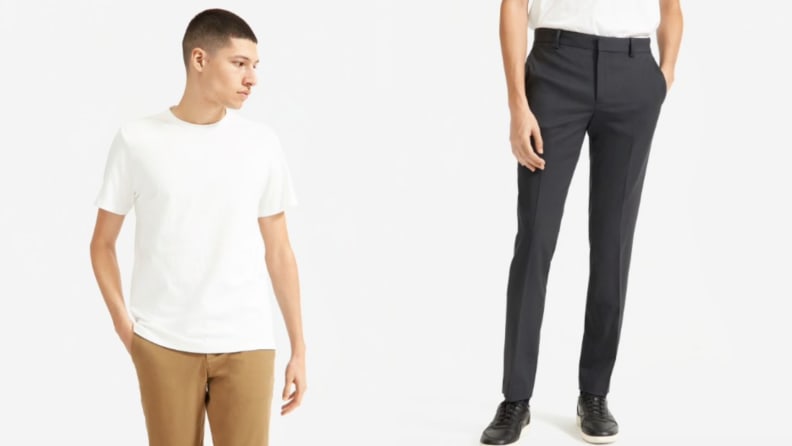 Our favorites:
Sizes: XS-XXL, W28-W40
Prices: $$$
Return/exchange policy: 90 days
Want to shop like an influencer without it being obvious? Everlane is one of social media's favorite online retailers for its effortlessly cool vibe. Their interpretations of trends are subtle enough to help you feel like you're "with it" without being too over-the-top. The direct-to-consumer brand model also allows them to keep prices reasonable, and they pride themselves on practicing "radical transparency" when it comes to pricing their items. As an outlet that's perfect for basics you'll wear every day, it's helpful to know their white crew-neck t-shirt received the top spot in our best white men's T-shirt test for its thick, durable fabric and resistance to shrinking in the dryer.
Shop men's clothing at Everlane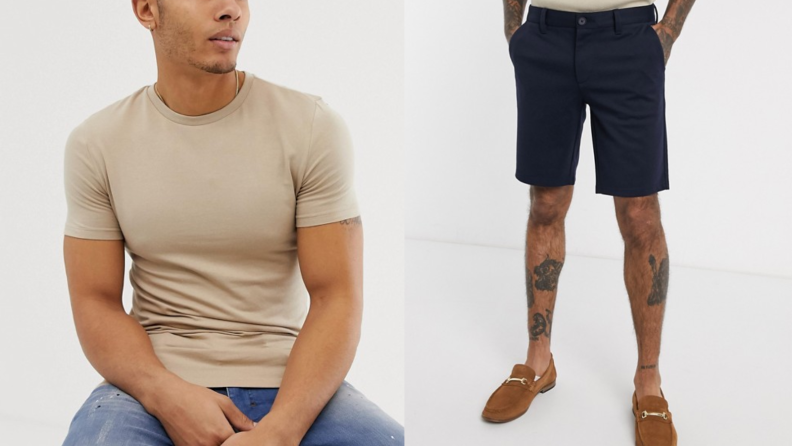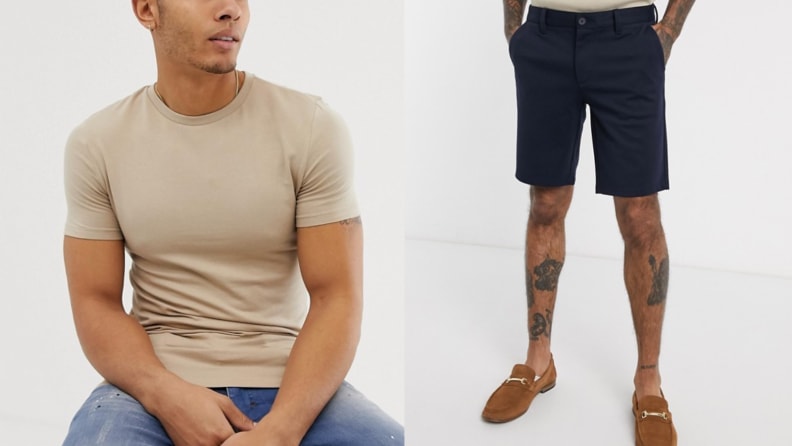 Our favorites:
Sizes: S-2XL, W26-W48
Prices: $$
Return/exchange policy: 60 days
I get it. Shopping at ASOS can be a little overwhelming what with their massive selection of everything from matching sets to pressed shirts, tanks, shorts, denim, and more. But part of the fun is scrolling through their several thousand options and fantasizing about owning all of them. ASOS is ready to serve anyone: the accountant who needs to look put together for the office to the after-hours raver looking to show off some skin and ASOS' signature bold patterns.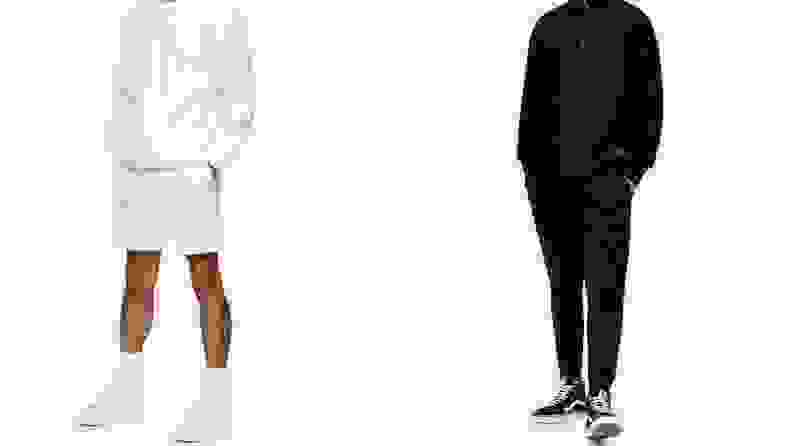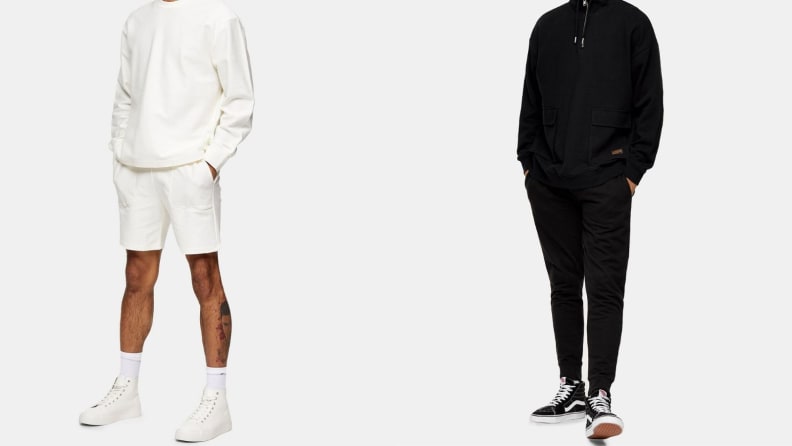 Our favorites:
Sizes: XXS-XXL
Prices: $$
Return/exchange policy: 45 days
Top off your wardrobe with a few extra pieces from Topman that borrow from a minimalist, European aesthetic. The brand, an offshoot of Topshop, pays homage to the idea that less is more (just take their top-rated Ecru zip sweatshirt and twill jersey shorts set offered in a crisp, ivory white and massive array of tapered sweatpantsyou can dress up or down). Their Stay At Home section is particularly emblematic of the moment in which we currently live, so there's no doubt you'll find something you'll feel at home in. Plus, students get 10 percent off year-round.
Our favorites:
Sizes: XS-XXL, W28-W40
Prices: $$$
Return/exchange policy: 90 days
Whether you're looking for cool printed button downs to rock with fresh kicks or loungewear to keep you cool and comfortable, Bonobos has you covered. Their Lazy Summer section is rife with cozy fleece vests and knitted polos, while their Golf section is full of preppy tops and bottoms you'll be excited about wearing on and off the course. And at Bonobos, you have a good chance of finding your perfect size—when shopping for pants, simply select between a tailored, slim or athletic fit along with your standard waist size.
Shop men's clothing at Bonobos
The product experts at Reviewed have all your shopping needs covered. Follow Reviewed on Facebook, Twitter, and Instagram for the latest deals, product reviews, and more.
Prices were accurate at the time this article was published but may change over time.