Style
30 top-rated dresses that you'll want to wear every day this summer
Say bye to sweatsuits, and hello to dresses.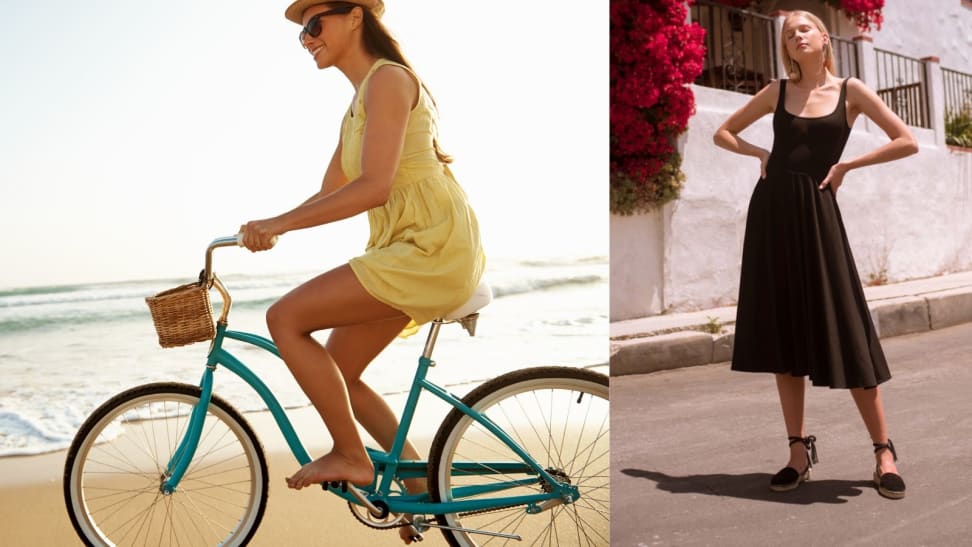 Credit: Getty Images/pixdeluxe and Nordstrom
Summer is almost officially here and with temperatures rising, it's time to put away cold-weather gear (we're looking at you tie-dye sweatsuits), and swap them for warm weather clothes. While shorts and tank tops are a great option, sometimes it's easier to throw on a summer dress and call it a day.
However, it's not always easy to find that amazing summer dress that you'll want to wear all the time. It has to be the right length, fit correctly, feel comfortable and look nice. If you've been searching for those perfect summer dresses, we scoured the Internet to find 30 of the most popular summer dresses—based on ratings and reviews—that will be your new go-to summer uniform.
1. This lightweight maxi dress at Nordstrom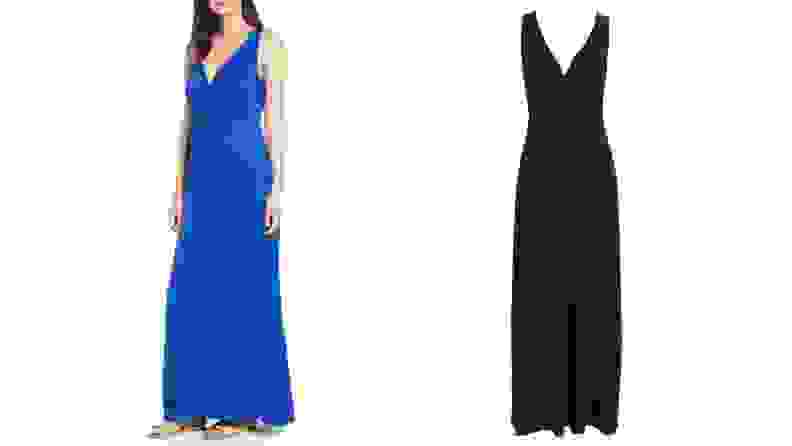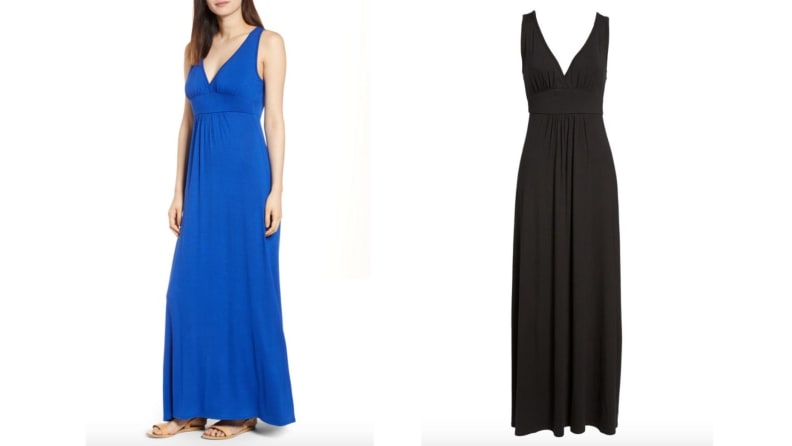 This dress is made of a lightweight jersey material which means it will be just as comfortable for lounging as it is for running errands. It has a flattering cut, making it easy to dress it up or down. With over 750 reviews and 4 stars, one reviewer raves, "Very flattering fit. Not too tight in the seat so you don't see any underwear lines. Shows a little cleavage without looking tasteless. Very lovely dress! I'm going to order more colors for sure! Great summer staple for your closet!"
Get the V-Neck Jersey Maxi Dress at Nordstrom for $68
2. An off-the-shoulder dress people are obsessed with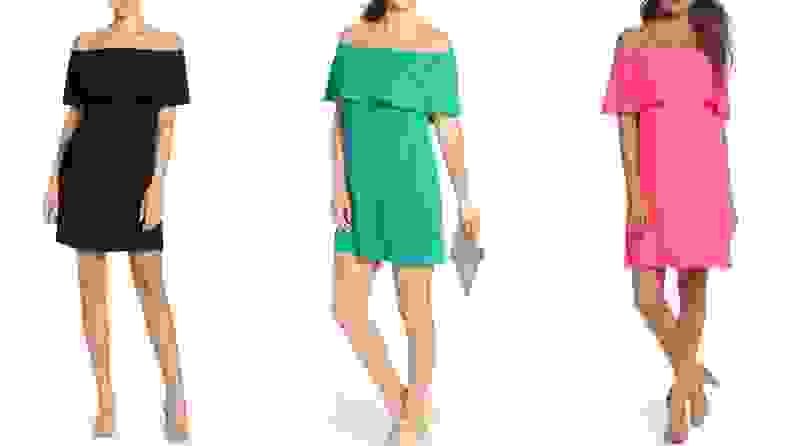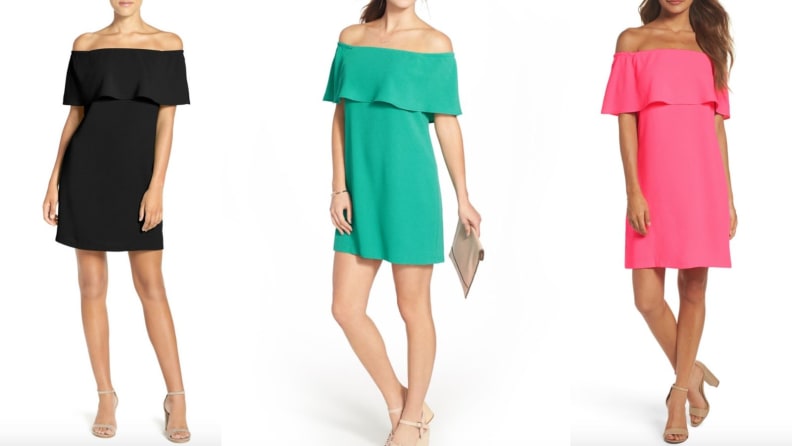 This dress, which has 1,100 reviews and 4.2 stars, is loose-cut (but doesn't look like an oversize bag) and has an off-the-shoulder ruffle that gives it extra flair. I.e. you can wear it for different occasions and get a lot of wear out of it. One fan of the dress writes, "This dress is simple but very attractive. It is forgiving in the midsection. Fabric feels very nice and is good quality...not flimsy."
Get the Off The Shoulder Dress at Nordstrom for $88
3. A swimsuit cover you can lounge in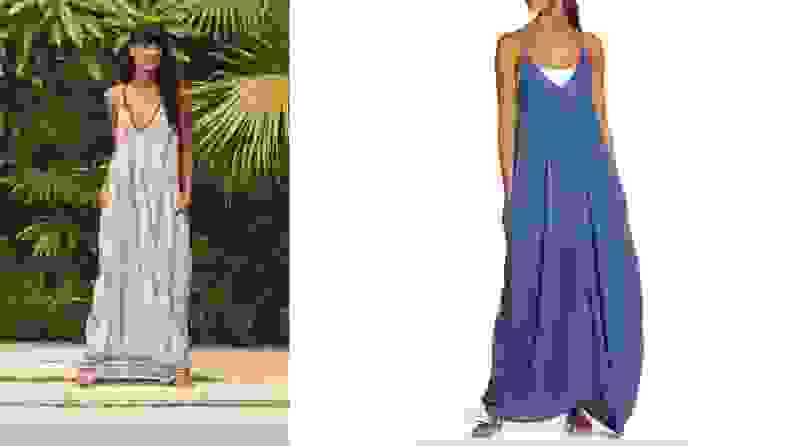 While most of us aren't going on exotic vacations anytime soon, you can feel like you are with this billowy maxi dress. The oversize fit makes it effortless to throw on over a swimsuit or to lounge around the house. It has a 4.2 rating and nearly 400 reviews, happy shoppers love the light and airy material saying it's very comfortable.
Get the V-back Cover-up Maxi Dress at Nordstrom for $58
4. This fit-and-flare dress at Nordstrom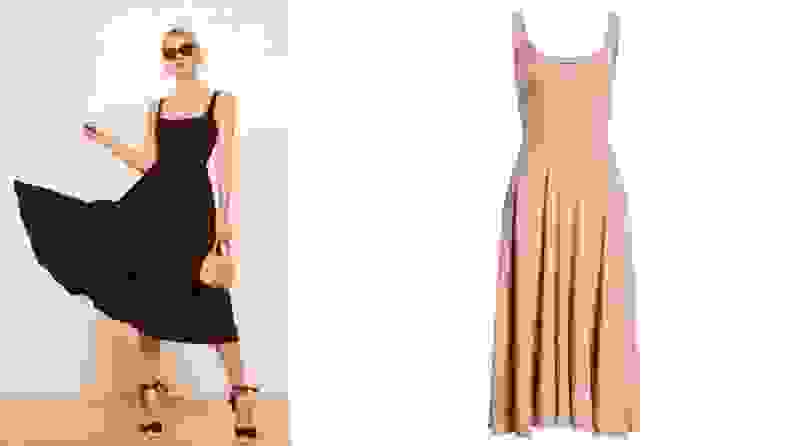 This dress looks fancy but it's made of jersey material which means it's stretchy, soft and comfortable. Not only that but it's also classic and timeless which is probably why it sells out constantly. One excited customer writes, "This is the dress I've been looking for my whole life!!! The material is so soft. It is so nice on the skin. I have an hourglass post-baby curvy body and this dress has the most amazing draping. It flatters all the right places! I wish there were more colors! The quality is so good."
Get the Rou Midi Fit and Flare Dress at Nordstrom for $98
5. This comfy-but-cute dress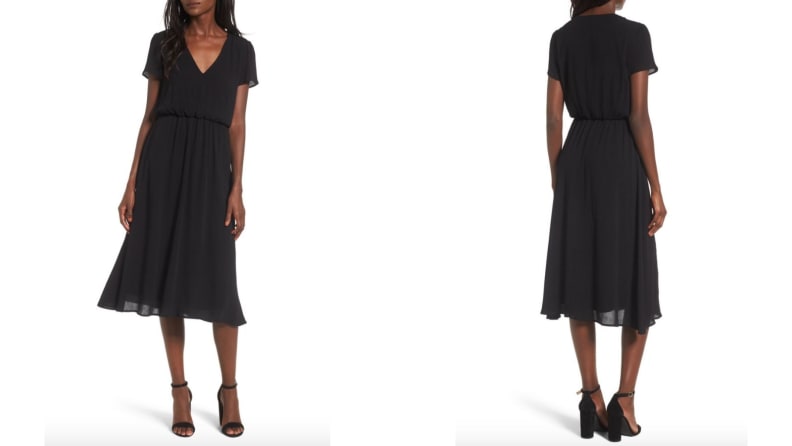 If you have enough T-shirt dresses and need a dressier outfit, try this Blouson dress. The chiffon fabric gives it an elegant look while the elastic waistband makes it comfortable. Shoppers give this 4.1 stars from 550 reviews and write that they love how versatile it is, with one reviewer gushing, "The Wayf Blouson style is easy to wear dressed up or for everyday casual. The material is cool, with some stretch. Perfect for the summer."
Get the Blouson Dress at Nordstrom for $69
6. A ruched maternity tank dress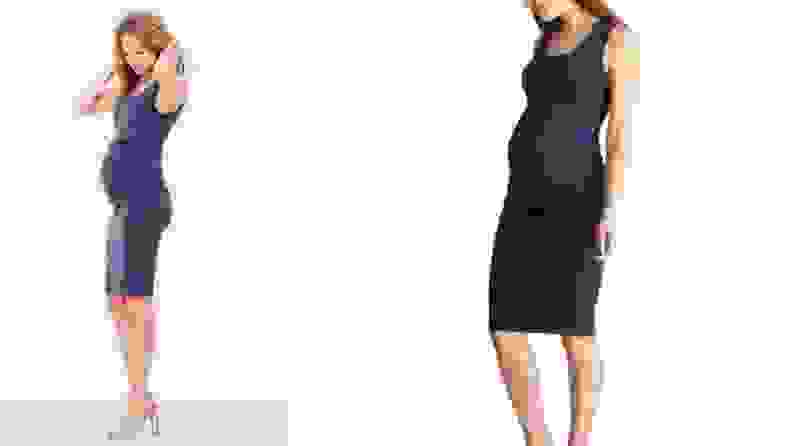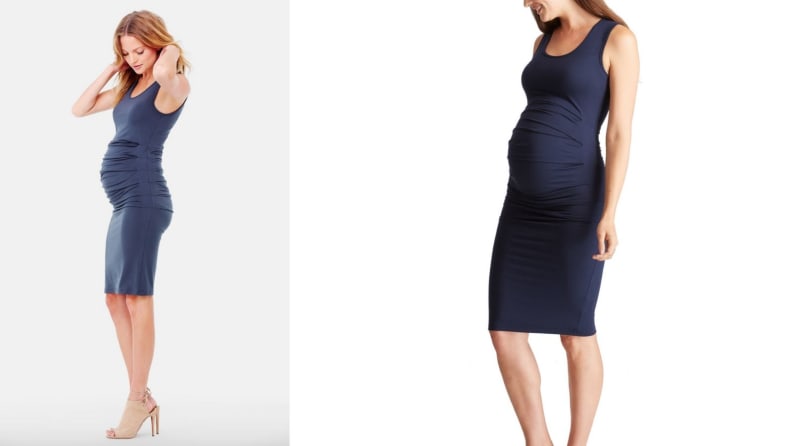 If you've been looking for a summer maternity dress, look no further. Buyers are thrilled with the fit, quality of the material, and flattering silhouette. According to the 100+ reviewers, it's a pregnant wardrobe essential, with one person saying, "Yes, this is a must-have for every prego! Dress it up or down with accessories, the material is high quality, and it's very flattering on the belly."
Get the Ruched Maternity Dress at Nordstrom for $88
7. This free-flowing tunic dress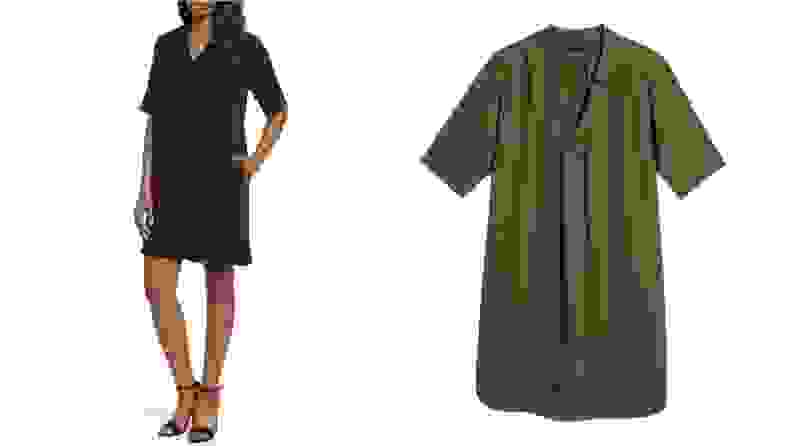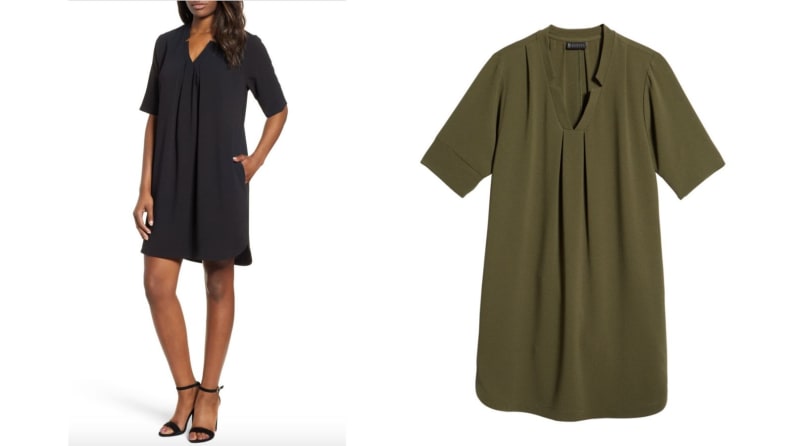 If you hate clingy dresses in hot humid weather, you will love this tunic dress. It's flowy and loose-fitting and shoppers love the fabric, with many saying it's high quality and looks expensive. It's one of the top-rated dresses at Nordstrom and it's great for all seasons as a lot of shoppers say they pair it with leggings when the weather is cooler.
Get the Pleat Front Curved Hem Shirtdress at Nordstrom for $59
8. This dress with over 10,000 reviews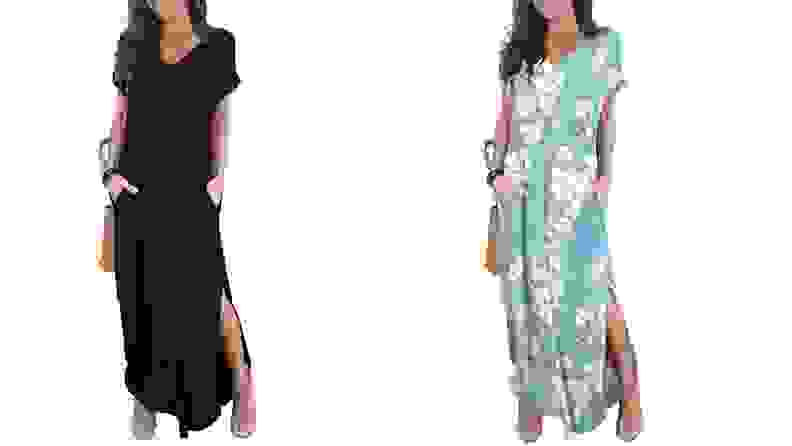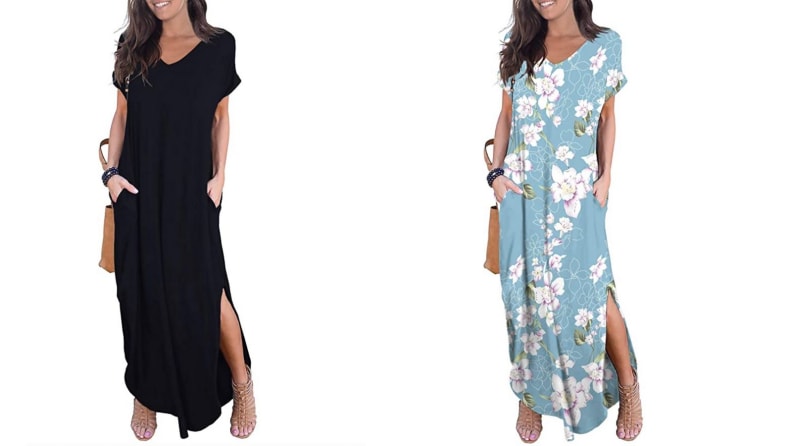 Meet one of the highest-rated dresses on Amazon, with over 10,000 reviews and a 4-star rating. Fans who are obsessed with this dress gush over the soft material, side slits, and great fit. It's one of the easiest dresses to throw on, making it great to wear to lounge around the house or as a pool cover-up.
Get the Short Sleeve Maxi Dress at Amazon starting at $18.99
9. This bell-sleeve dress with a cult following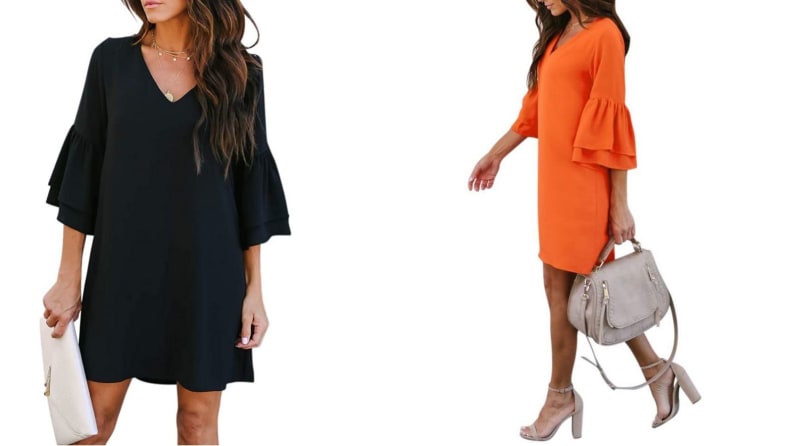 This dress has a 4-star rating and over 7,500 reviews. Reviewers rave they love the style, fabric, and price. They also like that the dress has a boxy cut and is made of a crepe-like material so it isn't too tight or clingy and one reviewer says it's "very forgiving".
Get the Bell Sleeve Shift Mini Dress at Amazon for $28.99
10. This ruched bodycon dress people are obsessed with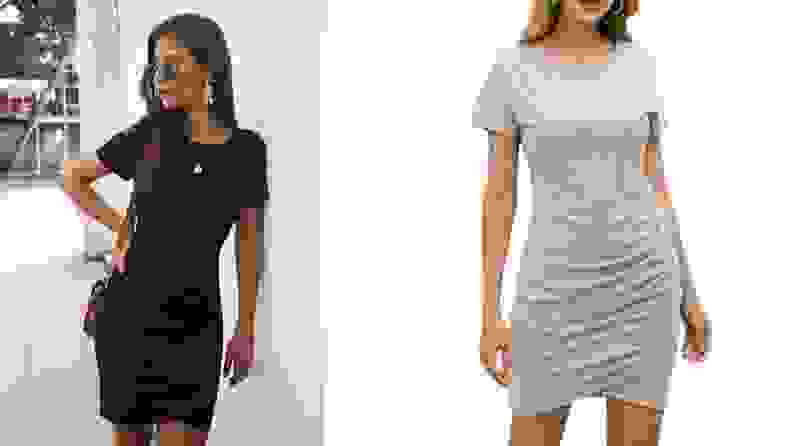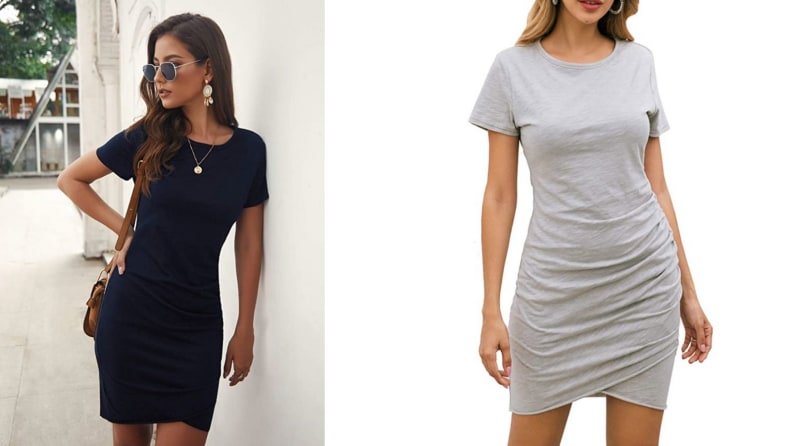 Get the comfort of a T-shirt but the style of a bodycon with this dress. One of the most popular dresses on Amazon with nearly 5,500 reviews and 4.2 stars, it has ruched sides and a tulip hem which makes it flattering. It's double-layered with a thicker bottom layer topped with a thinner T-shirt type material. One reviewer writes that the under layer is "thick enough that it smooths lumps and bumps you don't want people to notice," making it a great dress if you want something that's figure-hugging but doesn't show every curve.
Get the Ruched Bodycon T-Shirt Dress at Amazon for 27.99
11. A retro-inspired dress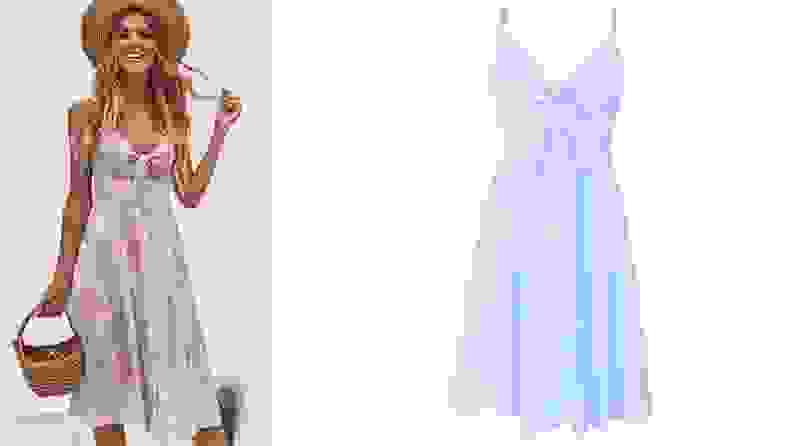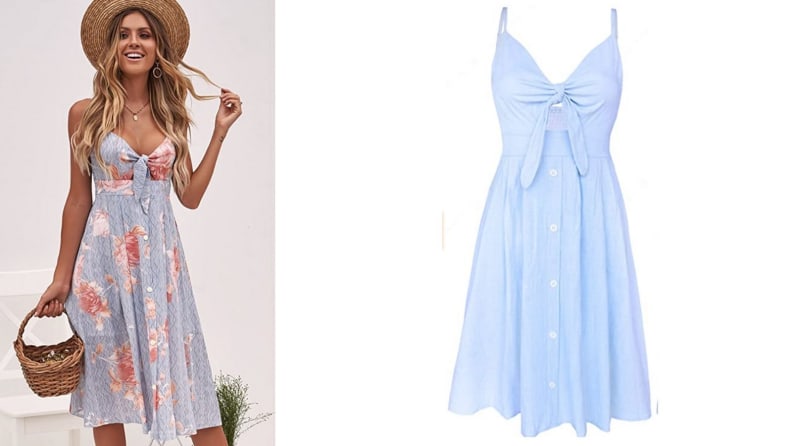 This 1950s-inspired A-line swing dress has over 2,500 reviews and a 4-star rating thanks to its retro style and fit. According to its reviews, this dress works well on different body types, though it takes some trial and error (and adjusting!) with the strap ties to get the perfect fit.
Get the A-Line Swing Midi Dress at Amazon starting at $28.95
12. This best-selling dress at Amazon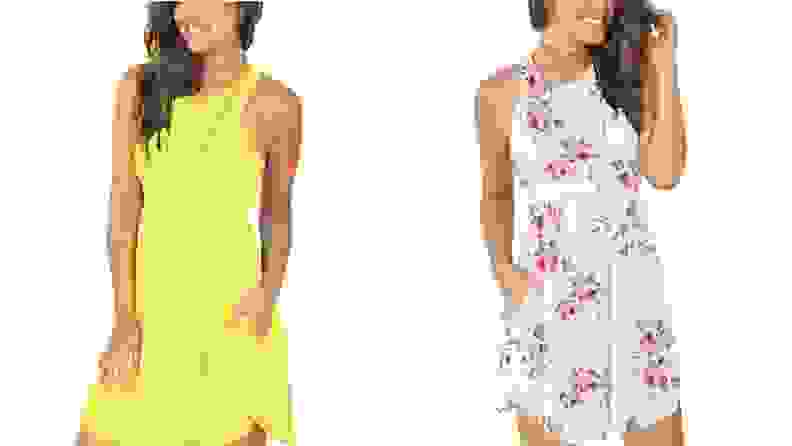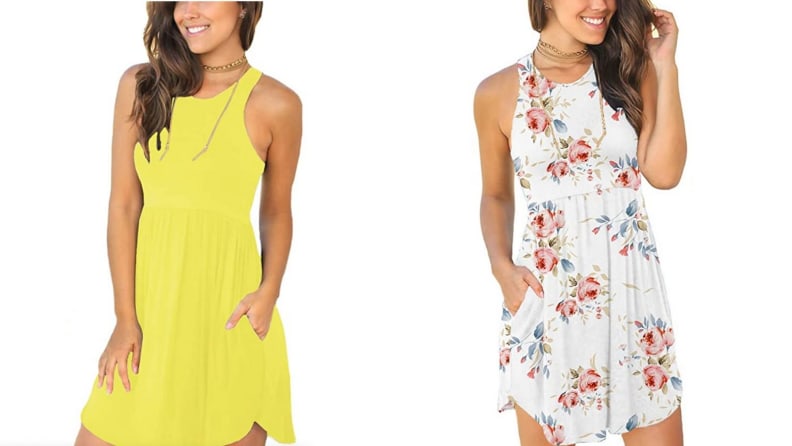 Shoppers repeatedly buy this dress for the soft material and great fit. It's casual and easy enough to wear around the house but also has a racerback and shirttail hem which adds style. From the 2,000 reviews and 4.2 rating, one ecstatic shopper writes, "I love this dress! I want to order in every color! It's nice and flowy, so not too form-fitting, yet not frumpy."
Get the Summer Sundress With Pockets at Amazon starting at $18.99
13. A T-shirt in dress form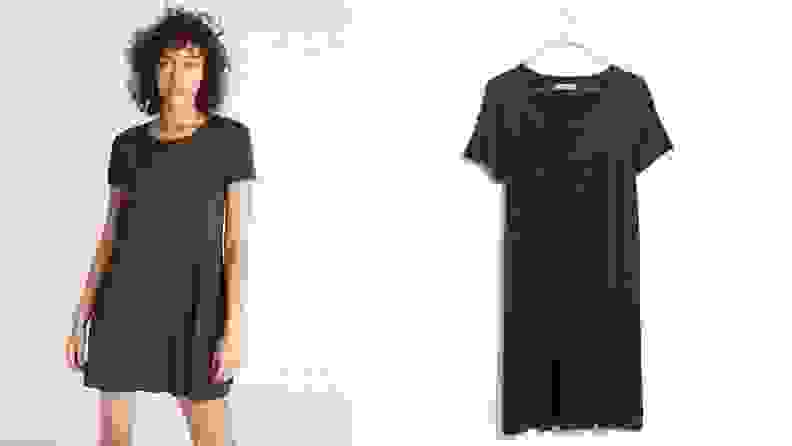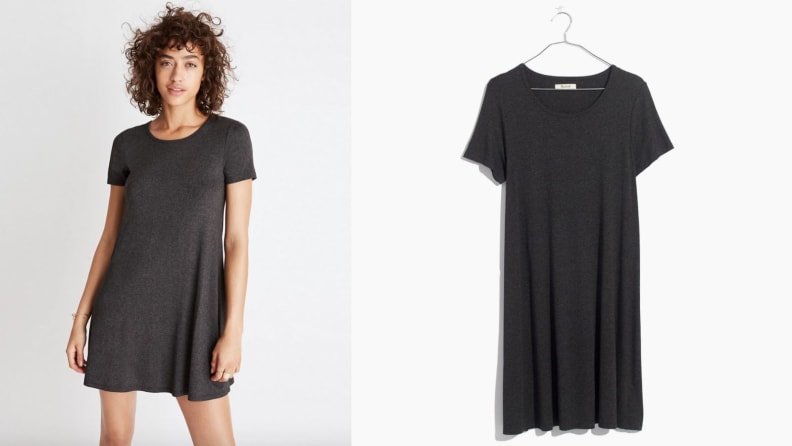 Despite it's shapeless appearance on the hanger, Madewell fans exclaim that this dress is extremely comfortable and looks good when they put it on. It's one of the highest rated dresses at Madewell and one satisfied customer says, "I LOVE this dress. It is the perfect basic comfy summer dress. If you like looking awesome and feeling like you're wearing your pajamas at the same time, this dress is for you. This dress also flows off of the body really nicely."
Get the Swingy Tee Dress at Madewell for $69.50
14. A flattering side-tie dress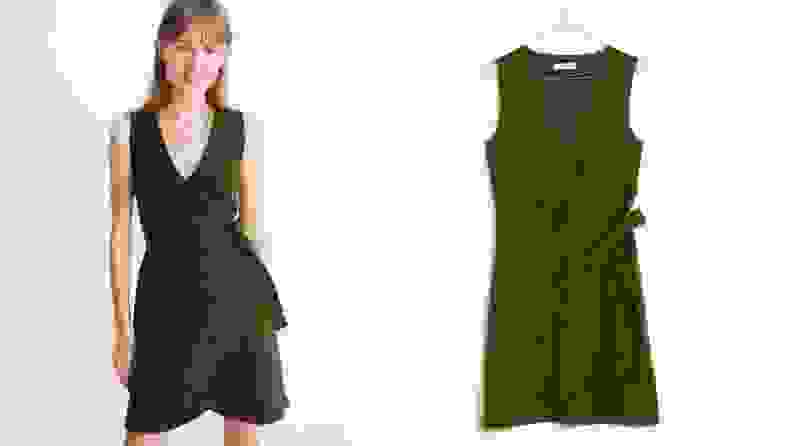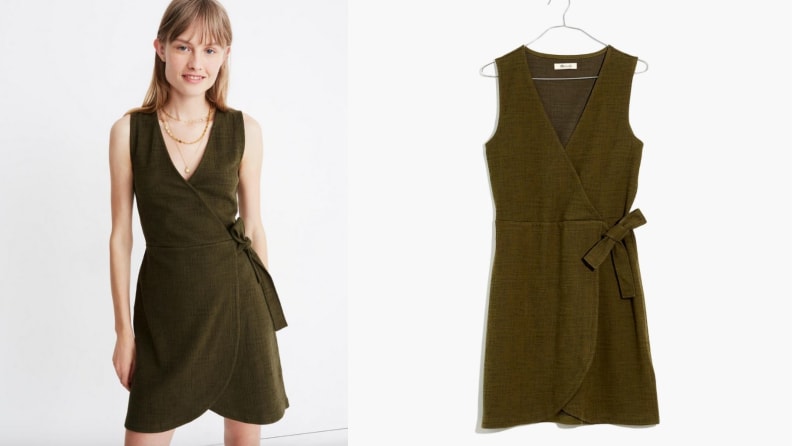 Show off your curves in this dress by Madewell. According to reviewers, the side tie on the dress cinches in your waist and the material is both comfortable and stretchy. It's a best-seller at Madewell and one delighted shopper writes, "Love this wrap dress because it hugs me in all the right places! It truly accentuates my waist area with the tie! Material is stretchy and so easy to throw on, but still looks expensive! MUST BUY!"
Get the Crosshatch Side-Tie Dress at Madewell for $88
15. This everyday favorite dress from Everlane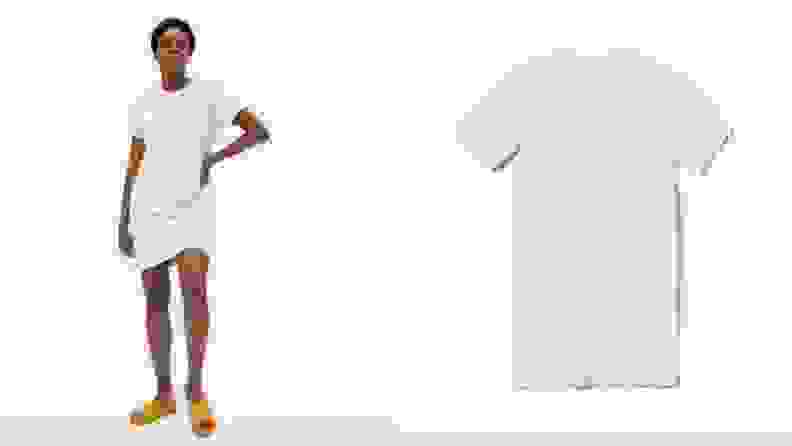 While it's name (The Weekend Tee Dress) might suggest it's only for the weekends, the casual look and comfortable material make this dress great to wear every day. It's one of Everlane's most popular dresses with over 200 reviews and a 4.5 rating. Reviewers commented how they wear this dress year round and that it feels like pajamas. It also runs large so you may want to size down.
Get the Weekend Tee Dress at Everlane for $30
16. A midi tee dress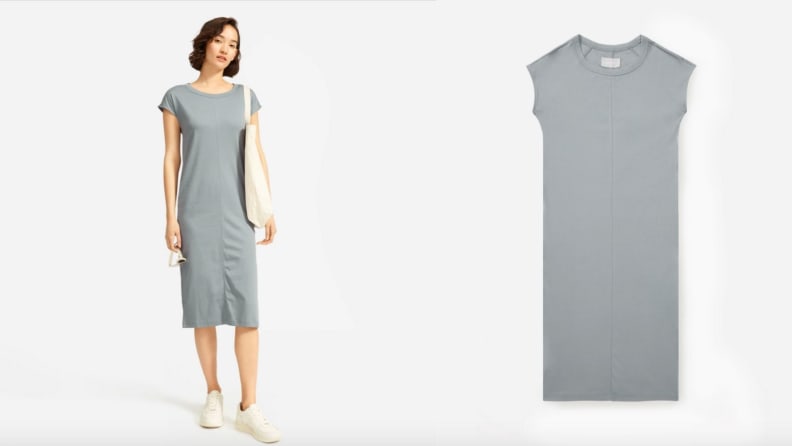 Wear this midi dress around the house or on-the-go with sneakers. One of the highlights is its side slit, which makes it not constricting and easy to throw on. Rated at 4.7 from over 300 reviews, Everlane fans love the "luxe cotton" material, saying that it's soft, luxurious, and substantial.
Get the Luxe Cotton Side-Slit Tee at Everlane for $50
17. This long tank dress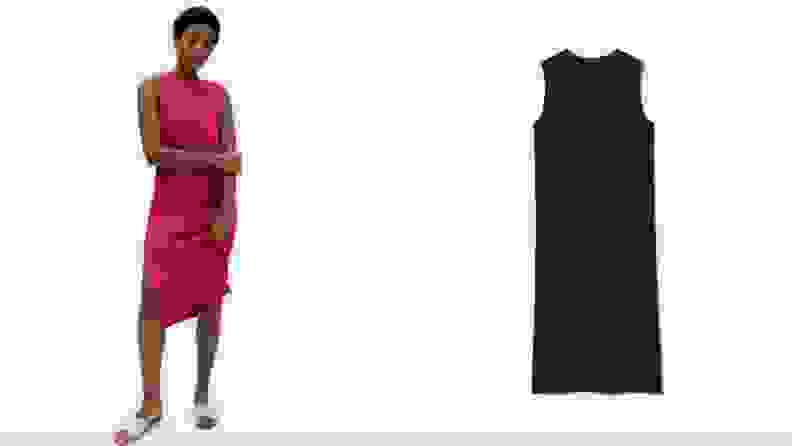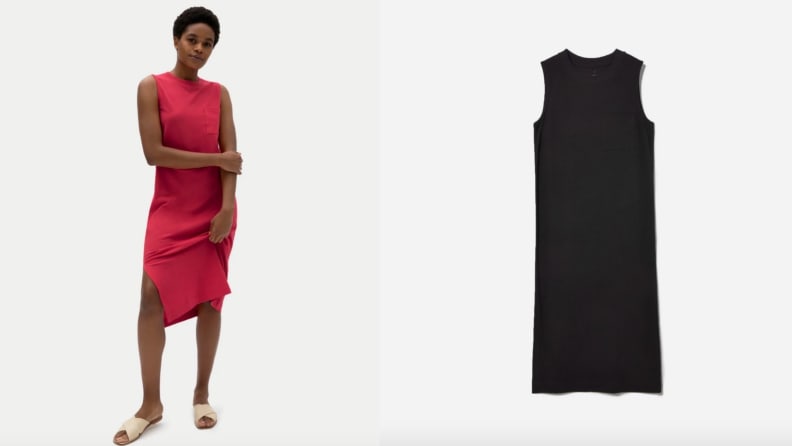 This tank dress is made with lightweight cotton and is designed to feel lived-in. Everlane fans gave this 4.8 stars from nearly 200 reviews and some called it the "perfect summer dress". With a super relaxed fit, you'll even forget you're wearing it, no tugging or adjusting required.
Get the Long Weekend Tank Dress at Everlane is $40
18. This cami mini dress from Old Navy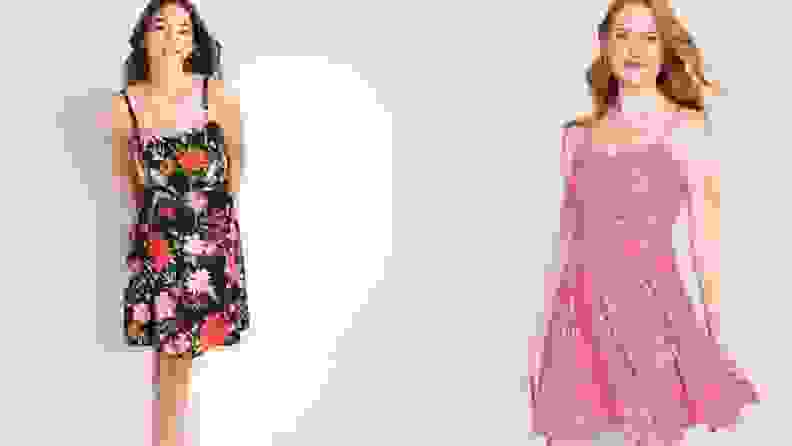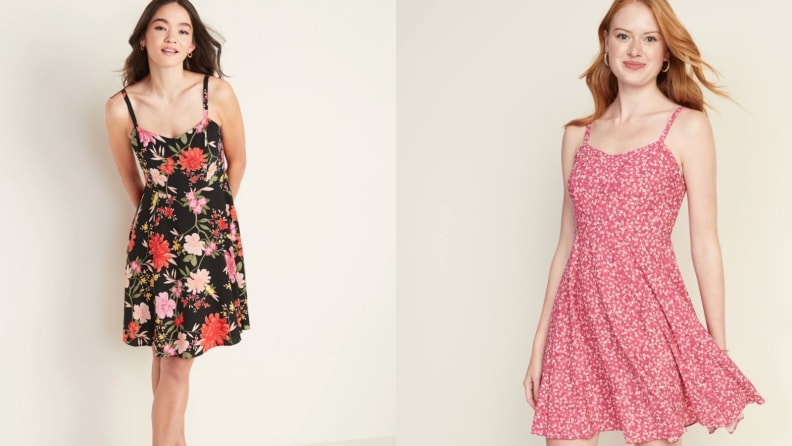 Wear this adorable dress on hot summer days running errands or relaxing outside. This favorite Old Navy dress has 800 reviews and 4.7 stars. The material is light without being see-through and so comfortable you'll want to wear it every day. One happy dress wearer writes, "Adorable dress. Flattering cut. I could live all summer in this dress!"
Get the Fit and Flare Cami Mini Dress at Old Navy for $26
19. This swing dress with a near-perfect rating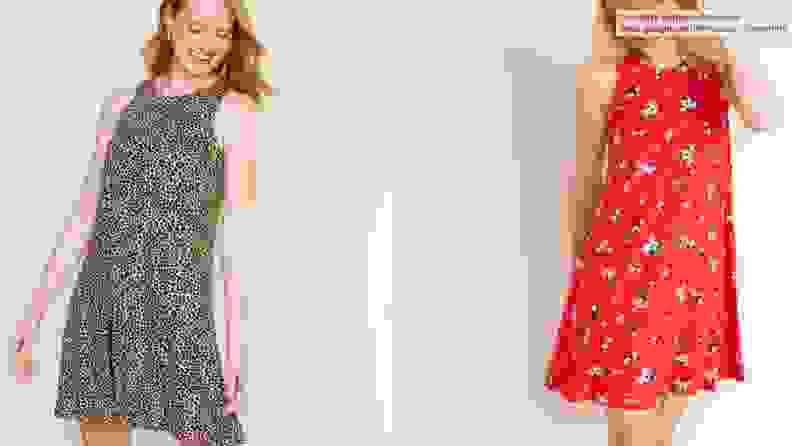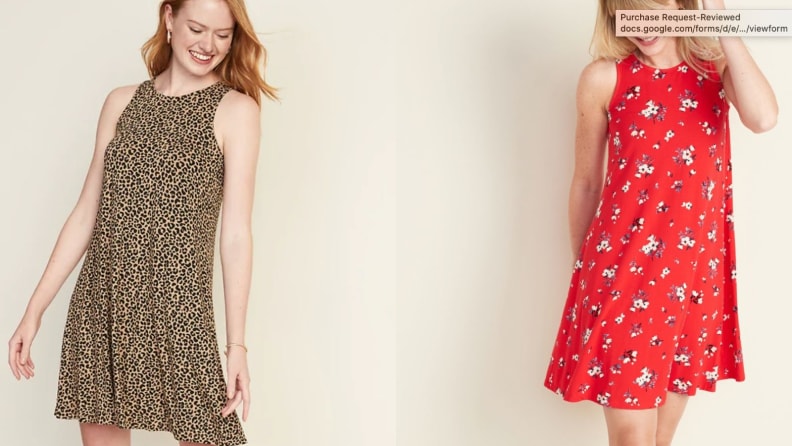 This sleeveless jersey dress is one of the most popular dresses at Old Navy. It has a 4.8 rating and 2,600 reviews. This dress is soft and loose-fitting making it easy to throw-on-and-go. Many reviewers raved about its versatility with one writing, "I bought three different patterns of this dress and I absolutely LOVE them. They can be worn with a jean jacket and some sandals for a casual day, but then a cardigan and some heels and they are great dressed up! I would definitely buy more!"
Get the Sleeveless Jersey Swing Dress at Old Navy for $20
20. A maxi dress that's actually lightweight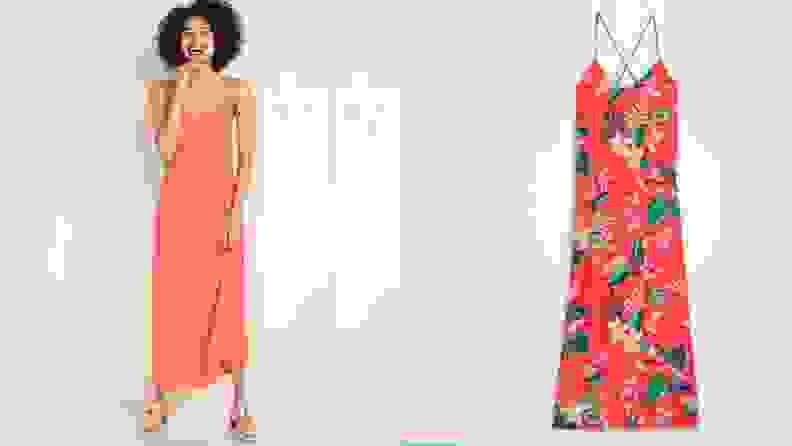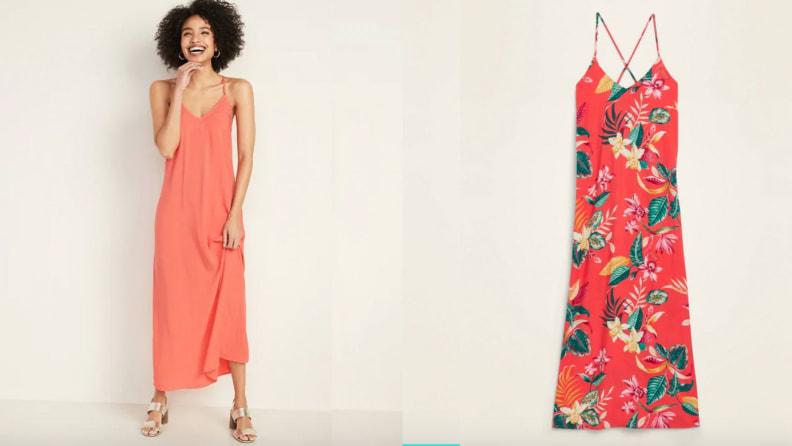 Another favorite among Old Navy shoppers is this dress that has 1,700 reviews and 4.6 stars. Old Navy fans love the lightweight and breathable material, making it comfortable for summer weather. Plus, it comes in a variety of colors and prints (so you can buy it in multiple designs!).
Get the Sleeveless V-Neck Maxi Shift Dress at Old Navy for $24
21. A pullover denim dress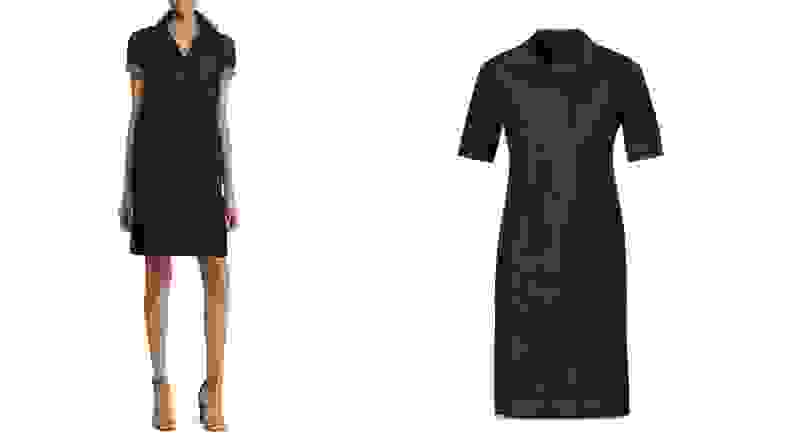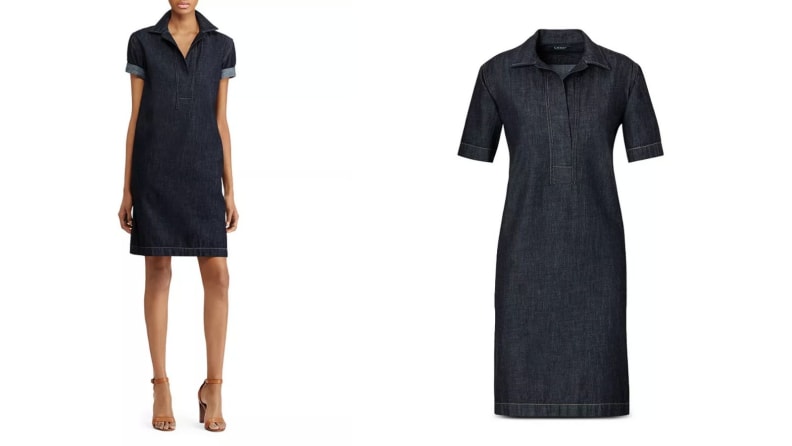 As one of the most popular dresses at Bloomingdale's with a rating of 4.3, reviewers of this denim dress love the style and quality. It's soft, not too thick or thin, and can be worn dressed up or casually. Bonus: The dress is pullover style so it's incredibly easy to put on and take off and, yes, it even has pockets.
Get the Denim Shirt Dress at Bloomingdales for $125
22. A v-neck tee dress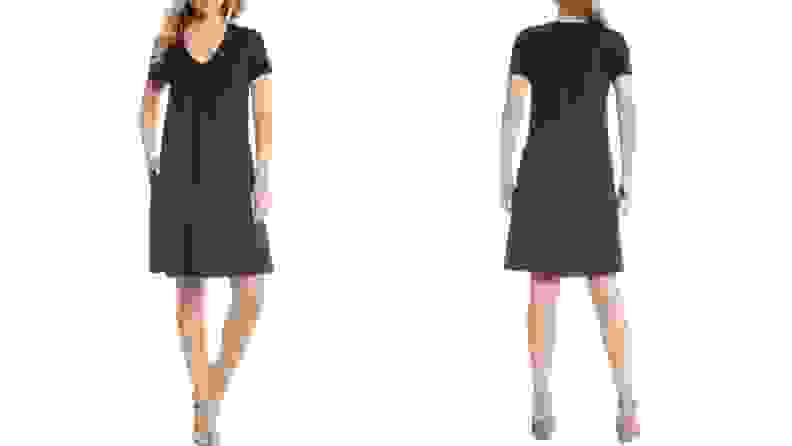 Get a longer version of your most comfortable T-shirt with this classic v-neck tee dress. The material is extremely soft and does not cling to your body. According to shoppers, it's wrinkle-resistant and great to wear all day long.
Get the Quinn Pocket Tee Dress at Bloomingdales for $98
23. A dress made to be worn outdoors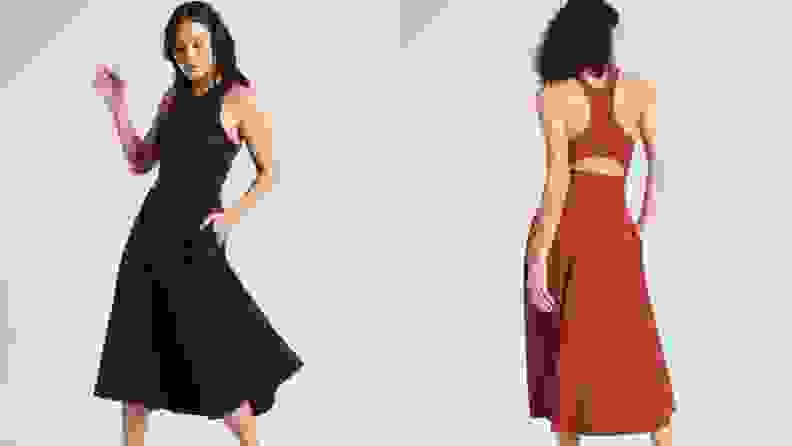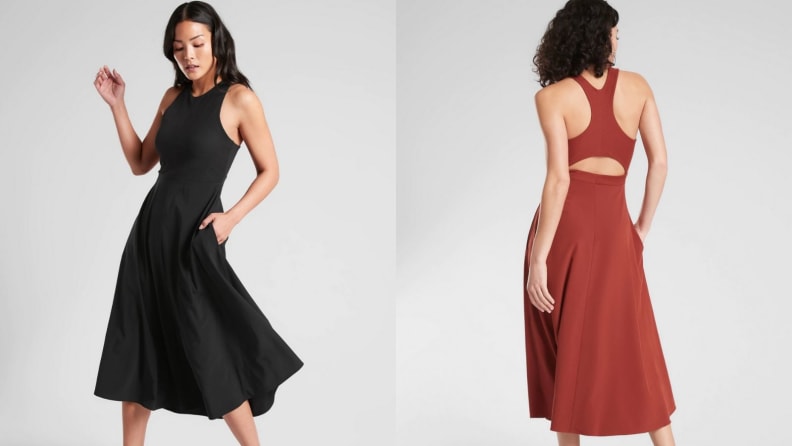 This isn't your average dress—and it shows, as it's one of the most popular dresses at Athleta. Made from recycled material, according to the website it's breathable, abrasion-resistant, wrinkle-resistant, rated UPF 50+, and quick-drying. I.e. you can practically run in it, although most shoppers wear it casually.
Get the Winona Midi Support Dress at Athleta for $128
24. This silky soft dress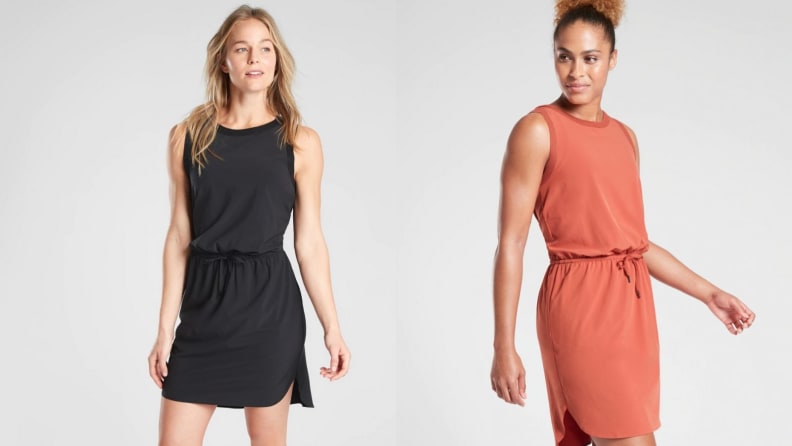 Look sporty but feel silky in this top-rated Athleta dress. It's lightweight and breathable and the tie-waist provides shape. Close to 300 happy customers rated this dress 4.4 stars saying they love the comfort, fit, and fabric, with one shopper raving, "This dress is very cute and fits well. The fabric is great because it doesn't wrinkle. It's a perfect summer dress or swimsuit cover-up. You can dress it up a bit with jewelry too but I think it works as a casual summer dress best!"
Get the Rincon Dress at Athleta for $98
25. This two-in-one dress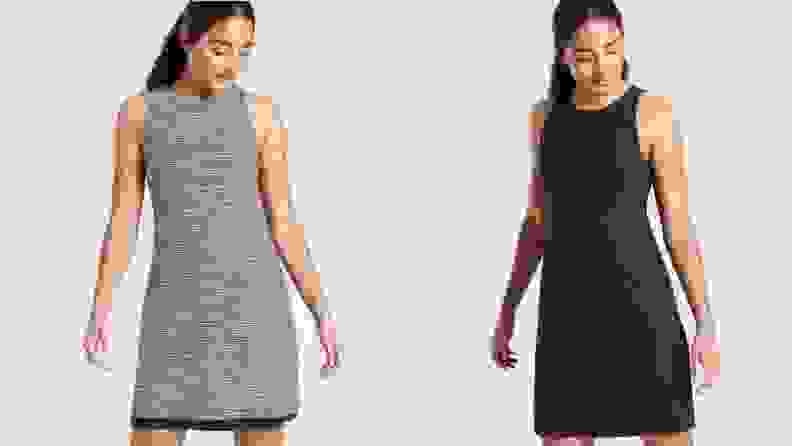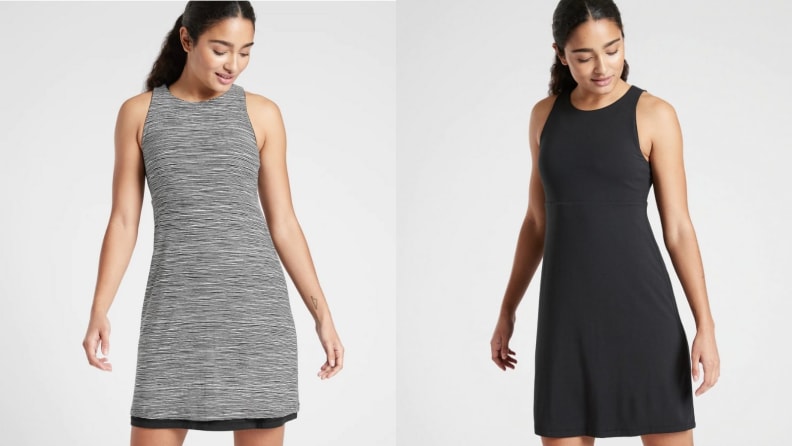 With this dress from Athleta, it's like you're getting two dresses for the price of one since it's reversible. One side is solid and the other is multi-color heather stripes. Shoppers love the soft material and the ease of this piece since it does not require ironing. One enthusiastic customer writes, "This is such an easy, stylish piece! Super soft fabric is stretchy and light. The cut is very flattering, and skims the body."
Get theReversible Santorini High Neck Dress at Athleta for $128
26. A sleeveless midi dress from Target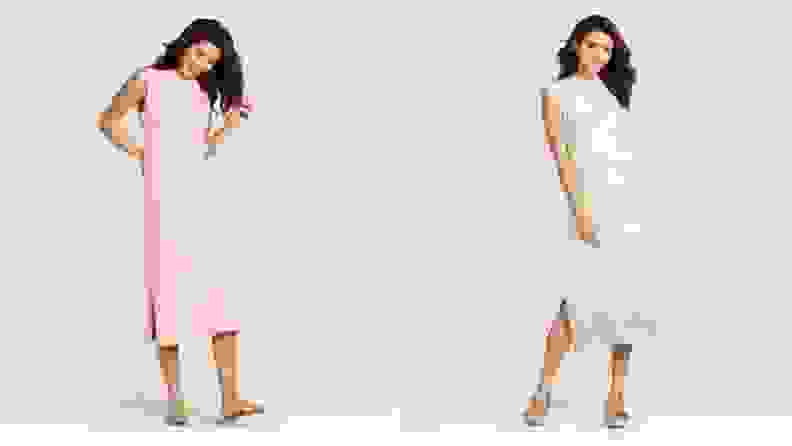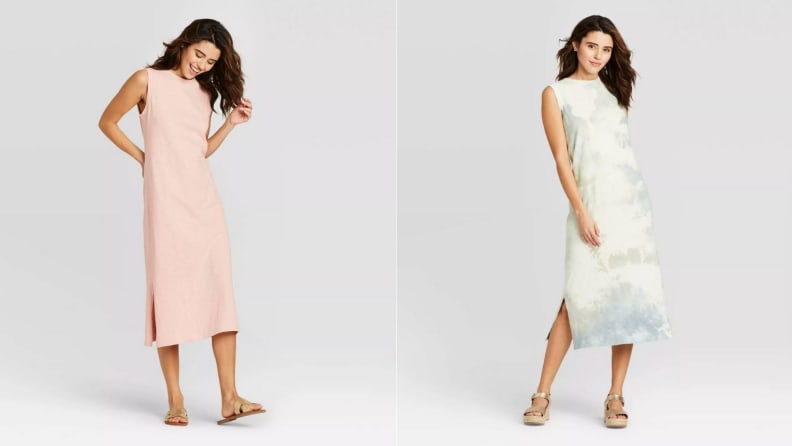 Get this dress from Target before it sells out. One of the most popular dresses at Target, buyers love that it's casual and comfortable, making it a wonderful summer staple dress. One customer writes, "I bought 2 of these and I'm so glad I did! The simple classic style is perfect for the summer. It's hot where I live and cotton is my favorite fabric. Fits perfectly and is very comfortable. Excellent value!"
Get the Women's Sleeveless Dress at Target for $20
27. A swingy sleeveless dress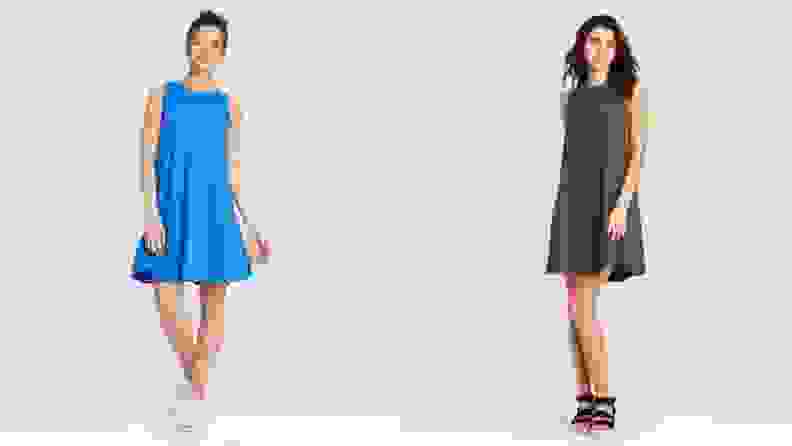 Shoppers who bought this dress wear it for many activities like chasing their kids around the yard or working from home. This 100% cotton dress is breathable to keep you cool in warm summer temperatures. It's one of the most popular dresses at Target and excited customers love that it's flowy and one gushes, " SO, SO, SO comfortable!!! Perfect summer dress! It's the kind of dress that gets softer & more comfortable every time you wash it."
Get the Women's Sleeveless Crewneck Tank Dress at Target for $15
28. This simple and comfortable dress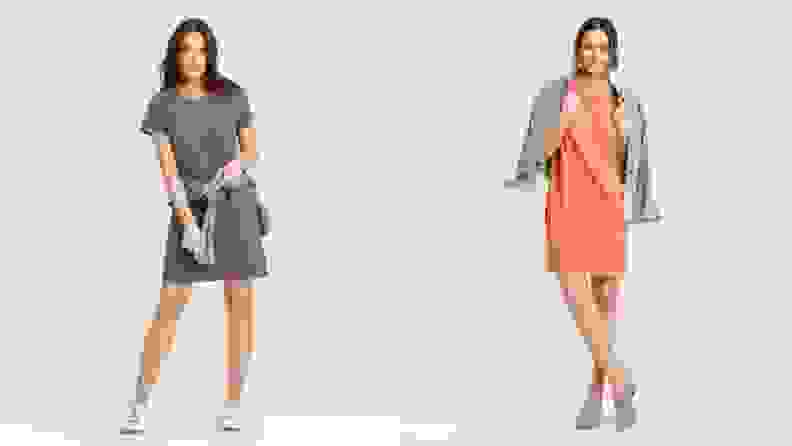 If lazy summer days are in your future, you might want this dress from Target. It's one of the highest-rated dresses and boasts a rating of 4.6 stars. The material is soft, comfortable, and substantial enough that it won't stick to your body in the summer heat, making it great to lounge in or even take a walk.
Get the Women's Short Sleeve T-Shirt Dress at Target for $15
29. This dress that helps you cool down
The Freezer III dress by Columbia is made of breathable fabric and, according to the website, has "moisture activated technology" that helps cool you down while damp. Multiple buyers commented on how they liked that the dress was easy to wear and did not wrinkle. One excited reviewer writes, "Love this dress! It's comfortable, easy to wear, doesn't wrinkle, and great for the beach or a casual night out."
Get the Freezer III Dress at Zappos for $50
30. A boho chic dress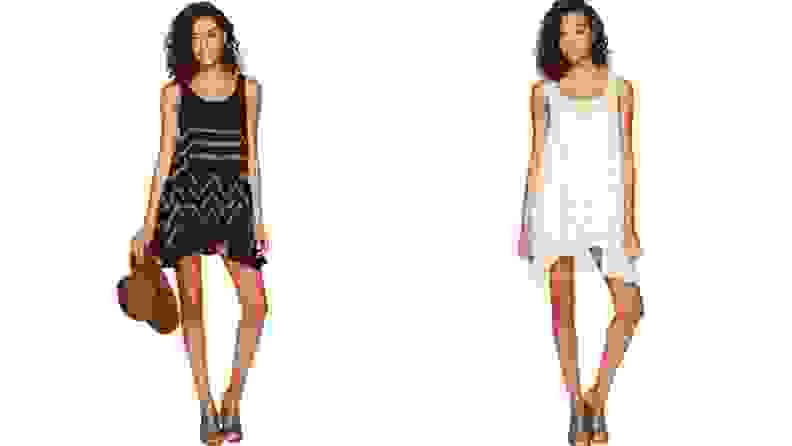 Beat the summer heat with this airy trapeze style dress. A fan favorite at Zappos with a 4-star rating, reviewers love that this dress can be worn alone, with shorts, or as a beach cover-up. One enthusiastic shopper writes, "So cute! This has quickly become one of my most favorite items in my closet. It is so fun and different."
Get the Voile Trapeze Dress at Zappos for $76
The product experts at Reviewed have all your shopping needs covered. Follow Reviewed on Facebook, Twitter, and Instagram for the latest deals, product reviews, and more.
Prices were accurate at the time this article was published but may change over time.