Style
My closet is full of the popular Baggu bags—these are my 5 favorites
Baggu is a brand I buy over and over again.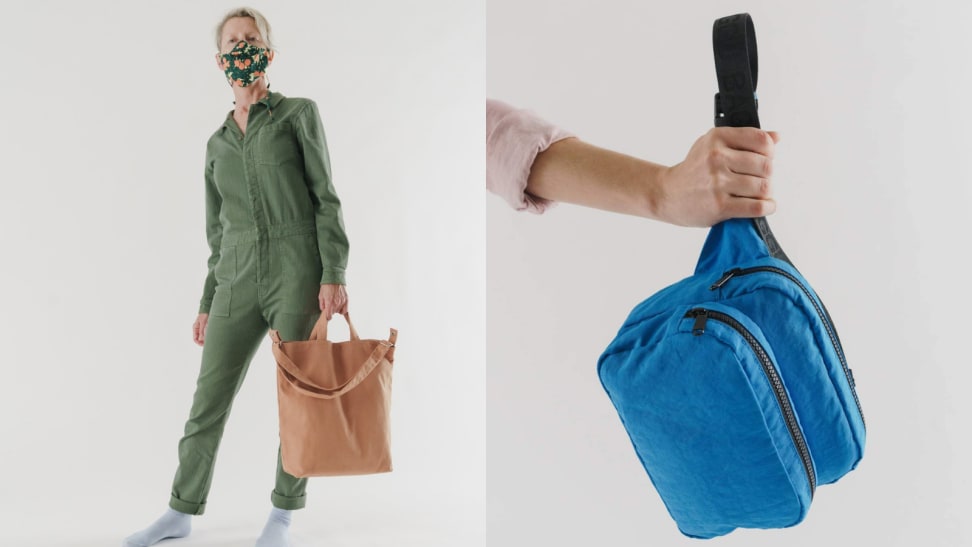 Credit: Baggu
A person's everyday bag can say a lot about them—their business, their style, maybe their favorite color or material. Mine happens to be a bright yellow fanny pack that, years ago, I would not imagine myself carrying regularly. But when you find a bag that fits all your things and keeps your hands free, you wear it until you drop.
I first bought my fanny pack back in 2018 when it was on sale at Baggu, a U.S.-based brand famous for its bright and whimsical bags that constantly sell out. It has a large fanbase—which now includes me. I fell in love with my first purchase, and since then, I've spent a lot at Baggu. Everything has served me well over time, surpassing my expectations and garnering plenty of compliments from friends and strangers alike.
Of all the things I've bought, these are my five favorites from the brand.
1. Baggu Fanny Pack
I've worn my neon Baggu fanny pack for years, and it goes with more than you'd guess. It's so functional and easy to swing over my shoulder. Wearing it, I feel equal parts sunny and prepared, ready for both outdoor adventures and everyday errands. The fabric is light and easy to clean by wiping with a cloth or tossing it in the washing machine before air drying. There's two main pockets and a hidden inner pocket, all equipped with zippers. I regularly carry my phone, wallet, a small cosmetics bag, keys, sunscreen, disposable camera, and snacks all in the bag without issue. I can even fit my 20-ounce Yeti tumbler inside.
No matter your style, you've got options: The fanny pack comes in seven solid colors, as well as a trippy geometric design and a cheetah print style at Nordstrom.
Get the Fanny Pack from Baggu for $48
2. Standard Baggu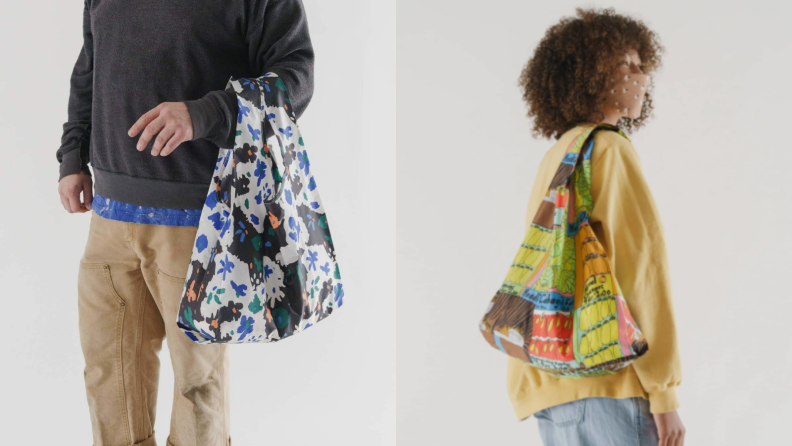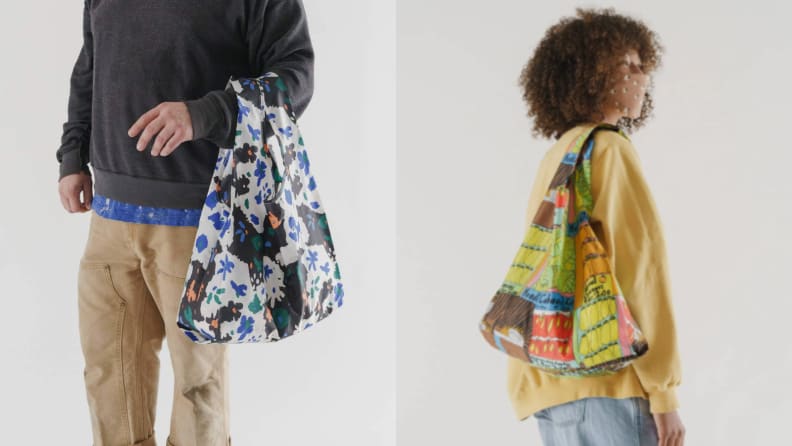 The Standard Baggu is a versatile reusable bag. It can carry groceries, laundry, toys, gym clothes, and pretty much anything else you can think of. It comes in 70 styles, with new ones released every few months. Some of the bestselling prints are the black & white cow, beverage cat, zucchinis, and the mesh variation. I've used this bag during countless farmers market trips—it can hold what would usually fill two or three plastic bags without ripping or stretching out. The bag also folds up into little pockets to tuck into a backpack, purse, or glove compartment to always have on hand.
Get the Standard Baggu from Baggu for $12
3. Baggu Storage Cubes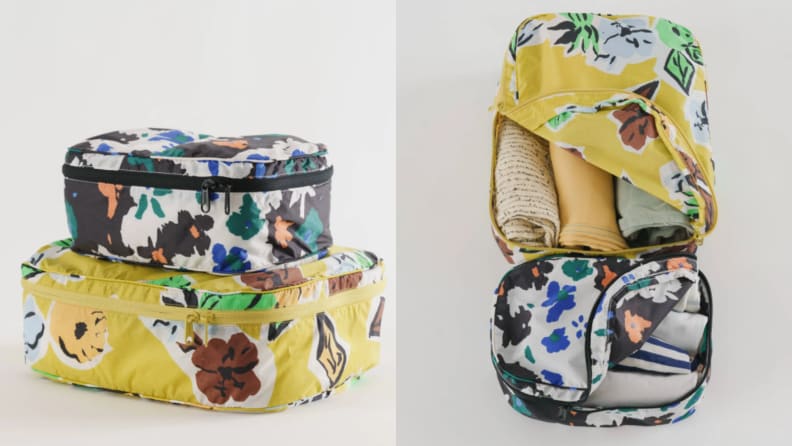 I originally got these storage cubes to make traveling more organized, but they also came in handy while I was moving. When the cubes are empty, they lay flat because they have no solid or firm lining. I like this because I can store them in tight spaces like drawers or storage bins when I'm not using them. The small one is great for items like socks, underwear, swim suits, and belts, while the larger version comfortably fits my T-shirts, bike shorts, leggings, and dresses. (Of course, everything is rolled up to prevent wrinkles and optimize space.) When I'm traveling, I like to use the large cube as a makeshift laundry hamper until I return home.
The cubes come in a bunch of fun patterns, which also makes it easier to find what I'm looking for while rifling through a weekender bag or suitcase.
Get the Storage Cube Set from Baggu for $30
4. Baggu Puffy Laptop Sleeve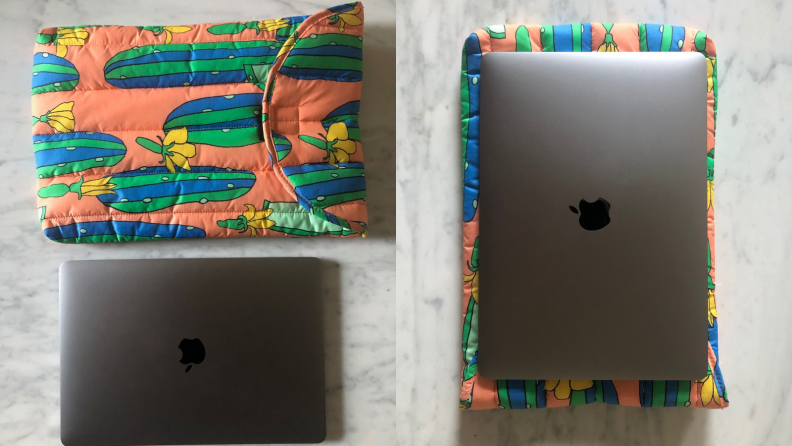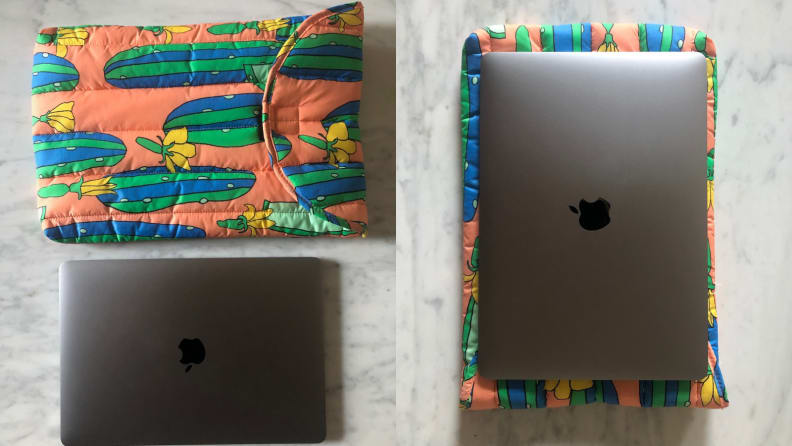 I impulsively bought this laptop sleeve to reach the $30 minimum for free shipping. I wanted a sleeve that would protect my computer, leave a bit of room to tuck in a notepad or pen, and be easy to locate in my messy room. This one checks all the boxes, and is big enough to hold my charger, too. I was hesitant about the puffiness because it seemed unnecessary, but now I have the peace of mind that my laptop is well protected while in transit.
Get the Puffy Laptop Sleeve from Baggu for $28
5. Baggu Duck Bag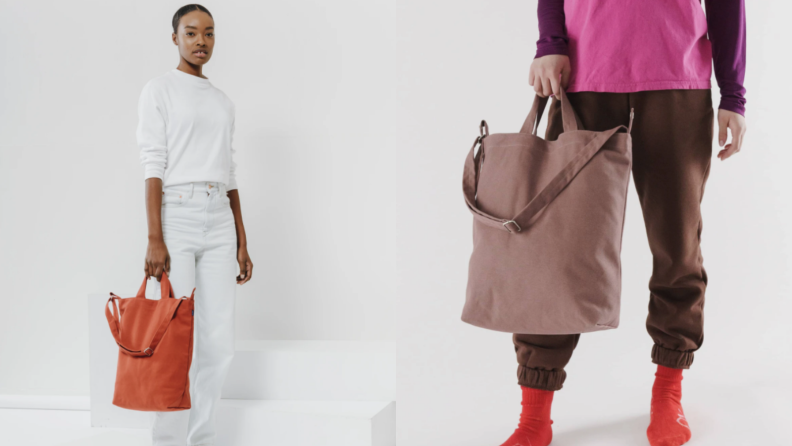 The Duck Bag is the newest item in my Baggu collection, and it's really great. I have it in the rust color—which is gorgeous—and it keeps me organized even on days when I work several jobs. The bag has short handles and a long strap, so you can carry it like a briefcase or wear it as a crossbody. I prefer the latter most times so I can drink coffee and still keep my hands free. Inside, the bag has a smaller pocket that keeps my phone, keys, and wallet within reach. I use the rest of the space for my laptop, notebook, and water bottle. The snap closure protects my items but is easy enough to open on the go.
Get the Duck Bag from Baggu for $34
The product experts at Reviewed have all your shopping needs covered. Follow Reviewed on Facebook, Twitter, and Instagram for the latest deals, product reviews, and more.
Prices were accurate at the time this article was published but may change over time.