Style
9 best places to buy plus-size wedding gowns
Look fabulous on your big day.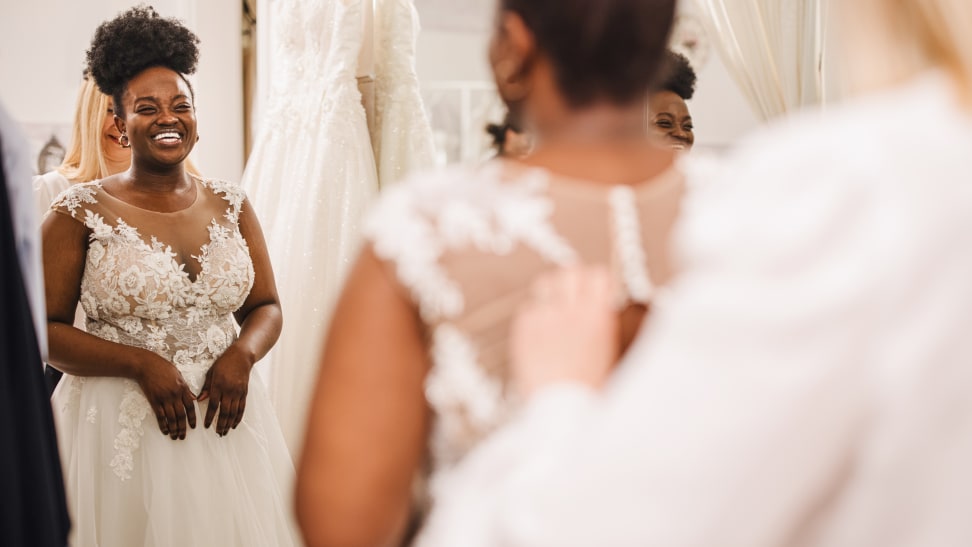 Credit: GettyImages / Anchiy
Wedding dress shopping can be a wonderful experience; but if you've ever seen an episode of "Say Yes to the Dress," you'll know there's a lot more to it than just the happy tears of finding the dress—especially if you're a plus-size bride. Plus-size wedding dresses can be super expensive and hard to find, and the whole process can be disheartening.
Not many retailers stock wedding dresses in sizes above a 14, and because wedding dresses tend to run smaller than typical clothing sizes, this is problematic. But don't fret, I did the research for you. After scouring the internet for days to find the best retailers that sell plus-size wedding dresses, here are 9 reliable options for you to shop, from classics like David's Bridal to game-changing retailers like Azazie and June Bridals.
1. David's Bridal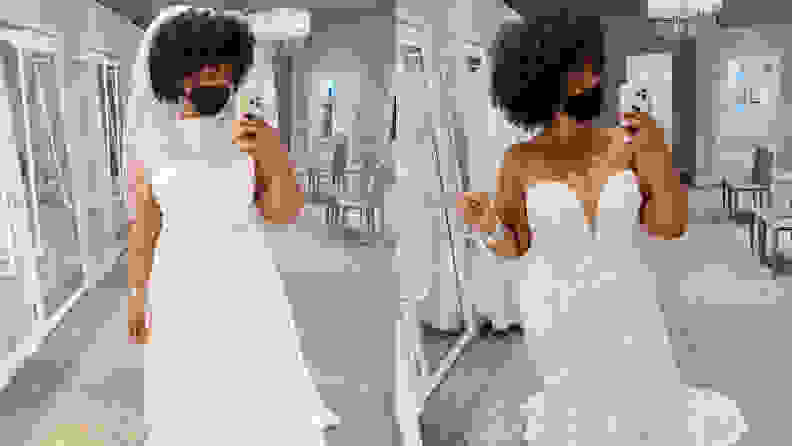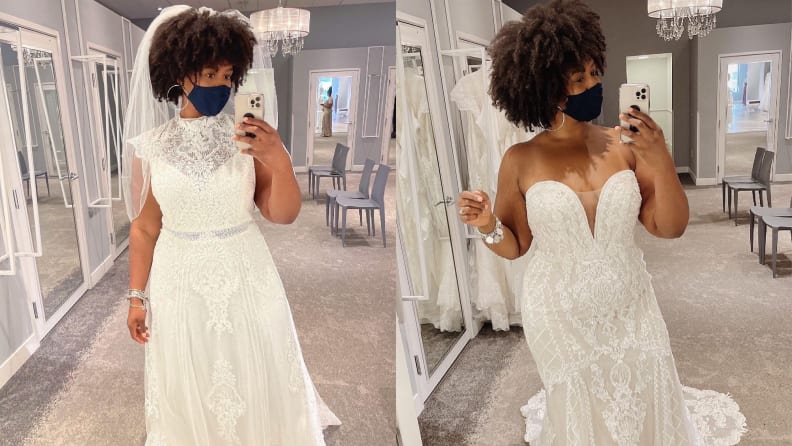 Prices: 💍💍
Sizes: 0X-5X; 14W-30W
Selection: 477 dresses
I'm pleasantly surprised with the variety of plus-size wedding gowns and pant-suits at David's Bridal. Dresses range from $99 all the way to $1799, with plenty of quality dresses for under $1,000. You can order online, but there are also so many store locations nationwide that you can have the "Say Yes to the Dress" experience in person if you want.
Be warned though: A lot of David's Bridal's plus-size collection is listed as "item(s) that need to be special ordered" so make sure you have plenty of time before your wedding to order the dress, get it altered if needed, and even find a new one if that one doesn't fit your liking.
Shop plus-size wedding dresses at David's Bridal
2. Azazie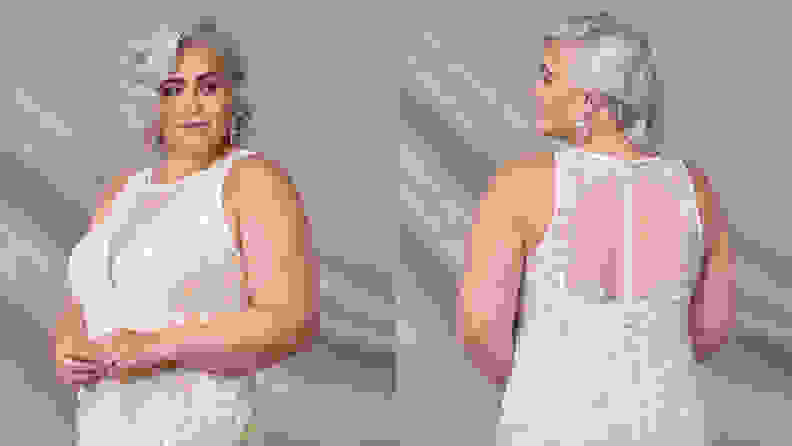 Prices: 💍
Sizes: WD0-WD30
Selection: 287 dresses
With gowns that look like they cost $10,000+ but actually range between $119 and $649, Azazie is a very underrated wedding dress retailer. You can purchase every dress in a custom size for no additional cost. Just input your measurements and your dream dress will be tailored to fit your body for free. Azazie also offers free shipping and free returns.
Use its at-home try-on program to select up to three dresses at $15 per dress to try on before ordering your final pick, so you know exactly what size and style you want. Dresses are made to order within roughly six weeks and are then shipped to you within a week. This production process cuts down on the retailer's carbon footprint—making it a surprisingly sustainable option as far as wedding dresses go. Additionally, at the end of each season, Azazie donates dresses to the Princess Project, a non-profit that gives prom dresses to young women who couldn't otherwise afford them.
Shop plus-size wedding dresses at Azazie
3. BHLDN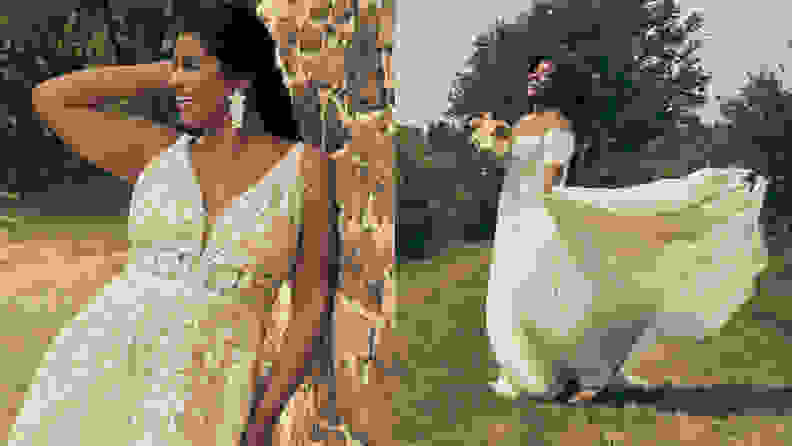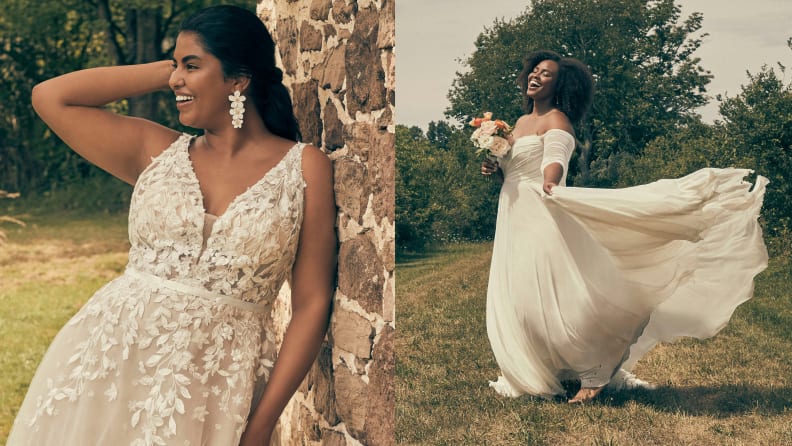 Prices: 💍💍💍💍
Sizes: 16W-26W
Selection: 40 dresses
BHLDN, Anthropologie's bridal sister site, has a lot of stylish, "bohemian" dresses that will make you feel like a princess. Yes, it's on the pricier end of things—with most dresses around $1,000—but the selection comes from popular designers like Jenny Yoo, Whispers & Echoes, and Watters.
Thankfully, BHLDN's return policy is forgiving. As long as you return the dress within 30 days with the tags still attached, unworn, and unaltered, you're eligible for a full refund, or exchange if you'd prefer. Because the dresses aren't made to order, they're shipped out within a week and even sooner for an additional charge, if you're really in a hurry. While there aren't too many dresses to choose from, BHLDN is a reliable brand with a solid following.
Shop plus-size wedding dresses at BHLDN
4. June Bridals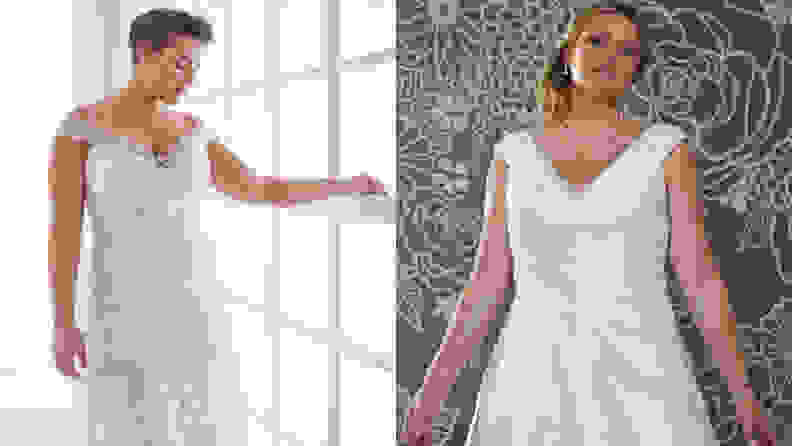 Prices: 💍
Sizes: 16W-26W (custom sizing available)
Selection: 949 dresses
I'm always nervous when dresses (or any clothes) come in straight sizes and plus sizes, and you can buy them both from the same link, as is the case at June Bridals. It makes me think that the brand didn't do anything to the clothes to make them "plus-size" besides just make the clothes, ya know, bigger. But plus-size bodies aren't necessarily shaped the same as straight-size bodies and that needs to be acknowledged. Will these dresses take into account the fact that we have stomachs? Thighs? Arms? But with 949 dresses to choose from, I couldn't not include this website.
Seemingly every dress on June Bridals is constantly on sale, ranging from under $100 to $1,000. You'll often find dresses that retail for $1,100 on sale for $400, for instance. As all the dresses are hand-sewn, the retailer guarantees that "our tailoring team will leave extra fabric in the seams for alteration." The processing time for each order is between one to two weeks, followed by a week for shipping, so this is a solid option for a plus-size bride in a hurry.
As for returns, if it's a custom sized dress, it's not eligible for a refund or exchange. But if you purchase a standard size with no alterations made, you must contact June Bridals within 14 days with any issues to receive a refund of up to 80% of the total payment (less the return shipping cost).
Shop plus-size wedding dresses at June Bridals
5. WToo by Watters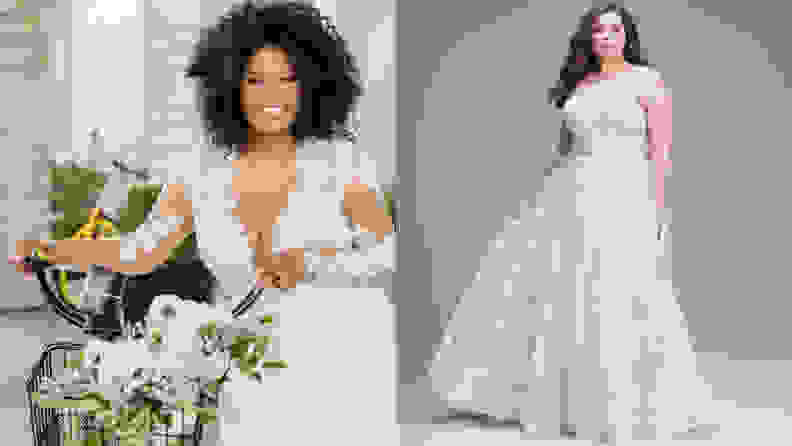 Prices: 💍💍💍💍
Sizes: 16W-32W (XL-5XL)
Selection: 31 dresses
WToo dresses are not cheap—let's start there. Gowns start at $889, and go up to $2,200, with most falling in the mid-$1,000s range. Because the dresses are so expensive and made to order—i.e., they're non-refundable—you can't order directly from the website. Watters instead helps you find a nearby store that stocks the dress of your choice, so you can get fitted before ordering
Strangely, it has a size 14 and 15 available, both listed as an XL. I've never seen a size 15 anything before, so that's unique—but aside from that, their sizes are fairly normal, going up by twos up til 32W. On its website, shop the "Plus Size" dress section—which features dresses made for curvier women—or the "Bridal Gowns" section, which includes 143 dresses that go up to 32W. So although the dresses in "Bridal Gowns" are made for straight sizes and just sized up to be plus-sized, you'll have more of a selection.
Shop plus-size wedding dresses at Watters
6. Sydney's Closet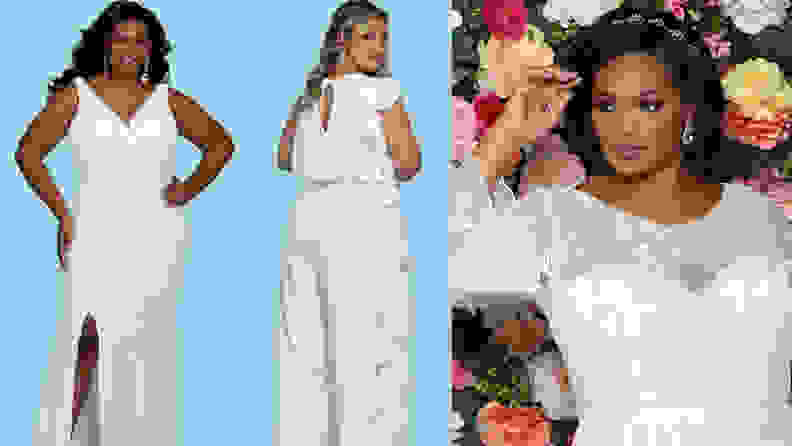 Prices: 💍💍
Sizes: 14-40
Selection: 18 dresses
Sydney's Closet is full of stunning gowns, but it's a strange site, as the options are very dependent on your size. Many dresses are sold out in a variety of sizes, but there doesn't seem to be any rhyme or reason to it. Unfortunately, some dresses you can only get store credit or an exchange for; but because most of the dresses are under $1,000, it's not the worst thing ever.
I wanted to include Sydney's Closet because the selection of dresses goes up to a size 40, while most stores stop at 32 (if they even go up to that). So take a look—but make sure to filter it by your size so you don't get your heart set on a dress only to find that it's sold out in everything but a size 38 and you're a size 26.
Shop plus-size wedding dresses at Sydney's Closet
7. Etsy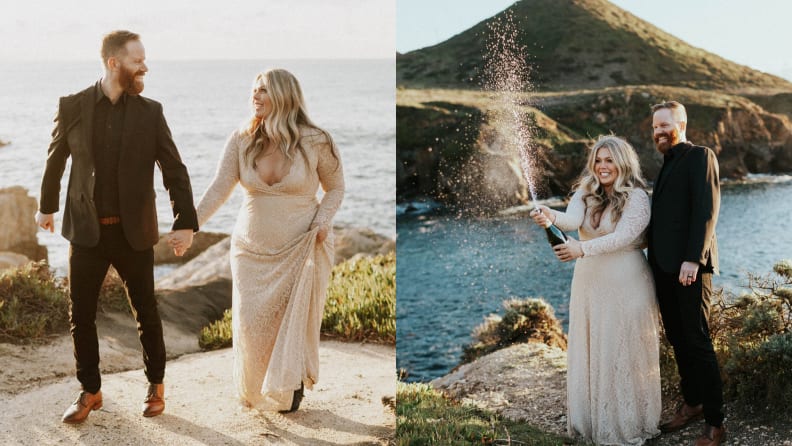 Prices: 💍💍(varies per seller)
Sizes: Depends on the seller
Selection: Depends on the seller
You can get just about anything on Etsy, including plus-size wedding dresses. There's a variety of dresses available from retailers that specialize in plus-size fashion, including BlushFashion. This Etsy seller has sold over 17,000 wedding dresses and offers sizes up to 4XL.
BlushFashion can even accommodate custom sizing for an additional price. This is great so you're not just getting an off-the-rack dress, but a hand-made dress that fits you. You can also chat with the seller before buying to make sure the dress is exactly as you imagine it. And by purchasing through Etsy, there's the security of knowing your pricey purchase is protected—and knowing your dress is more unique than something bought at a chain store.
Shop plus-size wedding dresses at Etsy
8. Pre-Owned Wedding Dresses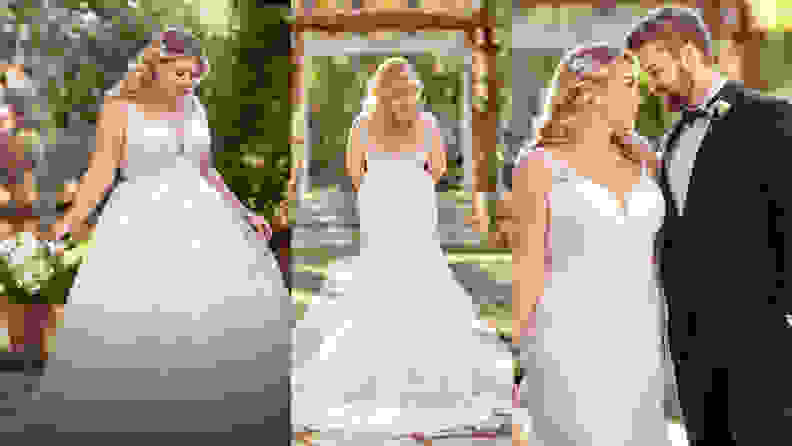 Prices: 💍💍💍
Sizes: 16W-36W
Selection: 787 dresses
Honestly, I love the idea behind Pre-Owned Wedding Dresses. You (hopefully) only wear your wedding dress once—and then this super expensive dress just sits in your closet withering away. Why not get some of that well-spent money back for it?
Pre-Owned Wedding Dresses connects buyers and sellers of various wedding items. Shop the site for a dress that's your size, measurements, and style preference—then contact the seller, negotiate the price, terms of sale, and purchase the dress through the site. As long as you don't mind wearing a dress that someone else wore at least once (which you can obviously get cleaned before wearing), this is awesome.
Shop plus-size wedding dresses at Pre-Owned Wedding Dresses
9. Your local bridal salon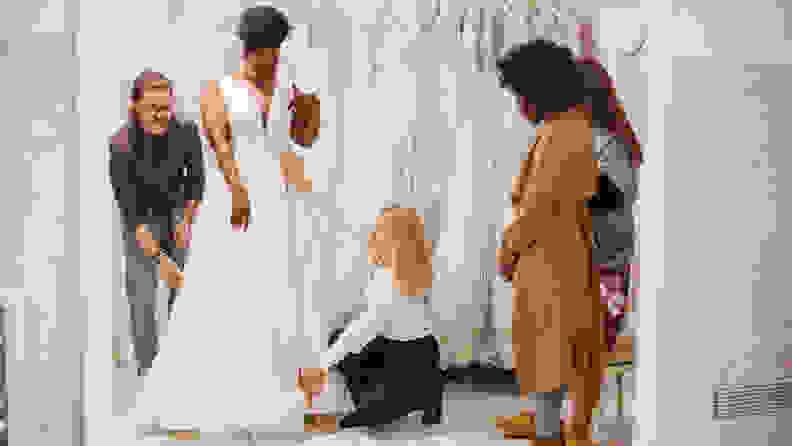 While shopping online may seem more convenient, visiting a bridal salon is a once-in-a-lifetime experience. Unfortunately, the majority of "samples" (the gown you'll try on in the store) at these places are stocked in sizes 8, 10, and 12—so there's a good chance you won't find any in your size. To make matters worse, bridal gown sizes are generally smaller than regular clothing sizes.
Do some research in your area and look for a shop that carries larger sizes. Don't just ask if a shop carries a certain designer in your size; instead, ask about the selection of plus-size gown samples, so you don't spend your entire appointment with the salesperson holding up smaller dresses on the hanger in front of you and telling you to "visualize yourself in it."
And remember, no matter the dress, you can always make adjustments. Say you find the perfect dress, but it's sleeveless and you've got a fall wedding—sleeves can be added and tailored to your body. Don't be afraid to ask about specific alterations and the costs attached. It's your special day, so make sure you're happy with the resulting dress.
The product experts at Reviewed have all your shopping needs covered. Follow Reviewed on Facebook, Twitter, and Instagram for the latest deals, product reviews, and more.
Prices were accurate at the time this article was published but may change over time.