Style
10 of the comfiest walking shoes for people with flat feet
Show your arches some love—and some support.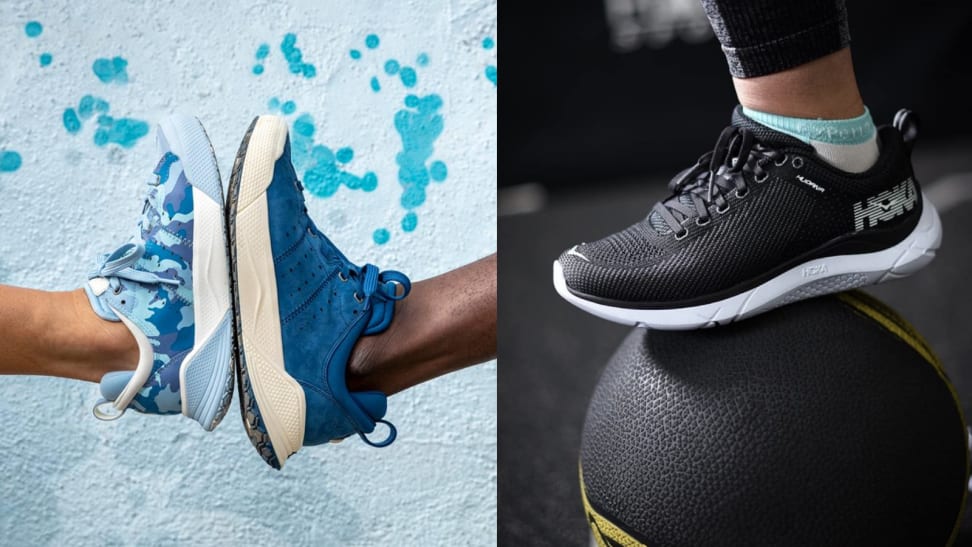 Credit: Deckers/Hoka
Wide vs. narrow. High vs. low arches. Overpronated vs underpronated. We all have different shapes and sizes of feet. And thus, we all require different styles of shoes to accomodate them. One of the most common feet "issues" is having flat feet.
Also known as pes planus, flat feet is something you can either be born with or something that can develop with age, according to Dr. Najwa Javed, board-certified podiatrist at Silicon Valley Podiatry Group. A true "flat foot," where the entire sole of your foot touches the floor when standing, is congenital. "However, all arches start to collapse as we get older, starting in our late 20s, similar to how your vision changes," she explains.
So what are the best shoes for people with flat feet? You don't have to settle for those practical but not-so-attractive orthopedic shoes. There are plenty of more stylish options available. Dr. Javed recommends looking for ones with a stable sole and a heel counter—which is the small plastic insert at the back of the shoe—that's at least one inch high. To help you stroll in style and comfort, we rounded up 10 walking shoes that look good and are a step in the right direction for dealing with arch issues.
1. These podiatrist-approved Hoka shoes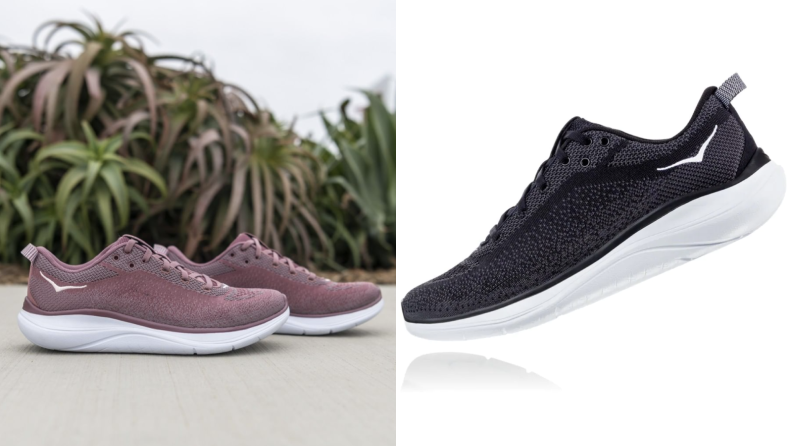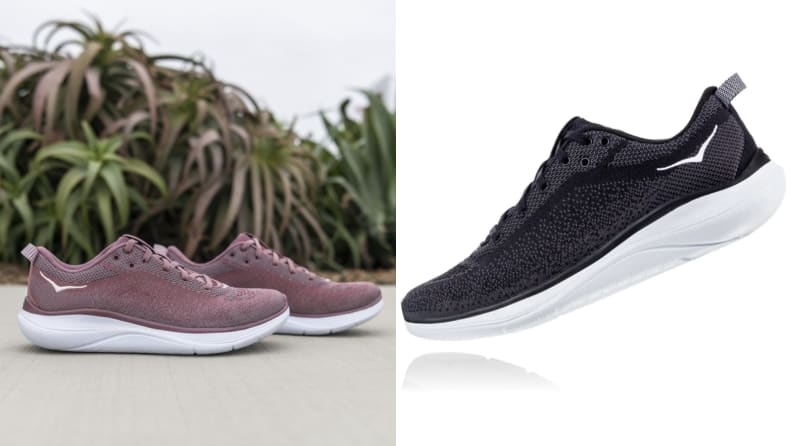 Boasting the American Podiatric Medical Association (APMA) Seal of Acceptance, the Hupana Flow Wool has a foam midsole and outsole that are supportive and flexible and provide plenty of rebound. The shoes feature a woven knit upper that's lightweight enough to keep your feet cool when it's hot and cozy enough to keep them warm when it's cold. They're available in three colors and come in in both wide and regular widths in women's whole and half sizes 5 to 11 and in men's whole and half sizes 7 to 14.
Many reviewers own more than one pair. "These shoes provide the bounce and cushion needed to keep my feet feeling good all day," one person says. "They're lightweight, but with lots of cushion and support."
2. These throwback Adidas sneakers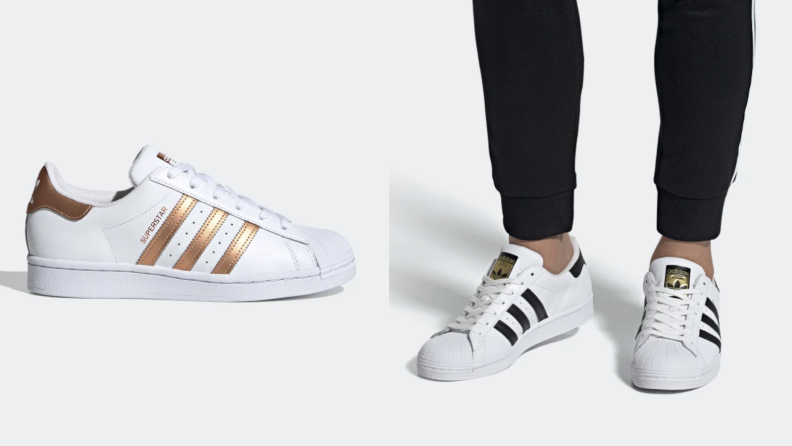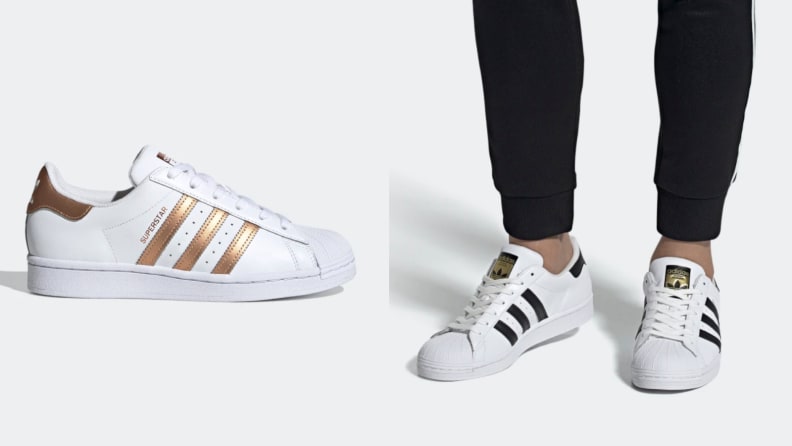 The Adidas Superstar is a true walking classic, sporting the same shell-toed design that it's been known for since it stepped onto the style scene back in the '70s. Dr. Javed suggests this shoe to her flat-footed patients thanks to its arch support. It's made of sleek, full-grain leather decorated with Adidas' iconic three-stripe logo. Available in 15 colors, the sneakers come in a massive range of sizes, too: women's whole and half sizes 5 to 11 and men's whole and half sizes 4 to 19.
This pair has a 4.7-star rating from more than 9,400 reviewers. "This is the only pair of shoes I ever want to bring when I travel and know that I'll be doing a lot of walking," one person raves. "They're just so comfy!"
3. These top-rated New Balance shoes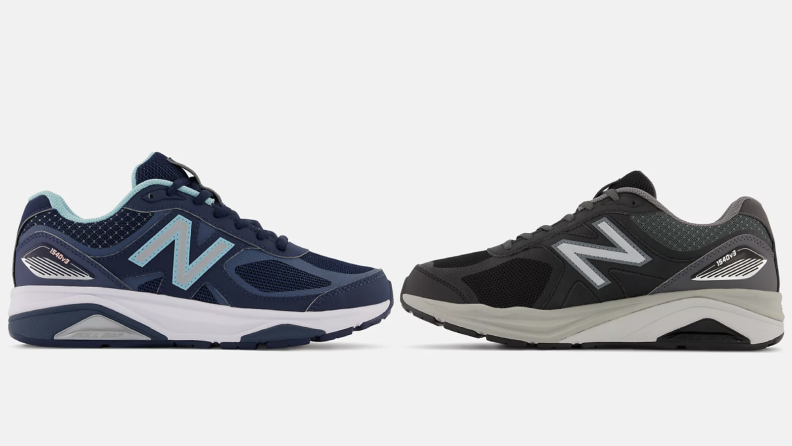 New Balance is a shoe haven for people with flat feet. One of its most popular styles to help with low arches is the 1540v3, which has two layers of thick foam for padding and rebound along with a contoured heel bed. There's an option for almost every foot shape, too—you can choose from narrow, standard, wide, extra wide, and even extra-extra wide widths. They come in women's whole and half sizes 5 to 12 and in men's whole and half sizes 7 to 16.
"I have a very low/almost non-existent arch, and these shoes help so much!" one reviewer gushes. "The pain in my hips, knees, and lower back are completely gone since I started wearing these. Best investment I've made in a while."
5. These supportive Vionics sneakers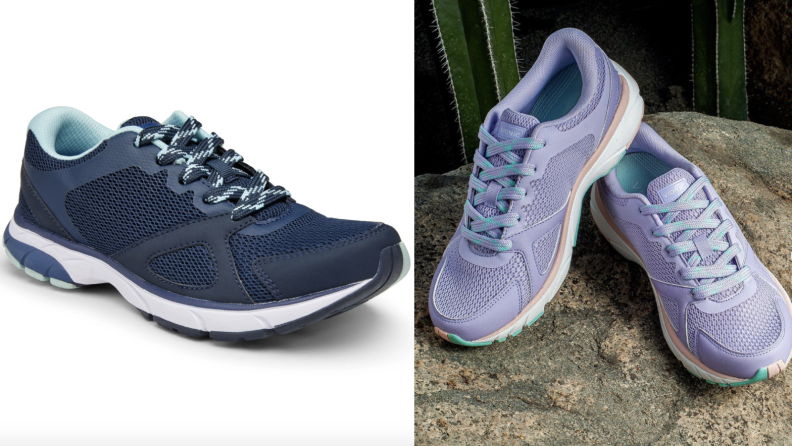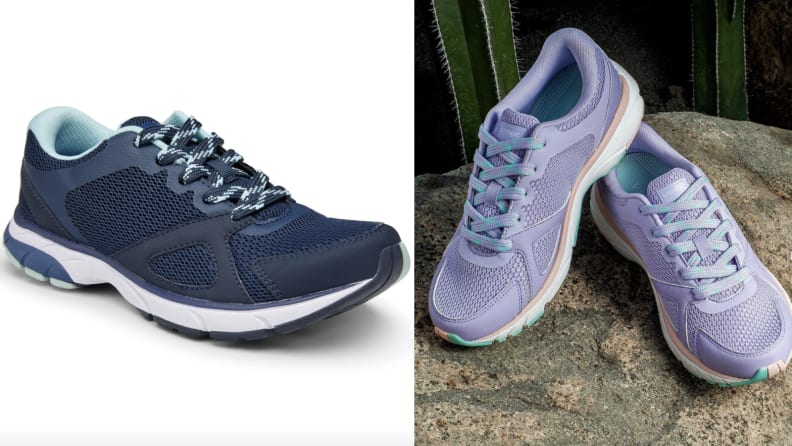 These walking shoes were made for, well, walking. Dr. Javed suggests Vionics sneakers for when you need extra support for longer hauls on both sidewalks and treadmills. The shoe includes a removable, podiatrist-designed orthotic that's made of flexible EVA—a rubber-like plastic similar to what Crocs are made of—and has a durable rubber outsole. Available in six colors, they come in women's whole and half sizes 5 to 11.
Of those who own this pair, 87% would recommend them. "They deliver on their promise," one person says. "My foot issues were minimized and my feet no longer hurt when I go walking."
Get the Tokyo Walking Shoe from Vionics for $129.95
6. These modern Deckers shoes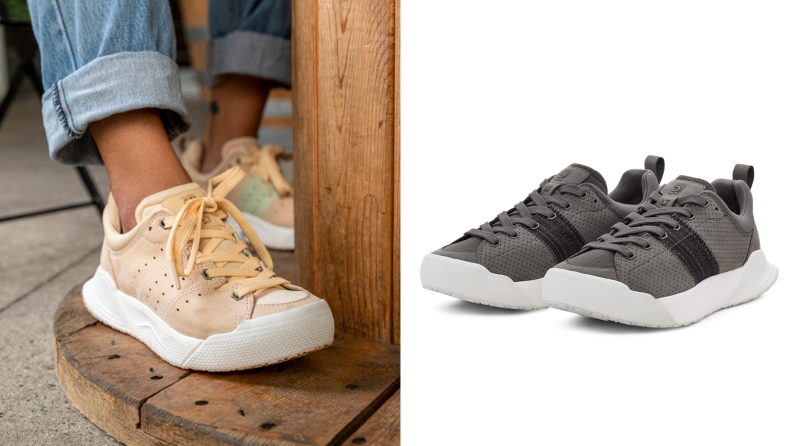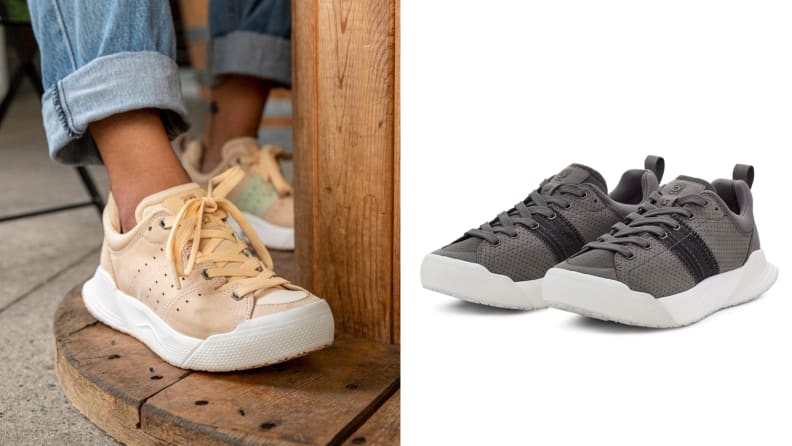 Known for creating shoes that mix workout functionality with lounge comfort, Deckers' X-Scape fills the bill for flat-feet sufferers. Receiving high marks from the APMA, it features a lightweight foam midsole and oversized cushion on the bottom, along with a removable ergonomic insole for optimal support. Available in nine colors, the sneakers come in women's whole and half sizes 6 to 10 and in men's whole and half sizes 8 to 13.
"These shoes are incredibly comfortable and supportive right out of the box," one reviewer raves. "They make you want to get out for a walk."
7. These lightweight York Athletics walking sneakers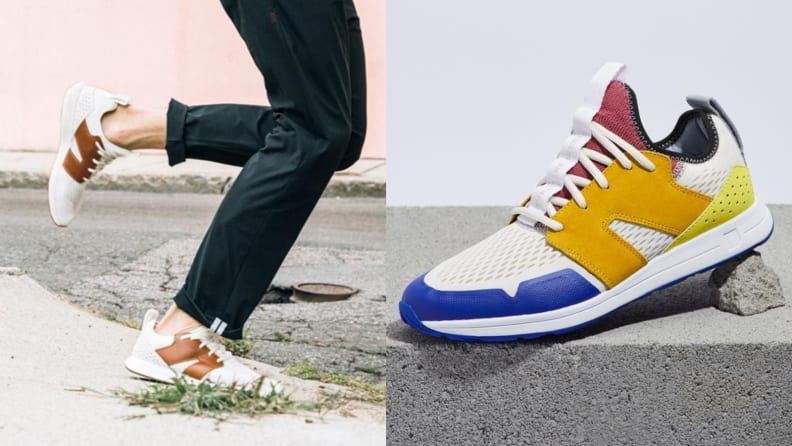 Designed with a springy foam base and breathable mesh upper, these sneakers are designed to contour to your feet as you wear them. They have an internal and external molded heel for stability, as well as a soft foam sock liner that adds even more support. Available in six colors, they come in women's whole and half sizes 5.5 to 14.5 and in men's whole and half sizes 4 to 13.
"York products fit my foot better than other shoes that I've tried," one fan says. "The quality is great, the price reasonable, and the fit is outstanding. I would recommend this shoe to anyone looking for comfortable, stylish footwear."
Get the Frank Trainer from York Athletics for $116
8. These easy-wearing Kuru slip-ons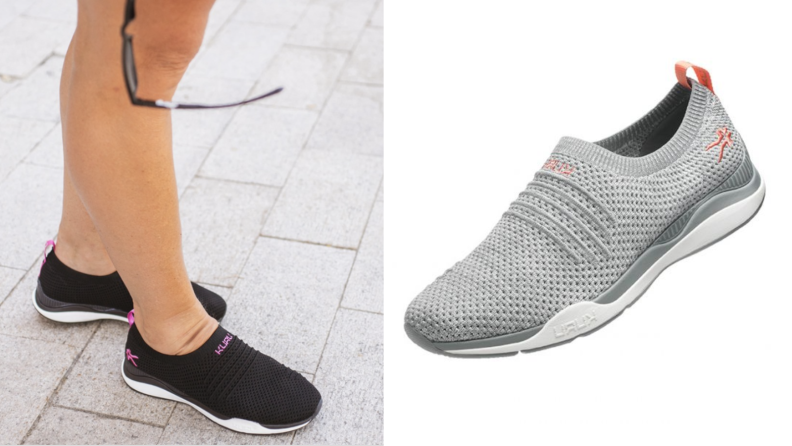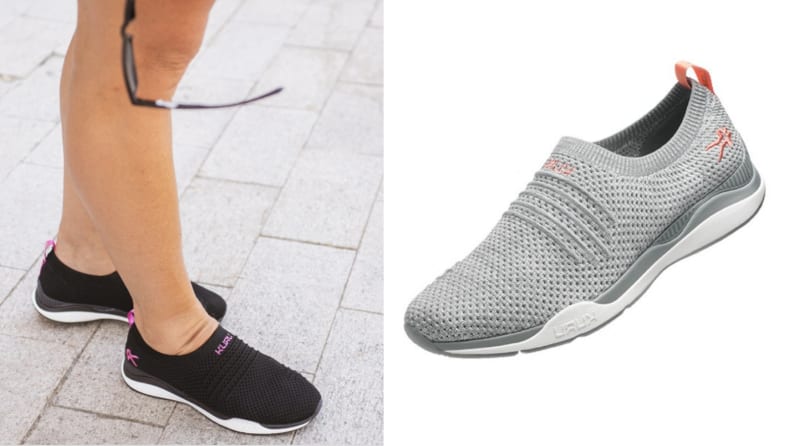 Specifically created for those with low arches and flat feet, this Kuru sneaker has molded arch support to help prevent aches and pains. They're made of a knit mesh that allows your toes to breathe and feels more like a sock than a shoe. Plus, they're easy to slide on as you run out the door—no lacing up required. Available in five colors, it comes in women's whole and half sizes 5 to 12.
Known to fit "even the most finicky of feet," these sneakers offer "awesome comfort." One reviewer owns four pairs, and according to another, "It feels like you don't even have shoes on."
Get the Stride from Kuru Footwear for $120
9. These supportive Saucony sneakers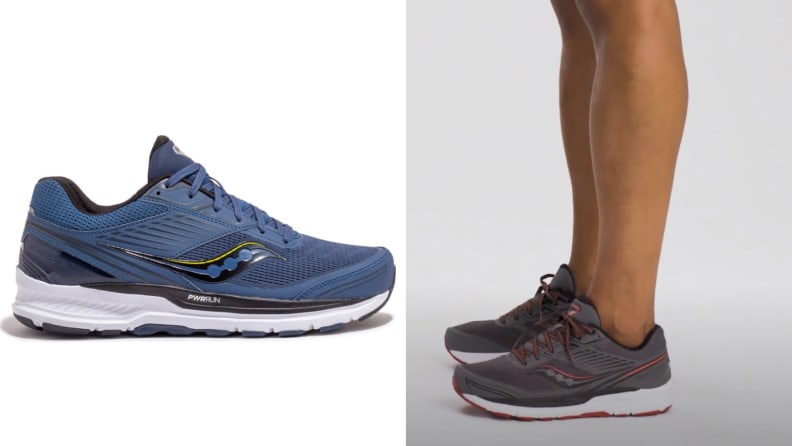 For a little extra spring in your step, slip into these well-cushioned Saucony shoes. They have a removable, orthotic-friendly sock liner for added comfort and a mesh toe box for breathability. The sneakers come in regular, wide, and extra wide widths and in women's whole and half sizes 5 to 12 and in men's whole and half sizes 7 to 15.
A lot of people who bought these sneakers are on their feet all day, and say the Echelon rises to the challenge of support and comfort. "Feels like your favorite old shoe right from the start," one person says. "Like walking on cushions with great support. I use orthotics and replaced the insole with mine and the fit was perfect."
9. These arch-friendly Skechers shoes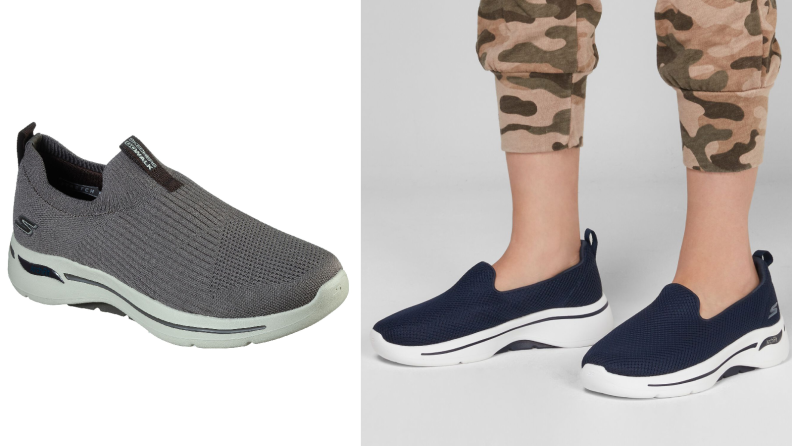 This slip-on shoe from Skechers was developed by a podiatrist using what the brand reports as 20 years of data and 120,000 unweighted foot scans. The brand says that the removable insoles—which feature built-in arch support—reduce shock with every step and evenly disperse your weight, while the flexible mesh upper moves with your foot to prevent blisters or chafing. They come in women's whole and half sizes 5 to 10 in both wide and medium widths and in men's whole and half sizes 7 to 11.
"These shoes are the most comfortable I have ever gotten, thanks to the arch fit design," one 5-star reviewer says. "I can wear them anywhere and not worry about my arches killing me."
10. These sleek Brooks running shoes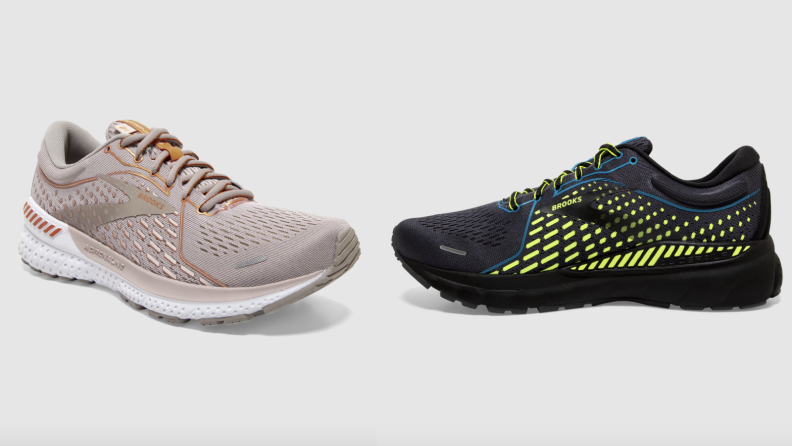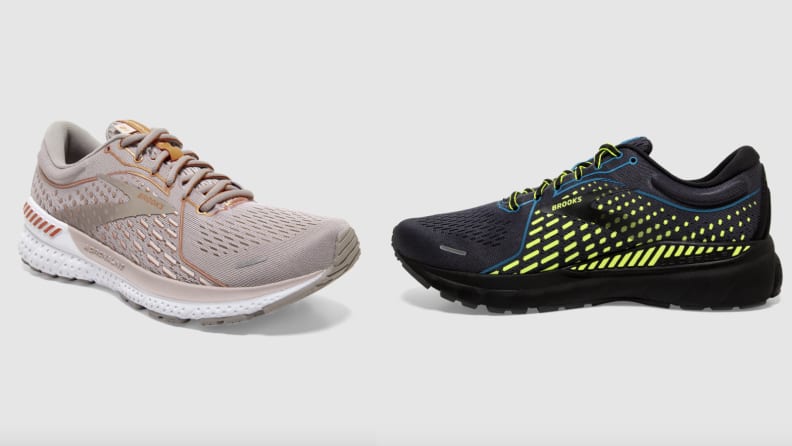 The latest iteration of the Brooks' Adrenaline support shoe claims to be lighter and softer than the OG—a boon for anyone who will wear them for running or walking. The cushioning is comfy without feeling too squishy and provides adequate support from toe to heel. Available in 22 colors, they come in women's whole and half sizes 5 to 13 and in men's whole and half sizes 7 to 15.
With over 1,450 five-star reviews, these sneakers definitely don't fall flat with customers either. "These shoes are the best!" one shopper says. "So lightweight, great support, and super construction."
The product experts at Reviewed have all your shopping needs covered. Follow Reviewed on Facebook, Twitter, and Instagram for the latest deals, product reviews, and more.
Prices were accurate at the time this article was published but may change over time.