Style
I love this $100 Free People shirt so much, I bought it 3 more times
I own four with plans of buying more.
Credit: Rebecca Norris
Anyone who knows me in real life knows two things: I love tie-dye and I pretty much live in loose, flowy tops. While these two things might not seem to go hand in hand, in the summer of 2020, the proverbial stars aligned. After discovering that I had a knack for tie-dyeing during quarantine, I branched out from basic T-shirts to pieces I could wear out and about.
It was during this time that I found myself perusing the virtual shelves of Free People, my favorite store. While my mom and sister—my co-dyers—thought I was crazy for dyeing Free People-priced items, I couldn't help myself. After all, the store is my go-to for my beloved flowy tops and, as a result, I figured it might also be home to dye-friendly fabrics, too.
When it comes to tie-dyeing, the more natural the fabric, the better result, so I was on the hunt for a 100% cotton garment. Eventually, I stumbled upon the We The Free Summer Daydream Button-Down, a loose, semi-sheer button-down shirt that's earned nearly 17,000 love badges from Free People shoppers. And, much to my delight, it's 100% cotton.
I bought it right then and there, which was a smart decision, as it sells out all the time. Since that fateful day, I've purchased three more—and at $108 a pop, that's noteworthy. And, yes, I even tie-dyed one.
What I love about the Free People button-down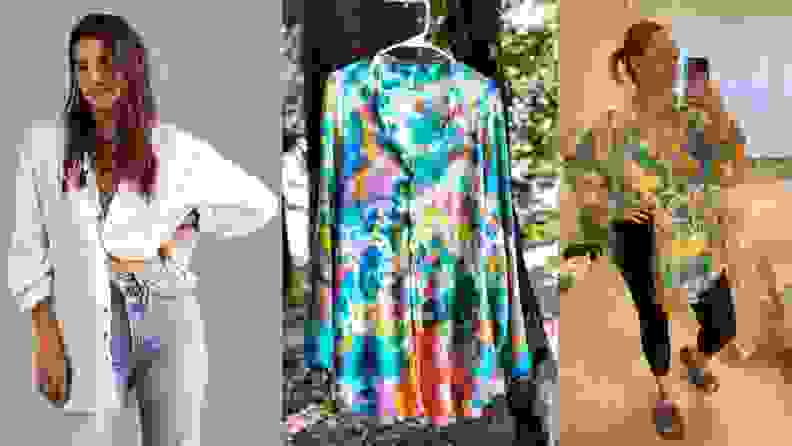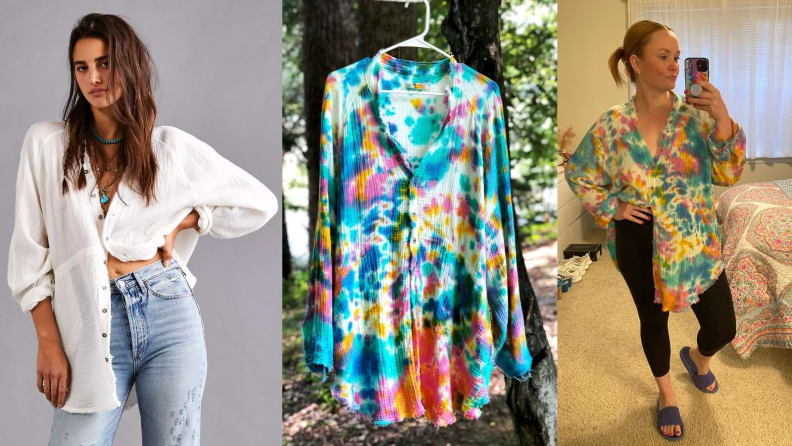 For starters, like many Free People silhouettes, the shirt is oversized. I usually wear a size XL in tops, but I buy this button-down in a medium, and could go down to a small. While cotton garments can sometimes feel stiff, this crinkle blouse is soft and lightweight that I live in it during spring, summer, and into the fall.
I adore tops that are long enough that I feel good pairing with leggings and bike shorts—in other words, ones that cover the crotch because, hey, camel toe can happen. Beyond that, I dig V-necks, especially if they're on lightweight tops that allow me to enjoy the cozy comfort of long sleeves even in warmer weather. The We The Free Summer Daydream Button-Down checks all of these boxes. It's great for everyday wear, casual nights out, and days spent at the beach, by the pool, or on the lake—because it's just as appropriate as a cover-up as it is a going-out top.
What I don't like about the Free People button-down
There's nothing about this top that would keep me from purchasing it again (obviously). That said, I think that Free People could adjust its sizing guide. It doesn't make sense for one body to be able to fit into tops in sizes XS to XL all within one store, don't you think?
Additionally, I think the pockets on the shirt are unnecessary, considering the fabric is so lightweight that they can't really support anything more than a lip balm or a hair clip. Even then, the pockets billow such that your items could fall out. Lastly, while I've not had any issues with the crinkly, lightweight fabric myself, I can see how it might be easy to snag if you aren't careful. Free People has begun to address this concern by offering the style in more durable fabrics, including denim and a thicker overcoat material.
Is the Free People button-down worth buying?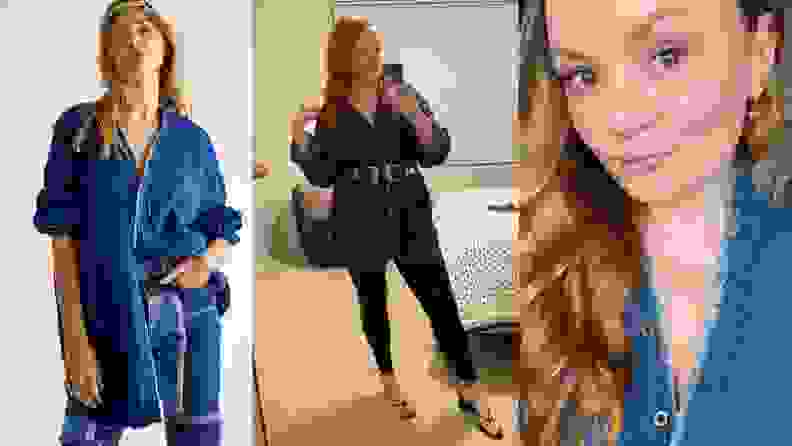 Without a doubt in my mind, yes. It is my number-one favorite spring and summer top. Why else would I own four of them, with hopes of buying more? So far, I have two in white—one of which I tie-dyed—a gorgeous aqua one in the classic crinkle fabric, and a dark denim one, which is also lightweight but not crinkly. Every morning, as I wake up to the world and get ready for my day, I check my Free People app to see if any new colors have come out overnight. I'm not kidding.
Maybe that makes me a shopaholic, but I'm a firm believer that if you find something you adore, you should have it—within reason, obviously—even if that means curating your very own Steve Jobs-esque wardrobe. In fact, I have email alerts set on the bubblegum pink shade which sold out almost immediately when it was first offered. I'd also love to see a cayenne color come out, as well as an emerald green and a fuchsia. And when they do, you best believe I'll make room in my closet. Who knows, maybe you'll want to, too.
The product experts at Reviewed have all your shopping needs covered. Follow Reviewed on Facebook, Twitter, and Instagram for the latest deals, product reviews, and more.
Prices were accurate at the time this article was published but may change over time.