Style
If I could only wear one thing all summer, it would be the flowy Nap Dress
Smocked and tiered, nap dresses are a major trend right now, and I can see why.
Credit: Hill House & Reviewed/Rachel Dube
Every year when summer rolls around, I go on the hunt for comfy dresses. I want something lightweight, loose enough to lounge around in, and easy to wear from day to night. Basically, I want a nightgown that's acceptable to wear in public, which doesn't exi... oh wait, it does. Enter the Hill House Nap Dress.
Hill House's Nap Dress—which started last year amid the pandemic—has become one of the biggest style trends this season, with tons of popular retailers from Free People to Anthropologie releasing their own versions. After seeing its whimsical nap dresses all over my Instagram feed—seriously, it seems that everyone knew about them before me—I decided to try Hill House out for myself. I'm always skeptical of products that go viral and even more skeptical of ones that are overly promoted by influencers. But I had high hopes for this $125 dress—and it lived up to them.
What I like about the Hill House Nap Dress
What first drew me to the nap dress—specifically the Ellie nap dress—is its wearability. You can throw it on for any occasion with any shoes or accessories and look instantly put-together. For fancier outings, I pair it with strappy sandals and a red lip, while for casual activities, I'll toss it on with some white sneakers. I've worn it almost everywhere: to drinks with friends, work Zoom meetings, family gatherings, and much, much more. It's gotten to the point where some of my friends probably wonder if I own any other clothing.
I ordered the dress in a large, one size up from my regular medium, even though the brand recommends staying true to size or sizing down due to its oversized fit. Could I have gone smaller? Absolutely. Am I happy with my choice? Yes. It's looser for sure, but the ruched top fits snug around the bust area, where I was worried the medium might feel too tight. The flowy, A-line cut makes me feel pretty and, because it isn't form-fitting, I don't have to worry about sweat stains running down my back or showing up under my armpits. I'm 5-foot-3 and the dress hits right around my ankles—it's long enough to be a true maxi dress but not so long that I trip over it or have to wear heels all the time.
I also love the lightweight cotton material. I've found it comfortable to wear on both hot 90-degree days and breezier summer nights. It's completely opaque in the white printed pattern I chose and hasn't shrunk or changed at all after multiple washes so far. I like the ruffled sleeves, which toe the line between short sleeves and cap sleeves, and the floral print is vibrant and flirty.
What I don't like about the Hill House Nap Dress
While there isn't much I don't like about the dress, one negative is how wrinkly it gets in the wash. According to the care instructions, you should be able to just throw the dress into the dryer on a delicate cycle or air dry. However, both methods left my dress a wrinkled mess and I have to use a steamer on it before every wear. Also, the sleeves don't keep their shape when they dry, so you have to flatten them out or fluff them up to get them back to normal.
Is the Hill House Nap Dress worth buying?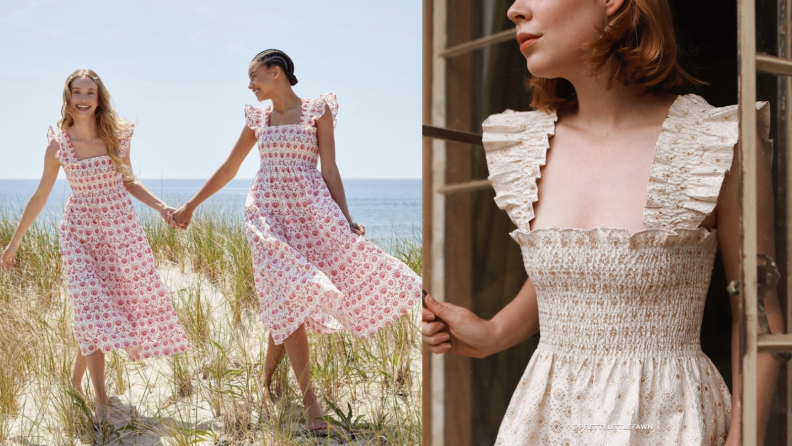 To be honest, I'm so obsessed with my nap dress that I can't wait for it to come out of the wash or back from the cleaners (when I'm too lazy to do laundry). It's my go-to for all occasions, and it feels as appropriate for running errands as it does for going out to dinner. The nap dresses come in women's sizes XXS to XXL and a variety of styles, prints, and lengths, from floral maxis to bright white minis.
Because they're so trendy right now, Hill House's dresses sell out often, but fortunately the brand restocks and launches new collections every few months. In my experience, they're well worth waiting for—and well worth spending $125, given how much wear I've gotten out of mine. Although I already own two nap dresses, I have a few more waiting in my cart as I know I'll be living in them all summer and beyond.
The product experts at Reviewed have all your shopping needs covered. Follow Reviewed on Facebook, Twitter, and Instagram for the latest deals, product reviews, and more.
Prices were accurate at the time this article was published but may change over time.