Style
I got a Rent the Runway membership for a year—is it actually worth the money?
Having access to a designer wardrobe sounds great, but how great is it?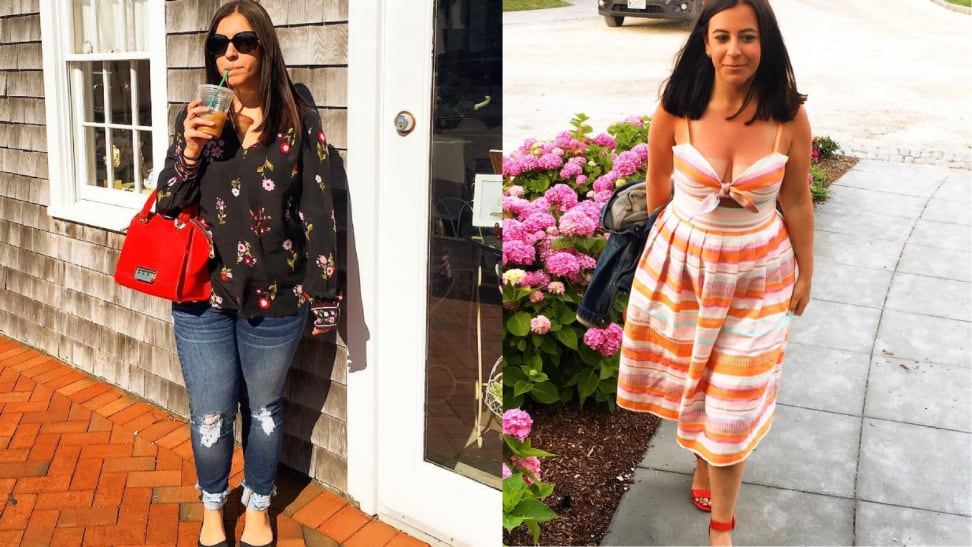 Credit: Samantha Matt
It was 1998. The Spice Girls were thriving. Titanic was in theaters. Harry Potter was new. And thanks to Limited Too being the coolest retailer for 10-year-old girls, I was developing an addiction to clothes.
Limited Too was my safe haven. The graphic tees. The glitter camisoles. The flower-embroidered overalls. Whatever was trendy, whatever was new, I had to own it.
As the years went on, my obsession with Limited Too faded, but my need to have new clothing remained. I remember in 7th grade, my social studies teacher asked me if I wore a new shirt every day. Later on in high school, my mom would yell at me for not wearing things in my closet. "That shirt is two years old," I would tell her, thinking that was a good reason to NOT wear something anymore. "You have a problem," she would respond.
Unbeknownst to me, I did have a problem. If I had a bad day, what could cure that better than a new shirt? Nothing! I thought shopping made me happy. But as I got older, the clothes I desired to own got more expensive, and I was going into debt. I needed to stop.
A year ago, I discovered Rent the Runway's membership service. For a little over $70 a month, I could have access to a very expensive wardrobe. Although it wasn't cheap, I figured if this service could make me happy and keep me from shopping, it would worth be it. So I tried it.
Here's what the past year of being a Rent the Runway member has been like—and if I recommend it for you.
What services does Rent the Runway offer?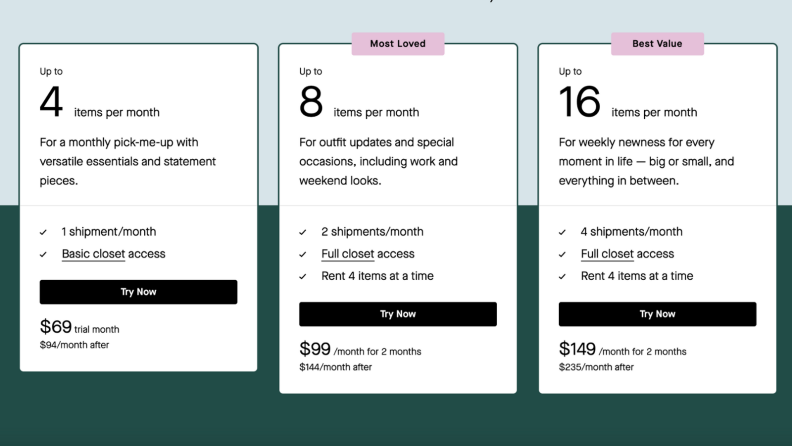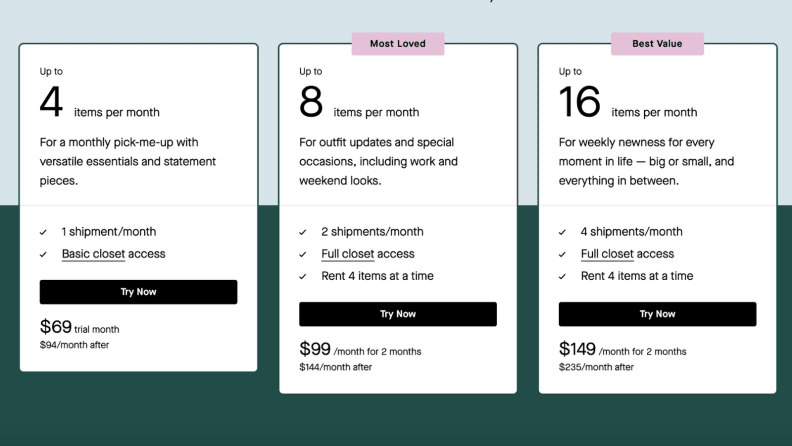 The service has changed a lot since I first signed up. When I tested the service, I signed up for Rent the Runway Unlimited, a service that ran $99 per month and allowed members to rent up to 4 items per month—now, this is most similar to the 16-item membership plan.
These are the memberships they currently offer:
4-item per month membership: $69 for the first month, $94 per month after: This membership grants users four pieces of clothing each month, as well as access to the "Basic Closet," meaning you can rent items that retail up to $350, but you can't access certain designer pieces. With this membership, you pick out your four pieces of clothing at the beginning of the month, then receive a shipment with your items. You can keep the items as long as you want, but you can't receive new items until you've returned your previous ones.

8-item per month membership: $99 for the first month, $144 per month after: With this membership, you can rent up to eight items per month, but only four at a time. The difference between this and the previous membership is that you can receive two shipments per month, so you can swap out your wardrobe picks more readily. This level of membership also allows you to access the full closet, so you can rent items that run up to $3,500.

16-item per month membership: $149 for the first month; $235 per month after: As with the 8-item membership, you can only receive four pieces of clothing at a time, but you can rent up to 16 per month across four shipments. This membership also grants you full closet access—it's for the Rent the Runway fanatics, those who want to mix up their designer wardrobe on a weekly basis instead of monthly.

One-off rentals: If you're not quite ready to commit to a full Rent the Runway membership, you can still rent items from the site on a one-off basis. This is a great option if you're hunting for a wedding guest dress or something to wear to a shower. Rentals can range from $30 to $300, depending on the item. If you're more likely to rent clothing for a specific event, this is the best option for you.
How does the renting process work?
First, you have to decide what to rent. Each week, I spend hours going through the inventory of clothing and accessories. When I like something, I click on the 'heart' icon to favorite the piece and add them to 'shortlists.' For example, right now I have one for weddings and summer.
I decide to favorite things after looking at reviews. There, people share their height, weight, bust size, body type, etc. to give an idea of what the item will look like on people with similar builds. People often share pictures of themselves wearing the items, too. The reviews are helpful, but SO time consuming to go through.
When I have spots in my closet open, I can only order what's available in my size. Often, a lot of my favorite items are unavailable, so I spend hours debating what to actually get. As the most indecisive person on the planet, this is a very stressful time for me.
Is it hard to get what you want?
Rent The Runway certainly has more customers than they did a year ago, so there is more competition for items now—BUT they do add new items weekly. The problem: the new items don't have reviews.
For events, you can't reserve items in advance with a membership, so you can't bank on something being available a few days before. For the weddings I'm attending this year, I'm planning on reserving the items I want in advance and paying for them separate from my membership.
How is the mailing process?
It takes up to two days for items to ship after you order them. And once they ship, it takes up to two days to arrive. I've had trouble with this when ordering clothes on a Tuesday that I want for the weekend. Sometimes they arrive within two days, but other times it can take four to five days. If it always took that long for items to arrive, I would only be able to rent a few items a month, making the Unlimited service not worth it.
Packaging the items to return them is easy. You put your item(s) back in the RTR bag and put the return label on which they send you. Actually sending them is the hard part.
To get the MOST out of your RTR membership, you constantly have to go to UPS if you've got an 8- or 16-item membership. When you don't like something, you have to return it ASAP so you can order as much as possible within the span of a month. Sometimes I get lazy and wait a few days to go to UPS. I know I could get more out of my membership if I didn't put off returning things, but going back and forth to UPS all the time is annoying.
How long can you keep stuff?
As long as you want (as long as you're still paying the monthly membership fee)! You can return everything the same day you get it, or you can keep all items for months. You do NOT have to send everything back together. In fact, this past September I rented a Zac Posen bag that I kept for months until I got sick of it. While I kept that bag, I had three spots open in my closet.
Have I ever had trouble receiving items?
Yes. Sometimes, RTR will receive an item I rented back from someone else that is damaged. They always reach out immediately and tell me to send them my top picks for a replacement item. One time, they gave me a free extra rental because this happened three times in a row. Worried you'll damage something? Rent the Runway includes rental coverage that will handle any minor dings, but if the item is damaged beyond repair, you'll be responsible for buying the item outright.
There have been a few times where I've gotten items in the mail that were already damaged. Once I got a dress with a broken zipper. Another time I got a dress that was wrinkled beyond repair. And another time I got a sweater that smelt horrendous and was covered in hair. I returned all of these immediately and informed RTR about them. RTR has fantastic customer service, but it's frustrating when this stuff happens.
How many people have worn this stuff, and do you get a discount if you want to buy?
It depends on the item and how long it's been available on RTR. Popular items with tons of reviews have probably been worn a lot, but that doesn't mean they aren't in great condition. I actually bought a black jumpsuit I rented that had tons of rave reviews for short people like me. The reviews were right—it fit my body type perfectly. I got a member's only discount on the jumpsuit and have worn it a bunch of times.
Some of the new items I've rented came with the tags on. If I wanted to buy them, I could get a discount, but I haven't rented anything new I've wanted to buy yet.
What have my top 4 favorite rentals been so far?
Here are the best things I've ever rented from Rent the Runway.
1. This Spring Stripe Dress by Hutch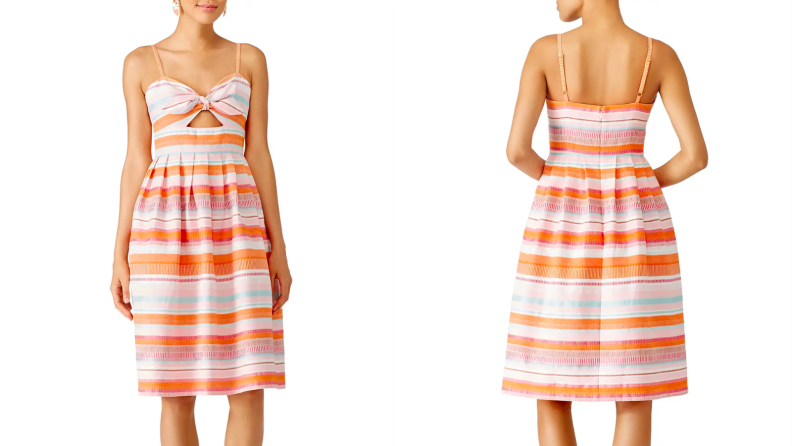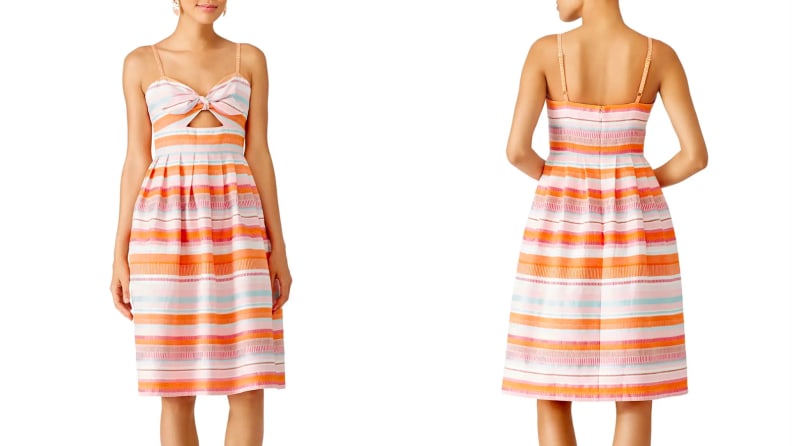 This gorgeous dress is available to rent with all memberships, or you can rent it on a one-off basis for $50 for four days. Reviewers give it 4 stars, but you can scroll through the image gallery to see how the dress fit on people of different sizes to get a feel for how it would look on you. This dress is perfect for summer parties and after-work drinks in the sun.
Rent the Hutch Spring Stripe dress for $50 ($330 retail)
2. The stunning black jumpsuit I ended up buying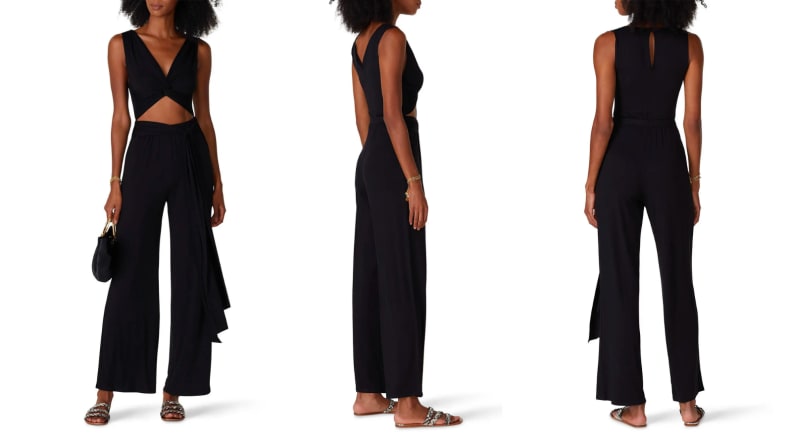 I fell in love with this jumpsuit as soon as I rented it. Sadly, it's no longer available to rent on the site, but this twisted black jumpsuit is similar—but features a keyhole in the front that adds a little more attitude. Reviewers give it 4.5 stars and note that it fits true to size.
3. This casual red dress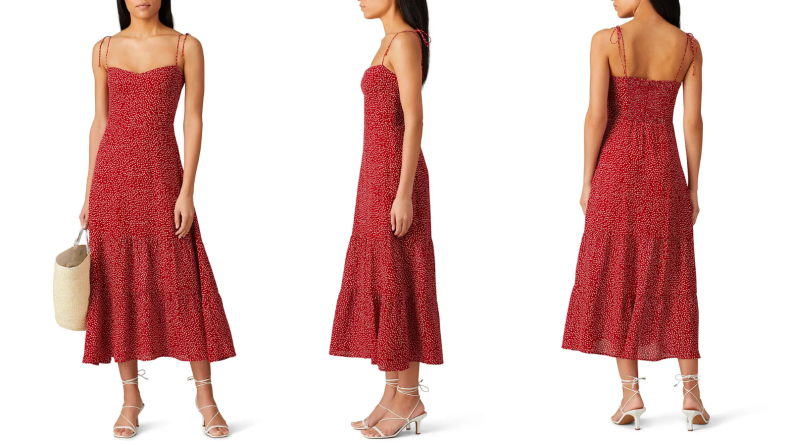 This is another item I loved so much, I bought it! The particular dress I rented (and purchased) is no longer available on the site, but I found a similar one that's as casual and breezy as the one I tried. This dress comes with spaghetti straps and a breezy shape, perfect for layering or wearing during warm summer days. Reviewers give it 4 stars and say it's an incredibly flattering fit.
4. The red Zac Posen bag I rented for four months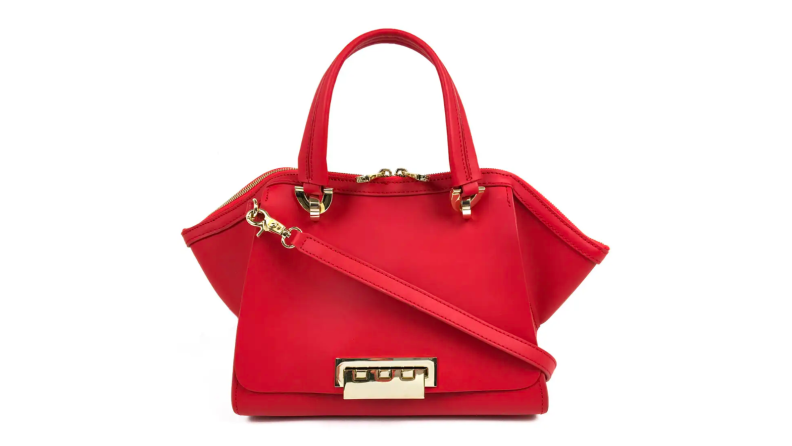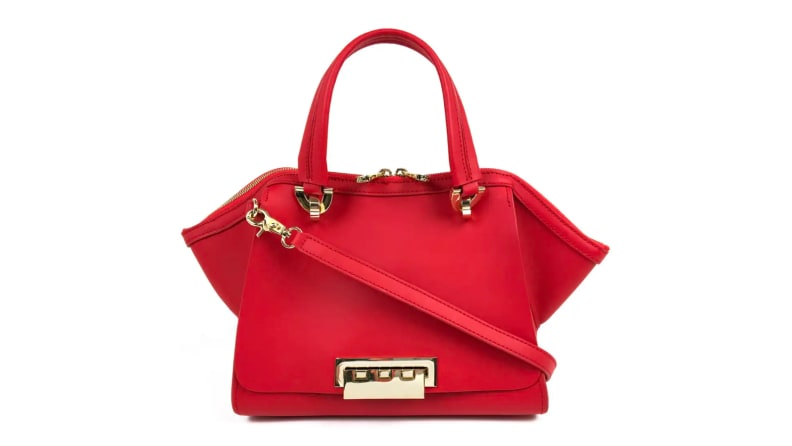 I was obsessed with this Zac Posen bag that I kept it for a whopping four months. It's a gorgeous and vibrant shade of read and was large enough to carry just about anything I needed. It comes with two straps to use—a crossbody strap and two handles, so you can wear it on your shoulder or carry it along.
Buy the ZAC Zac Posen Red Eartha Iconic bag for $169 ($495 retail)
Has my Rent the Runway membership stopped me from shopping?
Yes and no.
It has stopped me from spending money on things that are too trendy or things I'll only wear once or twice. I'm still buying clothes, shoes, and jewelry—just not as much. And the things I do buy are more "closet staples" or "investment pieces."
RTR actually helped me to SELL a bunch of clothes. In fact, I made over $700 from selling my clothes, but that's for another article that is coming soon.
Do I recommend a Rent the Runway membership?
I dig my Rent The Runway membership, but I'm not going to recommend it for everyone. After all, it's expensive.
If you find yourself dressing up a lot for work and play, a Rent the Runway membership could be super helpful for your lifestyle. But if not, it's not worth it. I actually paused my membership for two months recently because I literally had NOTHING coming up that I wanted to look nice for. It really depends on your situation.
Regardless of lifestyle, if you have an expensive shopping habit you're trying to kick, Rent the Runwayu can help—I am living proof of that. It's taught me to invest in things I will get a lot of use out of, instead of buying a bunch of shirts from Target or the expensive boutique next to my apartment that I'll stop wearing next year. I'm confident that even if I stopped my membership, I wouldn't shop as much as I used to.
So will I continue doing it? I'm not sure. Rent the Runway is a luxury service, and it's certainly not something I should be paying for. But it's helping to cure the shopping fever I've had since stepping foot in Limited Too circa 1998, and that's enough of a reason to keep doing it for me. Plus, I love clothes… and french fries.
Buy the Rebecca Minkoff Black Graham Sweatshirt for $25 ($88 retail)
The product experts at Reviewed have all your shopping needs covered. Follow Reviewed on Facebook, Twitter, Instagram, TikTok, or Flipboard for the latest deals, product reviews, and more.
Prices were accurate at the time this article was published but may change over time.