Style
9 popular places to buy men's dress shoes
Get your next pair of formal shoes at any budget.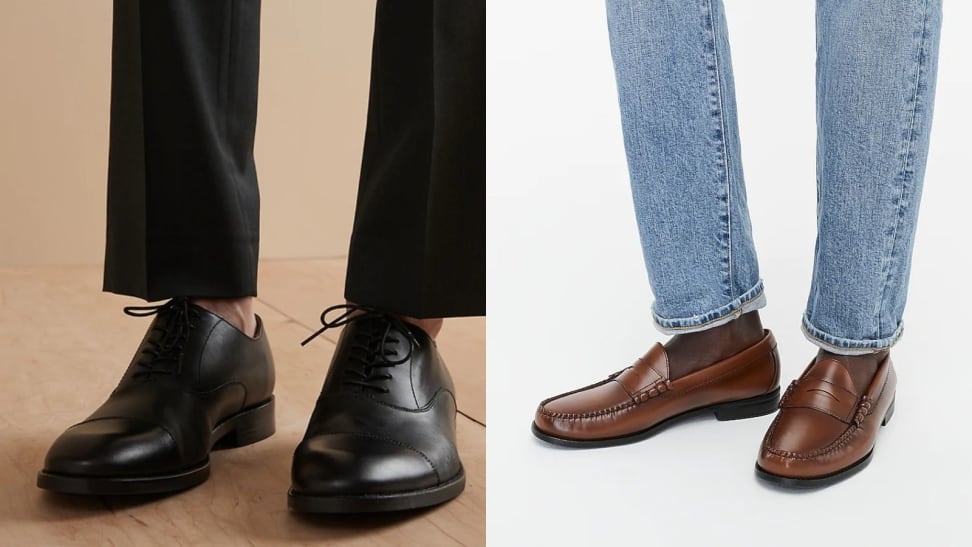 Credit: Banana Republic / J.Crew
Men, listen up: A pair of dress shoes is an essential part of your wardrobe. It doesn't matter how many sneakers you own or if you prefer wearing sandals to any shoes at all—dress shoes are a vital piece to have around for formal events. Wearing a polished pair of black Oxfords or a simple suede loafer can upgrade an outfit into something more elegant, even if you're in jeans.
It's worth investing in a pair of nice, high-quality dress shoes, even if you only wear them a handful of times throughout the year. Whether you're seeking something leather, suede, or "vegan," you can find a pair at almost any budget from these popular retailers, including DSW, J.Crew, and Nordstrom.
1. DSW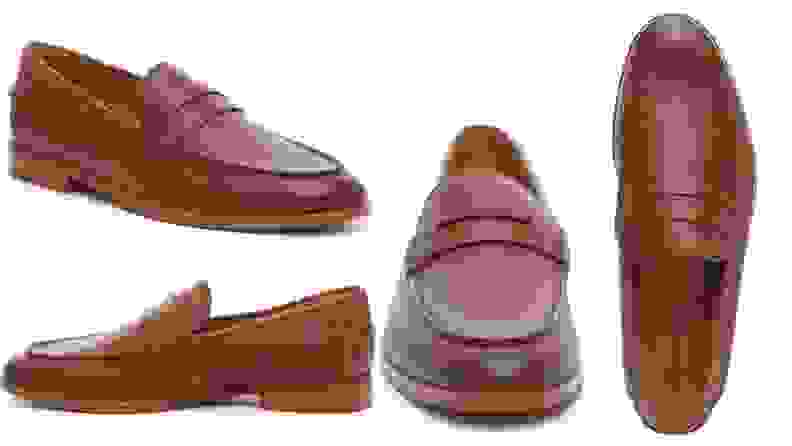 Men's sizes: 4-16
Price: 👞 - 👞👞👞
Return/exchange policy: 90 days
If you want to sift through a wide selection of dress shoes at affordable prices, DSW is where to go. The retailer has over 700 men's dress shoes to choose from, ranging in style from penny loafers to cap-toe oxfords. The retailer carries notable brands like Cole Hahn, Deer Stags, Florsheim, and—if you're looking for luxury at a discount—Gucci.
Shoppers who are worried about sizing issues or buyer's remorse, fret not—DSW offers full refunds on unworn items within three months of purchase date, and exchanges within two months. Plus, if you sign up for DSW's free rewards program, shipping is waived on all purchases.
2. Kohl's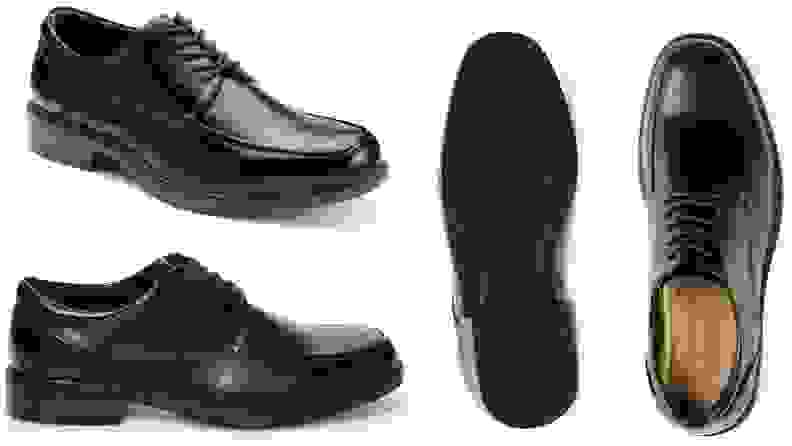 Men's sizes: 6.5-14
Price: 👞 - 👞👞
Return/exchange policy: 180 days
Kohl's is a haven for budget-friendly dress shoes. If you're looking to stock up on shoes for the office or don't want to spend too much on an upcoming special occasion, the retailer has several options for loafers, oxfords, and boots. You'll find popular brands like Dockers, Cole Hahn, and Stacy Adams, usually at less than usual retail prices.
Kohl's also has a generous return policy, which allows returns and exchanges for unworn items up to 180 days after purchase.
Shop men's dress shoes at Kohl's
3. Banana Republic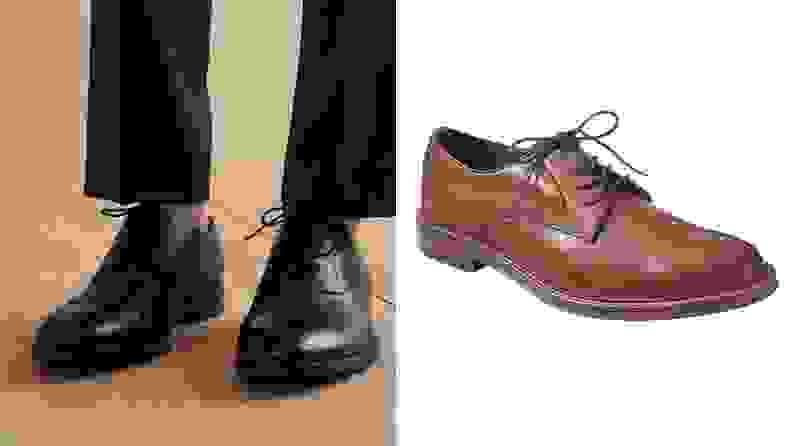 Men's sizes: 7-13
Price: 👞👞 - 👞👞👞
Return/exchange policy: 45 days
Mall brand Banana Republic is best known for keeping a rotation of modern-yet-timeless pieces, and its dress shoes are no exception. While the company has tons of clothing fit for the explorer—urban or otherwise—it's also home to shoes appropriate for special occasions and office spaces alike, with many shoes made from Italian leather.
Prices run between $100 to $160 for the company's handsome dressy footwear. If you end up second-guessing your purchase, Banana Republic accepts returns of unused and unwashed items within 45 days. Banana Republic rewards members also get free shipping on all orders over $50 and sign-up is free.
Shop men's dress shoes at Banana Republic
4. J.Crew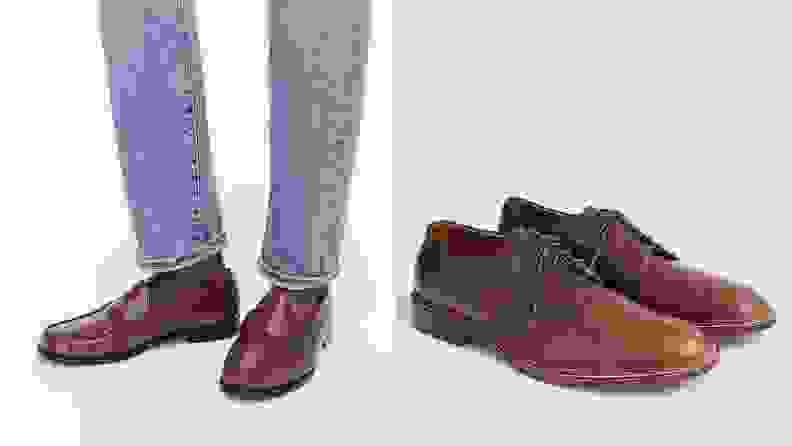 Men's sizes: 7-13
Price: 👞👞👞 - 👞👞👞👞
Return/exchange policy: 30 days
J.Crew is a go-to retailer for menswear pieces that mix high-fashion style with easygoing basics. Although the company's T-shirts, shorts, and chinos are general go-to favorites, its in-house line of leather penny loafers looks just as pristine as higher-end competitors. Even more notable is J.Crew's footwear made in collaboration with luxury shoemaker Alden, which includes exclusive bluchers (like derby shoes, but with sewn-in leather pieces that hold the laces), boots, and Oxfords at prices a few hundred dollars lower than Alden retail prices.
J.Crew accepts exchanges and returns on unworn merchandise within 30 days of purchase, while rewards members get free shipping if they sign up for free.
5. Nordstrom
Men's sizes: 4-16
Price: 👞👞 - 👞👞👞👞👞
Return/exchange policy: Case-by-case basis
Nordstrom built its reputation for having a wide selection of brand-name pieces. You can browse Nordstrom's entire selection of men's dress shoes—which includes over 1,000 items—and come across luxury brands like Gucci, Common Projects, and Paraboot at less than what they usual retail.
Of course, not all of Nordstrom's stock leans on opulence. You can find numerous styles of premium leather derby boots, monk straps, and tassel loafers from brands like Steve Madden, Ralph Lauren, and Johnston & Murphy. Returns on all Nordstrom items have no prescribed window and instead are handled on a case-by-case basis, though the company usually errs more on the side of grace than not.
Shop men's dress shoes at Nordstrom
6. Aldo
Men's sizes: 7-14
Price: 👞👞 - 👞👞👞
Return/exchange policy: 60 days
The men's dress shoe collection from handbag and shoe retailer Aldo is always on top when it comes to trendy styles. The company offers footwear that appeals to menswear enthusiasts and streetwear pundits alike, with oxford shoes that lean on simplicity and loafers that are as colorful as they are attractive. If you're looking for some added flair to your dressy outfit, you can even find loafers with lug soles or metal bit mules.
Aldo is a safe bet for finding oxfords, loafers, mules, and boots, with no one shoe exceeding $160. The company allows returns and exchanges on unworn products within 60 days of purchase.
Shop men's dress shoes at Aldo
7. Beckett Simonon
Men's sizes: 7-14
Price: 👞👞👞👞
Return/exchange policy: 60 days
Small-batch shoemaker Beckett Simonon is a great choice for buying luxury men's dress shoes—if you can wait for shipping. The retailer offers pre-orders for all of its styles, as each shoe is made-to-order to ensure less waste, premium quality, and competitive pricing for bespoke products. Release dates for all of its stock vary by shoe style—which includes boots, oxfords, and sneakers—but playing the waiting game can save you a lot of money. A pair of derbies can run $209, which the brand says would retail for $350 elsewhere.
If you're okay with pre-ordering your dress shoes, you'll be rewarded with free shipping, free returns and exchanges within 60 days, and a premium leather or suede dress shoe for way less than your high-end retailer can offer.
Shop men's dress shoes at Beckett Simonon
8. Allen Edmonds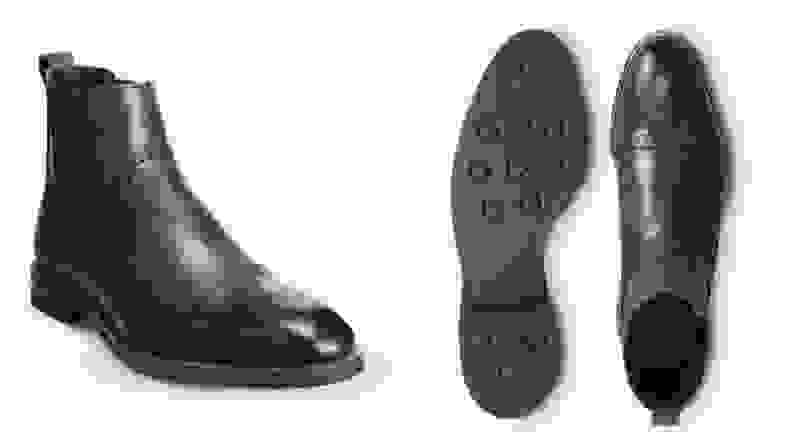 Men's sizes: 4-16
Price: 👞👞👞👞-👞👞👞👞👞
Return/exchange policy: 90 days
Allen Edmonds is a favorite of prep fans and business professionals who seek both high-quality craftsmanship and American heritage in their dress shoes. Although the company is on the upscale side of fashion, its name has been synonymous with premium dress shoes since the early 1900s. It's an essential retailer for those who are looking for luxury oxfords, boots, and loafers in a polished variety of colors and premium genuine leather. And if you're not keen on any styles Allen Edmonds currently has in stock, you can also custom order the dress shoe you're looking for.
All Allen Edmonds orders come with free shipping, so long as your purchase is over $100 (and with dress shoes starting at $395, it will be). Returns are accepted up to 90 days after initial purchase. If any of Allen Edmonds' styles call out to you but seem too steep in price, the retailer also has a Factory Seconds line that sells its shoes with minor defects for less—for example, $139 versus $395.
Get men's dress shoes from Allen Edmonds
9. Clarks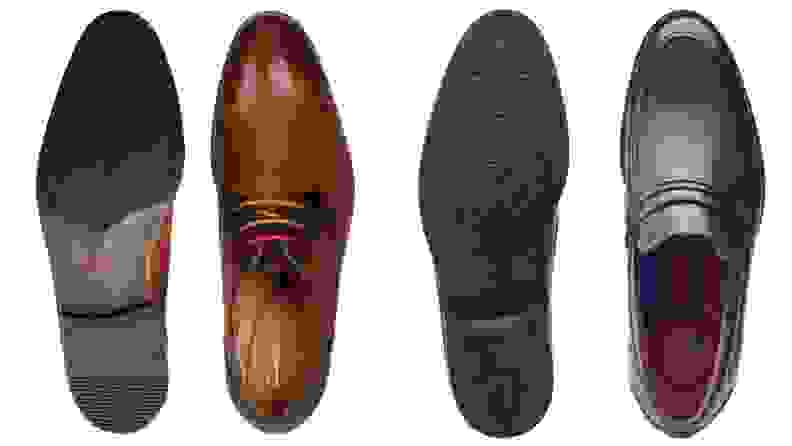 Men's sizes: 7-15
Price: 👞👞 - 👞👞👞
Return/exchange policy: 60 days
When people think of Clarks, its ultra-popular moccasin-like Wallabees boot comes to mind, but the company is worth a further look when it comes to buying dress shoes. Clarks has a great selection of formal boots, loafers, and oxfords that can be purchased for as low as $39.99—and they'll look just as good. Grab any of its shoes in leather, nubuck, and suede.
Clarks offers free shipping on all orders over $50 as well as free returns within 60 days of purchase on unworn merchandise.
Shop men's dress shoes at Clarks
The product experts at Reviewed have all your shopping needs covered. Follow Reviewed on Facebook, Twitter, and Instagram for the latest deals, product reviews, and more.
Prices were accurate at the time this article was published but may change over time.