Style
14 top-rated pairs of men's shorts to buy now for summer
Free your legs for brighter days and warmer weather.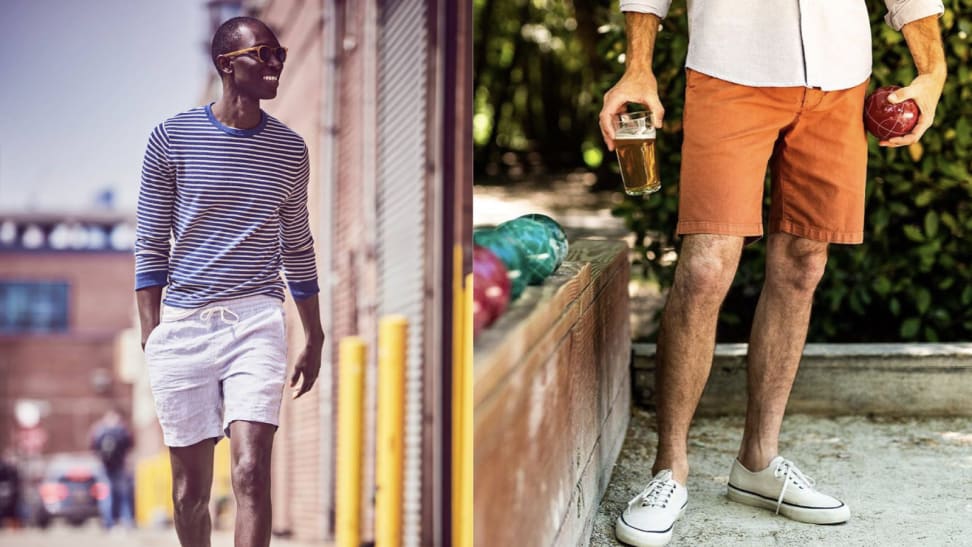 Credit: J.Crew/Flint and Tinder
There is a time for pants. It's called winter, and that time is now over . As you gear up for spring and summer, you may want some leg coverings that stop above the knee—yes, we are talking about shorts.
Shorts come in multiple styles, including dapper chinos, stretchy workout shorts, and plenty of comfortable options in between. Some are slim-fitting and look sharp when paired with a polo for casual outings, while others will help you dominate your next workout or Netflix binge-watching session. You're not lacking choices, but winnowing down those choices requires some effort. We went ahead and did that for you.
Below are 14 of the best men's shorts, from top-rated athletics brands like Lululemon and Nike to cool and casual numbers by Everlane and J.Crew. Each option has multiple colors and fits to ensure that you (and your legs) find a new favorite pair to carry you through the season.
1. These lightweight canvas shorts from Buck Mason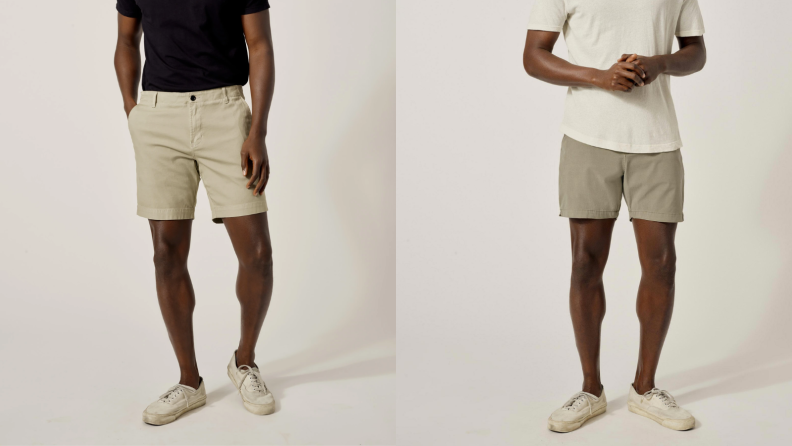 Since it first launched in 2013, Los Angeles-based Buck Mason has found fans all over the country who appreciate its timeless T-shirts, classic jeans, and other essentials. That extends to its small but mighty collection of shorts. The military-inspired Walk Short is made from breathable, lightweight canvas that is strong and flexible. It's tailored through the hip and thigh for a slimmer silhouette, and the 2% spandex content in the fabric allows the shorts to stretch without pulling.
If your activities are more nautical in nature, try the Deck Short, which is equally appropriate in and out of the water. Its fast-drying cotton blend will keep you comfortable, whether you're in the pool or helming the grill. Both pairs are available in three earth-tone colors and waist sizes from 28 to 40.
2. These athletic shorts from Lululemon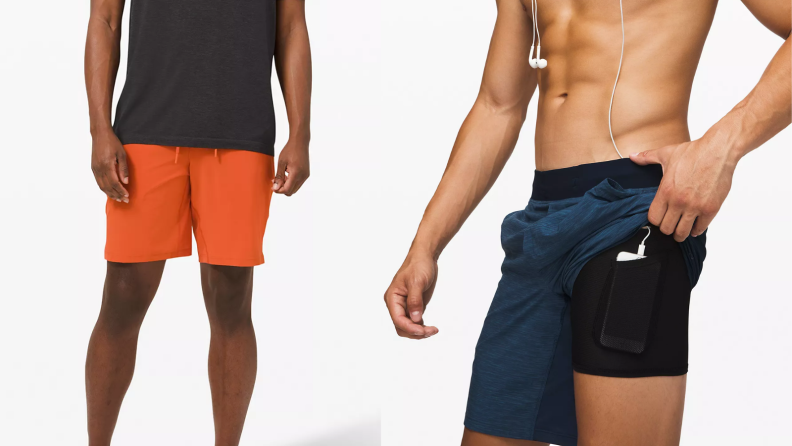 Lululemon's apparel is designed to move. T.H.E. Short is made from four-way stretch, sweat-wicking material that can handle even your toughest workouts. Although, you don't need to be doing anything athletic to wear them—they work just as well when hanging around the house or running errands. The shorts come in men's sizes XS to XXL.
The built-in liner ensures a snug fit—no underwear required—and even features a small "media pocket" to hold your phone. Some reviewers suggest you may need to go up a size if you prefer a looser fit. But several happy customers note the shorts are comfortable and "well worth the price."
If you'd rather operate sans liner, Lululemon also has linerless shorts available in seven- and nine-inch lengths. There's no dedicated media pocket, but there is a zippered pocket to securely hold all your stuff.
3. These extra-soft French terry shorts from Flint and Tinder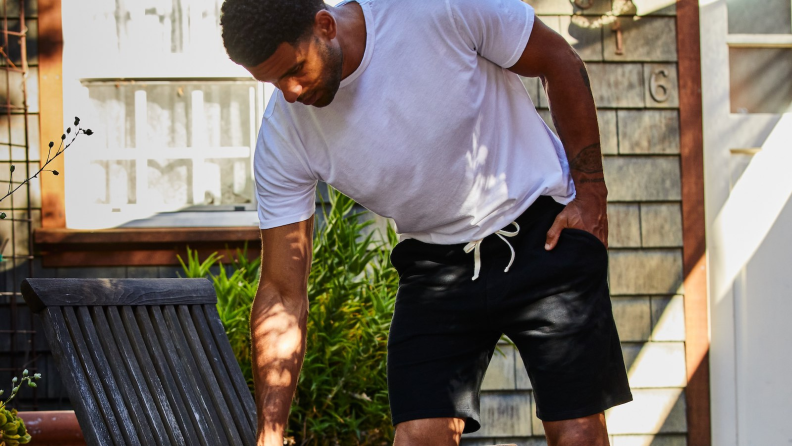 Flint and Tinder's French Terry Sweat Shorts take everything you love about sweatpants—soft, casual, comfortable, reminiscent of a young Rocky Balboa—and remove the fabric from the knee down. The midweight fabric is available in four colors and built for anything from the gym and outdoor hikes to grocery runs. The shorts, which come in men's sizes XS to XXL, feature a drawstring waistband, two side hand pockets, and a back pocket.
Reviewers call these the "most comfortable shorts ever" and "the ultimate lounging shorts." Others say they are "perfect for the WFH lifestyle."
Get the Flint and Tinder French Terry Sweat Shorts from Huckberry for $68
4. These boat-worthy shorts from J.Crew
You don't need a yacht or even a canoe to strut around in J.Crew's Dock Shorts. These nostalgic numbers are an ode to the '60s, when cotton was king and thighs were visible. The relaxed-fit chinos have a six-inch inseam, a hint of stretch, and an elastic waistband with a drawstring. They're cool and casual and perfect partners for T-shirts, polos, and sweaters, should the marine air turn chilly. They come in men's sizes XS to XXL.
According to J.Crew's website, 94% of buyers recommend these shorts, with one reviewer saying: "These are awesome shorts for around the house, at the beach, on the boat, or just casual lounging anywhere. Super comfortable, and I love the classic style."
Get the Dock Short in Stretch Chino from J. Crew for $59.50
5. These hybrid shorts from Fourlaps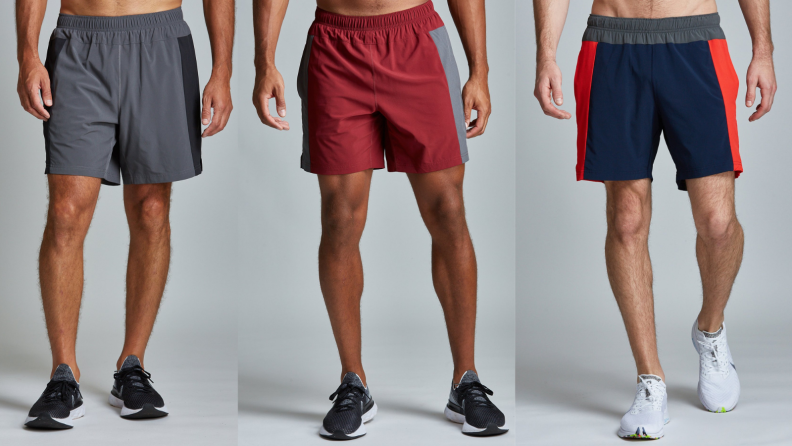 Fourlaps' Bolt Shorts are multi-purpose, and can be worn for both running and training. The sweat-wicking boxer brief liner keeps everything in place, and the four-way stretch fabric flexes with you as you move. The shorts feature ventilation holes the size of a pin on each leg, which encourage air flow to keep you cool. They come in men's sizes S to XXL.
The shorts sport a 4.7-star rating from 140+ Fourlaps shoppers, with many praising the shorts' comfort, durability, and functional pockets. One reviewer says, "The lining works like a dream and the shorts are light and look great."
Get the Bolt 7 Inch Shorts from Nordstrom for $68
6. These stretchy sport shorts from Everlane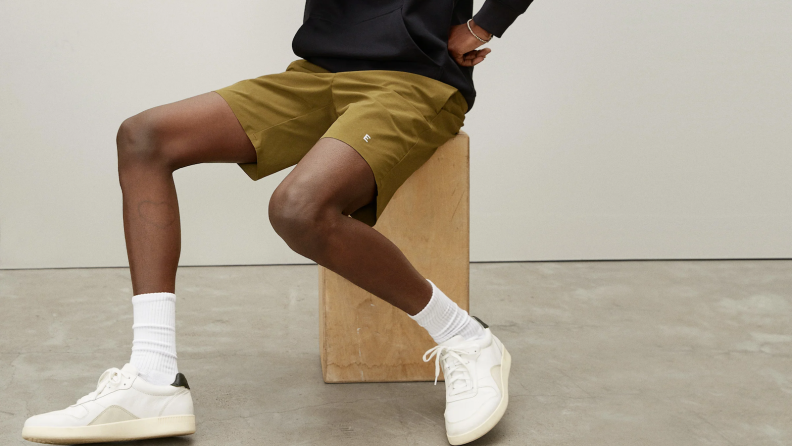 Everlane's wheelhouse is affordable everyday basics, including jeans, tees, and shorts. The brand developed its ReTech fabric to be a high-performance blend of recycled nylon and spandex, which translates to extra comfort and durability on and off the court or field. The ReTech Sport Shorts are moisture-wicking and quick-drying and feature a reflective accent to keep you visible to cars and cyclists as you run or stroll.
The shorts are also backed by a 365-day guarantee, so go ahead and put them to the test. If they get a hole or lose their shape, Everlane will replace them for free. They are available in four colors and come in men's sizes XS to XL.
Get the ReTech Sport Short from Everlane for $50
7. These shorts from Under Armour with more than 20,000 reviews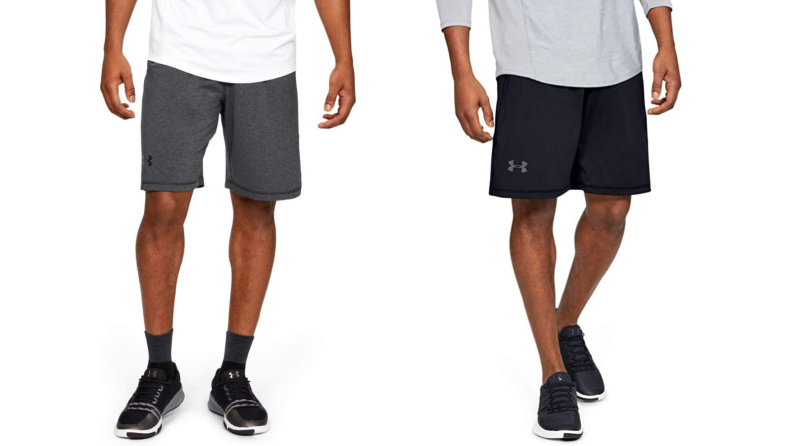 Under Armour makes great workout basics—like these shorts. The brand's Raid Shorts will keep your lower half swathed in soft, HeatGear fabric that keeps your skin cool and protected from the sun's harmful rays. The four-way stretch construction moves in every direction, and the anti-odor technology claims to prevent the growth of unpleasant microbes when you sweat. The shorts come in men's sizes XS to 4X.
Need more convincing? The shorts have a 4.5-star rating from more than 20,000 reviews on Amazon. Multiple reviewers note the shorts' deep pockets, which securely hold a phone. "The shorts are made with a strong, comfortable material and they fit well," one person says. "There's no sign of wear after many rounds of washing."
Get the Raid 10-inch Workout Gym Shorts from Amazon starting at $22
8. These breezy shorts from Banana Republic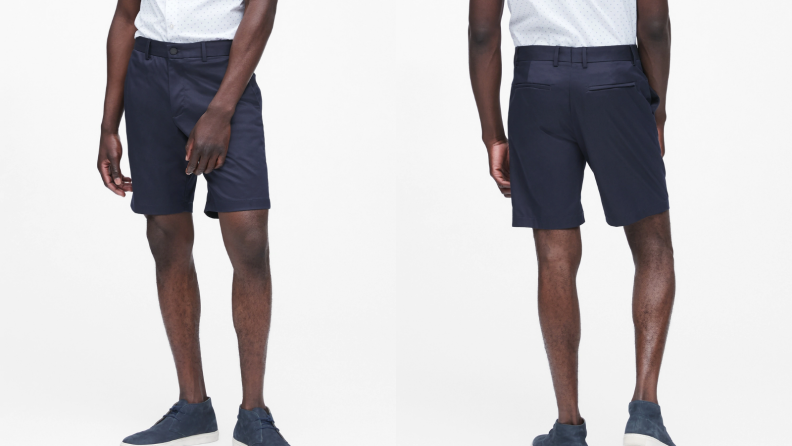 Shorts season means warm weather, so you want to stay cool during those hot, sticky months. Turns out, volcanic sand may offer relief. The Slim Core Temp Short claims to use "active particles" derived from volcanic sand to regulate body temperature. The fabric also resists wrinkles, dries quickly, and looks good doing it—the 9-inch inseam has a flattering cut that fits slim through the leg. The shorts are available in a range of waist sizes, from 26 to 44.
Customers like the sleek, classic look of these shorts, which offer an upgrade to old-school, billowy khakis, and have nearly 500 five-star ratings. Many appreciate the great fit and high-quality fabric.
Get the 9" Slim Core Temp Short from Banana Republic for $69.50
9. These vintage-inspired work shorts from Madewell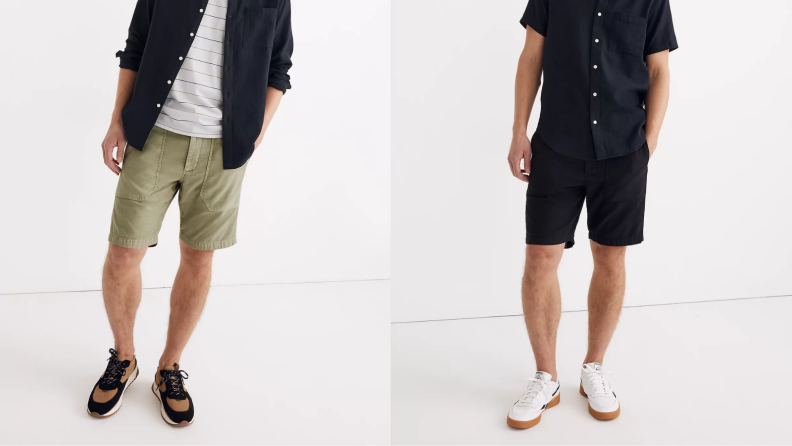 Madewell doesn't produce a lot of men's shorts, but the small collection it offers is high on quality and design. Modeled after vintage workwear, these soft, relaxed-fit shorts are made from garment-dyed cotton for that lived-in look. They have roomy pockets to accommodate your everyday items, plus adjustable waist tabs and a wider leg opening for a laidback feel.
Available in black and "pale fatigue" green, the shorts have visible stitching around the pockets and include button flaps on the back pockets for an extra touch of detailing. They come in waist sizes 28 to 38.
Get the Garment-Dyed Relaxed Workwear Shorts from Madewell for $68
10. These budget-friendly classics from Champion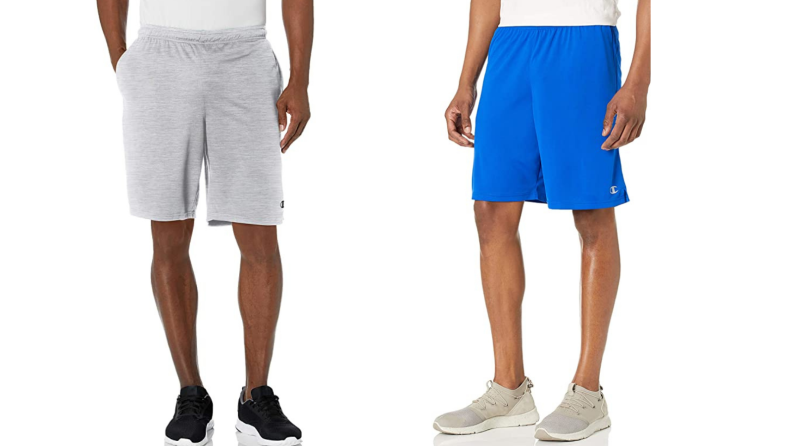 You may or may not want to relive middle school gym class, but you can at least embrace some nostalgia with these Champion training shorts. They're just as simple as you remember, with a lightweight feel and both an elastic waistband and drawstring. Wear these during your next workout, or pull them on before mowing the lawn or running errands. They come in men's sizes S to XXL.
The shorts have a 4.6-star rating on Amazon from more than 3,800 reviewers, with multiple customers noting that these shorts are a competent substitute for trendier, more expensive options. One happy camper says he is "pretty much living in these when I'm not doing something that requires jeans."
Get the Champion Core Training Shorts from Amazon for $13.50
11. These stretchy chinos from Bonobos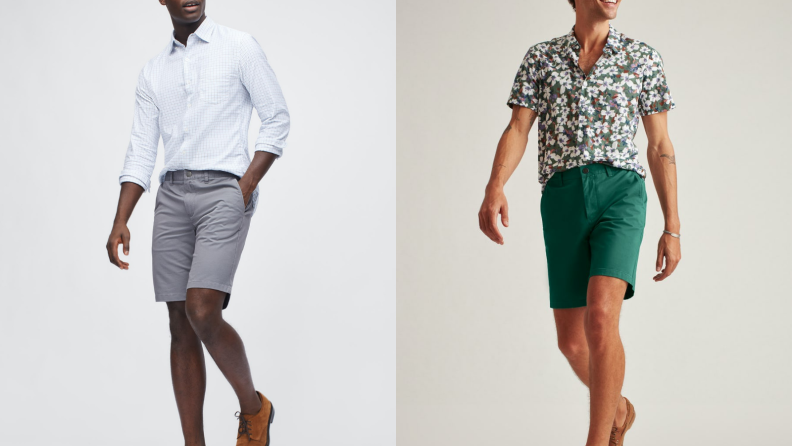 Bonobos became famous for its pants, which are essentially just long shorts. So it's no surprise that the retailer also offers a variety of shorts across different styles, colors, and lengths. These handsome chinos feature a floral pattern on the inside for a touch of fun. They are available in three fits—standard, slim, and athletic—and four inseams: five-, seven-, nine-, and 11-inches. They also come in eight colors and an impressive range of waist sizes, from 28 to 54, so there's something for everybody—and every body.
More than 230 customers have weighed in with their thoughts, netting these shorts a 4.6-star rating. Reviewers praise their stylish look and durable construction, and they note the ability to find a custom fit thanks to multiple sizing options.
Get the Stretch Washed Chino Shorts from Bonobos for $79
12. These quick-drying shorts from Nike
If it's hard-working workout shorts you want, Nike has you covered. These best-sellers feature the brand's Dri-Fit technology, which means the fabric wicks away sweat, and "motion vents" on each leg to keep you dry and moving. The shorts, which hit right above the knee, come in men's sizes S to XXL.
Many reviewers praise the shorts for their sweat-wicking abilities and durability. "I wear them while coaching high school soccer in Hawaii," says one reviewer. "Even with all the heat and humidity, I stay dry and comfortable wearing these Nike shorts, and even though I've worn them dozens of times they still look new."
13. These loose-fit shorts from Amazon with 21,000 reviews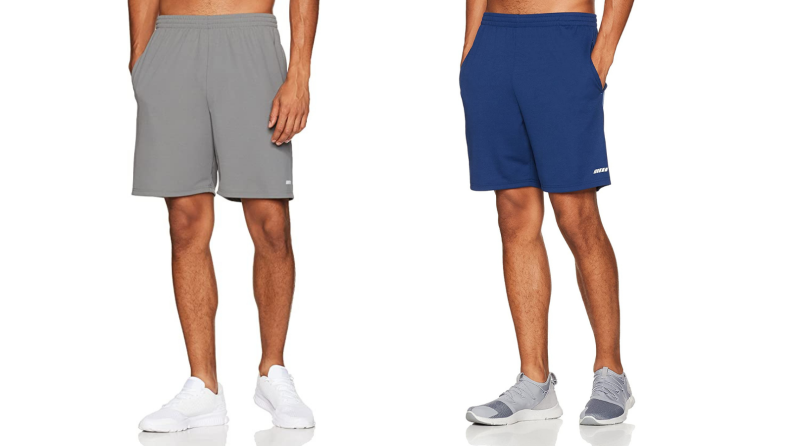 Two-pack clothing is often relegated to underwear and T-shirts, but Amazon's in-house Essentials brand bundles two pairs of its Loose-Fit Performance Shorts for an impressive value. The lightweight shorts are made from moisture-wicking mesh with an eight-inch inseam and internal drawstring. The two-packs are available in multiple color options and come in men's sizes S to XXL.
Sometimes you may wonder about Amazon reviews, but it's probably fair to assume that 21,000 ratings can't be wrong. Customers give the shorts 4.5 stars, noting their deep pockets, excellent fit, and surprisingly good quality for the price.
Get the Amazon Essentials Men's 2-Pack Loose-Fit Performance Shorts from Amazon for $18.50
14. These go-anywhere twill jogger shorts from Old Navy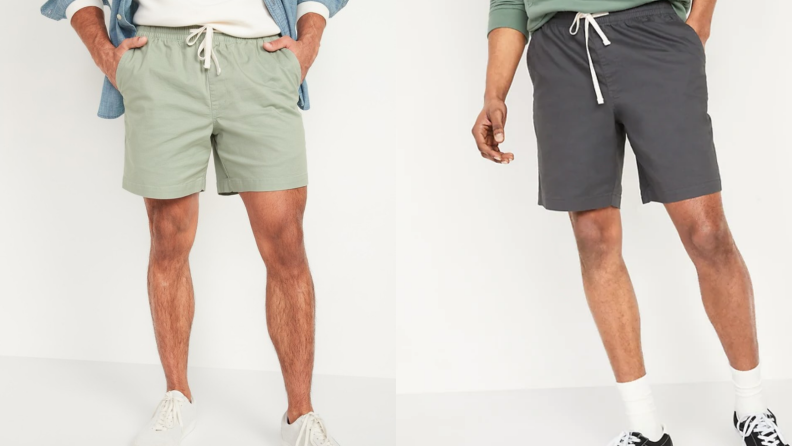 Old Navy's affordable basics can keep you clothed when you're on a budget. That holds true for these versatile jogger shorts that are just the right amount of jaunty. The soft-washed cotton twill is merged with 2% spandex to keep things flexible, and the on-seam hip pockets and welted back pocket provide subtle details. The shorts come in multiple men's sizes—including regular, big and tall—from XS to XXXL.
You can wear these shorts for all your daily activities. "They're perfect for all-you-can-eat buffets where you want to look presentable but a stretchy waistband is not only fashion but function," says one reviewer we'd like to meet.
Get the Twill Jogger Shorts from Old Navy for $24
The product experts at Reviewed have all your shopping needs covered. Follow Reviewed on Facebook, Twitter, and Instagram for the latest deals, product reviews, and more.
Prices were accurate at the time this article was published but may change over time.