Tech
A good external monitor is a must for your home office—and this one's 27% off right now
Enough of constantly switching between windows. Treat yourself to a larger screen with room for everything you need.
Credit: ViewSonic
Laptops are super convenient, obviously. But their very nature means you are stuck with a smaller screen. Most fall in the 13- to 15-inch range, which doesn't leave a whole lot of room for multitasking and is definitely not ideal for any sort of entertainment.
If you have a dedicated desk at home where you work (or where you tell people you work while you're actually on the couch), I cannot recommend getting a second monitor more highly. Especially because right now Amazon is offering a 23-inch 1080p ViewSonic monitor for $109.99, 27% off the original listed price of $150.
Why you might want to pick this monitor up
When I showed this deal to one of our resident tech experts, Lee Neikirk, he agreed that a monitor of this size and caliber for barely over $100 is a bargain, though it might not be winning awards any time soon.
"This ViewSonic monitor delivers a lot of flexibility for $110," Lee explains. "At 23 inches, it's not the biggest, but is the perfect size for its 1080p full-HD resolution. The IPS panel promises to deliver the best viewing angles and color fidelity. It might not be the best choice for gamers, but is sure to deliver a beautiful picture when you're browsing the web, editing photos, or catching up on Game of Thrones. The option of both HDMI and DisplayPort inputs are icing on the cake."
The monitor is thin and frameless, meaning virtually every inch of space is devoted to the screen. This gives it a sleek, modern aesthetic that will make any home office feel more professional. And with a 1080p resolution, and HDMI, DisplayPort, and VGA inputs, you can use the ViewSonic monitor to watch Netflix or play games when you're taking a well-deserved break.
But wait, there's more!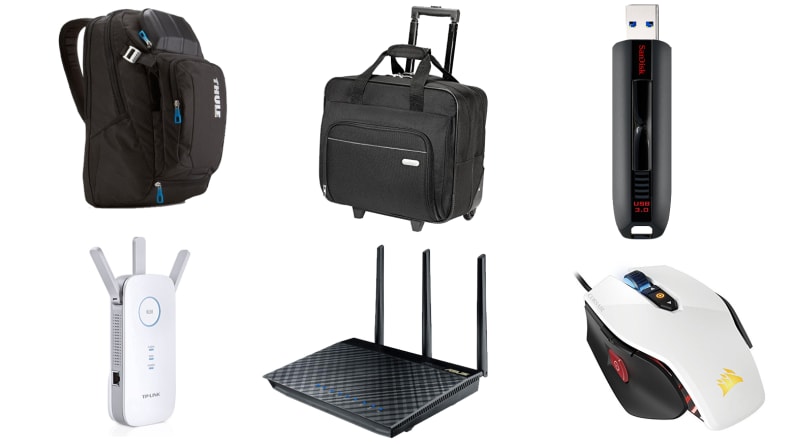 The ViewSonic monitor is part of a larger Amazon Deal of the Day featuring discounts of up to 30% on a handful of PC accessories. If you travel a lot for work, want to have some extra external storage on hand, or need to revive your home WiFi network, check out some of the other options:
• Thule laptop backpack—$84.99 (Save 27%)
• Targus rolling laptop case—$$34.99 (Save 22%)
• SanDisk Extreme 64GB USB 3.0 flash drive—$26.45 (Save 41%
• TP-Link WiFi range extender—$43.99 (Save 60%)
• Asus wireless dual-band WiFi router—$79.99 (Save 32%)
• Corsair gaming mouse—$39.99 (Save 33%)
All of these deals will be gone by midnight PST, so don't wait if something catches your eye.
Prices are accurate at the time of publication, but may change over time.