Canon has announced today the release of three new Vixia HF R-series camcorders for 2012: the HF R300, HF R32, and HF R30. The three camcorders will ship in mid-February, with WiFi functionality included on the R32 and R30.
The HF R300, R32, and R30 will debut at $349, $449, and $549 respectively, with only the two higher-end models offering built-in memory and WiFi. The R30 will include 8GB of built-in memory compared to 32GB built-in on the R32. All three models will come with single SD/SDHC/SDXC-compatible card slots (Canon offered dual-slot systems on last year's Vixias).
The whole R-series will see only a minor uptick in sensor performance, with Canon claiming the 3.28-megapixel HD CMOS offers just a 3% improvement across the line compared to previous R-series models. This is compared to a 20% improvement in the new HF M-series CMOS sensors, according to Canon.
All three R-series models will feature manual audio control and a mic terminal, but Canon is removing all Component video outputs on its new Vixia camcorders. The result is a 20% reduction in size over previous R-series camcorders, and Canon will help ease this transition by including an HDMI cable with their 2012 models.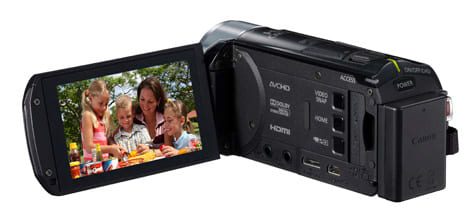 The new WiFi functionality on the R32 and R30 will allow users to upload videos to the web, to a computer on the same network, and to certain DLNA-compliant devices. This will also let users push and manage content via an iPhone or iPad using an iOS app that will be available (for free) soon. Android functionality should be added in the future as well.
In addition to the ability to back up video via WiFi, the HF R32 and HF R30 will feature the ability to transfer footage directly to an external hard drive without a computer. This will require the use of the optional USB adapter UA-100 from Canon, however.
As with the M-series, Canon will also release the R300, a similar model without built-in memory or WiFi connectivity. The R300 will otherwise be very similar to the R32 and R30 models, and will debut at a lower price.
The R-series models will also include Canon's "story creator" mode, which will provide in-camera shooting tips to help novices piece together a story through short clips. Canon's example of this included videotaping a "travel" dinner, with the camcorder offering tips like going from a wide establishing shot of the restaurant to close-ups of individual dishes.
The R-series models will also feature a touchscreen panel design reminiscent of the Canon G10, and there are some slight improvements to the overall user interface. Canon has also enhanced the Smart Auto feature with 38 scene types with seven different "cinema look" digital filters compared to nine on the HF M-series camcorders.
The entire R-series will be slimmed down 21% over last generation, according to Canon, and will be available in March. The Vixia R32 will debut at $549, the R30 at $449, while the R300 will be available for $349 at launch.
For the full press announcement on the R-series camcorders, please visit Canon's press site here. You can also read our coverage of Canon's Vixia M-series models for 2012 right here.
{:{PhotoGallery article.attachments}:}