Canon has announced today the release of three new Vixia HF M-series camcorders, revealing the HF M52, M50, and M500 models at CES 2012. The three models bring big changes to the M-series line, slimming down significantly while offering improved sensor performance and (in the M52 and M50) WiFi functionality, according to Canon.
Canon is claiming a 20% improvement in light transmittance with the new HD CMOS PRO sensors on the M-series cameras, resulting in improved low light sensitivity and wider dynamic range, though we'll test the veracity of those claims when we have get the camcorders into our labs.
Add to that the roughly 15% reduction in size and 10% reduction in weight (Canon's numbers), and you have a very different looking M-series for 2012. Those changes don't come without some sacrifices, as none of the M-series camcorders will include viewfinders, component outputs, or dual card slots, unlike previous models like the Vixia HF M41 from 2011.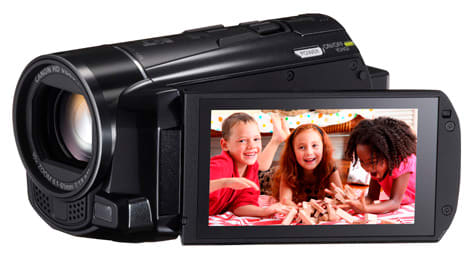 The other big change for the M-series camcorders will be the introduction of WiFi functionality for the HF M52 and HF M50 models, which will allow users to upload videos to the web, transfer video to a computer on the same network, output clips to certain DLNA-compliant devices, or export video to an iPhone or iPad using an iOS app that will be available for free soon.
The HF M50 and M52 will also allow users to upload to a service called Canon Image Gateway, which will provide 2GB of free online storage for users, with the option to push those videos directly to YouTube or Facebook. That service is expected to launch in March, soon after the release of the new camcorders.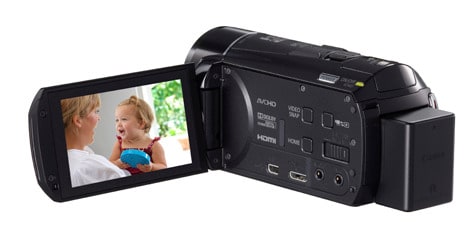 The M50 and M52 will also let users back up directly to an external hard drive, without a computer. This will only be capable with the optional Canon USB adapter UA-100.
The difference between the HF M50 ($649 MSRP) and HF M52 ($759 MSRP) mainly comes down to memory, as the M50 will offer 8GB of storage compared to the M52's 32GB built-in. The HF M500 will be cheaper ($549 MSRP), but it will have no built-in memory, no WiFi functionality, but still inherits the sensor improvements and size reduction. All three models will have SDXC-compatible memory card slots.
Canon is also touting the improvement to audio recording on all their 2012 models, with five audio recording modes (standard, music, speech, forest and birds, and suppressed), mic terminals, and manual audio gain control on all M-series models.
The M-series models will also feature a flat touchscreen panel design reminiscent of the Canon G10, and see some slight improvements to the overall user interface. Canon has also enhanced the Smart Auto feature with 38 scene types with nine different "cinema look" digital filters also available on the M-series.
The HF M500, M50, and M52 are expected to ship in mid-February, priced at $549 (M500), $649 (M50), and $749 (M52), respectively. There will also be an M-series specific waterproof case, the WP-V4, which will retail for $599 around the end of March and allow users to shoot at depths of up to 40 meters.
For the full press announcement on the M-series camcorders, please visit Canon's press site here. You can also read our coverage of Canon's Vixia R-series models for 2012 right here.
{:{PhotoGallery article.attachments}:}