With the advent of some new competition, it's about time for GoPro to step up its game. Today, GoPro announced three new models just in time for the holiday shopping season designed to do just that. The GoPro 4+ Black and Silver are the new flagships, with a brand-new model the company is calling simply Hero slotting in beneath everything in the lineup.
The Hero4 Black is the standout model, featuring 4K shooting at 30 fps, along with 1080p/120 high-speed video. Both Black and Silver models have some standard new features like a convenient HiLight Tag feature, that lets users make a note of which gnar trick to remember later when editing with a tap of the camera's WiFi button. The camera's higher quality Protune compression has been tweaked to provide higher-quality stills, too with ISO, color, and rudimentary exposure settings. That'll come in handy since both cameras are able to shoot 12-megapixel still images and up to 30 fps in continuous shooting mode.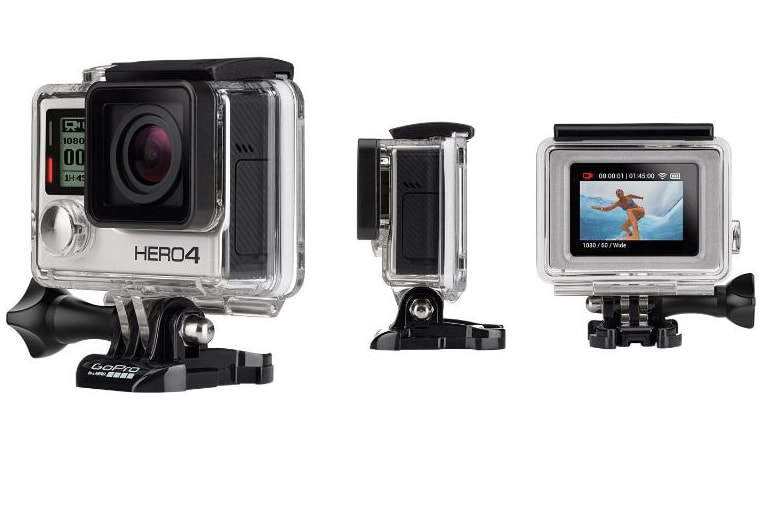 One thing the Black edition doesn't have—similar to all previous GoPros—is a screen. For that you'll actually step down to the Silver edition, which includes a new touchscreen LCD but only shoots at 4K/15p. You'll be able to buy the GoPro Hero4 starting at $399 for the Silver version and $499 for the Black edition. Both models will be available in three configurations with different mounts intended for music recording and surf/snow, along with the standard classic kit.
Shoring up GoPro's dominance from newcomers like Polaroid's $99 Cube camera is the brand-new affordable Hero. Ringing the till at an incredibly reasonable $129.99, the matte grey inexpensive option will offer shoppers a pared-down GoPro experience. There's no WiFi built-in, and video maxes out at 1080p/30 with 5-megapixel burst shooting at 5 fps. It'll come with an integrated waterproof case and built-in battery, as well as two adhesive mounts.
All these new models are expected to go on sale in the next month in stores and direct from GoPro on its site.