Announced along with their new 2012 lineup at CES is JVC's GZ-E series of camcorders—an entry level selection of handhelds that offer several features that automatically trigger the camera to take digital stills during your video recording sessions when it detects things like a "great smile" or a pet looking at the camera. The series includes four camcorders: the GZ-EX250, GZ-EX210, GZ-E200, and GZ-E10.
In addition to the aforementioned automatic smile and/or pet detection, you can also dabble in a bit of the tackiness that is superimposing graphics and animations over your stills, if that's more your thing. With a bunch of features like those previously mentioned, as well as a silent mode, these camcorders seem to be an interesting option for entry-level consumers. One of the most user-friendly features on these models is their ability to record either high definition or standard definition video, so they're a good choice for people who may not yet have access to an HDTV (but are planning to purchase one soon).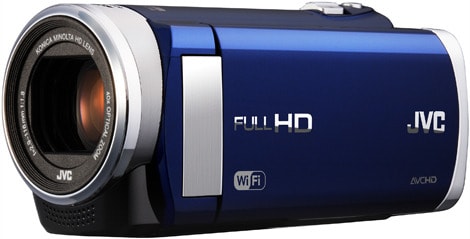 From a hardware standpoint, the GZ-E series of camcorders are interesting. The top two models in this line, the GZ-EX250 and GZ-EX210, are loaded with WiFi capability, while the GZ-E200 and GZ-E10 do not. All of the camcorders in this line all include 1.5-megapixel Back-illuminated CMOS sensors.
The GZ-E series in built around a Konica Minolta HD lens that enables users to zoom up to 40 times, as well as JVC's Advanced Stabilization System. Users will also be able to alter what the on-board microphone picks up to prevent unwanted noise or conversations from being immortalized in your videos. All of the models in this series can record Full HD video, and all but the GZ-E10 feature 3-inch touchscreens (the E10 has a 2.7-inch LCD instead).
The GZ-EX250 is the top model in this lineup, and it will be available come February 2012. The EX250 comes with 16GB of built-in memory and should retail for around $399. The GZ-EX210, which has no internal memory, will be available in April for $329. The GZ-E200 and GZ-E10 will hit stores in January and will sell for $279 and $229 respectively.