JVC unveiled a new flagship model, the GZ-GX1, along with the rest of its new Everio camcorders at the 2012 CES trade show in Las Vegas. The GZ-GX1 is an attractive machine built around a specially-designed f/1.2 lens and a 1/2.3-inch, 10-megapixel Back-Illuminated CMOS sensor. With other features such as a headphone jack, microphone input, and the ability to attach lens filters to the unit itself, the GZ-GX1 may prove to be an interesting new flagship camcorder for JVC.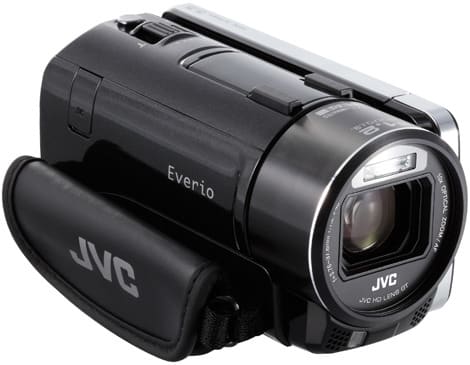 Perhaps one of the biggest features of interest on the new camcorder is its capability of recording Full HD video with a 60p frame rate, which is still an impressive option for a handheld camcorder (but is becoming more and more common every year). The model also includes WiFi functions, as is the case with the bulk of JVC's new Everio camcorders.
This flagship camcorder will use the AVCHD format, allowing you to record video with a top recording bitrate of 24Mbps. In addition, it will be able to export video via an HDMI port on the unit in full 1080p resolution, as well as interlaced (1080i), if you're into that. The camcorder comes with optical image stabilization (including JVC's advanced stabilization option), 10x optical zoom, and a large, 3.5-inch touchscreen. The standard JVC features allowing for high-speed video recording and time-lapse recording are also available on the GX1.
The camcorder will hit stores this March with an MSRP of $899.