In addition to a new flagship camcorder, the GZ-GX1, JVC has announced two mid-range HD camcorders at CES. The GZ-VX700 and GZ-V500 are two oddly-shaped handheld camcorders with casings that look like they came off of military aircraft assembly line.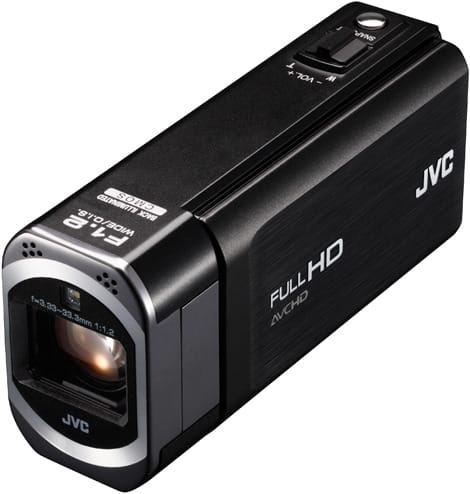 Like many other camcorders released at CES this year, the GZ-VX700 is WiFi-enabled, while the GZ-V500 is not. Additionally, JVC has released free apps on Android and the Apple App Store, allowing users to wirelessly transfer and upload video to the internet via a smartphone, which should satisfy users that need to post their videos right now.
Also present on the body of both units is an HDMI port, allowing you to playback your videos on an HDTV. The innards of the two camcorders aren't revolutionary, but both optical image stabilization and JVC's Advanced Image Stabilizer make for a less frustrating experience overall when shooting your video. Both the VX700 and V500 come with 3.32-megapixel CMOS sensors and 3-inch touch panel LCDs.
With additional features like a Super Slow motion capture and rapid-fire stills, these camcorders will appeal to the slightly more advanced user, or the football replay nut in all of us. The GZ-V500 is the cheaper of the two models, with a $449 MSRP, and it will be available later this month. Because of its WiFi capability, the GZ-VX700 will retail for around $50 bucks more ($499), and it is expected to hit shelves in March 2012.