Panasonic added three new Full HD camcorders to their lineup today. The three new camcorders include the HC-V700, HC-V500, and HC-V100, and all three models include single CMOS chips with designs that built upon last year's models. In addition to a few updates, it appears Panasonic made some administrative changes with its new lineup—this new year ushers in a new naming scheme and sees hard drives eliminated as a built-in memory option.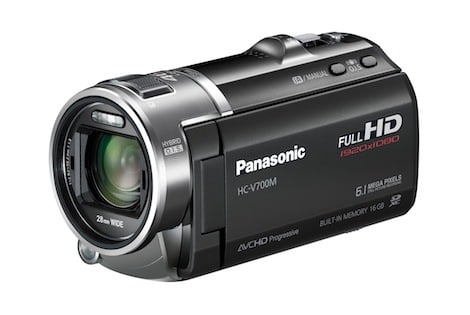 Discounting the flagship HC-X900, the HC-V700 sits at the top of Panasonic's consumer line. Ostensibly replacing last year's SD90, this prosumer camera is built around a new frontside-illuminated, 1/4.1-inch CMOS sensor. BSI sensors are difficult to produce, Panasonic says, so they built an FSI chip that attempts to work around the inherent flaws in front-lit technology, like color mixing and narrow light openings.
Other updates include an extended 26x optical zoom range, Power O.I.S. Hybrid Plus 5-axis optical image stabilization (up from 4 axes), high-def 3D playback (not full HD, though) and 2D-to-3D up-conversion. 1080/60p video capture, and a 3-inch, 460,000-pixel touch LCD are carried over from last year. It will be available this spring at $599.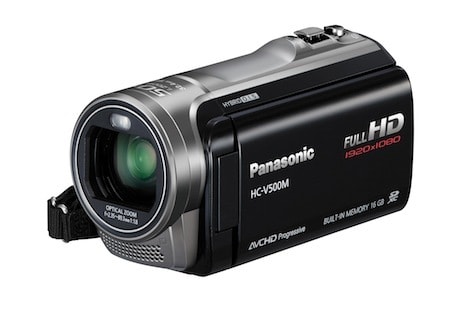 Moving down the lineup, the mid-range V500 switches back to a BSI CMOS chip, albeit a smaller one at 1/5.8 inches. It also supports 1080/60p video capture, rolls with the 5-axis stabilization, and offers 2D-to-3D conversion for a goof. The zoom range extends to an impressive 42x optical, while the LCD is a modest 3-inch, 230,000-pixel affair. It replaces last year's SD80, and will be available this spring for $479.
Both the V700 and V500 are available with built-in flash memory as the V700M and V500M. (In previous years, they would've been prefixed with the "TM" tag). As mentioned, no Panasonic camcorders will offer built-in hard drives this year.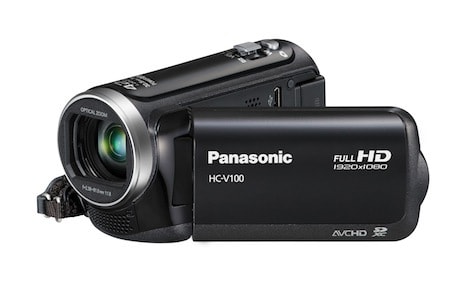 And at the low-end of the full HD lineup sits the HDC-V100. It's built around the same 1/5.8-inch BSI CMOS sensor as the V500, though the rest of the spec sheet is more modest: 1080/60i video capture, 4-axis stabilization, and a 34x optical zoom. It replaces the SD40, and will be available for $379.
Official press release:
**PANASONIC ADDS SIX NEW 1MOS FULL-HD COMPACT CAMCORDERS FEATURING POWERFUL ZOOMS, WIDE-ANGLE LENSES AND OPTICAL IMAGE STABILIZERS*
LAS VEGAS, NV (January 9, 2012) – Panasonic today announced six new 1MOS Full-High Definition (HD) camcorders for its 2012 line. The HC-V700, HC-V700M, HC-V500, HC-V500M, HC-V100 and HC-V100M, all have a 1MOS sensor with 1920 x 1080 resolution and capture exceptionally high-quality videos in various lighting conditions. All camcorders feature a compact body to make them more convenient to carry anywhere, an ultra-telephoto zoom, wide-angle lenses, and Optical Image Stabilization (O.I.S.) to control blur caused by a shaky hand.
"Panasonic's 2012 camcorders are conveniently sized and extremely versatile for a wide variety of shooting situations," said Chris Rice, Senior Product Manager, Imaging, Panasonic Consumer Marketing Company of North America. "From the light weight and extended recording capability of the HC-V100 and HC-V100M, to the 2D to 3D conversion capability and special effect modes of the HC-V500 and HC-V500M, to the 3D recording capability and High Sensitivity Sensor of the HC-V700 and HC-V700M, there is a Panasonic camcorder model to match virtually any consumer ready to record."
The top-of-the-line 1MOS camcorders, the Panasonic's HC-V700 and HC-V700M models, capture stunning indoor and nighttime shots, regardless of dark lighting conditions. Thanks to the High Sensitivity Sensor, which greatly improves image quality in low-light conditions, users can record crisp, bright images with minimal noise whether they are shooting in good light or in poor light. After capture, the user can view the video on an ultra-sharp 460K dot LCD with touch control.
Users can also shoot lifelike, textured 3D images by simply mounting a 3D conversion lens, such as the new VW-CLT2, to the HC-V700 and HC-V700M. Even without mounting the conversion lens, images shot in 2D can be converted to 3D by the image processing of the new 2D to 3D Conversion function.
Panasonic also introduces the HC-V500 and HC-V500M camcorders, which are stylish, easy- to-use, compact models that take beautiful shots of distant subjects and perform superbly in dim lighting. These models feature the Advanced Highlight Playback function (also available in the HC-V700 and HC-V700M), which is designed for users who want to view recorded images as

quickly as possible. This feature uses the I.I.S. (Intelligent Index System) to detect zooming, panning, scene changes, and faces in recorded images as "highlights." It then automatically plays back the detected highlight scenes, or ones that the user has personally selected. It also offers playback effects such as Slow, Fading Still Image, and Flash Playback.
Pricing and 2012 availability will be announced approximately 30 days prior to shipping. The Panasonic HC-V700, HC-V700M, HC-V500, HC-V500M, HC-V100 and HC-V100M will be available in black. For more information, and live coverage on January 10-11 from Panasonic at the 2012 International Consumer Electronics Show, please visit www.panasonic.com/CES. Plus, follow Panasonic's CES activities on Twitter @PanasonicEvents and join the conversations.*
For more on the 1MOS camcorder lineup, visit http://www.panasonic.com/pressroom
{:{PhotoGallery article.attachments}:}