Ever since launching the first camcorder capable of recording 3D video—last year's HDC-STD750—Panasonic has taken a back seat while other manufacturers have released numerous new, and better, 3D camcorders. Now, with the launch of the HDC-Z10000 (yes, that's four zeros) Panasonic has released its first 3D camcorder with a built-in twin lens system and the ability to record HD 3D video compatible with the new AVCHD 3D standard.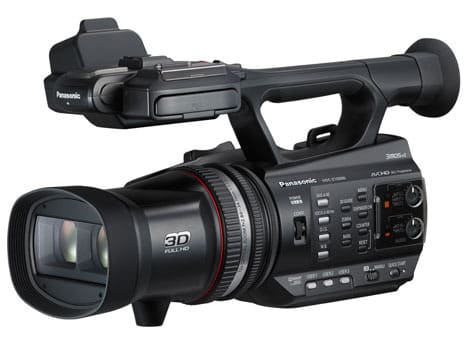 The HDC-Z10000 isn't just a twin lens 3D camcorder in the vein of the Sony HDR-TD10 or the JVC GS-TD1, however. It is a true professional model, equipped with three individual control rings, dual XLR audio inputs, and a host of manual controls. The price of the HDC-Z10000 has yet to be announced by Panasonic, but we don't expect it to be in a consumer-friendly range.
In addition to its twin lens system, the HDC-Z10000 has a dual image sensor system as well (just like most new 3D camcorders). Panasonic's dual sensor system is a bit different, however, as the company uses a 3-chip CMOS array on all of its high-end products (often abbreviated as 3MOS). Because of this, the Z10000 actually has two 3-chip systems, for a total of six CMOS chips (three for each lens). That's a ton of image sensors packed into a relatively small body.
The camcorder also has a 3.5-inch LCD with a whopping 1,152,000 pixel resolution. As is the case with Sony and JVC's 3D camcorders, the Z10000's LCD can provide a glasses-free 3D viewing experience. We have no idea of the quality of its glasses-free 3D effect at this time, but we were very underwhelmed by this feature on the JVC GS-TD1 (the Sony TD10 did things much better, but it still wasn't great).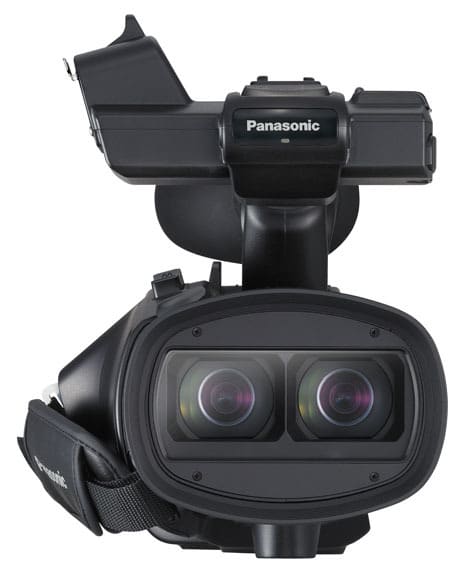 The two lenses each have a wide aperture setting of f/1.5 and the ability to zoom up to 10x optically when shooting 3D (12x in 2D mode). With the camcorder, 3D videos can be recorded as close as 17.8 inches from a subject, which Panasonic claims as being the best macro setting available on a 3D camcorder.
Panasonic lists a long set of manual controls available on the HDC-Z10000, but it is unclear what, if any, controls are available for use during 3D recording. Either way, it is safe to say the Z10000 has a professional look and design. The camcorder has a viewfinder in addition to its large LCD screen, and it offers two SD memory card slots that work with SDHC and SDXC cards as well. The camcorder has no internal memory.
What is clear is that the HDC-Z10000 has an abundance of record modes and frame rate options for both 2D and 3D recording. For 3D recording, you can choose from shooting with a 60i, 24p, or 30p frame rate (all with 1920 x 1080 resolution). For 2D recording, you can choose from those three frame rate options, as well as a Full HD 60p record mode. All video is recorded using the MPEG-4 codec and is AVCHD compliant (including the 60p and 3D modes, which fall under the new AVCHD 2.0 compression standards).
Panasonic will include HD Writer XE 1.0 software with the Z10000, which should allow users to import and work with 3D footage recorded with the camcorder. The full ability of this software is unclear at this time, however, so we can't say how extensive it is in dealing with 3D clips.
At the same time Panasonic unveiled the new camcorder, the company also announced the development of a dual-lens 3D camera that will be part of the Lumix line. Currently called the Lumix 3D, a prototype of the camera will be on display at the IFA convention in Berlin Germany next week.
The Panasonic Lumix 3D has an expected release date of Winter 2012. We expect the HDC-Z10000 camcorder to be available sooner, but Panasonic has yet to release any official release dates or pricing information for the product.
{:{PhotoGallery article.attachments}:}