At CES, Panasonic has just announced its latest camcorders. As one of the companies leading the charge toward our collective 4K future, Panasonic is building on a productive 2014, when it introduced cameras and televisions that could mastered the high-resolution format.
Following up on the unique Twin Camera concept that debuted at last year's CES, Panasonic has brought out a range of brand-new designs, many of which feature dual video cameras, and even consumer-friendly 4K recording.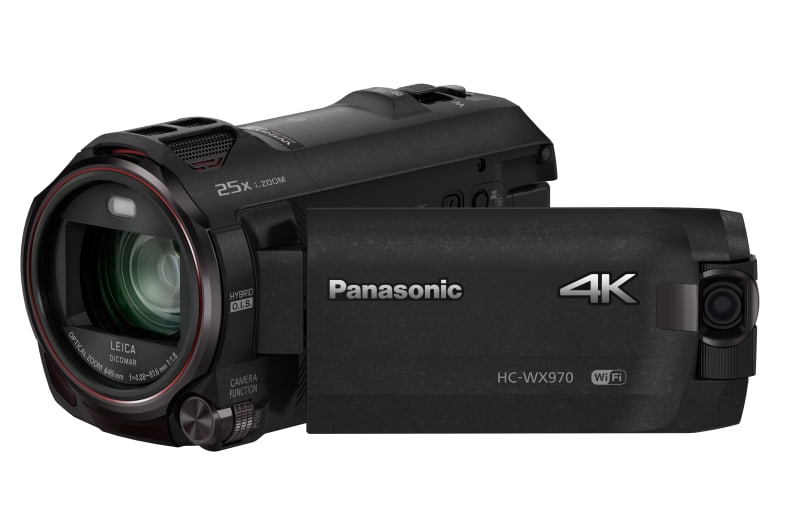 The new consumer flagship camcorder from Panasonic, the WX970, features all of the above. With a 20x optical zoom lens and an 8-megapixel backlit CMOS sensor, this is the latest camcorder from Panasonic to combine consumer features in an advanced package.
Panasonic's 4K Photo feature has also come along for the ride, letting users pull 8-megapixel stills from a 30fps 4K clip. We should note that the second camera (mounted on the edge of the LCD screen) doesn't shoot 4K itself; it shoots a full-HD image that's put into a picture-in-picture window over your 4K feed.
The WX970 is set to retail for $999.99.
The less expensive VX870 offers up some similar features, with full 4K shooting capability, but cuts corners by ditching the Twin Camera. WiFi is still built-in, and you get many of the advanced features from the WX970, but save $100. It'll sell for $899.99.
The midrange V770 ($599.99) is a distant relative of the VX970 and VX870, with a 6-megapixel sensor, non-Leica optics, and 1080/60p as the top shooting resolution. A 20x optical zoom, WiFi connectivity, image stabilization, and many other niceties are still onboard.
On the low-end of the lineup are the W570 ($449.99), V270 ($299.99), and V160 ($229.99). The W570 is the least expensive Twin Camera camcorder that Panasonic has ever produced. Packing 50x optical zoom, along with NFC and WiFi, it offers full-HD resolution.
The V270 also features a 50x zoom lens, but bypasses the Twin Camera in exchange for a lower price. Finally, the low-end V160 goes without any fancy features at all, and makes do with an unstabilized 38x optical zoom.
For all the technology news from CES, check back frequently with our dedicated CES 2015 landing page!