Samsung today announced two additions to their range of consumer-oriented high-definition camcorders: the HMX-QF30 (specs) and the HMX-F90 (specs). Both of these cameras are incremental updates to existing product lines, replacing the older QF20 and F80, respectively.
Though its primary specs—20x optical/40x digital zoom, a 5-megapixel backside-illuminated sensor, and a 2.7-inch touchscreen LCD—are roughly the same as you'd find on its predecessor, the QF30 features vastly improved WiFi connectivity. Users are now able to live-stream their recordings to the popular UStream web service, letting them broadcast sporting events, family functions, and more. The QF30 can also be used for home monitoring, letting the user view the live stream on their smartphone when out of the house.
Also present is Samsung's SMART Camera 2.0 functionality, which provides a host of added WiFi-related functionality. Among these upgrades are auto-sharing of videos with your smartphone or tablet (Android to begin with, and later iOS), firmware update notifications, and the option to use either the 2.4 or 5 GHz wireless bands.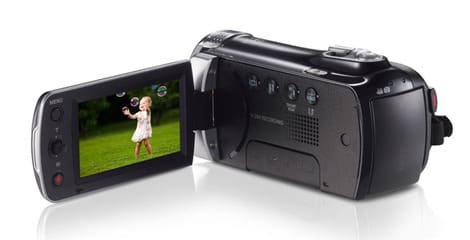 The F90, priced to attract casual shooters, has a huge 52x optical zoom with a bright f/1.8 maximum aperture, a 5-megapixel sensor, and a 2.7-inch LCD. The zoom range can be pushed to 70x using Samsung's Intelli-Zoom technology, which essentially crops the sensor to extend reach without loss of image quality. The F90 can record 1080p/60i video, and onboard WiFi functionality allows users to upload clips to YouTube with one touch.
Both cameras will be available in the first quarter of 2013, with the QF30 retailing at $329.99 and the F90 launching at $199.99. Buyers can choose between a black and a white finish for each.