Samsung unveiled the successor to last year's excellent HMX-W200 waterproof camcorder with the release of two new waterproof models at CES 2012. The HMX-W300 and HMX-W350 both incorporate similar rugged design elements to their predecessor, but the new models can function at depths up to five meters (16 feet), which is two meters deeper than the W200 could venture safely.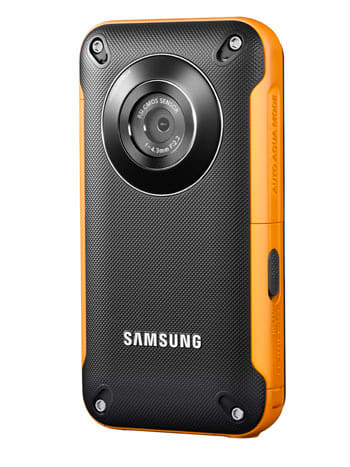 The strong-body design of the two models is also emphasized by their ability to take a drop from heights of up to two meters, as well as their dustproof design. Both camcorders can record Full HD video using a 30p frame rate and come equipped with a 5-megapixel BSI CMOS sensor and f/2.2 lens.
The only notable feature setting apart the W300 and W350 models is an optional bumper that fits on the W350 camcorder and allows it to float on water.
Samsung has yet to announce price details or product release dates for these two models, but we will update our news piece when this information becomes available.
{:{PhotoGallery article.attachments}:}