Sony dove head-first into the world of waterproof camcorders today with the announcement of the HDR-GW77V. The model is a true Handycam, as it shares most of the same features as Sony's mid-range HDR-CX580V and HDR-PJ580V camcorders. This includes a 1/3.91 CMOS sensor, Full HD recording with 60i or 60p frame rates, 16GB of internal flash memory, a 10x optical zoom, and a $700 price tag.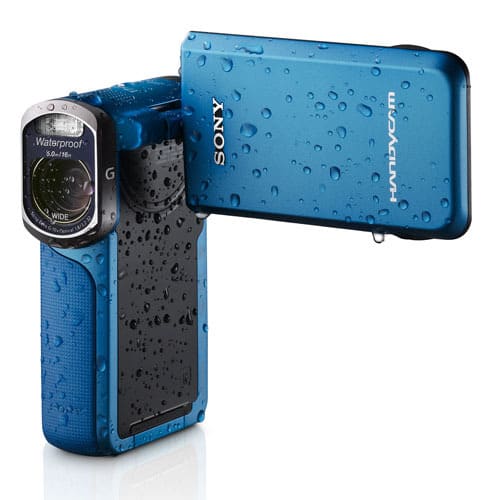 The main difference between the HDR-GW77V and Sony's other 2012 Handycams—besides the waterproof capability—is the camcorder's overall shape and build. The GW77V features an upright, pistol-grip design, which means there's no right-side hand strap like you get on traditional camcorders. However, the GW77V does weigh in at a svelte 220g (with battery pack), so this shouldn't be a camcorder that will tire your arm during a day of recording.
The GW77V is not Sony's first waterproof camcorder; the company released the waterproof Bloggie MHS-TS22 earlier this year, and Sony has long had a waterproof line of Cyber-shot cameras. But the HDR-GW77V is not a simple pocket cam like Sony's Bloggie models. This is a solid, mid-range HD camcorder with quite a few features and some fairly impressive specs. It's also one of the most expensive waterproof camcorders on the market by a significant margin.
The HDR-GW77V is designed to be submerged up to 16 feet below water without issue, and Sony claims it can also safely take a drop from about five feet. The camcorder has a 3-inch touchscreen LCD that should remain operational underwater. We're dubious about using touchscreens underwater, though, and we're anxious to get a GW77V into our labs to verify Sony's claims.
Sony lists the HDR-GW77V as being able to capture 20.4-megapixel still images, but, this number is somewhat of an exaggeration (just like it is on other Handycams). The camcorder's CMOS sensor has an effective pixel count of around 5-megapixels, which is still very good for a small camcorder, but that means most of the GW77V's photo options are interpolated. One feature that still image enthusiasts may appreciate, however, is the Sweep Panorama mode, which Sony stole from its Cyber-shot line of cameras and added it to the GW77V. The camcorder also has a built-in flash.
Rounding out the HDR-GW77V's features are Optical SteadyShot (including electronic Active Mode and Sony's new 3-Way-Shake-Canceling), built-in GPS, and Sony's patented set of auto controls like scene detection and focus tracking—all of which are found on the other 2012 Handycams released earlier this year.
The Handycam HDR-GW77V is due out later this month and is expected to retail for around $700. The camcorder will be available in silver, black, or blue.