Sony has unveiled five new high-end camcorders, all equipped with built-in video projectors for video playback on any smooth surface. Prices will range from $1600 to a relatively affordable $440 model.
Headlining this announcement is the HDR-PJ760V Projector Handycam, a Full HD model that can record using a variety of frame rates and offers 24.1 megapixel still image capture (though that's likely an interpolated value). The PJ760V will be capable of projecting videos of up to 100 inches diagonally in size, and storing 120 hours of video on 96 GB of internal flash memory. Optical SteadyShot will aim to reduce shakiness while zooming, and the camcorder will be equipped with a full suite of manual controls including iris, shutter, exposure, white balance, expanded focus, overexposure zebra, and peaking. The PJ760V will also feature a 3-inch, 921,000-dot monitor, 5.1 channel surround microphone, and GPS functionality. This top of the line projector camcorder will be available in March for around $1600.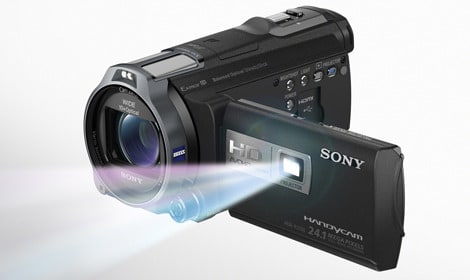 Close behind the PJ760V will be the HDR-PJ710V, priced around $1300. Many of the same features have been carried over, including the BSI CMOS sensor, Full HD recording with 24.1 megapixel stills, and 100 inch projection. Internal memory seems to be the most obvious limitation from the PJ760V, flash storage will be reduced to 32GB, but that's still enough for 40 hours of video. The same manual controls will be available on the PJ710V, and the camcorder itself will hit retail around the same time as its pricier brother.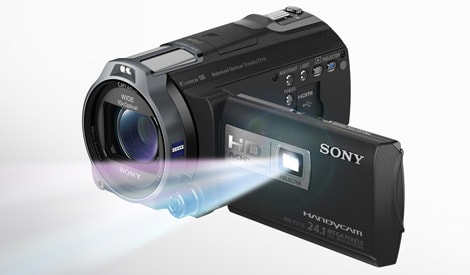 Crossing below $1000, the next Handycam down still retains much of the functionality of the PJ760V. Sony's HDR-PJ580V is another Full HD video recording device, though still image capture is reduced to 20.4 megapixels. Internal flash memory remains at 32 GB, though optical zoom has actually been extended to 12x, from the PJ760V's 10x. Some controls, such as manual iris, shutter, exposure, and white balance have been removed, though expanded focus, zebra, and peaking are still available. The PJ580V will reach stores in March for about $900.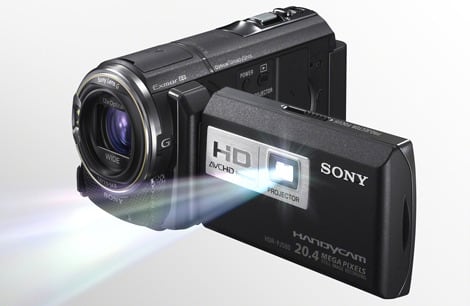 For $650, the HDR-PJ260V will still offer Full HD recording, but still captures will be limited to 8.9 megapixels. 100 inch video projection is still possible, but internal storage will be further reduced to 16 GB, enough for 6 hours of video. The 3 inch monitor will also see a reduction in resolution, down to 230,000 dots. Otherwise, this model is identical to the PJ580V, and once again, will hit stores in March.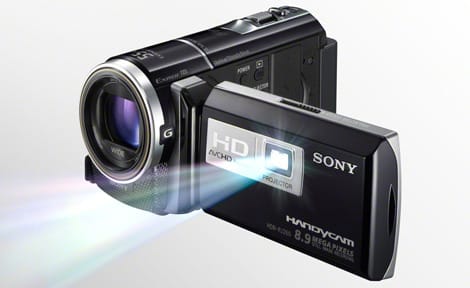 Finally, at only $440 the HDR-PJ200 will be somewhat of a bargain amongst projector camcorders. Full HD recording with 5.3 megapixel still shooting is supported, but SteadyShot employs a digital method only. To cut cost, built-in memory will be nonexistent, so you'll need a memory card to use the PJ200. GPS also seems to be missing, evidenced by the absence of a "V" in this camcorder's model number. Optical zoom actually gets a boost to 25x, but many advanced features like manual control and the 5.1 channel microphone have been stripped out. Still, relative to the projector cams of last season, this price is tough to beat.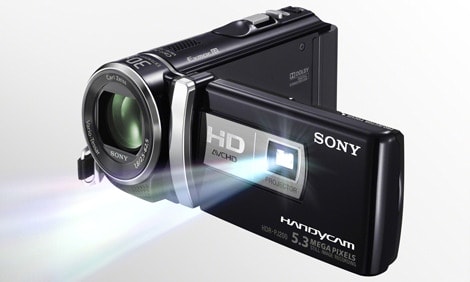 We'll be excited to take all these new models into the lab. Given the similarities between the five camcorders unveiled, the most cost-effective one is sure to be determined by performance, rather than the individual feature sets announced today.
{:{PhotoGallery article.attachments}:}