Sony is still giving 3D the good ol' college try—it's just not trying as hard as it did for the past few years. The Handycam TD30V 3D camcorder (specs) debuted at the Consumer Electronics Show in Las Vegas today, and it's a cheaper, slightly stripped-down, but still-familiar version of its predecessor.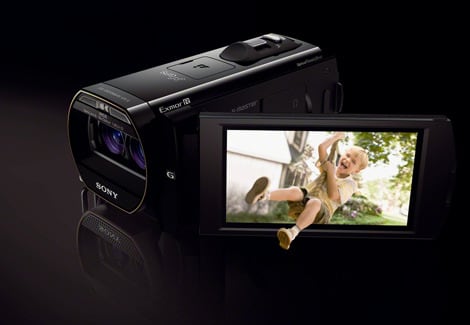 Like last year's TD20V (and TD10 before it), this will be a Double Full HD 3D camcorder with an auto-stereoscopic (glasses-free) 3D playback monitor. Video recording in either 24p or 60p is available, as well as regular 60i recording. Still-image capture of up to 20 megapixels is also possible, though in the past Sony has relied on heavy interpolation to achieve such impressive numbers.
Twin BSI CMOS sensors will record light gathered by twin wide-angle lenses. Optical zoom once again maxes out at 10x in 2D, while 3D mode offers 12x "extended" zoom according to the spec sheet. Optical SteadyShot is available in both 3D and 2D.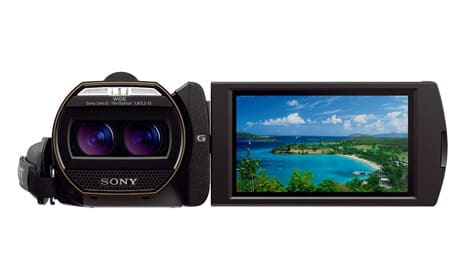 One of just a few changes to the TD30V is that Sony removed all internal memory—this camcorder only records to memory cards. Like most Sony imaging products, it accepts both SD and Memory Stick formats.
Sony also removed the manual control dial from the TD30V, though we assume that settings like aperture, shutter, exposure, and white balance will all still be adjustable though the menu interface. We expect to get our hands on the TD30V on the CES showroom floor sometime in the next few days, so stay tuned for more details.
The Handycam TD30V will be available mid-February for $999. Head to Sony for more info, or see the press release below.
Official Press Release

*
SONY UNVEILS NEW, VERSATILE HANDYCAM® CAMCORDERS

New Models Offer Best-Ever Picture Quality, Superior Sound, Enhanced Projection Capabilities and Easy Sharing
LAS VEGAS (CES BOOTH #14200), Jan. 7, 2013 – Sony's new suite of advanced Handycam® camcorders make it even easier to capture and preserve once-in-a-lifetime memories in crisp full HD video and pristine still images. The new camcorders have something for both the casual shooter and advanced videographer, with upgrades including increased picture quality by Sony's unique Balanced Optical SteadyShot™ for smoother movies deployed in more models, higher brightness for built-in projection, Wi-Fi™ for easier sharing and a range of advanced performance capabilities.
Improved Video Projection, AVCHD/MP4 Selectable & Optional Wi-Fi
Taking its ultimate theater experience to the next level, Sony's Handycam® camcorders with built-in video projectors get a boost in brightness. The compact, LED-based projector built into the flip-out LCD panel of these camcorders can project video and images up to 100" diagonal onto any flat surface with upgraded resolution for an even clearer, sharper picture. Select models also now add an external HDMI input that lets users project content from compatible smartphones, tablets or PCs - movies, slideshows, web pages, games, etc. - onto any flat wall or surface. Select models also offer a high sensitivity microphone and an advanced sound processor for rich audio results.
Making its Handycam® debut, all new camcorders now offer the option of recording HD video in either top-quality AVCHD or web-friendly MP4 formats. While AVCHD offers the highest-quality picture for viewing on an HDTV or burning to a Blu-ray™ Disc for archiving, shooting crisply-detailed clips using the popular bandwidth-saving MP4 format is perfect for online sharing and easy uploads to social media web sites.
In another Handycam® first, an optional Wi-Fi adaptor simplifies cable-free transfers of video clips and still photos. Consumers can even step away from behind the camcorder and control the video capture device remotely with their compatible smartphone.
"As the leader in this category, each year we strive to improve upon our feature-rich camcorder family and innovate in ways that provide value to consumers," said Hidenori Toyoda, director of the camcorder business at Sony Electronics. "We've been listening to what people say they want in a premium video camera and continue to deliver on that feedback."
Superior Imaging and Sound
The new Handycam® camcorder portfolio now integrates more advanced features from entry level to high end, including Sony's hallmark Exmor R® CMOS image sensor for beautifully clear, detailed video and stills, even in tricky low-light conditions. Sony's unique Balanced Optical SteadyShot™ image stabilization will be deployed in more new models for up to 13 times more stable and smooth footage than its predecessors. This powerful image stabilizer makes it much easier to shoot crisp blur-free images in a range of challenging situations using a floating lens unit which controls the entire optical path, including the image sensor.
All models now offer a wide angle lens with less than 30mm minimum focal length to capture everything in the shot, from landscapes to big groups and beyond. Another common feature is TRILUMINOS color technology that reproduces precious memories in rich and natural colors. When still images and videos are played back on any BRAVIA® TV with TRILUMINOS display, users will experience an expanded palette of vivid, ultra-realistic hues.
Handycam camcorder audio is also upgraded this year. Sony's Advanced Sound System (available on select models) offers several quality enhancements to ensure every sound is captured beautifully – from the loudest concert to the softest whispers. The high-quality external microphone lets users record audio with pinpoint accuracy and Wider Dynamic Range for extreme clarity. In addition, consumers can easily adjust audio record levels to eliminate distortion at high volumes – an area where a smartphone's camera microphone typically struggles.
A new Multi-Interface Shoe on select models works with a compact Wi-Fi adapter (ADP-WL1M) to bring wireless connectivity to Handycam camcorders for the first time. It allows easy wireless transfer of MP4 movie files and photos directly to a compatible smartphone or tablet, and also backs up both AVCHD and MP4 content to a PC, eliminating the need for cables. Consumers can even use a compatible smartphone as a wireless remote to control Record, Start/Stop, Zoom and other functions on the camcorder.
The HVL-LEIR1 battery-powered video light is also compatible with the Multi-Interface shoe and runs on AA batteries. It doubles as an infrared source for 'no-lights' footage with Handycam® models that support NightShot® or Super NightShot®. To further the mobile theater experience, the new Handycam camcorder projector models with the Multi-Interface Shoe can house the RDP-CA2 portable '360 degrees' speaker - a great way to enjoy a clear, rich soundtrack while viewing projected content.

Best-In-Class Features & New Post-Shooting Solution
All Sony Handycam camcorders integrate the following technologies that make them stand out from the competition:

• Full HD Video – 1920 x 1080 high-definition video recording at up to 24Mbps, the highest bit-rate offered by the AVCHD™ format
• Exmor R® CMOS sensor – back-illuminated sensor for stunning low light performance

• Dual Record – allows for simultaneous capture of video and still images

• Large LCD – display for easy viewing and touch operation
• iAUTO – automatic selection of optimal camcorder settings in different environments
• Tracking Focus – extension of Face Detection® to choose an object by touching LCD and have the focus follow selected object
• Optical SteadyShot™ image stabilization with Active Mode – compensates for greater degrees of camera shake to deliver smooth video
• Wide angle lens – offers a broader perspective to capture everything in the shot

• Closer Voice – Utilizing Face Detection®, its advanced audio processing to suppress unwanted noise and capture human voices with maximum clarity

• Auto Wind Noise Reduction – iAUTO intelligently detects wind noise based on wind strength while employing an advanced algorithm to broaden the range of noise reduced
• Extended Zoom – improved BIONZ processor for up to 20 per cent more powerful digital zooming capability compared to previous models

• Built-in USB cable – convenient USB cable built into camcorder strap for easy content transfer and quick charge

• GPS w/ Enhanced NAVTEQ Maps – Built-in GPS for geotagging with embedded NAVTEQ Maps for detailed maps that will display street-level shooting locations
Sony is also announcing an exciting new benefit for Handycam camcorder owners. In collaboration with WeVideo, the leading online video editing company, Sony is making cloud-based, online video editing a reality. Starting in late January, owners of Handycam camcorder models from 2012 through 2013 will be entitled to three free months of access to WeVideo, for access to powerful video editing features including Full HD 1080p export quality; real-time previews, fast rendering; 10GB of cloud storage; and 400 royalty-free audio tracks.
2013 Handycam® High Definition Camcorders & Accessories
Entry HD

• HDR-CX220: Full HD 60p, 8.9-megapixels, Exmor R® CMOS sensor, SteadyShot™ image stabilization, 29.8mm wide angle Carl Zeiss Vario Tessar Lens with 32x Extended Digital Zoom, AVCHD/MP4 recording, and 2.7" LCD™ display – about $249 (in black, blue, red and silver)

• HDR-CX230: With 8GB flash memory – about $279

• HDR-PJ230: With built-in projector (13lm) – about $399

• HDR-CX290: With 50x Extended Digital Zoom and Optical SteadyShot™ image stabilization – about $349
Mid HD

• HDR-CX380V: 16GB flash memory, 55x Extended Zoom, 3.0" wide touch screen Clear Photo LCD™ display (230K), wide angle 26.8mm Sony G Lens, mic/headphone jack, Closer Voice, Auto Wind Noise Reduction – about $449

• HDR-PJ380V: With built-in projector (13lm), HDMI external device input, and Tracking Focus – about $599 (in black, red and white)

• HDR-CX430V: Full HD 24p/60p, Balanced Optical SteadyShot™ image stabilization, 32GB flash memory, 5.1 surround sound mic, multi-interface shoe allowing optional Wi-Fi accessory, Cinema Tone presets, and audio REC level adjust – about $699

• HDR-PJ430V: With built-in projector, external device input, and advanced sound processor (13lm) – about $849

High End HD

• HDR-PJ650V: 20.4-megapixels, manual control (iris/shutter/exposure/white balance), wide angle 26.8mm Sony G Lens with hood, advanced controls with expanded focus, zebra, and peaking, touch screen 3.0" Xtra Fine LCD™ (921K), color Electronic Viewfinder (0.27" 201K), and built-in projector (20lm) with external device input – about $1099

• HDR-PJ790V: With 24.1-megapixels, top-mounted 5.1 ch surround sound mic, 96GB flash memory, multi-interface shoe allowing optional Wi-Fi and XLR box compatibility, wide angle 26mm Carl Zeiss Vario-Tessar Sonar Lens with hood, and built-in projector (35lm) with external device input – about $1599
Double Full HD 3D

• HDR-TD30V: Two of each key component - double Sony Wide Angle G Lenses, double Exmor R® CMOS image sensors, and double BIONZ® image processors, 20.4-megapixels, 3D viewing directly on 3.5" LCD (no need for 3D glasses), with 3D/2D video capture – about $999

Accessories

• ADP-WL1M: Wi-Fi adapter for wireless connectivity – about $75

• RDP-CA2: portable speaker for 2013 projector camcorders allowing 360-degree "Circle Sound Technology" – about $70

• HVL-LEIR1: battery-powered video light that doubles as an infrared source for Multi-Interface shoe camcorders – about $150
The new high definition camcorders and their accessories will be available in February and March, starting off at about $250, at http://store.sony.com, Sony retail stores and other authorized retailers nationwide.

*
{:{PhotoGallery article.attachments}:}