In addition to its new 3D camcorder and high-end 2D models, Sony announced six more mid-range and entry-level Handycams to round out their consumer lineup for 2013.
Unsurprisingly, Sony has finally cut standard-def camcorders from its roster, as well as models with hard-disk storage. But the surviving Handycams all have strong specs for their price points.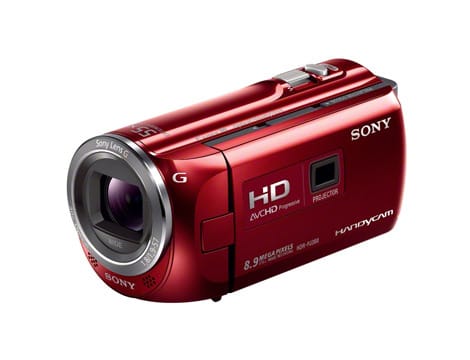 The PJ380 (specs) and CX380 (specs) sit in the middle of the year's Handycam lineup. Both are similar to last year's PJ260V, with a 30x zoom lens, Optical SteadyShot stabilization, a 3-inch LCD, 16GB of built-in storage, and 1080/60p shooting. Sony removed the GPS, but opened up the wide-angle setting to 26.8mm, and added some new features like a multi terminal and multi-interface shoe. The PJ380 ($599) has a built-in projector (with a new projector-input feature for external devices), while the CX380 ($449) does not.
Moving down the lineup, there's the CX290 ($349, specs), with a 27x optical zoom lens, Optical SteadyShot, a 2.7-inch LCD, 1080/60p recording, a multi terminal, and 8GB of built-in storage. The PJ230 ($399, specs) adds a 13-lumen projector but has less digital zoom than the CX290, and non-optical SteadyShot. The CX230 ($279, specs) is the same as the PJ230, but with no projector. And at the bottom, we have the CX220 ($249), with no internal storage.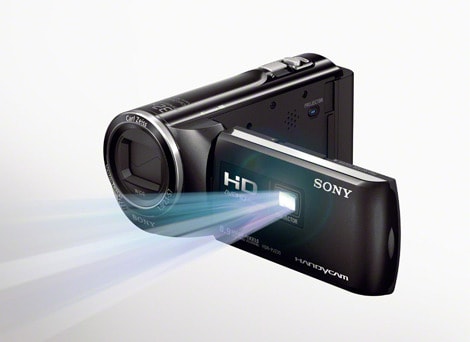 Even this year's low-end models are impressive, with 1080/60p recording and generous zoom ranges. Each model covered here will be available in February.
For more info on these new Handycam models, check out the official press release on our TD30V announcement page or at http://store.sony.com, and stay tuned for our reports from the CES show floor.