The Best Soundbars Under $500 of 2019
By Lee Neikirk, March 13, 2019, Updated March 15, 2019
I've been reviewing TVs for almost seven years, and I've found that no matter how fancy they are, they all share one common trait: their audio sucks. Unless they're specifically designed to house better or bigger speakers than the average TV, modern LED and OLED TVs are simply too thin/narrow to house speakers/drivers of adequate size to produce good quality sound.
Most TVs have two 10-watt speakers, giving them a total audio "power" of 20 watts. For comparison, most smartphones have about 1.2 watts of power. But with TVs delivering bigger and fancier screen sizes every year (55 inches has become the average TV size in the US), the need for big sound to match big screens has only grown. That's where soundbars—compact audio devices that deliver hundreds of watts of sound—come in.
If you've got a mid-range or even a high-end TV, spending a few hundred on a soundbar can truly make the difference between a good movie night, and one that knocks your socks off. If you just want to grab the best soundbar we tested under $500, check out the Sonos Beam (available at Amazon for $399.00). However, we checked out over a dozen of the most widely praised and well-reviewed soundbars on the market right now and found sound quality and features for every budget.
Here are the best soundbars under $500 we tested ranked, in order:
Sonos Beam
JBL Bar 2.1
Yamaha MusicCast BAR 400
Vizio SB36512-F6
Samsung HW-N550
LG SK8Y
Polk Audio Signa S2
Polk Audio MagniFi Mini
Razer Leviathan
Vizio SB3651-E6
Yamaha YAS-108
Polk Audio Command Bar
JBL Bar Studio
Updated March 15, 2019
Advertisement - Continue Reading Below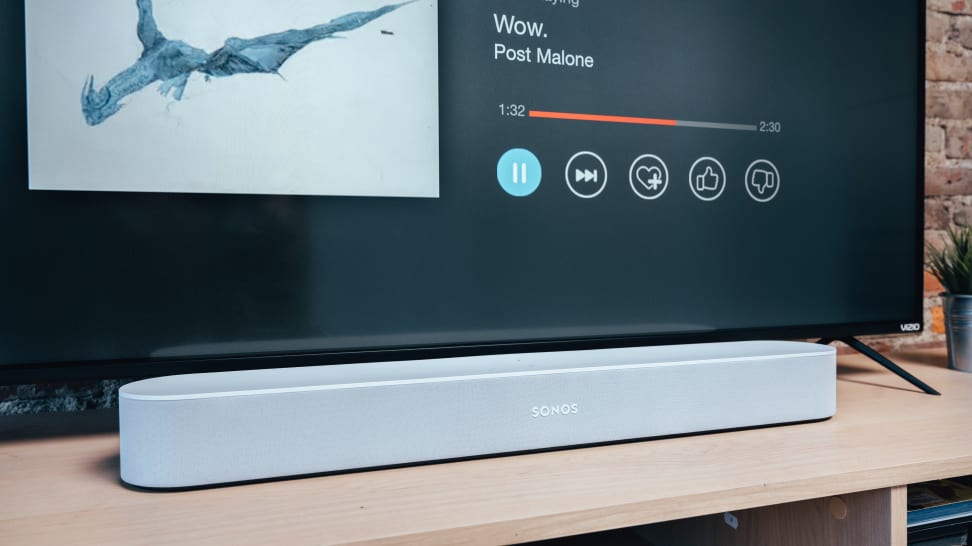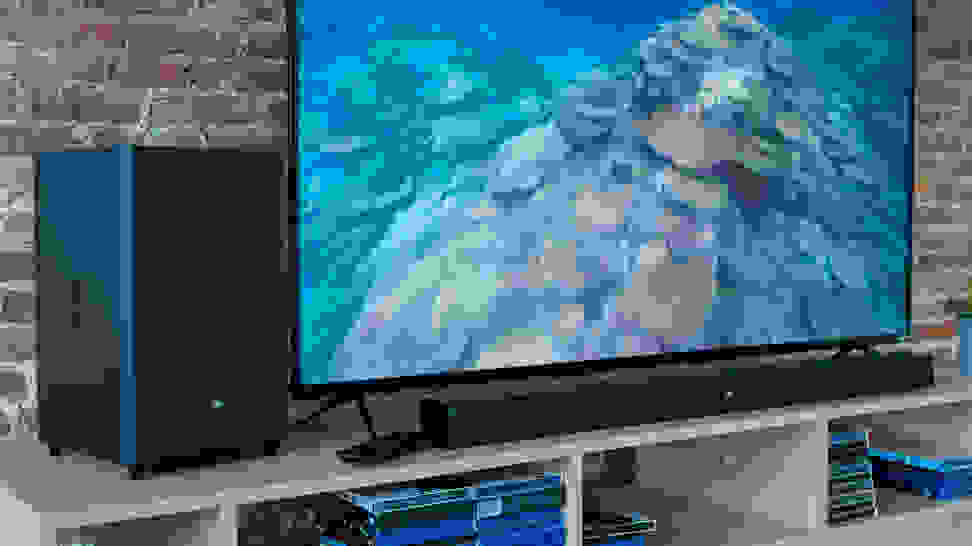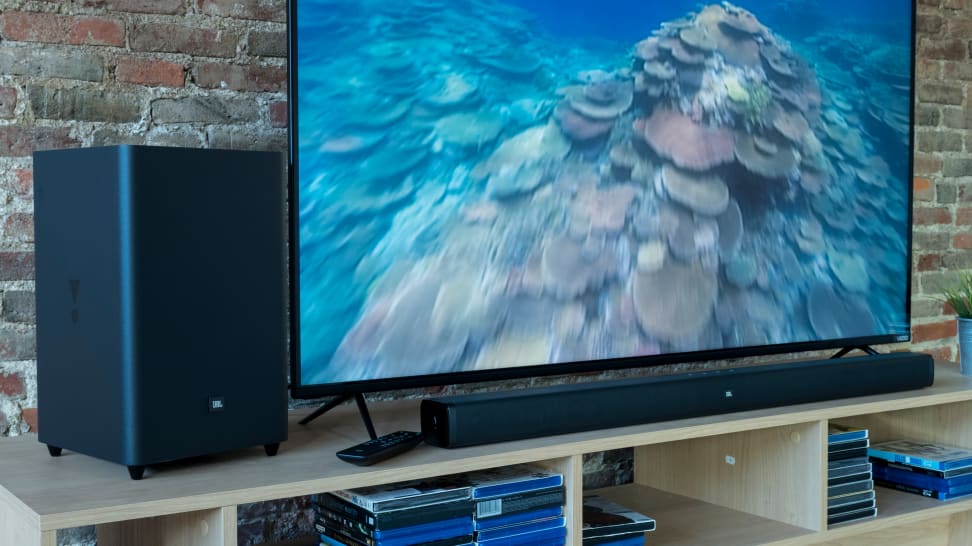 How We Tested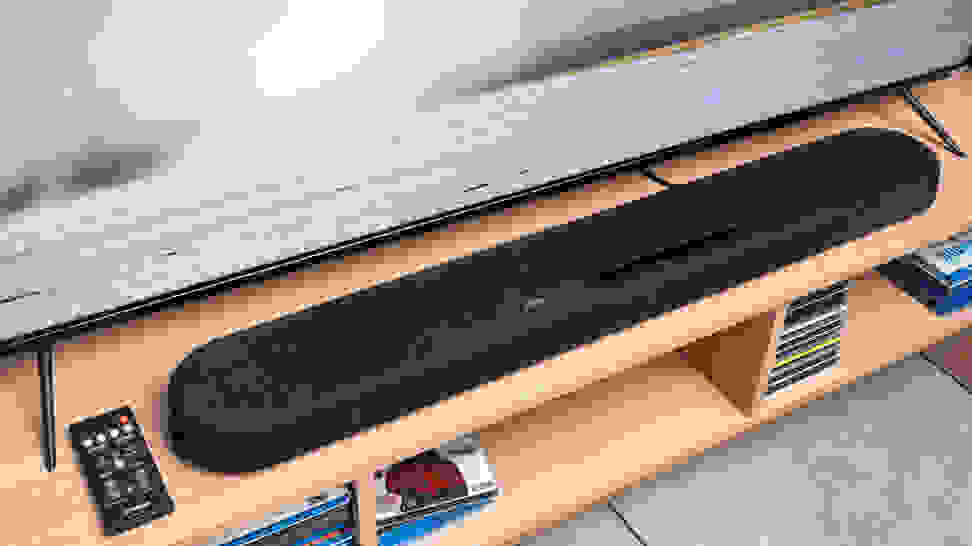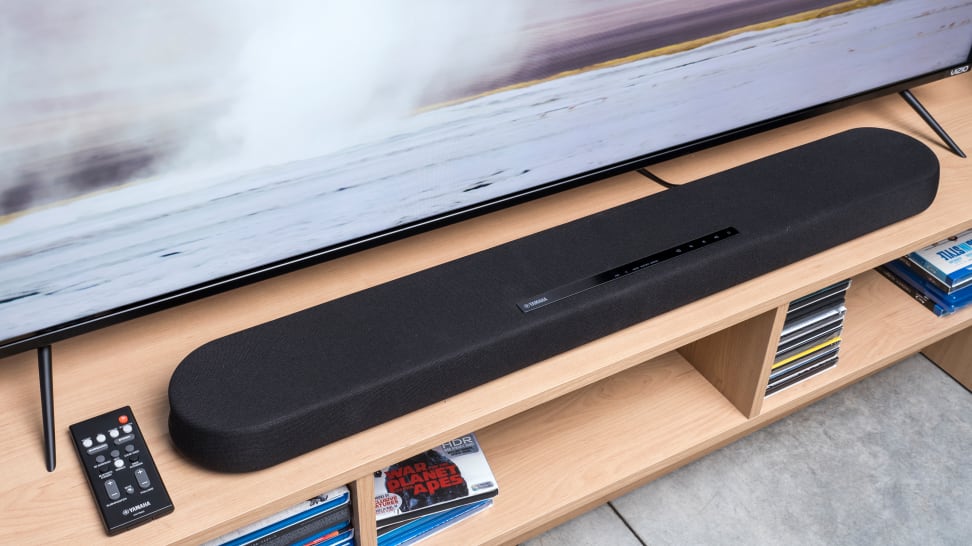 The Tester
Hello. I'm Lee Neikirk, an ISF-certified AV calibrator as well as a musician and music-lover. I love listening to music almost as much as I love making it, and have enough experience mixing on studio monitors and fussing over built-in TV speakers that I find soundbars and consumer sound systems to be fascinating to work with. While the sound quality is a chief consideration in these reviews, in lower price brackets we're just as focused on practicality and usability.
The Tests
We compared thirteen standalone soundbar and soundbar/subwoofer combinations (and a few with satellite speakers) with prices ranging from around $150 to around $500. Testing involved using them as any consumer would: using each bar as an audio substitute for a TV (via either HDMI ARC or optical), testing its streaming and Bluetooth functions, and analyzing its sound modes, voice-boosting modes, and individual proprietary features.
Where listening and frequency analysis is concerned, I didn't use any special equipment, just back-to-back analysis of sources like Netflix/Blu-ray movies (using a 55-inch Vizio M-Series 2018 TV), Spotify over Bluetooth (or Chromecast, where allowed), and occasionally, 3.5mm aux sources and USB.
What I discovered is that, while the soundbars all had different combinations of drivers, tweeters, woofers, and external subwoofers, generally, audio quality was respectable in most cases. What really tends to set soundbars apart in this price range are usability pain points, design aesthetic, and responsiveness.
What You Should Know About Soundbars Under $500
In short, the point of a soundbar is to replace your TV's built-in speakers with something that actually sounds good. Because audio speaker (driver) clarity depends so much on the vibration of moving parts within a confined space, modern super-thin LED and OLED TVs generally don't have very good sound. You might think your TV sounds fine, but when you hear your favorite movies, TV shows, or music through a good soundbar, your opinion will change.
Soundbars aren't your only option for improving your living room/home theater audio, but they're by far the most affordable and convenient option for doing so. If you live in an apartment or smaller space, rent, or simply don't want to shell out the considerable funds it requires to install full-on in-wall speakers or a surround system in your home, a soundbar is a non-permanent way to easily up your TV audio experience.
The major things to look for when shopping for a soundbar are price, audio output, and connectivity, the latter two usually being directly related to the first. If you're on a tight budget, you likely aren't going to get extras like Dolby Atmos, object-oriented speakers, or a huge range of decoding/pass-thru options for advanced or lossless audio modes. However, you can expect to get multiple speaker drivers comprising at least a stereo (left/right) setup, and usually an external subwoofer.
Tweeters refer to smaller speakers (drivers) assigned to the high-mid and high (treble) frequencies of the audio spectrum. Woofers and sub-woofers refer to speakers (drivers) assigned to the midrange or bass/sub-bass frequencies of the audio spectrum.
---
Other Soundbars Under $500 We Tested
Other Articles You Might Enjoy
Advertisement - Continue Reading Below