We'll tell you right away that the ET60 is a rock-solid TV, but how does it differ from the similar-yet-cheaper E60? Aside from a "T" and $300 (the 50-inch ET60 retails for $1,299 versus $999 for the E60), Panasonic adds some design touches to this mid-range set and an IPS (in-plane switching) panel. And while they tested with similar results, the color accuracy on this particular model is among the best we've ever seen.
Another fine example of Panasonic's sleek design ethos
It may not have the stunning good looks that the flagship WT60 has, but the ET60 is still sleek and stylish. Want a slim profile? The ET60 has you covered. How about a grey color scheme that evokes brushed-metal, but without the added heft? The ET60 has that as well. If our only complaint about this TV's design is that it doesn't look as good as the WT60, then you know you're dealing with a looker.
Panasonic includes all the basic ports to appease most TV enthusiasts.
As far as ports are concerned, Panasonic includes all the basics to appease most TV enthusiasts. Three HDMI inputs, a combo component/composite port, and two USB jacks make up the majority of the ET60's options, all conveniently located on the back-left of the TV. And while we're talking about ports, let's eulogize the aging VGA connection—we haven't seen him around much this year. Long live the video graphics array input!
Not the most feature-packed smart platform, but at least it covers the basics
Panasonic's current crop of smart TVs are a vast improvement over last year's, although they still aren't quite that smart. At least Viera Connect—Panasonic's current smart platform—is a smooth operator in terms of navigation. The customizable Home Screen, which is your base of operations, offers a glimpse at current TV content and access to apps.
Viera Connect is one of the few smart platforms to offer all three content-streaming heavy-hitters: Netflix, Hulu, and Amazon.
And while smart TVs seem to be focusing more on interfacing with cable content, Panasonic still goes the app-centric route. This isn't a completely bad thing—Viera Connect is one of the few smart platforms to offer all three content-streaming heavy-hitters: Netflix, Hulu, and Amazon. There are also apps for streaming baseball and U.S. soccer games. Unfortunately, typing using the bundled remote is a chore; Panasonic's excellent Touch Pad Controller isn't included on the ET60.
If you want to learn more about Panasonic's latest smart offering, check out our Viera Connect guide here.
Contrast aside, the ET60 is a performance powerhouse.
Wow. We rarely test TVs with color accuracy this good—seeing it on a mid-tier model is unheard of. And by good, we mean near perfect. Whether you're watching cable or a Blu-ray, content looks fantastic on the ET60—and that's with a completely average contrast ratio, too.
We rarely see color accuracy this good on TVs.
We mentioned earlier that one of the main differences between this TV and the slightly lower-end E60 is the inclusion of an IPS panel. Without getting too technical, this type of panel typically offers both a wider viewing angle and higher degrees of color integrity in off-angle viewing. The downside to this technology? Poor black levels. While the ET60 doesn't have a crazy-wide viewing angle—we tested the same result on the E60—it does display a way-too-bright black level, although scorching whites help to offset this. Still, we'll take these drawbacks if it means color integrity of this caliber.
Another difference between the ET60 and E60 is audio quality. The ET60 has a built-in subwoofer, which makes a huge difference quality-wise. Gone are the tinny sound effects heard on lesser TVs; in the same way that accurate color helps content look the way it should, having some bass makes content sound the way it should.
The ET60 displays a way-too-bright black level.
And yes, the ET60 offers 3D. It isn't mind-blowing, but we didn't notice any crosstalk issues. It merely exists, and if you feel the need to enter the third dimension, the option is there.
Great design, great picture quality—what's not to love?
The Panasonic ET60 is a great performer. While its contrast disappointed us, almost everything else is top-notch. The ET60's strongest area of performance may be its accurate color, but that's not its only strength; superb audio and great motion help this Panasonic excel.
So is a 50-inch Panasonic ET60 better than a 50-inch E60? Is it worth the extra $300? Yes! While the E60 produces a wider contrast ratio, the ET60 is the winner everywhere else. That $300 gets you some of the best color accuracy around, plus a more striking design, satisfying audio, and slightly better motion. We'd shell out the extra $300 for that.
Welcome to our science page, where we explain how well (or poorly) a TV tested. Our tests are aided by the Konica Minolta CS-200 chroma meter, which reads a TV's color levels, and the LS-100, which is used to read a TV's luminance levels. We also use DisplayMate software for test patterns and calibration assistance.
Acceptable, but not that great

The ET60's black level of 0.31 cd/m2 is... pretty bad. The reason it is so much worse than the E60's black level of 0.12 cd/m2 is because of the ET60's IPS (in-plane switching) panel. This type of screen is supposed to improve a TV's viewing angle at the cost of deep blacks, although you'll find out below that its viewing angle isn't any better than the E60's.
At least a blazingly bright white level of 315.70 cd/m2 helps bring the ET60's contrast ratio above 1000:1, which is merely acceptable.
Simply average for an LED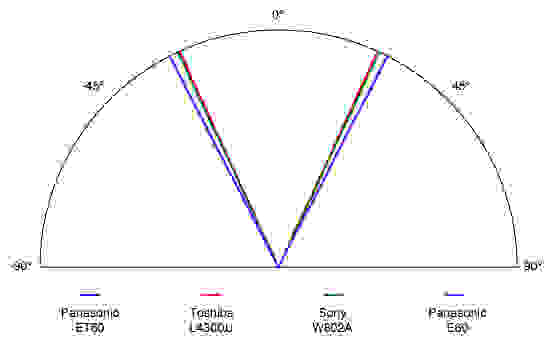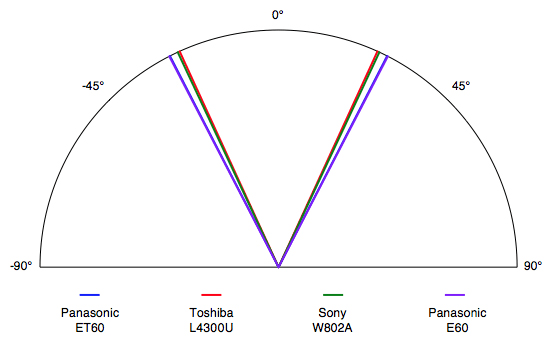 With a total viewing angle of 54°, the ET60 performs about as well as other LED TVs. In fact, similar TVs we compared it to had nearly the same result: about 50° of acceptable-looking content. Normally this result wouldn't be too disappointing, but Panasonic's IPS panel is supposed to improve viewing angle tremendously. The fact that it has the same score in this test as the non-IPS E60 is a bit disappointing.
This is some of the best color accuracy we've ever seen.
Rarely do we see TVs that adhere this closely to the Rec. 709 color gamut, which is the international standard for HDTVs. Reds, greens, blues, whites—they all look like they're supposed to. You'd think this wouldn't be a big deal, but most TVs don't get color right. Impressive, to say the least.
Also impressive? The way these colors transition from one hue to the next. Smooth color curves like these mean that most shades of a given color will be detailed. The fact that these curves peak early isn't too concerning: A TV doesn't register input signals past 235. If colors peak around that area, a TV is doing just fine.
Color temperature also tested highly. There is barely any noticeable error regarding color temperature, which can make whites and greys have a warm or cool hue. Only the darkest greys have a slight orange-tinted hue to them, but you probably won't notice it.
Meet the tester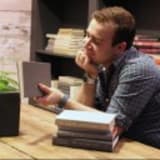 Josh Fields
Staff Writer
@reviewedtech
An enthusiast of all things tech, Josh is one of Reviewed.com's resident television experts. When he's not looking at bright TV screens in a dark room, he's probably reviewing a laptop or finding a new snack at 7-11.
Checking our work.
Our team is here for one purpose: to help you buy the best stuff and love what you own. Our writers, editors, and lab technicians obsess over the products we cover to make sure you're confident and satisfied. Have a different opinion about something we recommend? Email us and we'll compare notes.
Shoot us an email