The F5000 series is a great example of midtier quality. Shoppers who aren't interested in internet features, 3D tech, and endless connectivity will easily warm to these displays, thanks to wonderful color performance, smooth motion, and a dynamite contrast ratio. If this 46-inch TV (MSRP $999.99) hadn't dropped the ball on viewing angle, it would be a top-to-bottom winner.
Design stratagem: plunk big rectangle onto small rectangle
Considering this is an entry-level LED, the 46-inch F5000 is not exactly a visual "ten." An unimaginative, half-inch black bezel serves as the frame, and a shiny black rectangle stands below, supporting the display. The stand feels very dinky, but on the upside, the entire unit doesn't weigh much. I'm something short of Hulkish, and I could easily lift the TV and carry it around myself—just 27.1 lbs. But if you want a television so skinny it disappears when you turn it sideways, one embellished with chrome edges and a futuristic stand, then prepare to spend more money—this is not the TV for you. The F5000 series is not unattractive. It's just visually unremarkable.
Hooking the TV up was moderately easy, but it's a shame it won't swivel.
Next, in terms of layout, the 46-inch model we tested is as simple as it is limited; there are just two HDMI ports, one USB, shared composite/component ports, a coaxial in, a mini jack, a digital optical audio port, and an analog audio out. All of these hookups are located on the back, facing out, with the exception of the USB port, the coaxial in, and one HDMI port—which all sit along the right side. Hooking the TV up was moderately easy, but it's a shame it won't swivel; if this Samsung sits close to a wall, or recessed in a cabinet, then many of the ports will be difficult to reach.
A limited feature set
Going for an entry-level display often means forgoing high-end features like 3D, WiFi connectivity, and web browsing. The F5000 series is no exception. The 46-inch model we tested has great picture settings, at least; users can tinker with the usual array of options—brightness, sharpness, contrast, and tint—and they can also fine tune more advanced items, such as color gain, color gamma, and white balance. For the conservative buyer, an Eco Sensor auto-adjusts the TV's brightness in response to the room's available light. And also buried in these menus are two settings that sound better than they are—Clear Motion and Wide Color Enhancer Plus. The former is supposed to improve motion, but in reality accomplishes very little (in some cases it makes the picture look worse), and the latter simply punches up color. Menu navigation is easy, thanks to neat organization, but the remote control isn't for big-fingered folk, due to the cramped button layout. I do love the backlit keys, however, which glow pumpkin orange at the press of a button.
For the conservative buyer, an Eco Sensor auto-adjusts the TV's brightness.
For audio, users may tailor sound using the equalizer, or else choose from a list of presets: Standard, Music, Movie, Clear Voice (to prioritize voices), or Amplify (to assist the hearing impaired). There is also an Auto setting, which levels volume, and a DTS TruSurround mode, for more immersive listening.
Lastly, if you want video, music, or picture playback, simply insert a USB into the back of the TV and select the desired file from within the menu.
Like Seinfeld's two-face, this TV doesn't always look so hot.
If this TV is Seinfeld's two-faced date, and the middle of the couch is Seinfeld's Restaurant... you'll only want to date this TV from the middle of the couch. As with many LCDs, this one has a measly total viewing angle—so if you sit away from the center of the screen, the picture quality will degrade considerably. If you want a TV for movie night with friends, or to watch a soccer match with your entire family (because you're advanced in your sporting tastes), this is not a great choice.
The color adherence is excellent, rendering pictures that are true-to-life, polished, and vibrant.
However, if you're more of a loner—a Bartleby, a Heathcliff, a Miss Havisham—the F5000 series should suit you just fine. With your misanthropic plans in place, prepare to enjoy great color. The color adherence is excellent and the TV is smooth in each transition from one hue to the next, rendering pictures that are true-to-life, polished, and vibrant. Best of all, the display captures truly deep black levels and blinding whites, making for a sizable overall contrast ratio. Why is this important? Because the more shades a TV can produce along a greyscale, the more realistic its picture will be. With jet-black darks and dazzling whites, shadows and contours can display with more detail, so that objects look more lifelike.
If whistles worry you, if bells are your bane, this entry-level buy could be for you.
Recently, the TV market seems more and more abuzz with Tweeting, Facebooking, 3D, and internet browsing. Count Tech-ula struck, and now we're stuck with computer-TV-vampires. But there are still exceptions.
If you want a basic TV without the high-tech headaches, check out the F5000 series. These TVs don't dabble in 3D or internet features, but they produce excellent color, impressive contrast, and reliable motion performance. If you prize superior picture quality over a fussy feature parade, Samsung's F5000 series is a great choice.
In order to give each product a fair shake, we review them based on scientific facts. Only after time in the lab do we sit down to write a review, and if you're more interested in the numbers behind our claims, this is the page for you.
Using a Konica Minolta CS-200 chroma meter and a set of performance trials courtesy of DisplayMate software, we get the numbers we need to judge a TV—and this little display passed almost every test.
Rainbow "brite"
This 46-inch Samsung tested very well overall, and especially well with regard to color performance. When testing color, we look closely at three aspects of performance: color gamut, color curves, and color temperature. To test gamut, we compare the TV's colors to the Rec. 709 standard, and in this case, the results were excellent. This F5000 model matched the standard almost exactly, oversaturating blues only slightly, and hitting nearly perfect marks on red, green, and white.
Next we tested the color curves, to investigate how smoothly the TV transitions from one color to the next. Again, the F5000 did quite well, showing even curves all the way through the grayscale from dark to light. The only issues on this test are that blues ramp-up in luminance more slowly than the rest of the colors, and all colors peak a bit earlier than they should—so the brightest versions of each hue won't retain maximum definition.
Lastly, we ran a test to see how even the temperature of the display's light is throughout its greyscale, measured in degrees Kelvin. If a television's temperature gets too warm or too cool, areas of a greyscale will suffer blue or orange tints, but this TV maintained consistent and ideal temperatures throughout its scale, earning high marks once again.The only minor error occurs at the darkest point in the greyscale, where it is barely visible.
We suggest you fight for the middle of the sofa, and watch TV as a hermit would—without friends.
This TV's 24.36º total viewing angle is very paltry. If you're a bit of a misanthrope, this won't matter much, but if you love to have your pals over for movie night, someone will get the short end of the stick. Using a CS-200 chroma meter, we take a reading to determine a TV's contrast ratio from a head-on, 90º angle. Then we move in an arc, in 10 degree steps, and take the reading again and again. We do this until the angle is such that the contrast ratio falls below 50% of its original point—and that's how we determined that if you sit at more than 12.18º from the center of the 46-inch F5000, you will have a terrible view.
This is largely why this TV does not have a better score.
Up high, down low
To measure a display's contrast ratio, the CS-200 once again comes to our testing rescue. This machine measures the TV's peak luminance, which we divide by the minimum luminance to determine the contrast ratio.
Testing revealed an inky-black dark level of 0.07 cd/m2 and a gleaming peak white of 347.39 cd/m2 —resulting in an awesome contrast ratio of 4962:1. With a greyscale this big, and with the many shades of black and grey that reach all the way down to that 0.07 cd/m2 reading, the F5000 series can render objects in great detail, producing a more realistic picture.
Meet the tester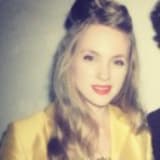 Virginia Barry
Former Managing Editor
@
Virginia is a former Managing Editor at Reviewed.com. She has a background in English and journalism. Away from the office, Virginia passes time with dusty books & house cats.
Checking our work.
We use standardized and scientific testing methods to scrutinize every product and provide you with objectively accurate results. If you've found different results in your own research, email us and we'll compare notes. If it looks substantial, we'll gladly re-test a product to try and reproduce these results. After all, peer reviews are a critical part of any scientific process.
Shoot us an email