Overview
We thought the S9 was grand, but that wasn't the only trick Samsung had up its sleeve. The South Korean giant showed off a completely redesigned smart platform, plus sequels to its flagship plasma E8000 (our 2012 TV of the Year), and flagship LED ES8000. We just finished testing the latter—the 55-inch F8000 (MSRP $2,829.99)—and can safely say this: All of the grandiose appeal from Samsung's CES booth is present in this TV. It's expensive, looks incredible, has options galore, includes an amazing new remote, and produces an excellent picture. And that new smart platform? It's here and it's already the best we've used (if still somewhat flawed).
Ladies and gents: Sit back and enjoy the show.
Design
The belle of the ball and the cat's meow
How do you improve upon the minimalist-yet-futuristic design of the ES8000? Trim the bezel width down to 0.2 inches and add one of the craziest bases you've never seen. Like a knife-throwing act, the crescent-shaped stand that comes with the F8000—officially dubbed the "Arc Stand"—is a sight to behold: It curves around the back of the screen, with only two little "feet" showing in the front. This TV doesn't swivel, but it does appear to float—that seems like a fair trade-off. And while it would have been a treat if the stand were made of metal, its hard-plastic coating still impresses.
The "Arc Stand" is a sight to behold.
Looking at the F8000 from the back doesn't reveal anything at first glance. Samsung opted to cover all of the connections with a plastic plate on the left-side, which is easily removable. Underneath, you'll find 4 HDMI ports and various other connectivity options (composite, component, S/PDIF—the usual acts). While plugging and unplugging cables, we couldn't help but notice how hot the F8000 gets. It's similar to Apple's Macbook Air: Anything this thin is going to heat up very quickly.
We'd love to gush some more about the actual TV's appearance, but the new Smart Touch Remote puts on a show of its own. It's smaller and thinner than last year's version, plus it feels solid and looks stunning with its gunmetal color scheme, even if it is—like the stand—plastic. The touchpad is much more responsive this time around, although navigating an on-screen keyboard with this remote is still unpleasant. At least perusing the Smart Hub or changing settings with it is easy and intuitive. The Smart Touch Remote can also control your cable box, but for $2,829.99, you expected that... right?
Menus & Smart Features
Sorry, Mr. Barnum—this is actually The Greatest Show on Earth.
The menu interface on the F8000 remains mostly untouched from last year's iteration, which was one of the best and most user-friendly menus on the market. This year's version continues that trend, giving detailed descriptions for every option you wish to tweak. Not sure what Digital Clean View does? The menu tells you that it reduces picture noise. Controlling this interface is done with the Smart Touch Remote, and it works very well, but really—there are way more fun features to use that remote with, specifically the Smart Hub.
The new Smart Hub is less about apps and more about interfacing with content.
If the F8000 is a circus, the revamped Smart Hub represents the performers. Pairing your new Samsung TV with your cable box is incredibly important: The new Smart Hub is less about apps and more about interfacing with content. The main screen on this new platform is titled On TV, and it shows you exactly what you'd expect: a clean interface with icons showing you current and upcoming TV programs. You can use the Smart Touch Remote to control all of this—there's no more Comcast/RCN/Verizon remote to deal with... mostly. The remote is sorely lacking a "favorite" button, for when you just feel like watching the same 10 channels.
Using this new interface to view TV content is just the opening act. There are a total of five different screens on the Smart Hub: the previously-mentioned On TV, Movies & TV Shows, Photos, Videos & Music, Social, and Apps. After On TV, Movies & TV Shows is the most important screen. Here, you can browse through current films and shows. Once you find something you like, click on it with your trusty remote. You will be told a number of things: where you can watch said movie/TV show (Netflix, Vudu, OnCinema, etc.), the cast, related movies/TV shows, and its Rotten Tomatoes rating. In case you don't realize it, this is awesome.
We need to point out how improved Samsung's voice functionality is over last year's TVs. When we reviewed Samsung's 2012 flagship TVs, we thought turning them on by saying "Hi TV, power on" was brilliant. Now, you can say more specific phrases, like "Ben Affleck movies." Doing so will list all of his most recent movies and how you can watch them. C'est magnifique!
Samsung's app store remains untouched from last year, and it shows its age.
The other three screens are pretty standard. Photos, Videos & Music lets you view media files via a USB drive or cloud storage; Social will update you with Facebook and YouTube recommendations; Apps includes all of your downloaded (and stock) programs. Unfortunately, Samsung's app store remains untouched from last year and shows its age, especially compared to the beautifully redesigned Smart Hub.
Picture Quality
The F8000 juggles color, contrast, and motion admirably.
Sure, the new Smart Hub can do the television equivalent of jumping through flaming hoops, but that means nothing if the picture is subpar. Worry not, faithful readers: The F8000's picture quality is more awesome lion tamer than sad clown.
The F8000 does not have impressive black levels.
Color purists can rejoice because this flagship produces highly accurate results. Red, green, and blue look how they should, plus there is no discernable color temperature error. Contrast purists won't be as happy, though: The F8000 does not have impressive black levels compared to other TVs, both LED and plasma. Does this detract from the overall television experience? Not really, and the results aren't far from what other LED displays have. Still, we can't help but be mildly disappointed here.
Fortunately, Samsung added a feature called "Micro Dimming" to the F8000. This is a way to finely control the LEDs that light your television and is the edge-lit version of local dimming. In other words, when this setting is turned on, the F8000 will allow different sections of the screen to light up independently, depending on the content. The best way to describe Micro Dimming (also called Smart LED) is like this: If a movie scene takes place in a dark room with a lantern in the bottom-left corner, then only the part of the screen with the lantern will be illuminated. Should you use this setting? Yes, especially since you're paying close to $3,000 for a TV.
Watching content with Micro Dimming turned on looks better.
Another feature you should probably use? Samsung's assortment of motion enhancement options. Standard motion performance on this TV is average as far as LCDs go—it's not bad, but it is blurry at times. We're the first to decry motion enhancement because of the dreaded Soap Opera Effect, but fine tuning it on the F8000 produces noticeably better results. We found using the Custom setting, with Blur and Judder reduction both set to 5, produced a desirable effect, with just a small hint of the Soap Opera Effect. After a few minutes, we were used to it and all was right with the world.
By the way, what's a circus without a good sideshow? Please give a warm welcome to the F8000's 3D experience. Yes, it looks amazing, and yes, you'll use it maybe once or twice and then forget about it. For what it's worth, this is some of the best 3D—maybe the best—on the market. There is no trace of crosstalk, plus the glasses are lightweight and comfortable. You'll still look like the bearded lady wearing them, though.
The Finale
Despite some flaws, Samsung's latest deserves a standing ovation.
What a show it's been. Samsung delighted us with the F8000's tantalizing design, wowed us with its updated Smart Hub, and treated us to terrific picture quality, thanks in part to some impressive extra features. Stop thinking about the upcoming S9 UHD TV—right now, the F8000 is the biggest spectacle in the TV world.
Is it perfect? No. Picture quality is very good, but suffers from the same drawbacks that plague most LED TVs: disappointing black levels and slightly flawed motion. Fortunately, Samsung adds in a plethora of extra features that can help to correct these issues. When a TV costs you $2,829.99, you should take advantage of these options.
The revamped Smart Hub is the real selling point on the F8000.
More than anything, we couldn't stop thinking about the revamped Smart Hub. This is the real selling point on the F8000: a completely new way to interface with your cable content. Again, there are flaws in this system, such as noticeable lag when selecting a channel. The highly accurate voice controls and smartphone compatibility, not to mention the overall beauty of the Smart Hub's design, make up for any missteps, though.
The F8000 is simply a great television. If you have the money and you want to experience what could potentially be the future of how we view content, consider this TV. At the end of the day, Samsung is the ringmaster, and the F8000 is one amazing show.
Science Overview
We could go on and on about the F8000's smart platform, but that wouldn't change the fact that this is a television: No matter what, you'll be watching some form of content on it. In terms of contrast, Samsung doesn't quite deliver with its latest. The same goes for viewing angle, which is incredibly narrow. Color accuracy is where this display shines. We hope you enjoy watching content the way it's supposed to look, because that's exactly what you're going to get.
Contrast
Contrast isn't bad, but it's not worthy of the high price tag.
A contrast ratio of 2400:1 is nothing to laugh at. In most cases, we'd praise this type of contrast—it's solid! When you are a company's flagship TV, though, we expect better, especially when said TV costs nearly $3,000. The black level of 0.12 cd/m2 is nothing special, although the F8000's peak white level is a radiant 288.04 cd/m2. What does this mean for you, the picture purist? Some detail in darker scenes will be lost on the F8000.
Viewing Angle
Bring in the clowns for this poor viewing angle.
Let's cut to the chase: The F8000 has a poor viewing angle. Having 15.5° of high-quality viewing on either side of the F8000 isn't nearly enough. To make matters worse, Samsung's previous flagship, the ES8000, had a phenomenal viewing angle for an LCD: 45° on each side. What happened? We're not completely sure, but it's a major letdown for guests you invite over who won't be viewing the F8000 straight-on.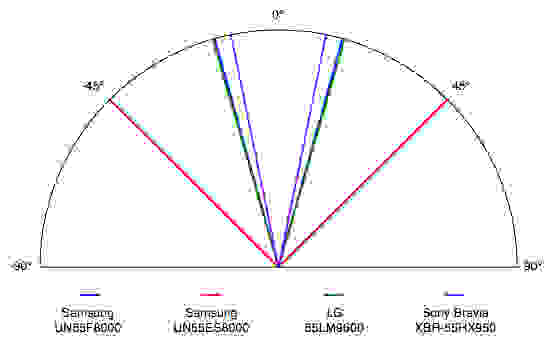 Color
Like trapeze artists, the F8000's colors are highly accurate.
Samsung makes up for its performance missteps with fantastic color results. Reds and greens are spot on, while blues are ever-so-slightly oversaturated. This means that peak blues will technically render as a slightly darker shade, although you won't notice much—the error is quite small.
Samsung makes up for its performance missteps with fantastic color results.
The way the colors transition from black to their peak values is mostly smooth. Both red and blue peak too early, meaning that some transitional shades are skipped. Greens and the greyscale, however, go from their initial to peak input levels accurately. These are excellent results.
Perhaps the F8000's biggest saving grace is its accurate color temperature. When a TV's color temperature is too warm, whites and greys will have a bluish hue, while a cooler temperature will show an orange hue (counterintuitive, we know). The Samsung F8000 manages to keep a consistently accurate color temperature for most of its picture, only producing an orange hue at its darkest levels. At this point, you won't be able to notice it.
Meet the tester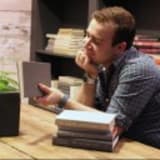 Josh Fields
Staff Writer
@reviewedtech
An enthusiast of all things tech, Josh is one of Reviewed.com's resident television experts. When he's not looking at bright TV screens in a dark room, he's probably reviewing a laptop or finding a new snack at 7-11.
Checking our work.
Our team is here for one purpose: to help you buy the best stuff and love what you own. Our writers, editors, and lab technicians obsess over the products we cover to make sure you're confident and satisfied. Have a different opinion about something we recommend? Email us and we'll compare notes.
Shoot us an email