SDR Test Results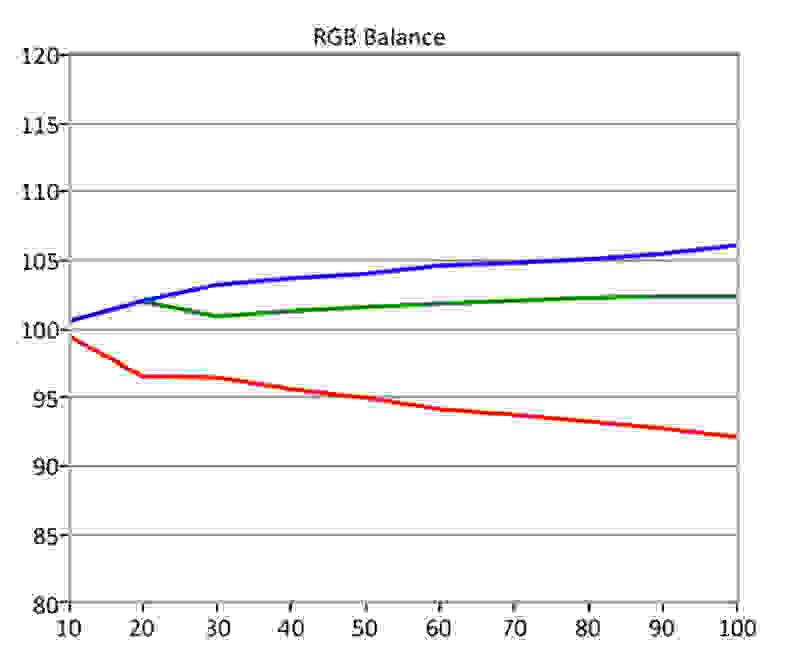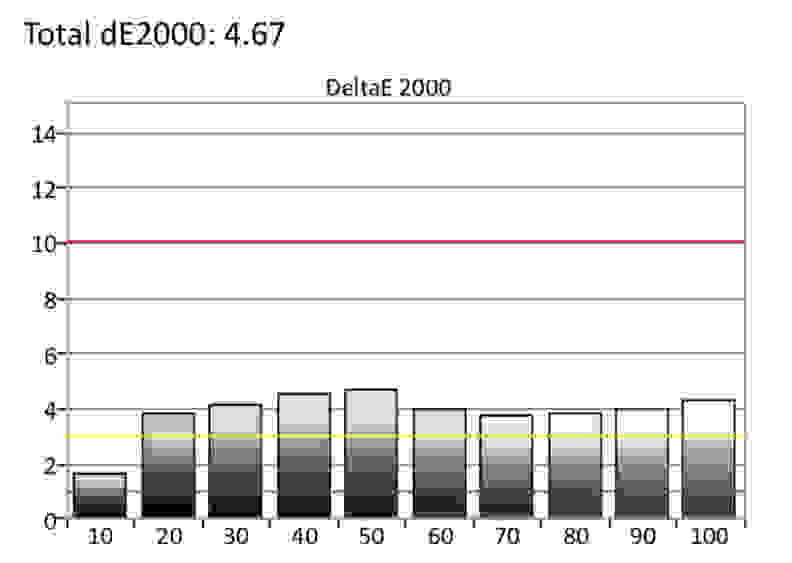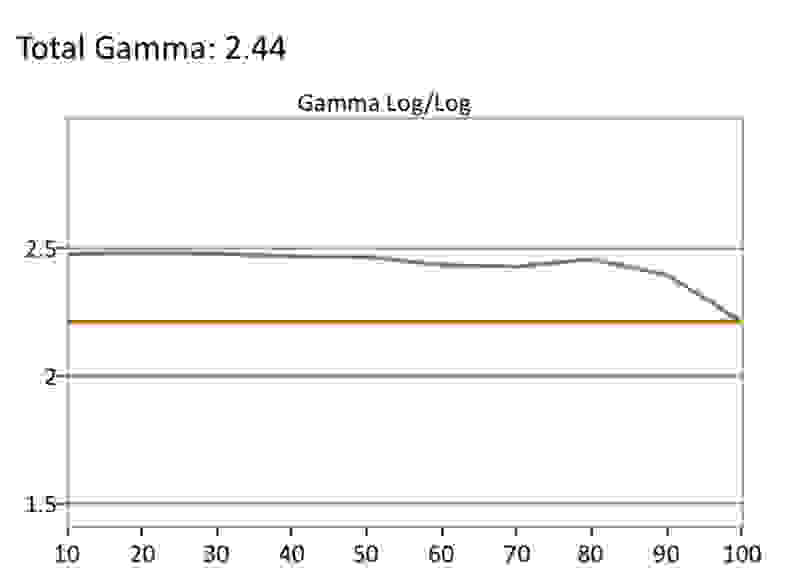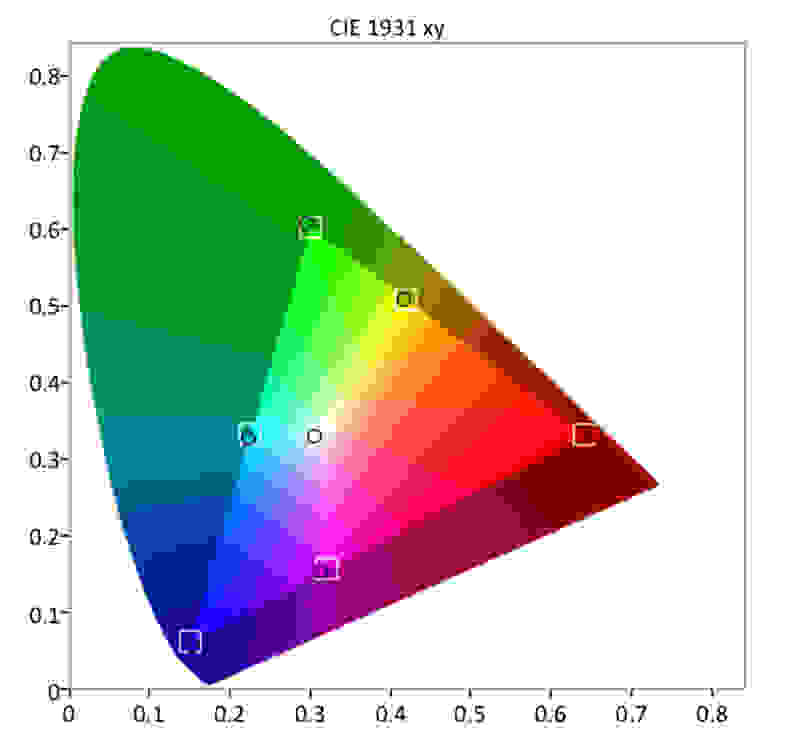 HDR Test Results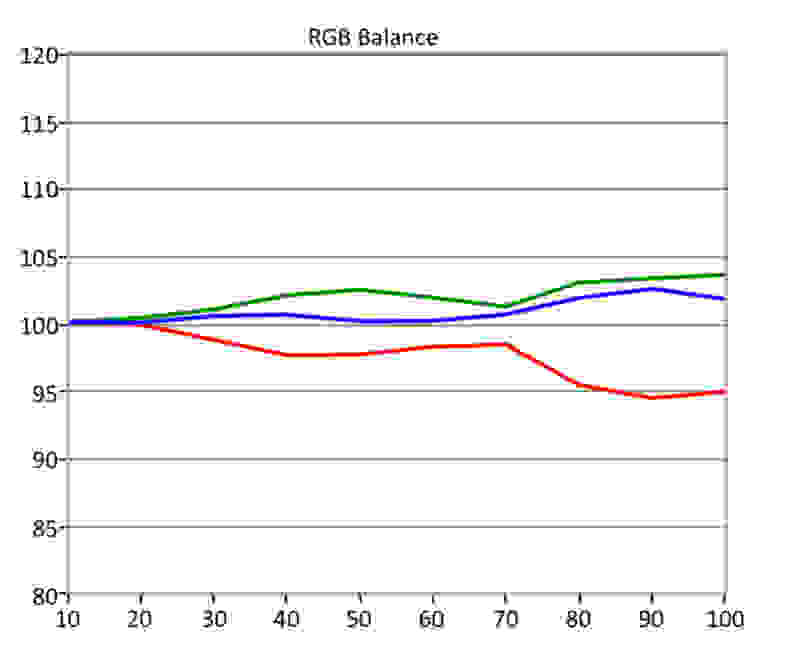 The Q7FN series is one of the more affordable QLEDs for 2018, but it's still priced at a premium: the 55-inch starts at a hearty $1,900 (though you can find it closer to $1,600 as of today), while the whopping 75-inch version will cost you almost four thousand dollars. But for that price, you really are getting some very impressive TVs. Meticulously designed and packed with the latest processing and smart tech, the Q7FN TVs also deliver superb brightness and color, with only a few drawbacks.
Testing revealed that the Q7FN delivers roughly the same brightness and color performance as the flagship Q9FN, but between 65-inch models, the Q7FN is about $1,000 more affordable. This is the QLED to get if you want Samsung's impressively bright HDR without shelling out quite so much money—but it's also currently a lot pricier than the Vizio P-Series Quantum, if picture quality is all you're interested in and you need a 65-inch TV specifically.
Samsung's Q7FN series is available in three screen sizes:
55-inch (Samsung QN55Q7FN), $1,899.99 MSRP
65-inch (Samsung QN65Q7FN), $2,599.99 MSRP
75-inch (Samsung QN75Q7FN), $3,999.99 MSRP
The three Q7FN TVs are pretty pricy, although since these MSRPs were announced the prices have definitely dropped a bit, with the series starting around $1,599.99 on Samsung's website right now.
But no matter what you pay or what size you get, you're getting a lot of high-tech TV features with this series:
• 4K (3,840 x 2,160) resolution
• Quantum-dot enhanced color
• Edge-lit LED backlight with software dimming
• HDR (High Dynamic Range) compatible (HDR10+)
• Samsung Smart Hub w/ Bixby
• 120 Hz refresh rates
• "Invisible" cable OneConnect box
• OneRemote (remote control)
• Ambient mode
The Q7FN series isn't cheap, sure, but—while it's not as fancy as the flagship Samsung Q9FN—you're still getting a very premium TV, no matter which size you've got your eye on.
We received our 65-inch Q7FN as a loan sample directly from Samsung, and gave it roughly 12 hours of warm up and run time prior to testing/evaluation. While this review is based off of results from the QN65Q7FN, we expect most findings to apply equally to the 55- and 75-inch Q7FN TVs.
Reviewer's note: The Q7FN we received had a few blemishes and seeming reliability issues, detailed later in the review. We don't think this reflects the reliability of the Q7FN TVs in general, but wanted to be fully transparent about the state of the TV we received.
---
Very easy on the eyes
Almost all of Samsung's modern day TVs are crafted for aesthetic appeal, but as one of the pricier and more fancifully appointed 2018 TVs, the Q7FN is even easier on the eyes than usual. The TV screen is bordered by black bezels, but like the other 2018 QLEDs the Q7FN is primarily silver in color: the panel sits atop a minimalist silver stand/ballast combo that's sturdy, but saves on tabletop space. This TV doesn't scream "high-end"—it whispers it, tricking enraptured listeners into leaning closer.
Like the other high-end QLED TVs, the thin, edge-lit Q7FN has almost no ports along its rear chassis, which is remarkably smooth and textured with a pattern of flowing, parallel lines. Instead of the traditional rear- or side-mounted ports, the Q7FN uses Samsung's "OneConnect" box: a black, rectangular outboard that houses most of the TV's electronic processing components as well as its audio-video ports—and it serves as a power supply—so definitely don't misplace it!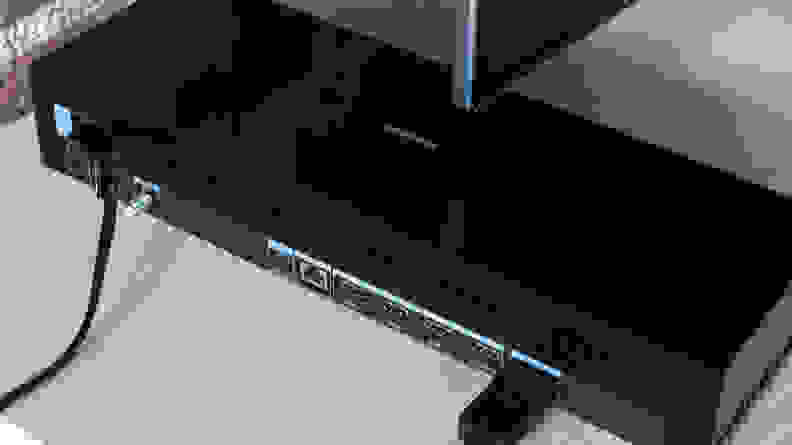 The OneConnect er, connects to the Q7FN via a single ("one") cable, which is where it gets its name. The cable is a 10-foot long, "invisible" cable meant to essentially minimize the usual mess of wires and connectors running to the back of the TV. In fact, the TV's rear chassis and stand are designed to allow you to run the OneConnect invisible cable in such a manner that the TV can be mounted totally flush against the wall. Everything about the Q7FN's design points towards polish.
On the OneConnect, you'll find a robust selection of AV ports, including four HDMI inputs (all HDMI 2.0/HDCP 2.2 compliant—supporting 4K/HDR), four USB 2.0 inputs, a LAN (ethernet) input, and digital (optical) audio output, amongst other legacy ports. It's a big, heavy box, but the invisible connection cable makes it easy to stash it in an entertainment center, hiding what's connected to the Q7FN so you've only got to look at the big, almost bezel-less screen.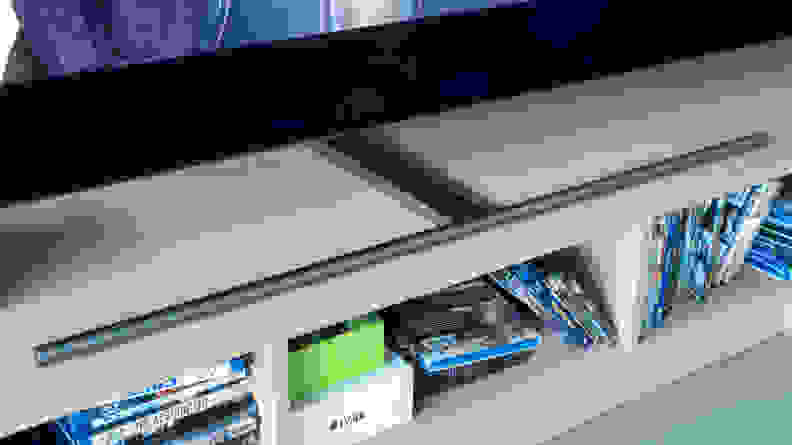 Last but not least, the Q7FN also includes Samsung's "OneRemote," a similarly minimal remote control that favors a sleek design over a high button count. It's identical to other Samsung remotes from 2018, featuring discreet rockers for volume/channel, a Smart Hub button, four-way navigational circle, and selection button. While it's a very sparse little wand, it works great controlling connected devices, which are usually instantaneously identified over HDMI CEC.
Reliable extras
Like every 2018 Samsung TV, the Q7FN is outfitted with Samsung's "Smart Hub," a smart platform that gives users access to apps like Netflix, Hulu, Amazon Video, YouTube, and so on. Most of the apps you're likely to use via the Q7FN are already installed, and—most importantly—these versions of the apps support 4K and HDR playback where available, which allows you to take advantage of the Q7FN's considerable tech prowess, even if you don't own a 4K/HDR source device like a Blu-ray player or game console.
In fact, 4K/HDR compatible apps are probably the biggest advantage of getting smart features with any premium TV. While the Q7FN has enough processing power that the smart platform (and system menu) experience are snappy, the chances that you'll be using the Smart Hub as your primary means of accessing streaming content are pretty low, especially in 2018 where most people already have a Roku, an Xbox One, an Apple TV, or some other method of watching their favorite movies and TV shows. The Smart Hub has a ton of extra features, but the main course here is the ability to watch HDR content natively.
Finally, like the other QLED TVs, the Q7FN has a really cool new feature called "Ambient mode." This mode allows the TV to display a low-power image while it's "off" or not in use, displaying information like the time, or weather, or just a cool image pattern or artwork. It's a nifty feature, and a great way to continue "using" the TV even when you aren't watching it—which might help some folks justify the Q7FN series' high price tags.
However, while polished details like a snappy smart experience and the TV's smooth, finely crafted exterior are icing on the cake, the meat and potatoes of the cake is the picture quality: that's what you're paying the butcher-baker for.
Way too bright for the candlestick maker
The Q7FN's picture quality—specifically, the quantum dot technology that puts the Q in QLED—is, rightly, what you're paying for—and I think most folks will be very happy they did.
What primarily separates the more affordable Q7FN TVs from, for example, Samsung's top-of-the-line flagship Q9FN, is that the Q9 series TVs have "full-array" LED backlights, while the Q7FN is edge-lit. It's thinner, but its backlight distribution and local dimming processes (dimming or boosting parts of the screen to accentuate contrast) are inherently less efficacious. This creates some picture quality hurdles, but it's also one reason the Q7FN TVs are that much more affordable.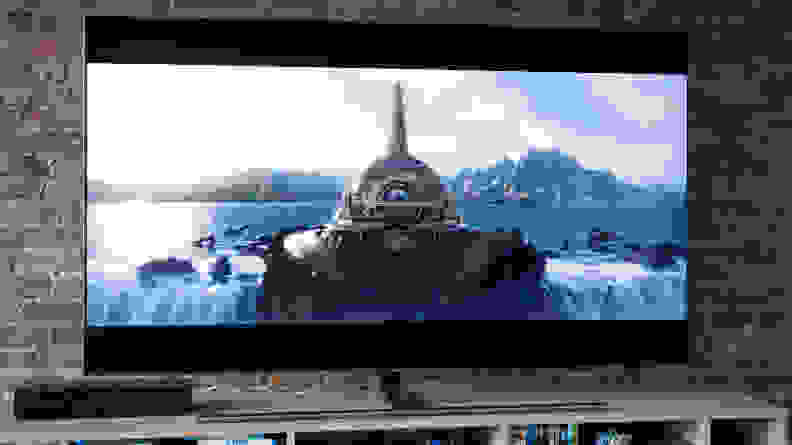 The quantum dots, however, are the same—and that's where these TVs really shine. Compared to the standard LED TV and even many HDR TVs on the market, the Q7FN is just blisteringly, brilliantly bright and colorful, which is kind of the hallmark of Samsung's QLED TVs. The quantum dot film especially enhances reds and greens, which gives a huge boost to overall color saturation. This TV is an HDR powerhouse, and Samsung's QLED line is generally an excellent choice if you're looking for really mind-blowing HDR.
The other tech "enhancements" here—4K (3,840 x 2,160) resolution, a 120 Hz refresh rate, an edge-lit LED (VA) style panel—may not be at all unique to the Q7FN, but they still help cement its position as high-end, premium TV. Whether you're watching standard content in the subtler "Movie" mode or enjoying something that's been blitzed to high heaven via the "HDR+" setting (which basically ramps up brightness and color to the TV's max for any kind of content), you're getting a rich, accurate picture that's backed by an awful lot of power.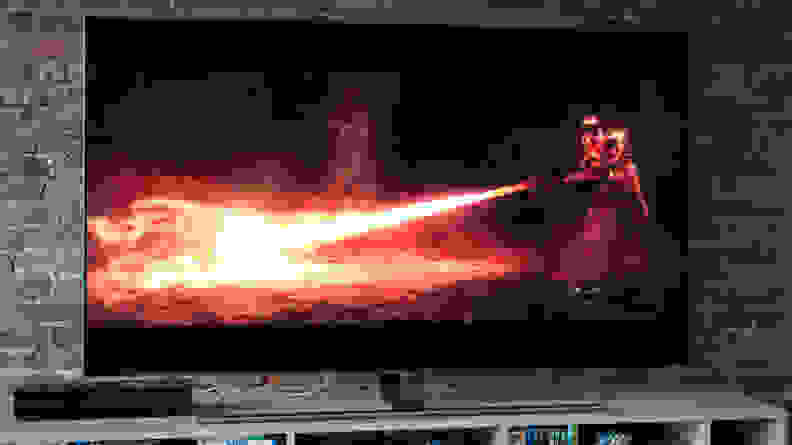 Overall, the Q7FN isn't perfect, but it's definitely up there with the better TVs of 2018, especially in terms of "wow" factor. You're getting reliably good contrast (HDR or not), with great black levels for an edge-lit TV, especially one that gets so bright (black levels do worsen during HDR, however). Likewise, Samsung's "Auto Motion Plus" suite allows for pretty good all-around motion performance, with adjustable de-blur and de-judder standing in to allow the TV to accurately display content from a variety of sources—though the native 120 Hz panel is still the best asset in that regard.
Performance Data (Movie mode)
• SDR Contrast: 199.9 / 0.022 nits
• HDR Contrast: 865 / 0.090 nits
• HDR Speculars: 2% - 343.3 / 10% - 1617 / 20% - 1579 / 40% - 1513 / 50% 1246 nits
---
The Q7FN's edge LED backlight creates a few hurdles
The Q7FN TVs deliver a lot to love in terms of their picture quality performance—which is good, because you're paying a good bit for them regardless of their size. But they also run into a few hurdles related to the fact that they use edge-mounted LED backlights (as compared to, say, the flagship Q9FN, which uses a full-array backlight).
The most obvious drawback is one that is commonplace amongst edge-lit LED TVs: the Q7FN TVs don't have great horizontal viewing angles. While the VA (vertical alignment) style panel used provides much better contrast during head-on viewing than, for example, an IPS style panel, as you start to move away from center, the picture quality begins to degrade a bit.
The Q7FN TVs don't have great horizontal viewing angles.
That's not to say that you can't watch the Q7FN TVs at all from off center, but that the horizontal viewing angles are shallow enough that you may want to be extra careful about where (or whether) you wall-mount the TVs. If you're watching with 3-5 people on a larger couch setup, the people furthest from head-on viewing will likely experience shallower contrast and less color saturation overall.
I also noticed slightly more dimming/boosting-related bloom here than on the flagship Q9FN (though interestingly, the two TVs tested with the exact same specular/APL-based brightness levels, a testament to the Q7FN's general quality).
Because the Q7FN's considerably bright backlight is filtering through the whole screen from the sides rather than from a full array of backlight LEDs, there are occasional instances of uneven uniformity, especially when a majority of the screen is a single shade or color. This is less of an issue than the viewing angle observations, however.
Also like the Q9FN, the Q7FN sometimes evinces unevenness in its black level production, depending upon how much of the screen is dark. This effect is actually not quite as noticeable on the Q7FN as it was on the Q9FN, but only because the flagship Q9FN gets darker overall.
Relevant Data (Movie mode)
• Horizontal Viewing Angle: 26.60° / ±13.30° from center to either side
• 90%/10% Black Box Measurements: 0.019 nits / 0.031 nits (SDR)
Our unit had some blemishes and reliability concerns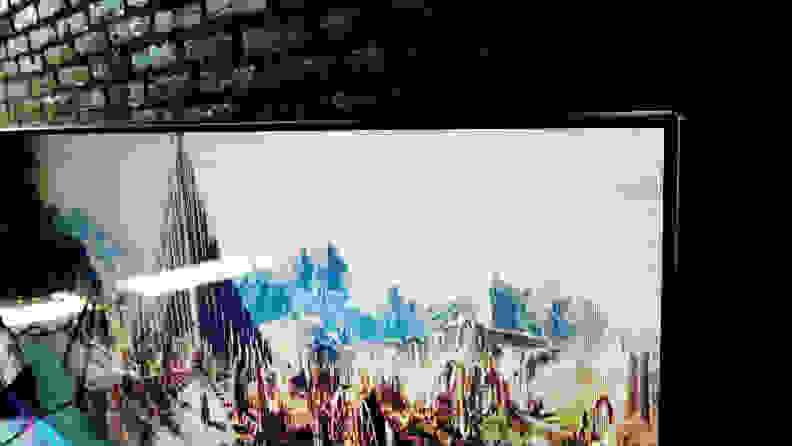 We received a 65-inch Q7FN on loan from Samsung, and noticed a couple of strange, general blemishes with our test unit. Most concerning was a pair of horizontal, dead pixel lines across the top of the screen, which seemed to occasionally disappear but have plagued the unit from first assembly through product photos.
While these stuck pixel rows are obviously distracting, they didn't affect testing and didn't (overall) diminish my ability to enjoy the Q7FN's otherwise bright, richly saturated picture.
I also noticed after assembling the unit (using the provided screws for stand assembly) that it was very wobbly, and the panel didn't sit entirely flush/level with the tabletop, but canted/tilted to one side.
Like the issue with the pixels, this is definitely an issue that's isolated to our specific review unit, but the wobbliness is extreme enough that it's worth mentioning, too.
Maybe—but there's a better value in one size
The Q7FN is a very impressive TV: it delivers roughly the same outer polish, snappy user experience, and blisteringly bright picture quality as Samsung's top-of-the-line 2018 TVs. While you're paying a lot here, you're getting a bunch of great qualities, and very few drawbacks.
On the other hand, the Q7FN is not at all without competition. Especially if you're planning to pick up the 65-inch model, you should probably consider going for the Vizio P-Series Quantum instead. Right now anyway, the Quantum is only $1,700, but it's every bit as bright, colorful, and impressive-looking as the Q7FN—in fact, it uses a full-array backlight, putting it more on par with Samsung's flagship Q9FN.
The question remains why you'd buy the Q7FN TVs over the Vizio P-Series Quantum—and I'm not entirely sure. The edge-lit Q7FN is definitely a sleeker and more minimal model from a design perspective, and has a slew of techy features via the Smart Hub that make it a little snappier and more technophile friendly than the Quantum. And of course if you're aiming for a great 55- or 75-inch TV, the Q7FN is an awesome option.
But if you're just looking for super bright, 65-inch HDR TV, the Quantum is the way to go.
Meet the tester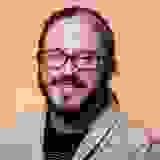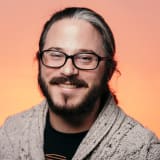 Lee Neikirk
Editor
@Koanshark
Lee has been Reviewed's point person for most television and home theater products since 2012. Lee received Level II certification in TV calibration from the Imaging Science Foundation in 2013. As Editor of the Home Theater vertical, Lee oversees reviews of TVs, monitors, soundbars, and Bluetooth speakers. He also reviews headphones, and has a background in music performance.
Checking our work.
We use standardized and scientific testing methods to scrutinize every product and provide you with objectively accurate results. If you've found different results in your own research, email us and we'll compare notes. If it looks substantial, we'll gladly re-test a product to try and reproduce these results. After all, peer reviews are a critical part of any scientific process.
Shoot us an email