Pros
Gets very, very bright

Accurate color

Dependable viewing angles
Forgive the pun, but the Sony X800H is a land of contrasts. We love how bright it gets (particularly during HDR content), but its brightness is undercut by the TV's relatively shallow black levels. Its color production is fantastic for a mid-range TV, but its not as colorful as some of its rivals. All told, the X800H performs admirably and won't break the bank, but there are better-performing TVs in this price range. If you've got your heart set on a Sony brand TV, however, the X800H will probably be a good fit.
(Note: Due to COVID-19 complications, this review leans heavily on test results in lieu of hands-on time with the TV.)
About the Sony X800H Series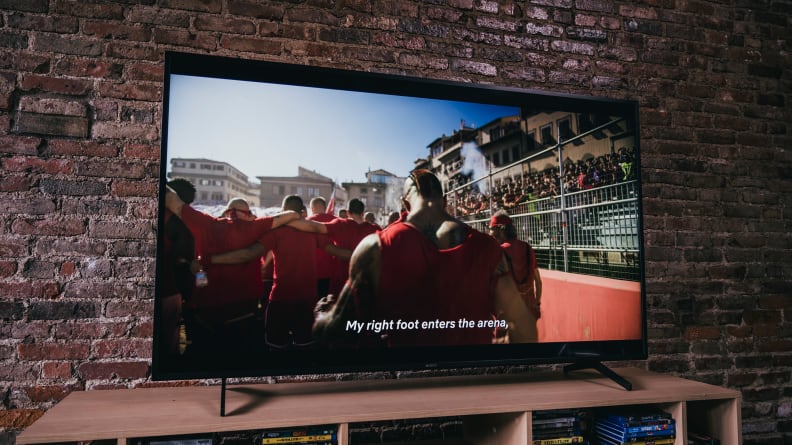 The Sony X800H is available in six screen sizes ranging from a modest 43-inch version all the way up to a gigantic 85-inch model. We've tested the 65-inch version. Here's how their prices stack up:
43-inch (Sony XBR-43X800H), MSRP $599.99
49-inch (Sony XBR-49X800H), MSRP $649.99
55-inch (Sony XBR-55X800H), MSRP $799.99
65-inch (Sony XBR-65X800H), MSRP $999.99
75-inch (Sony XBR-75X800H), MSRP $1,399.99
85-inch (Sony XBR-85X800H), MSRP $2,299.99
Although different sizes of TVs in a series tend to perform very similarly to to one another, it's worth noting that the 43- and 49-inch versions of the Sony X800H are edge-lit panels. The 55-, 65-, 75- and 85-inch models, on the other hand, feature direct LED backlights, which in the majority of cases make for better contrast.
Here's a rundown of what you're getting with the Sony X800H, regardless of which size you choose:
Resolution: 4K (3,840 x 2,160)
HDR support: HDR10, HLG, Dolby Vision
Native refresh rate: 60 Hz
Smart platform: Yes (Android)
Color: DCI-P3/10-bit color space
Processor: X1 4K HDR
The X800H comes with a built-in, Android-based smart platform. When it comes to apps, all of the usual suspects are accounted for, and there's plenty more to download from an impressive library. Android isn't as user-friendly as a platform like Roku, however, so you might still want to consider investing in a streaming device to support the X800H's built-in features.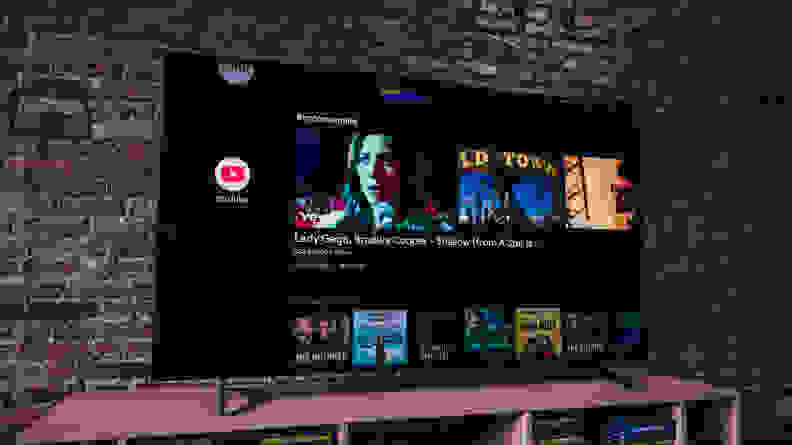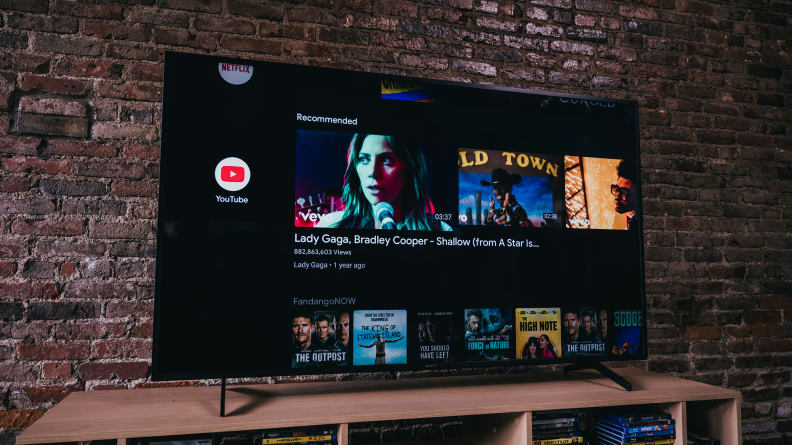 Performance Data
Before testing each TV, we make sure the panel is on and receiving a continuous signal for at least 24 hours, allowing the pixels plenty of time to warm up. The Sony X800H received the standard warm-up time before any readings were taken.
For SDR tests, we used the Sony's "Custom" picture setting. For HDR tests, we also used Sony's "Custom" picture setting. We've chosen these settings because of their accuracy, but results may vary across picture modes.
We use a standard ANSI checkerboard pattern for most of our basic contrast tests—including the ones reported below—but we also use white and black windows ranging from 2% to 90% to test how well the contrast holds up while displaying varying degrees of brightness.
I'll expand on our test results throughout the review, but for now, here are some key takeaways:
• HDR contrast (brightness/black level): 522.9 nits/0.368 nits (ANSI checkerboard)
• SDR contrast (brightness/black level): 112.4 nits/0.097 nits (ANSI checkerboard)
• HDR peak brightness: 552.9 nits (ANSI checkerboard), 436.8 nits (50% white window)
• HDR color gamut coverage: 91% (DCI-P3/10-bit)
• SDR color gamut coverage: 100% (Rec.709)
Connectivity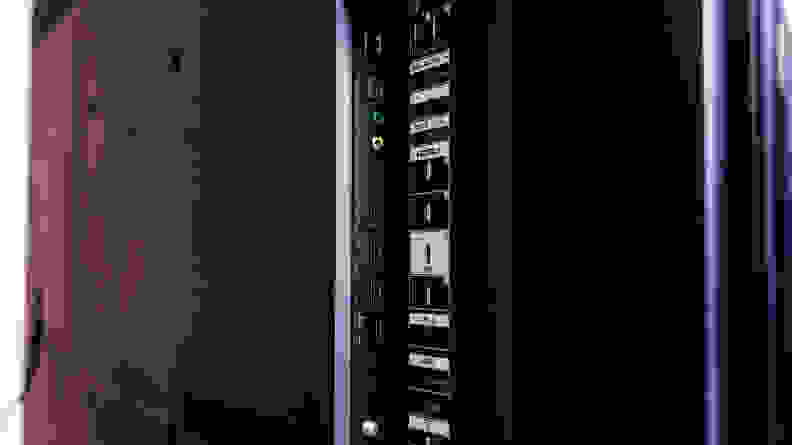 The Sony X800H features a fairly run-of-the-mill collection of inputs, with the only stand-out feature being the inclusion of a USB 3.0 port. Here's what you'll find on the back of the X800H's panel:
• 4x HDMI 2.0 (1x ARC) ports
• 1x USB 2.0 port
• 1x USB 3.0 port
• Composite input
• LAN ethernet port, RF input, optical audio output
• 3.5mm headphone jack
What We Like
Fantastic brightness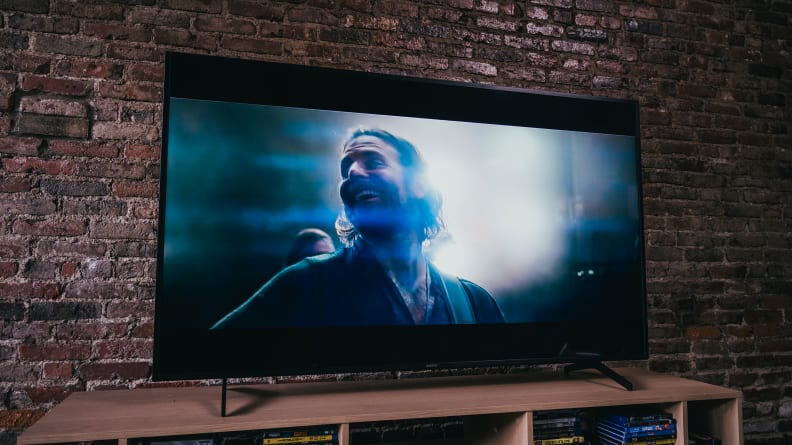 The X800H comes close to producing the sort of bright highlights that we've measured in similarly priced, mid-range quantum dot TVs as of late, thanks to its powerful backlight and Sony's Triluminous display technology.
Our lab tests indicate that, in HDR, the X800H hovers around the 450- to 550-nit range. With an SDR signal, you can expect a bright image as well, though the picture obviously won't pop quite as much. There are brighter TVs in the X800H's price range (last year's TCL 6-Series is a good example), but the Sony X800H is plenty impressive, all things considered.
Great color production
Another area of performance where the Sony X800H performs better than most mid-range TVs is in the category of color production. The TV's out-of-the-box settings are tightly calibrated—our lab tests found that it covers 100% of the standard Rec.709 color gamut, so most cable programming, streaming content, and Blu-rays will feature accurate, wonderfully rendered color.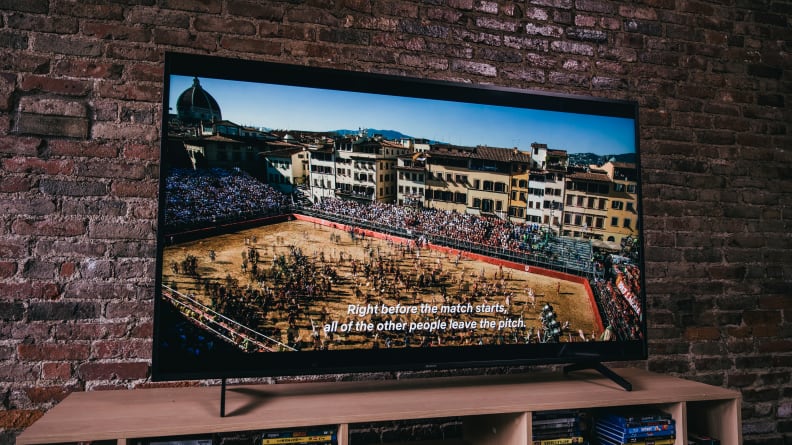 HDR is understandably a different story, but thankfully, not an unfortunate one; we found that the X800H covers around 91% of the wide P3 color gamut. You will probably notice a difference between the TV's SDR color production and the color produced during HDR content, but the X800H's colors aren't quite as vibrant in HDR as what we've seen from some of the affordable quantum dot TVs we've tested recently.
Dependable viewing angles
The vast majority of LED TVs on retail shelves today feature panels that use vertical alignment (VA) technology, which grants them improved contrast—among other benefits—at the expense of wider viewing angles. TV panels that use in-plane switching (IPS) technology are less common, and while their contrast can't really compete with VA panels, they tend to offer a wider, more-forgiving viewing cone with more reliable color. In other words, VA panels typically produce deeper black levels than their IPS counterparts, but IPS panels can be viewed from wider off-angles without the picture quality taking a hit.
This is an incredibly simplified explanation and there are more ins and outs to these panel types, but for our purposes, here's what you need to know: The Sony X800H features an IPS panel, so it's better equipped to accommodate off-angle viewing. If you're planning on showing off a big TV for regular group viewings, it might be worth keeping this in mind.
What We Don't Like
Shallow black levels and no local dimming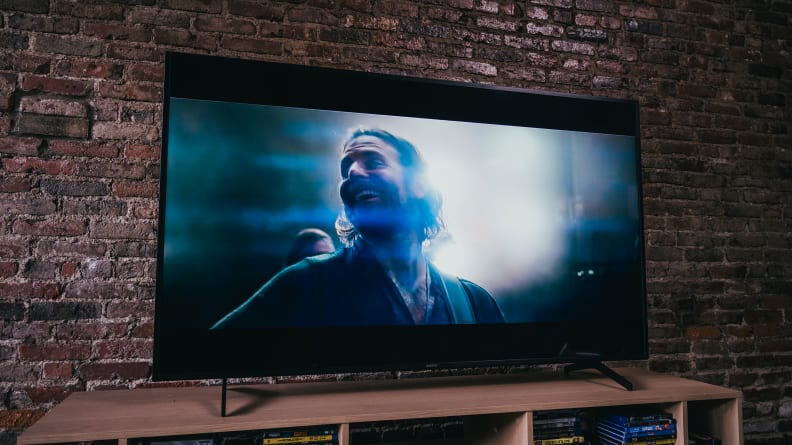 While the X800H's brightness is its best quality, its black levels are an altogether different story. Being an IPS-paneled TV, the X800H trades its stable color and hearty viewing angles for shallow black levels. For the viewer, this means less picture detail, particularly during darker content.
We found an average black level of around 0.1 nits in SDR and 0.35 in HDR—higher than most mid-range TVs we've tested of late. In addition, while all but two of sizes in the series feature a direct LED backlight (including our 65-inch model), none of them feature local dimming software, which would ostensibly help the TV throttle its brightness depending on what was happening on screen.
It's a shame, too, because the X800H gets surprisingly bright, so it's an otherwise good choice for people with bright rooms. The overall contrast, though, is undercut by the TV's shallow black level production.
Overall design is sturdy but not sleek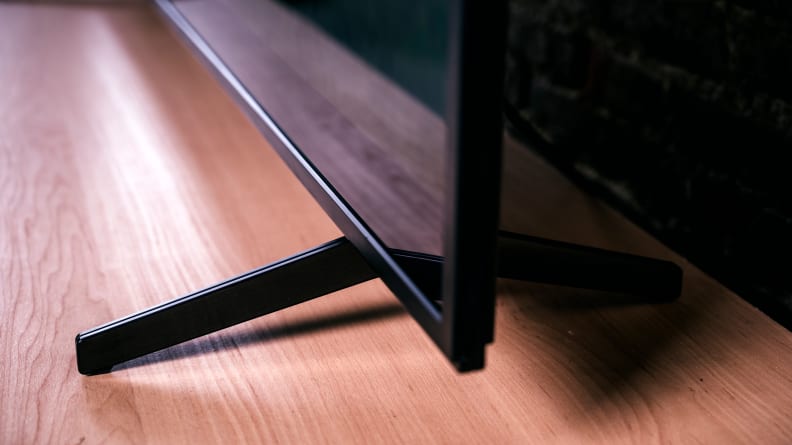 A TV's design is hardly the most important thing to consider when shopping for one, but we tend to spend more time thinking about TV design than most folks—if only because we see so many of them every year. That said, while the Sony X800H is certainly sturdy and utilitarian, there's nary an interesting flourish or texture. One look at the X800H and you're sure to think, "yep, that's a TV, all right."
The panel is supported by two angular feet that stretch all the way to the edges of the panel, which is something to keep in mind if you find yourself considering one of the larger sizes in the series. If you're not planning on mounting the X800H on your wall, you'll need a wide-enough surface to accommodate it's wide-set stands.
Should You Buy It?
Yes, but only if you want a Sony TV and don't mind paying a premium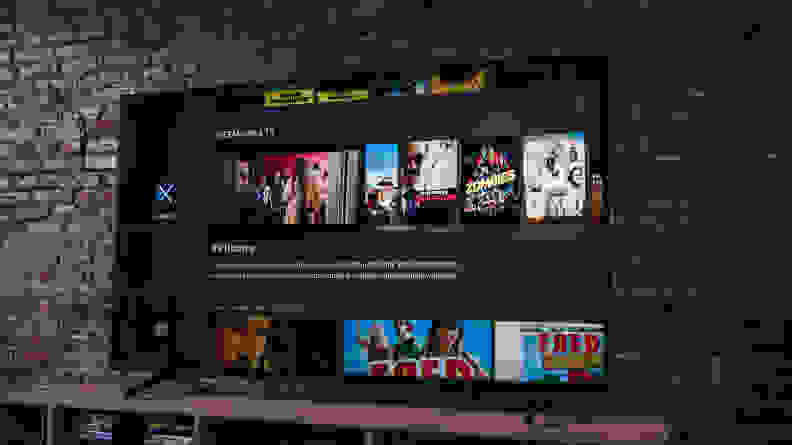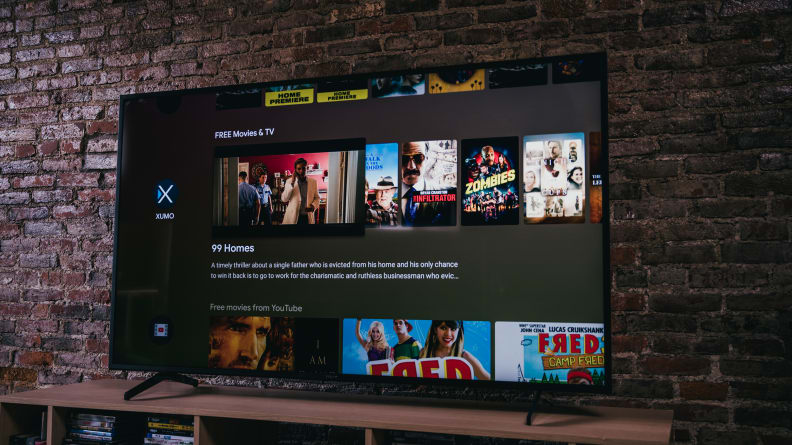 The Sony X800H isn't a bad TV, and most folks will be satisfied with it, so long as they understand its limitations. It's a bright TV with excellent color and extra-wide viewing angles, but its shallow black levels make its HDR support rather unimpressive.
The X800H's biggest problem isn't its performance, but its price tag—it just doesn't offer enough in the way of performance and features to justify an asking price of $800 for 55 inches of screen real estate (or $1,000 for 65 inches). The recently released Samsung TU8000 doesn't get as bright as the X800H and features less impressive color, but its 65-inch model is priced at $700—a whole $300 less than the X800H.
Furthermore, both the 2019 Vizio M Series Quantum and the 2019 TCL 6-Series—two mid-range quantum dot TVs from last year—get brighter and more colorful than the Sony X800H. Both of these TVs are more affordable than the X800H, too.
The bottom line? It's much easier to appreciate the Sony X800H if you pretend that its competition doesn't exist, but I find it hard to do so.
Meet the testers
Michael Desjardin
Senior Staff Writer
@Reviewed
Michael Desjardin graduated from Emerson College after having studied media production and screenwriting. He specializes in tech for Reviewed, but also loves film criticism, weird ambient music, cooking, and food in general.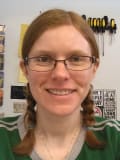 Julia MacDougall
Senior Scientist
@reviewed
Julia is the Senior Scientist at Reviewed, which means that she oversees (and continually updates) the testing of products in Reviewed's core categories such as televisions, washing machines, refrigerators, and more. She also determines the testing methods and standards for Reviewed's "The Best Right Now" articles.
Checking our work.
Our team is here for one purpose: to help you buy the best stuff and love what you own. Our writers, editors, and lab technicians obsess over the products we cover to make sure you're confident and satisfied. Have a different opinion about something we recommend? Email us and we'll compare notes.
Shoot us an email