Pros
Sleek design

Good color saturation

Google TV works well
Cons
Poor black levels

Bad for current-gen gaming
For the money, you can do much better than the Sony X80J.
The X80J's Achilles' heel is its dreadful contrast; its black levels are too shallow to deliver the sort of base level picture detail we've come to expect from this price range, while middling brightness holds back its HDR performance. This makes it a less-than-ideal pick for both dark and bright viewing conditions. It's difficult to recommend the X80J to serious gamers on a budget, too, as it lacks even the most basic gaming-related enhancements that are relatively easy to find elsewhere.
The Sony X80J isn't a bad TV, but it's unclear what type of viewer would benefit more from the X80J than any of its competitors. Even in the mid-range category, there are better choices for cinephiles, better choices for gamers, and better choices for folks on a budget.
Editor's note: Due to COVID-19 complications, this review leans heavily on test results in lieu of extended hands-on time with the TV.
About the Sony X80J TV series
The Sony X80J is available in five sizes ranging from 43 inches to 75 inches. Three of these sizes—the 55-, 65-, and 75-inch versions—carry slightly different SKUs at certain retailers, ending with "X80CJ" rather than "X80J." In terms of picture quality, we don't expect these models to perform differently than their alternatively named counterparts.
Our review unit is a 55-inch model (KD-55X80J) that we purchased ourselves and tested before any calibration efforts were made. Here's the series at a glance:
43-inch (Sony KD-43X80J), MSRP $599.99
50-inch (Sony KD-50X80J), MSRP $699.99
55-inch (Sony KD-55X80J / KD-55X80CJ), MSRP $749.99
65-inch (Sony KD-65X80J / KD-65X80CJ), MSRP $899.99
75-inch (Sony KD-75X80J / KD-75X80CJ), MSRP $1,699.99
Although we don't expect there to be differences in performance between the 55-inch Sony X80J and the 55-inch Sony X80CJ, we can't say for certain that there won't be performance differences between certain sizes in the series.
We believe that our 55-inch review unit uses an IPS-style panel, but we can't confirm whether or not the other sizes in the series use a similar panel without testing them ourselves. IPS (in-plane switching) panels typically provide excellent color and wider viewing angles than VA (vertical alignment) panels, but when it comes to contrast, VA-style panels are consistently better performers, offering deeper black levels and less light bleed.
We reached out to Sony for clarification, but unfortunately, we were reminded that Sony doesn't disclose panel type information.
Here are some key specifications shared by every size in the Sony X80J series:
Resolution: 4K (3,840 x 2,160)
Display type: "Triluminos Pro" LCD/LED (direct backlight)
Dimming: None
HDR support: Dolby Vision, HDR10, HLG
Dolby Atmos: Yes
eARC support: Yes
Native refresh rate: 60Hz
Smart platform: Google TV
Color: DCI-P3 color space/10-bit chroma resolution
Processor: 4K HDR Processor X1
Variable Refresh Rate (VRR): No
Auto Low Latency Mode (ALLM): No
Other features: Google Assistant, Google Chromecast, Apple AirPlay 2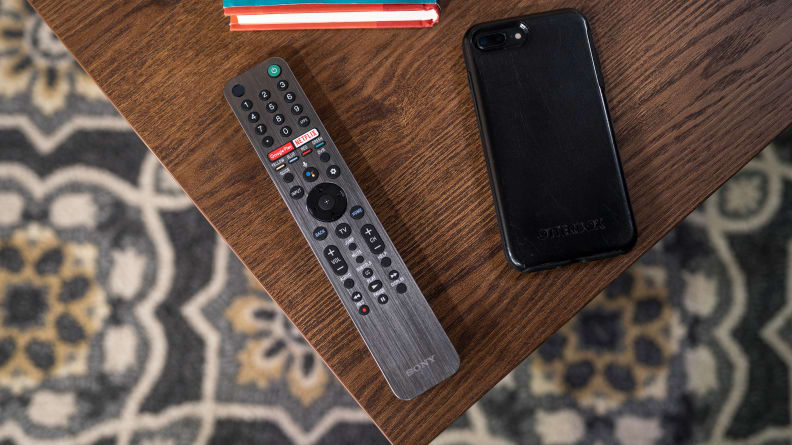 Like most of Sony's 2021 smart TVs, the X80J comes with the Google TV smart platform pre-installed, replacing the Android TV software of years past. The X80J arrives with the newest version of Sony's smart remote, which features a microphone as well as dedicated buttons for Netflix and the Google Play Store.
Performance data
Before testing each TV, we make sure the panel is on and receiving a continuous signal for at least 24 hours, allowing the pixels plenty of time to warm up. Our 55-inch Sony X80J received this standard warm-up time before any readings were taken.
For both SDR and HDR tests, we used Sony's "Custom" picture mode. We've chosen this setting because of its accuracy (Sony reports that its "Custom" picture setting is the best-calibrated mode), but results may vary depending on which picture mode is enabled.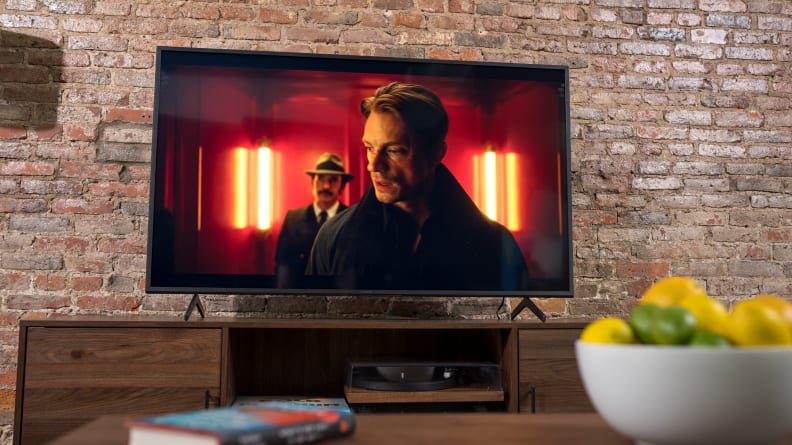 To get a sense of the TV's average performance, we use a standard ANSI checkerboard pattern for most of our basic contrast tests. We also use white and black windows ranging from 2% to 90% to test how well the contrast holds up while displaying varying degrees of brightness.
Our peak brightness measurements are taken with sustained windows, so these figures represent the TV's peak brightness over a sustained period of time. Specular highlights (like brief flashes of reflected light) might reach higher brightness levels, but not for a sustained period of time.
All of our tests are created with a QuantumData 780A signal generator and tabulated via Calman Ultimate. I'll expand on our test results throughout the review, but for now, here are some key takeaways:
• HDR contrast (brightness / black level): 387.2 nits / 0.304 nits (ANSI checkerboard)
• SDR contrast (brightness / black level): 310.5 nits / 0.275 nits (ANSI checkerboard)
• HDR peak brightness (sustained): 345.6 nits (40% white window)
• HDR color gamut coverage (DCI-P3/10-bit): 88.6%
• SDR color gamut coverage (Rec.709): 100%
Connectivity
The Sony X80J offers a basic selection of connectivity options that most people will find adequate, but folks on the hunt for cutting-edge hardware will likely be disappointed in the TV's lack of HDMI 2.1 ports.
Here's what you'll find in a cutout on the back of the panel:
4x HDMI 2.0 (1x eARC)
2x USB (1x USB 3.0)
Composite input (adapter required)
RF connection (cable/antenna)
Ethernet (LAN) input
Digital audio output (optical)
3.5mm audio output (headphone jack)
What we like
Great color and extra-wide viewing angles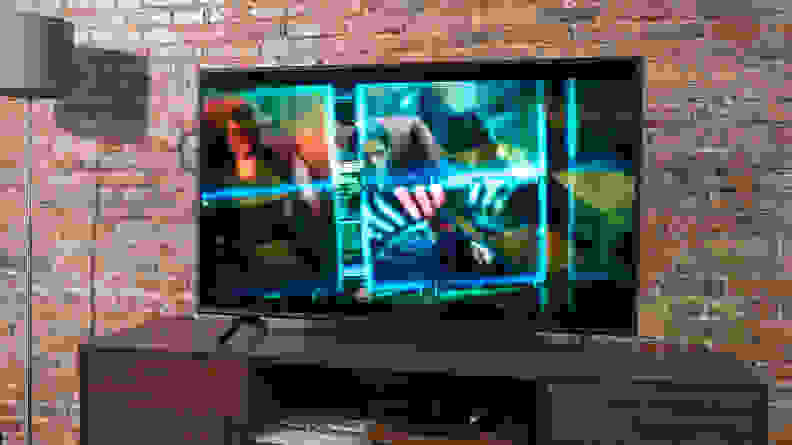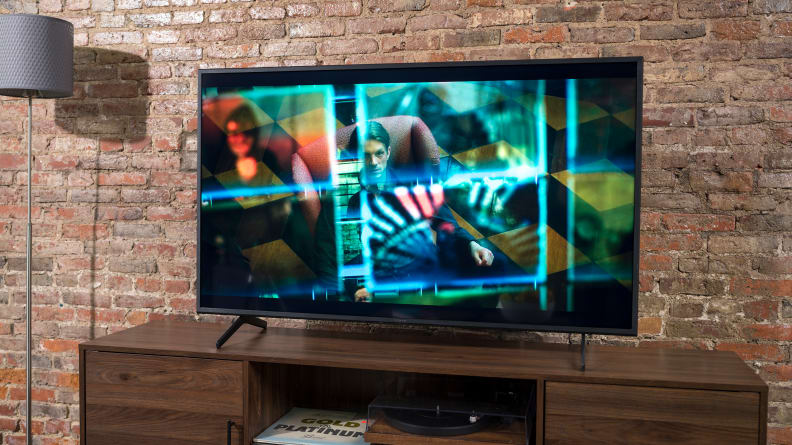 Sony is no stranger to the concept of quantum dot color enhancement. Its "Triluminos" display technology essentially paved the way for expanded LCD color, and the X80J is an excellent example of how the implementation of quantum dots immediately elevates a display's color palette.
From a color standpoint, standard content—like basic cable and most of what's available on streaming platforms—is presented beautifully on the X80J, as it's capable of covering 100% of the SDR color gamut (Rec.709). Its out-of-the-box color accuracy (as measured in the TV's "Custom" picture mode) is downright surgical, too; we measured a near-perfect white point before any calibration measures were taken, and the X80J's color points while receiving an SDR signal were right on target.
The X80J's color points while receiving an SDR signal were right on target.
In HDR, the X80J's color production is less impressive, but it gets the job done. Our testing revealed that the X80J covers about 89% of the wide HDR color gamut (DCI-P3), which is right around what we expected for a TV of this class. In practical terms, this means that content mastered for HDR (like certain 4K Blu-rays and flashy, exclusive streaming content) will look fine—though certainly not as colorful as we've come to expect from brighter, higher-end quantum dot TVs.
We're pretty certain that the X80J is equipped with an IPS-style panel, and while we've got plenty of gripes about these panels' performance (more on that in a bit), they tend to offer far better viewing angles than their VA-style counterparts. Such is the case with the Sony X80J, whose picture holds up quite well during off-angle viewing. There is a small degree of color desaturation that accompanies the off-angle experience, but no radical color shifting. This makes it a better-than-average option for group viewings, a point in the X80J's favor given the high number of TVs in the X80J's price range that perform less admirably in this department.
Google TV is a huge upgrade over Android TV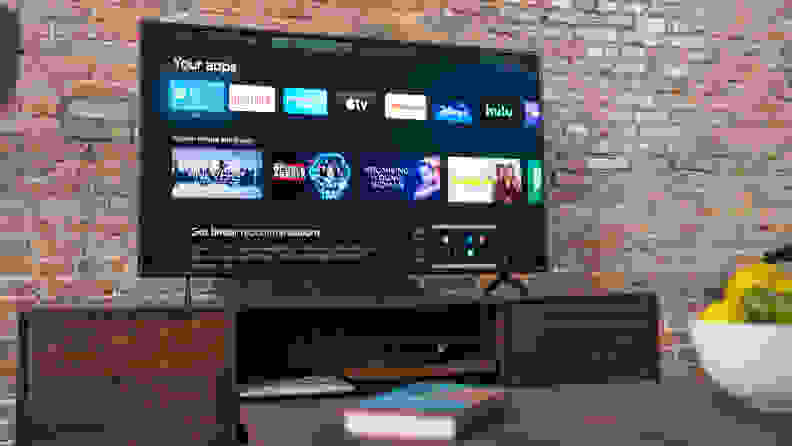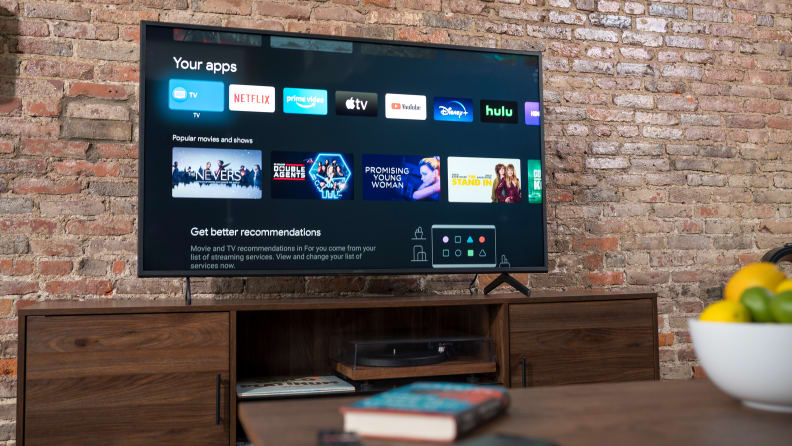 This year, just about every Sony TV is making the switch from Android TV to Google TV. It's more or less the same software suite you'll find on the new Chromecast, with a few integration tweaks here and there. While we always loved Android TV's wealth of content, we found its implementation on smart TVs to be fussy. Navigating the platform never felt as smooth as it should have.
When we met with Sony's representatives earlier, they were very excited about the switch to Google TV, and it's easy to see why. From top to bottom, the experience is miles ahead of the Android TV experience of years past; the software is quicker to load, navigation is more intuitive, and Google TV's user interface is easier on the eyes.
Some folks might ultimately decide to plug in an external streaming device to whatever their next TV happens to be, but Google TV makes a strong case for skipping the streaming box in favor of a built-in smart platform. We're happy to have it.
What we don't like
Poor contrast limits performance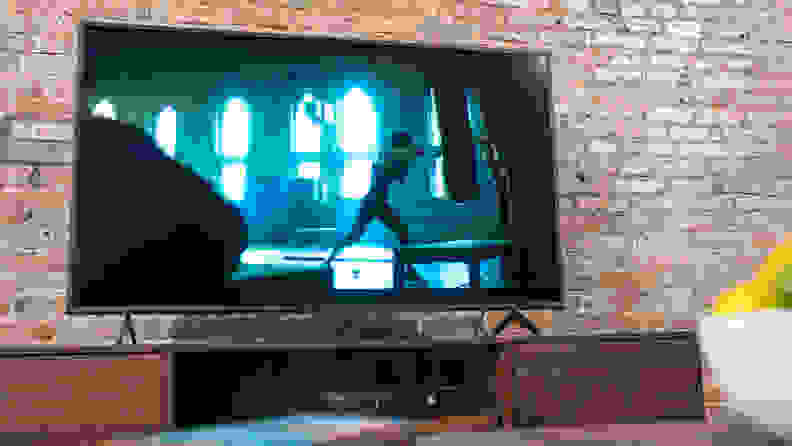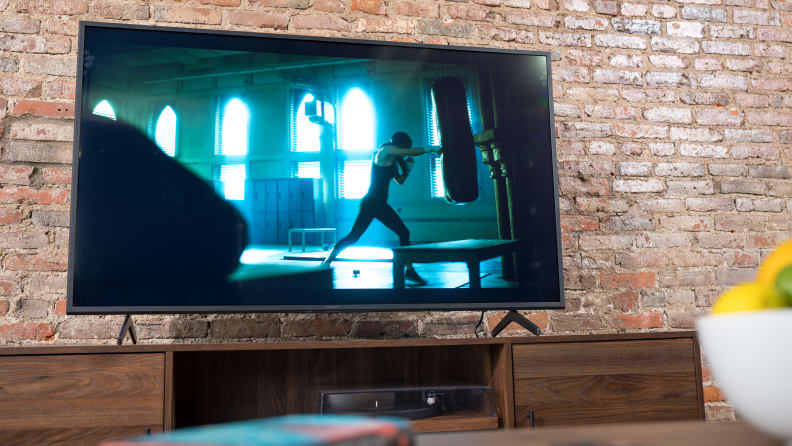 It's been a busy year for TVs that we're pretty sure are sporting IPS-style panels. The Samsung Q80A and—perhaps more surprisingly—the Samsung QN85A both exhibit tell-tale characteristics of the panel technology: namely, wider-than-average viewing angles (good) and incredibly shallow black levels (bad).
The reason for this comes down to an IPS panel's hardware, which is far less adept at contrast than the more commonly produced VA-style panel design. Since contrast is such a crucial component of picture quality, engineers have long favored VA panels over the IPS style.
The X80J pairs its impressively wide viewing angles with some of the most disappointing black levels we've seen all year, often as high as 0.2 to 0.3 nits. To put this into perspective, the Samsung Q60A—a similarly priced TV with a VA-style panel—offers black levels of around 0.04 to 0.08. This allows it to break out shadow details, particularly in dim viewing environments.
The X80J's shallow black levels are immediately apparent; picture detail is all but absent in shadow areas, and things that ought to look inky black (the vast darkness of space, for example) instead appear dark gray. In dimmer viewing environments, the X80J looks even worse, as the picture's lack of depth is even more stark in the dark.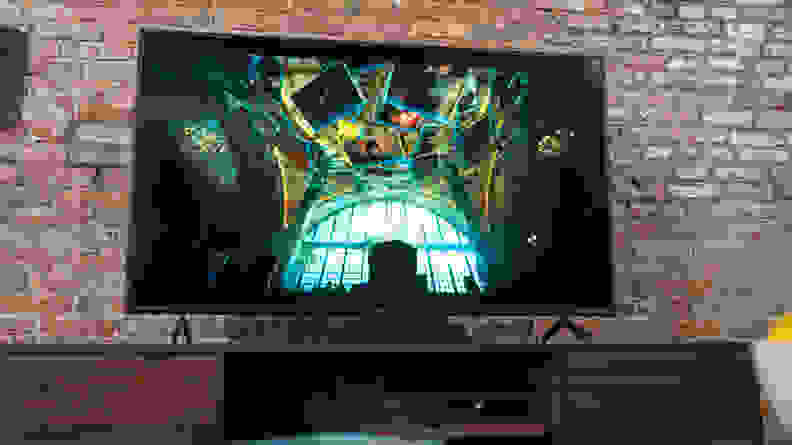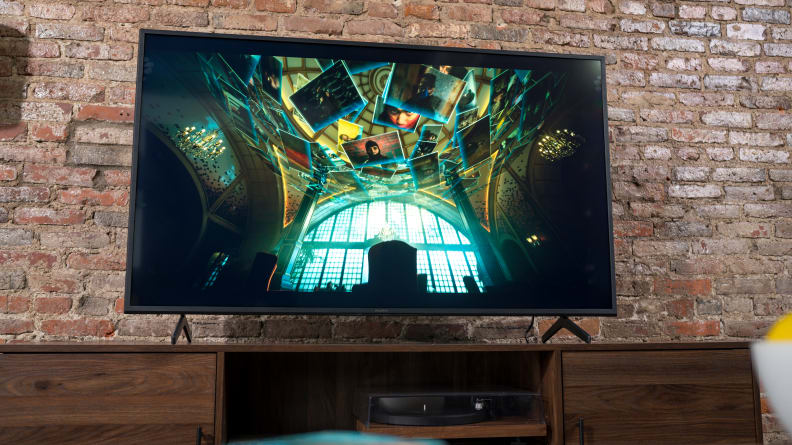 It's not just the TV's black levels that contribute to its poor contrast, either. Standard content on the X80J averages around 300 to 350 nits of overall luminance—right around average for SDR performance. In HDR, however, the X80J just can't make a meaningful enough jump; we measured an average of around 300 to 400 nits of luminance while sending the X80J an HDR signal. For reference, Samsung's IPS-equipped Q80A TV boasted over 500 nits of brightness in HDR.
So while we appreciate the fact that the X80J offers Dolby Vision support, there's not much to show for it, unfortunately. If the TV were capable of getting bright enough to even somewhat offset its sky-high black levels, the inclusion of Dolby Vision might be more remarkable. As it stands, the difference between the X80J's standard contrast and HDR contrast is narrow enough that it renders the distinction moot. Even if the X80J didn't have dramatically shallow black levels, its low brightness ceiling would still undercut its performance in HDR. Without a pop, HDR content—especially Dolby Vision content—just doesn't hit the same way.
Lacks next-generation gaming features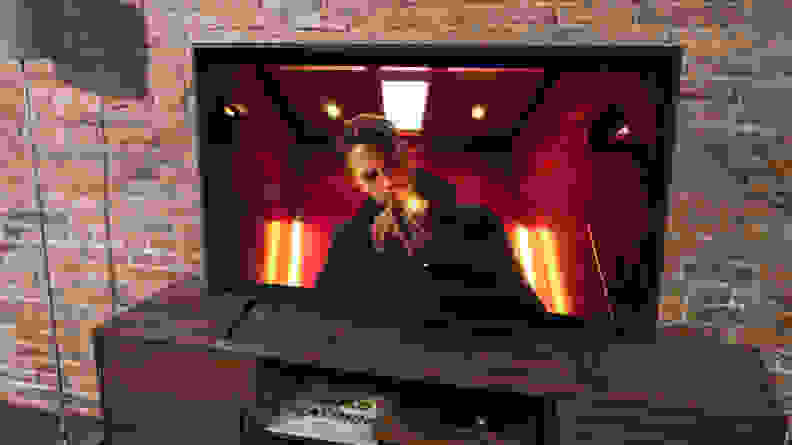 Although the Sony X80J lives in a price range that doesn't guarantee much in the way of bells and whistles, some of its chief competitors—like the Samsung Q60A and the 2020 TCL 6-Series—eclipse the X80J in the features category. The X80J just doesn't offer much in the way of extras, particularly if you're a gamer.
Like the X80J, the Samsung Q60A is stuck at 60Hz and doesn't offer HDMI 2.1, but it does offer Auto Low Latency Mode, which automatically flips the Q60A into its best gaming settings whenever a gaming device is detected. The X80J, however, does not.
For gaming, the Q60A—and especially the TCL 6-Series—are much better choices.
The TCL 6-Series is even more flush with benefits, offering a 120Hz refresh rate, Auto Low Latency Mode, and Variable Refresh Rate (a feature that eliminates certain visual artifacts during gaming). If you're planning on using a PlayStation 5 or Xbox Series X in the next several years, the Q60A—and especially the TCL 6-Series—are much better choices.
These features are on the cusp of standardization for mid-range TVs. Come this time next year, there will be even fewer TVs like the Sony X80J that decide to leave them out of the equation. With that in mind, the X80J is probably not a good fit for even casual gamers who have made (or eventually will make) the jump to next-gen gaming.
Uninspired design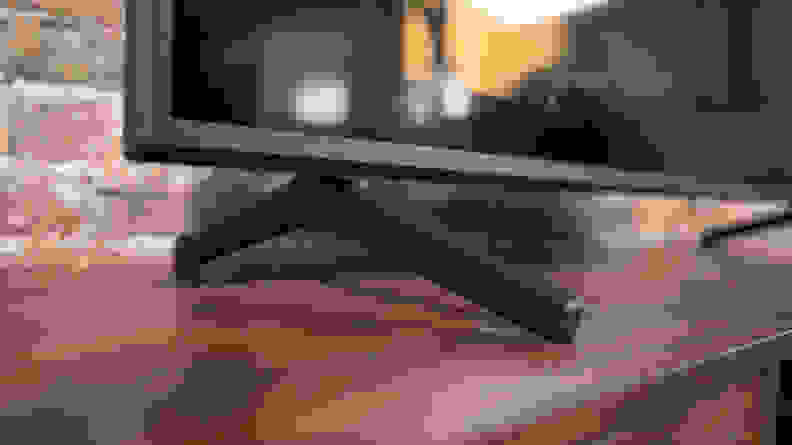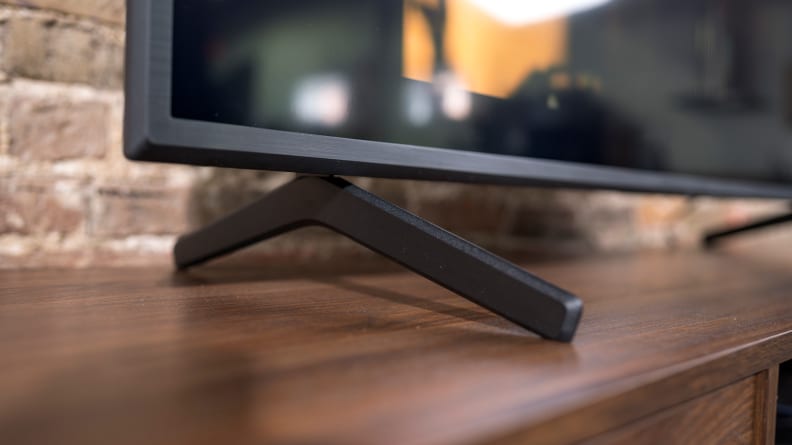 It's completely understandable that, for a lot of folks, a TV's visual appeal comes down to its picture. But for those of us who take stock of a TV's overall design, a bit of nitpicking is inevitable; TV design tends to follow a formula, and that formula can get predictable.
From a design standpoint, the Sony X80J borrows the same visual elements we've come to expect over the last four or five years: wide-set, boomerang-shaped feet situated close to the edge of the panel, which is wrapped in nondescript black plastic. Its bezels are a bit wider than I expected, too (though admittedly, I spend more time looking at TVs than most people). To be clear, I didn't notice anything about the X80J's design that would affect its performance, but I did find its design to be somewhat shrug-inducing. Even the Samsung Q60A, which features a similar design, has a better-looking, lower profile.
That said, the X80J's feet are wide enough apart that anyone who isn't planning on wall-mounting a TV should make sure they have a wide enough surface to accommodate it. This is especially important if you're considering the 65- or 75-inch X80J.
Should you buy it?
No—there are better choices out there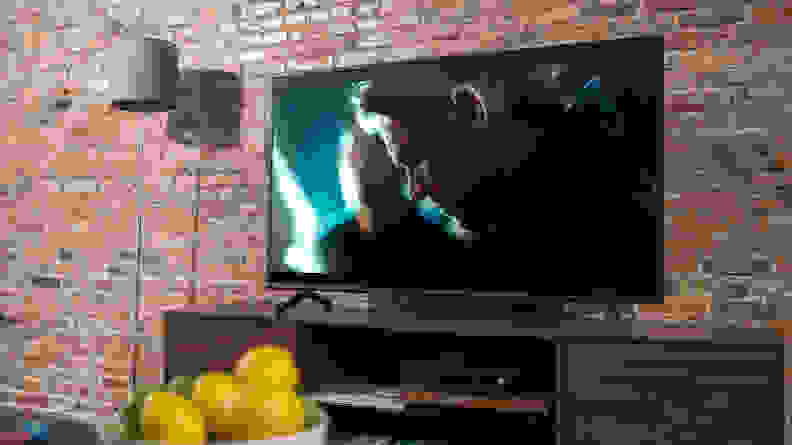 The Sony X80J's excellent color production, its extra-wide viewing angles, and its inclusion of Google TV don't make up for the poor contrast and lack of features here. No matter the use case, there are better options out there for the money.
Cinephiles won't appreciate the TV's shallow black levels and middling brightness, as picture detail is crushed across the board and HDR content doesn't pop. Gamers won't appreciate the TV's native 60Hz refresh rate and total lack of gaming-related features like ALLM and VRR. Folks on a budget can get similar performance for far less money or something that easily outdoes the X80J for just a bit more.
Folks on a budget can get similar performance for far less money.
The TCL 6-Series is priced lower than the X80J, and for the friendlier cost, you're getting better contrast (including superb HDR brightness), a 120Hz refresh rate, as well as ALLM and VRR support. It's a far better pick for gamers and folks on a budget.
The Samsung Q60A is similarly priced, and because it features a VA-style panel, its contrast is far better suited for dark viewing environments. It, too, is limited to a 60Hz refresh rate, but it does come with ALLM in tow—something that can't be said for the X80J.
Unfortunately, while it's not the worst TV we've seen all year, the Sony X80J simply can't make a good case for itself—regardless of the type of shopper you happen to be.
Meet the testers
Michael Desjardin
Senior Staff Writer
@Reviewed
Michael Desjardin graduated from Emerson College after having studied media production and screenwriting. He specializes in tech for Reviewed, but also loves film criticism, weird ambient music, cooking, and food in general.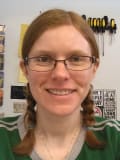 Julia MacDougall
Senior Scientist
@reviewed
Julia is the Senior Scientist at Reviewed, which means that she oversees (and continually updates) the testing of products in Reviewed's core categories such as televisions, washing machines, refrigerators, and more. She also determines the testing methods and standards for Reviewed's "The Best Right Now" articles.
Checking our work.
Our team is here for one purpose: to help you buy the best stuff and love what you own. Our writers, editors, and lab technicians obsess over the products we cover to make sure you're confident and satisfied. Have a different opinion about something we recommend? Email us and we'll compare notes.
Shoot us an email