Pros
Great contrast

Thoughtful design
Cons
Frustrating software

Narrow viewing angles
The X950G is a big, bright, backlit 4K TV with full-array local dimming, HDR support, and an impressive spec sheet. Although it's one of the better TVs we've tested so far this year, some of its problems are worth considering before you fork over the cash and plant one in your living room.
For starters, the X950G's aggressive local dimming and narrow viewing angles make for a difficult viewing experience for anyone seated off to the side. Additionally, the X950G struggles to cover a wide, HDR color gamut when compared to other TVs in this price and performance range.
At the end of the day, though, the X950G looks really, really good. If you're not concerned about its demonstrably narrow viewing angles and slightly disappointing color production, you're looking at a great TV that holds up well in brightly lit rooms. For the most part, the X950G performs as well as it should, given its price tag—just make sure you're aware of its weaknesses.
The Sony X950G series is available in four sizes, and the review unit we received on loan is the 65-inch version. Here's how the lineup shakes out in terms of cost:
• 55-inch (XBR-55X950G), MSRP $1,299.99
• 65-inch (XBR-65X950G), MSRP $1,999.99
• 75-inch (XBR-75X950G), MSRP $3,299.99
• 85-inch (XBR-85X950G), MSRP $4,999.99
For the most part, we expect every size in the X950G series to perform similarly, with a couple of noteworthy exceptions. For one thing, the 75- and 85-inch models are the only two sizes that feature Sony's "X-Wide Angle" technology. According to Sony, X-Wide Angle helps maintain picture quality when these TVs are viewed at off-angles. With our review unit being of the 65-inch variety, we cannot speak to the technology's performance.
In addition, the entire series uses full-array LED backlights, and there's a good chance that the total LED count of each size in the series is different, which could potentially have an impact on picture quality. Sony doesn't like to disclose this particular figure, but we can get a rough idea of the total zone count by running certain tests. As it stands, we can only speak to the full-array local dimming performance of the 65-inch version of the X950G.
Here are some of the key features that all sizes in the series share:
• 4K (3,840 x 2,160) resolution
• Supports High Dynamic Range (HDR10, Dolby Vision, and Dolby Atmos)
• Full-array local dimming
• 120 Hz refresh rate
• Android operating system (Android Oreo 8.0 with Google Assistant)
• DCI-P3/10-bit color space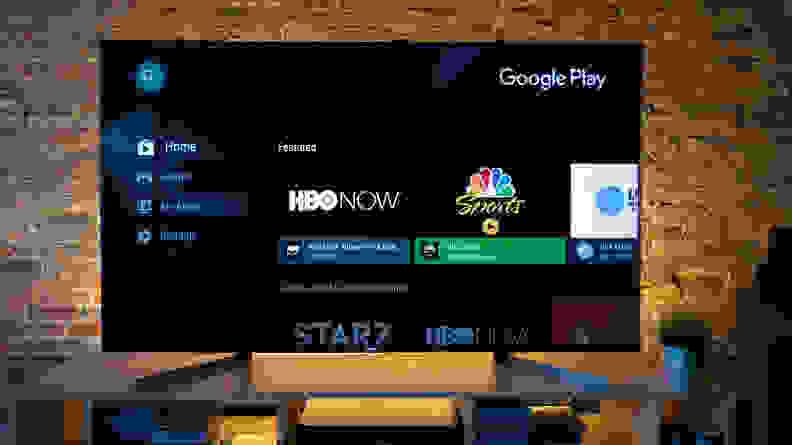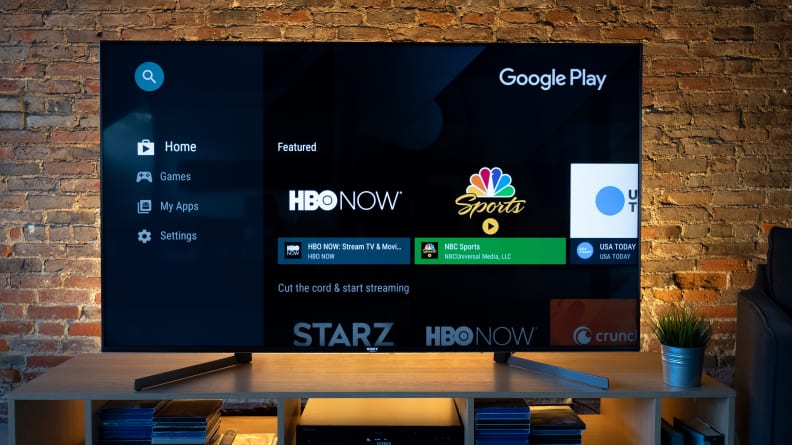 Before testing our TVs, we make sure the panel is on and receiving a continuous signal for at least 24 hours, allowing the pixels plenty of time to warm up. All of the SDR and HDR tests were carried out in Sony's "Custom" picture setting, which, according to Sony, offers the most accurate picture.
I'll expand on our test results throughout the review, but for now, lets look at some key takeaways.
Performance Data
We use a standard ANSI checkerboard pattern for most of our contrast readings, but we also test peak brightness using white windows ranging from 2% to 90%.
• HDR contrast (brightness/black level): 670.8 nits/0.112 nits
• SDR contrast (brightness/black level): 431.1 nits/0.075 nits
• HDR peak brightness: 1,198 nits (20%)
• HDR color gamut coverage: 92% (DCI-P3/10-bit)
• SDR color gamut coverage: 97% (Rec.709)
• Viewing angle: ±16°
Connectivity
The X950G is loaded with inputs, all of which can be found in two cutouts on the back of the panel.
• 4x HDMI 2.0a (1x ARC)
• 2x USB 2.0, 1x USB 3.0
• Component, LAN ethernet port, RF input, optical audio output, headphone jack
The X950G gets plenty bright during both SDR and HDR content.
Even with the benefit of full-array local dimming, impressive contrast is not a given for contemporary LED TVs. Fortunately, the X950G is capable of the sort of contrast that we've come to expect from elite TVs in this price range.
For standard content, we measured peak brightness readings of between 400 and 500 nits—plenty bright for well-lit living rooms and even better for dark room use. In HDR, the X950G reaches the dizzying heights of up to 1,200 total nits—the type of brightness that makes high dynamic range such an impressive experience to begin with.
With this level of brightness, I was eager to see how highlights played off of a fair amount of darkness. I watched the recent 4K restoration of Ridley Scott's Alien to give the X950G's HDR mode a run for its money—I figured the way the film plays with light and shadow would be a good barometer of contrast performance, and luckily, I was not disappointed.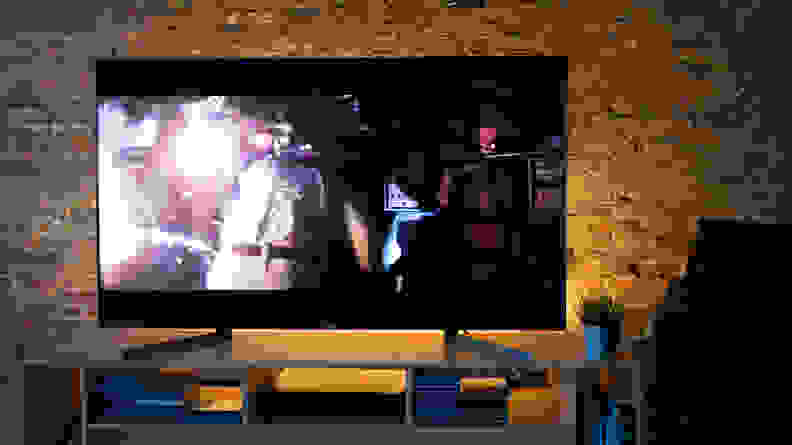 When the doomed crew makes a rough landing on the alien moon, the ship lights up like a Christmas tree in distress; sparks fly, flashlights spin, and panels flicker. I'd seen this scene countless times before, but the X950G seemed to shine those flashlights right into my face. This brightness is not without its drawbacks (which I'll expand upon shortly), but if the good news is that this type of HDR performance holds up exceptionally well in brighter rooms. If, for instance, you've been hesitant about buying an OLED TV because of their lack of brightness, the X950G is a slightly less expensive option that also has the benefit of a boost in brightness.
Superb motion performance
The X950G's native 120 Hz panel handles motion exceptionally well, making it a great TV for gaming, sports, and low-FPS content. Throughout my time with the X950G, I haven't noticed any judder, and fast-paced content is remarkably smooth.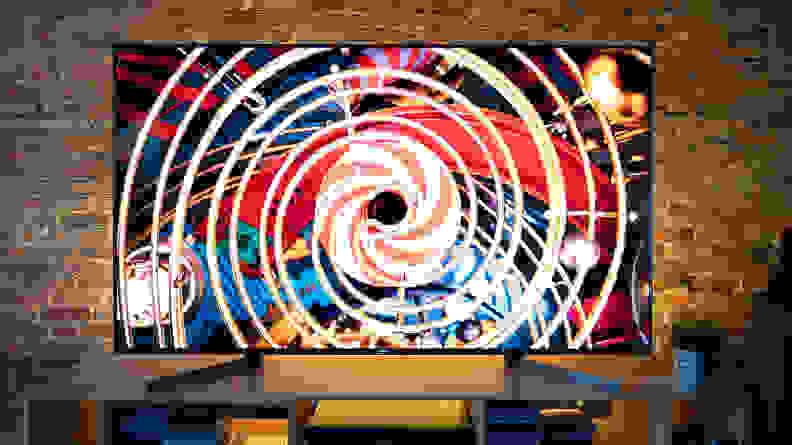 Depending on the type of content display, users might be inclined to test the TV's motion interpolation software (dubbed "Motionflow" in the settings menu). It's surprisingly effective at its lowest setting, particularly when the situation calls for it, but don't expect to escape the soap opera effect when Motionflow is cranked to the max.
Additionally, depending on the source of your content, you might need to play with the TV's "Cinemotion" setting, which is now limited to two options: "Auto" and "Off." I've had the most luck with it turned off, but your mileage may vary.
Thoughtful design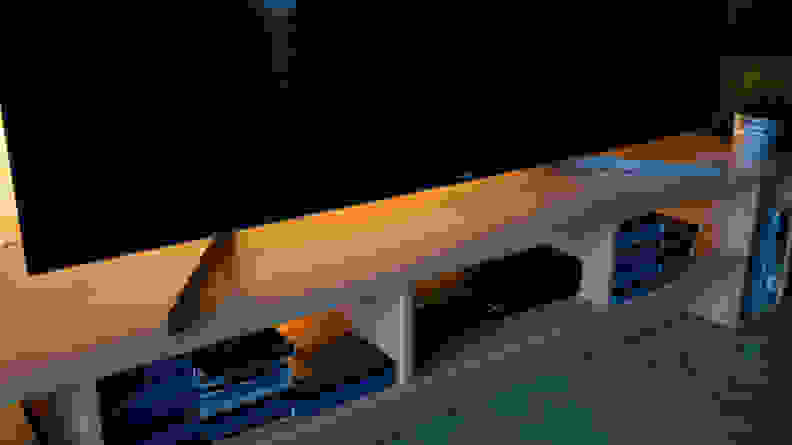 Say what you will about Sony's TV design, but they're rarely uninteresting, and the X950G is no exception. Its chunky panel sits atop two wide-set feet that are long, thin, and delightfully duck-footed. The downside here is that you'll need a wide surface to accommodate the width of the set, but to my eyes, these narrow, outward-facing feet blend into a room's backdrop slightly better than the popular inverted-V-shaped feet that seem to be flooding the market at the moment.
And although the panel is, in fact, a tad on the chunky side, that's to be expected with a full-array LED TV. Plus, despite its size, the X950G has an air of simplicity to it—consider the fact that those wide-set feet can be used to hide cables that run from the back of the TV. For folks who strive for a neatly organized AV experience, it's a welcomed addition.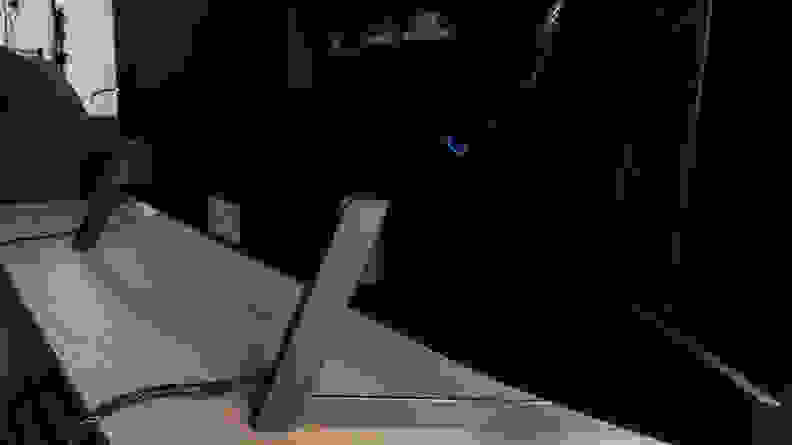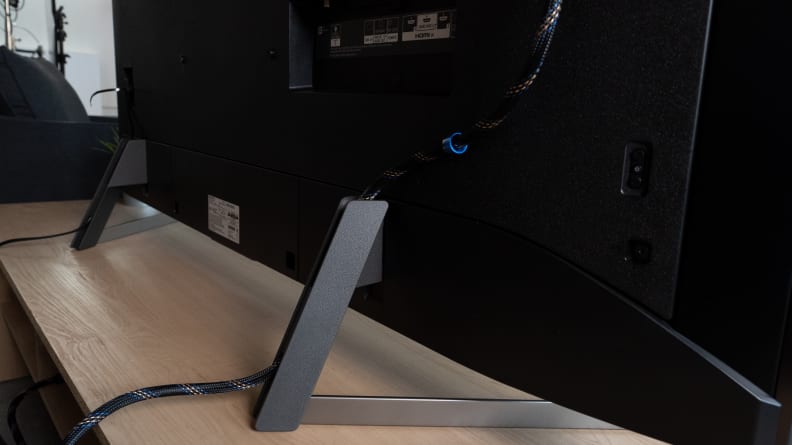 Even the X950G's remote control, while basic, is a damn-fine improvement over the Sony A9F's remote control; its narrowness is easier to hold and the buttons have been given plenty of space to breathe.
Color woes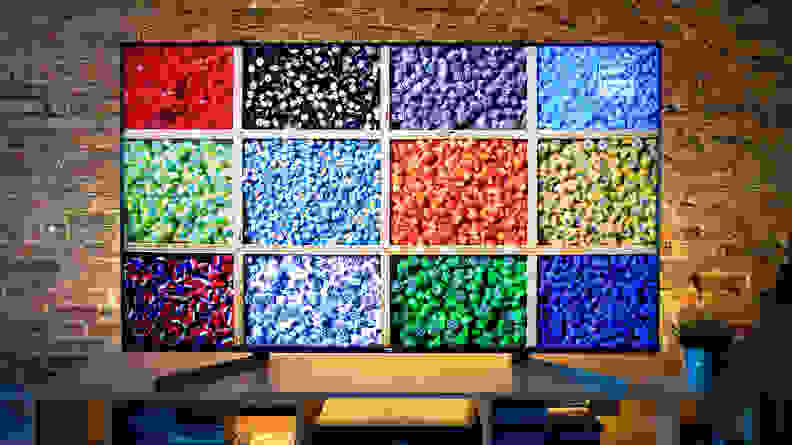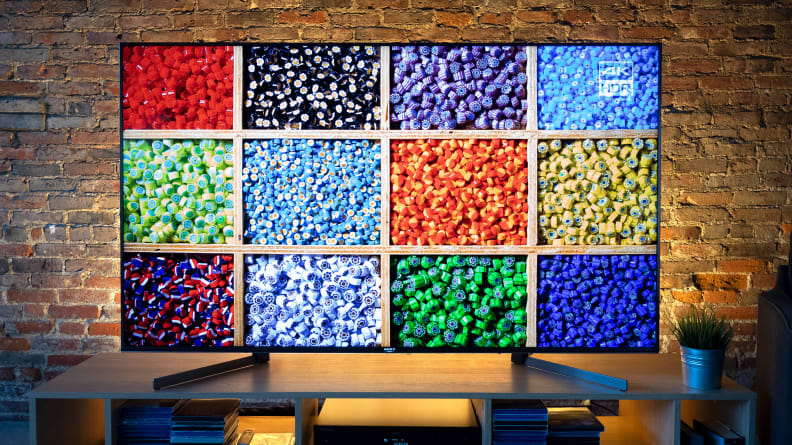 The X950G excels in SDR, hitting all of the Rec.709 targets and producing accurate, luminous color. In HDR, however, the X950G struggles, covering only about 92% of the wide P3 color gamut. In HDR, colors also skew red—a result of the X950G not reaching its target green.
To the trained eye, these HDR color woes can be seen during HDR playback. Colors don't quite pop the way they do on, say, an OLED TV. These problems persist in every available picture mode, and while you might be able to pull those color points close to their DCI-P3 targets with a lengthy, in-depth calibration, it's hard to imagine very many X950G owners actually going to such lengths.
If there's a silver lining here, it's that the same subset of people who won't be inclined to calibrate their TV are the folks who likely won't notice the X950G's somewhat-limp wide color gamut coverage to begin with.
Brightness giveth, brightness taketh away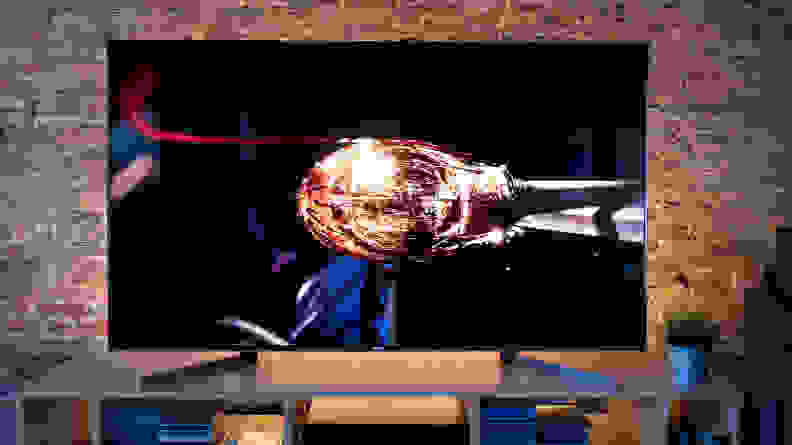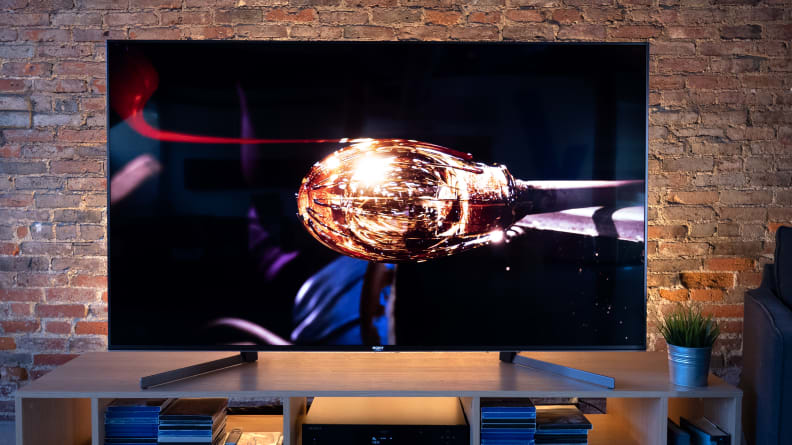 Its impressive peak brightness aside, the X950G does, at times, feel a little too bright for its own good. While it's able to maintain impressive black levels when most of the screen is dark (we measured 0.016 nits at 90% black, for example), adding brighter elements to the picture has the tendency to pollute darker regions with light. The intensity of the blooming isn't the worst I've seen in my day, but it's substantial enough to warrant consideration if it's the type of problem that'll stick in your craw.
One explanation could be the X950G's total number of local dimming zones—a figure that remains undisclosed—isn't bountiful enough to account for light-bleed. Another variable could be the TV's local dimming software, which might struggle to dole out light evenly when bright picture elements clash with darker regions of the frame.
Were it not for the X950G's ability to get really, really bright, its middling black levels would be a serious drag. Then again, that brightness—combined with the TV's local dimming—seem to be responsible for those middling black levels to begin with.
Narrow, unforgiving viewing angles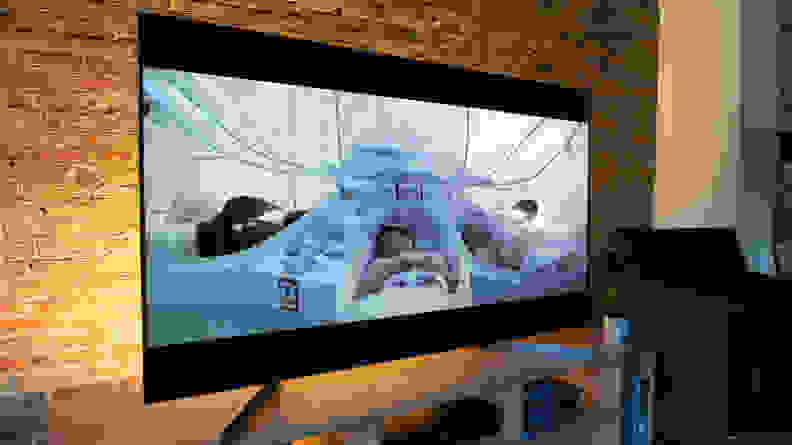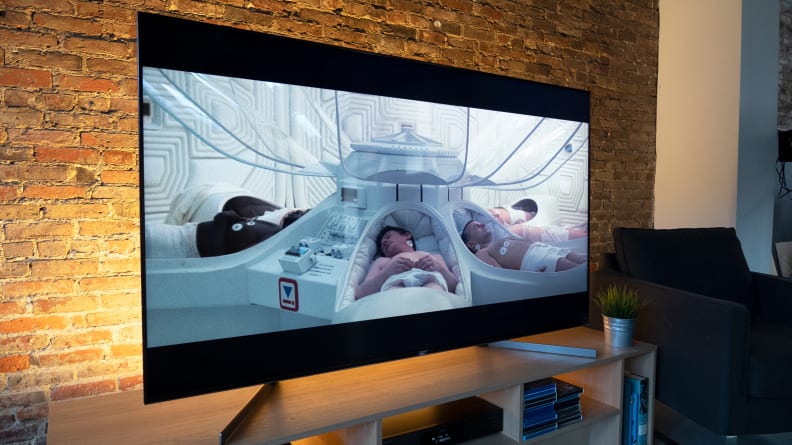 One of the biggest drawbacks to VA LCD panels is that, while they offer great contrast, they don't tend to hold up very well when viewed from off-angles. The X950G is no exception, and its claustrophobic viewing angles are perhaps its biggest weakness.
As I mentioned, the 55- and 65-inch versions of the X950G are not equipped with Sony's X-Wide Angle technology, and although I can't speak to that technology's effectiveness when it comes to widening the X950G's acceptable viewing cone, I can say that the 65-inch model features a very volatile picture.
In our lab, we found that our X950G's picture began to deteriorate when viewed just 16° to the left or right of a direct line-of-sight. Remember how I said Alien looked phenomenal on this thing? Well, when viewed from just a couple of feet to the side, picture details began to wash out and the TV's aforementioned blooming effect worsened. It's unavoidable.
Yes—if you want a big, bright TV and don't mind its quirks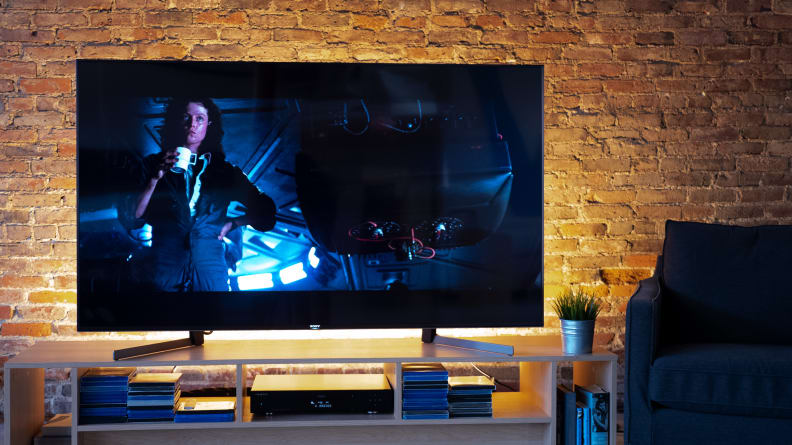 If you're shopping for a TV in the X950G's price bracket, you won't find too many alternatives that out-pace it. For all of its foibles, the X950G is a great TV that'll impress both casual viewers and AV enthusiasts alike. It's an especially good option for folks who are planning on putting a new TV in a bright room, or for those who just want their next TV to be capable of getting super bright.
That said, if you find narrow viewing angles and moderate light blooming to be particularly bothersome, I would caution you about jumping head-first into the X950G experience. For me, these two issues don't manifest with deal-breaking severity, but you might want to get a look at the X950G in person in order to decide for yourself.
There are still plenty of TVs to test this year, but the Sony X950G seems poised to occupy the second tier in our 2019 ranking—it's not quite as good as we were hoping, but anyone would be lucky to own it.
Meet the tester
Michael Desjardin
Senior Staff Writer
@Reviewed
Michael Desjardin graduated from Emerson College after having studied media production and screenwriting. He specializes in tech for Reviewed, but also loves film criticism, weird ambient music, cooking, and food in general.
Checking our work.
We use standardized and scientific testing methods to scrutinize every product and provide you with objectively accurate results. If you've found different results in your own research, email us and we'll compare notes. If it looks substantial, we'll gladly re-test a product to try and reproduce these results. After all, peer reviews are a critical part of any scientific process.
Shoot us an email