Televisions
Aereo Review: Paying for Free TV?
Can this controversial startup convince you to pay for over-the-air television?

Credit:
More than 5 million Americans have already cut the cord on cable, and continued improvements in video streaming tech have made the prospect of permanently ditching an expensive cable subscription more enticing than ever.
Many cord-cutters watch live TV via old-fashioned, over-the-air (OTA) broadcasts from local stations—and these days they're even in HD. Aereo wants to bring that OTA content into the streaming fold. Its concept is genius, ridiculous, and/or patently illegal, depending on who you ask: The company uses huge arrays of tiny digital antennas to record the local broadcasts, then charges a fee to stream that content directly to your PC, iPhone, iPad, Android device (4.1+), or Roku box.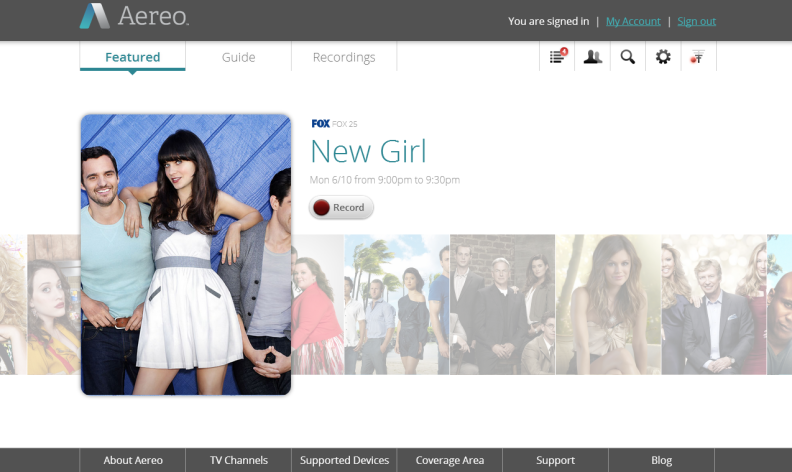 If you're like us, you might have a hard time getting over the psychological barrier of paying for free content ($8 or $12, depending on the plan). But really, that's a straw-man dilemma. With Aereo, you're not paying for the content; you're really paying for a DVR and mobile access to that content.
For the moment, the service is only available in 11 markets: New York City, Boston, Detroit, Baltimore, Atlanta, Dallas, Houston, Austin, San Antonio, and Miami. (The company lists another 16 cities as "coming soon.")
When Aereo flipped the switch in Beantown last June, we signed up for a trial account to see what all the fuss was about.
A Seamless Experience
Aereo's web-based interface is simple and easy to use. Signup is a familiar three-step process—choose your plan, choose your username, provide payment info. The programming guide is just like what you're used to from recent cable and satellite boxes, but vastly improved due to its mouse and touch-driven interface.
Jumping into a live broadcast from the guide is quick—on our speedy broadband connection it took about 10 seconds on average—and you get HD (720p) video right away. You can manually choose between three quality levels or leave it to Aereo to figure out what your connection can handle.
The video itself is perfectly acceptable, though a little less smooth and slightly mushier than an identical cable broadcast. The only time we noticed any significant pixilation was when there were a ton of details on screen—explosions, fast-moving action sequences, and the like. Sound quality is similarly solid, though those with expensive surround-sound setups might be disappointed that it's limited to stereo output.
We tested the service on a Windows desktop PC, Apple MacBook Pro, iPhone 5, and Roku 2 XS. Basic video playback worked splendidly on each and every one of them.
Intuitive DVR Options
The baseline entry fee of $8 per month gets you 20 hours of DVR space, though you can record only one show at a time and can't watch one show while recording another.
If you need a bit more room, you can opt for a $12 per month plan that gets you 60 hours of storage and the ability to record two shows at once. With this plan, you can also watch and record different shows at the same time.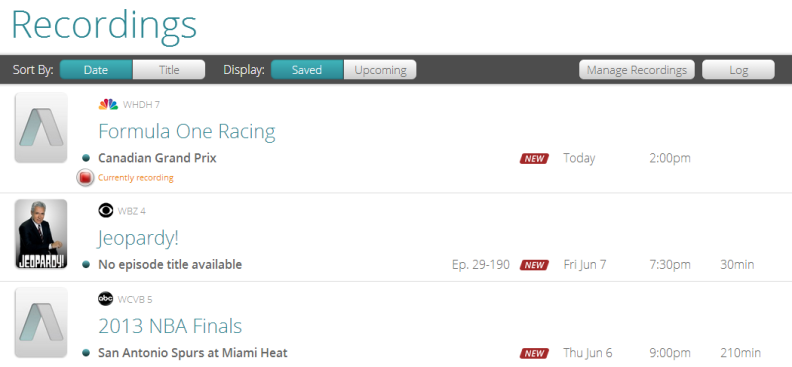 Aereo's DVR implementation has a lot in common with modern cable DVRs: You can change starting and ending times, record shows on a recurring basis, assign priorities in the recording queue, and choose how many episodes of each show you want to keep before the oldest is deleted.
Navigating through a recording is simple. When using the web-based player you can click and drag on a timeline slider at the bottom of the video window. You can also skip back and forward in 30-second increments using your arrow keys. As with most other streaming services, there are no traditional fast-forward and rewind controls—only the slider and arrow keys.
Just a Few Extras
Beyond live and recorded TV viewing, there isn't much else to Aereo.
The built-in search function mostly does what you want it to do. On the plus side, it searches both show titles and descriptions for your search term, maximizing possible results. On the downside, multi-word searches bring up results for one word or the other; in just one example, searching for "Formula One" brings up all kinds of results that happen to have "one" in their title or description. Aereo tries to sort by relevance, but the signal-to-noise ratio can be an issue.
The channel guide can be customized, hiding stations you're not so interested in. (Don't speak Spanish? You can hide Univision!) You can also select optional, non-broadcast channels, though so far the only one available is Bloomberg TV.
Can't I Do This Myself for Less Money?
Well, maybe. Parts of it. But whether you want to go to the trouble is another question.
You could write a book on the dozens of devices that can either provide local DVR service or send live TV to your phone and tablet. If you have a cheap HD antenna, you can hook it up to a TV tuner card on your PC, or plug the cable into a device like the $80 SiliconDust HDHomeRun. Then there's the granddaddy of time-shifted video, TiVo, which asks $150 for the device itself and another $15 in monthly fees. All of these provide DVR functionality of some sort, but don't re-transmit video to your mobile devices.
The real wildcard is Slingbox. Unlike the other options, it doesn't provide DVR functionality (though you can hook it up to a DVR device). Instead, it can broadcast live TV (either OTA or cable/satellite) to your mobile devices. Equally important, it lets you control your digital antenna or cable box remotely when you're away from home.
The Slingbox is a really versatile and powerful device, but its cost of entry is significantly higher than Aereo's: $180 for the cheapest Slingbox and then $15 for the mobile app. And there's a different app for phones and tablets, so if you want to use both an iPhone and an iPad, that'll be $30. (Got Android devices, too? Get ready to spend more.)
You could eventually save a bit of money with most of these solutions (TiVo excepted), but it would take at least a year of Aereo service to cover the up-front cost of even the cheapest option. Then there are the inevitable headaches involved in getting them up and running; if you're not technologically inclined, the alternatives may be more trouble than they're worth.
That's where Aereo really shines—it's simple enough for anyone to use.
A Couple Glitches
Though Aereo's web-based interface is truly gorgeous, there a few bugs that wriggle to the surface when you shrink it down to smartphone size. Play, stop, and record buttons on the phone are quite small and difficult to hit on the first try. We also found we were unable to get back to the main menu from the program guide; we'd have to select a channel to get the menu button to appear again.
The only significant letdown was the Roku app, which simply isn't as beautiful or intuitive as the website.
But those are minor quirks that Aereo can easily patch. The only significant letdown—and one that will be harder to fix—was the Roku app, which simply isn't as beautiful or intuitive as the website. The channel guide is particularly annoying on the Roku. Instead of the intuitive grid layout, you're stuck with either a side-scrolling list of channels or a list of currently airing shows. It's a pain to navigate, and ugly as well.
There's one last hiccup to consider: If you leave your local broadcast area, Aereo stops working. That's by design, probably a safeguard against legal action from the networks. So if you go on vacation or travel for work, you won't be able to access live broadcasts or DVR recordings. (Slingbox, it should be mentioned, has no such limitations.) If you're particularly internet-skilled, you can probably set up a proxy network to skirt the issue, but most users will simply be out of luck until they get back home.
Worth a Try?
There's no question that Aereo has put together a beautiful and supremely functional service. It does what it says—no muss, no fuss.
Frankly, the chances that Aereo will be right for the average TV-watcher are pretty slim.
Whether it's right for you is another, very personal question. There are many potential use-cases, each presenting a slightly different value proposition. But frankly, the chances that Aereo will be right for the average TV-watcher are pretty slim.
Who would it work for? We can think of three major possibilities. First, there are those who are already on an OTA-only diet and want inexpensive DVR functionality, a more convenient interface, and an easy way to watch TV on their mobile devices. Second, there are those already interested in cutting the cord, looking for any excuse to pull the trigger. And then there are those who have already made the move to a streaming-only setup—for them, it's just icing on the cake.
While we'd wager that plenty of curiosity-seekers will sign up just to see what the fuss is about, we just can't imagine too many of them will stick around for the long haul. Not many of the United States' 116 million TV-viewing households have a genuine need for the service that Aereo provides.
Gallery