Televisions
Amazon Fire TV Review
Excellent for Prime users, not so much for everyone else

Credit:
Rumors about an Amazon streaming device have been bouncing around the web for months, and last week the online retailer finally treated us to the real deal. The Amazon Fire TV (MSRP $99) is officially on sale and kindling the tech community at large.
This little box has many similarities to the Apple TV and the Roku 3. You're granted access to (most of) your favorite streaming services, and you can play games with the Fire TV, too. What really separates this device from the competition, though, is its superb voice search functionality.
With its price point of $99, Amazon is competing directly with Apple and Roku. Yet even with its top-notch remote, excellent voice search, and blisteringly fast speed, the Fire TV isn't necessarily winning the streaming game.
Design & Setup
Ready when you are
The Fire TV is reminiscent of the AmazonBasics line of products: barebones, but exactly what you need. The actual streaming device is a thin black square, with the Amazon brand etched into the center—basic, but handsome.
You'll find a few ports on the back, including the power input, an HDMI input, an optical audio output, an ethernet jack, and a USB slot. On the front, there's a small light on the left that tells you the Fire TV is on. It's a very minimalist approach, but it works.
Amazon made an impressive remote.
As for the remote, it's a cross between the minimalist Apple TV remote and the button-filled Roku remote. At the top is the Voice Search button, which ended up being my favorite feature (more on that in a bit). Below is a circular directional pad for navigation, with a select button in the middle.
The next tier has Home, Back, and Menu buttons. Most of these frequently come in handy, except for the menu button: After you launch an app, the Menu button usually becomes inactive.
Finally, there are movie-centric buttons for rewind/play/pause/fast-forward. Overall, Amazon made an impressive remote that's pleasing to the eye and feels great in your hand.
×
design-gal-2
In terms of setup, streaming devices usually make you sign up for an account before you can access the goodies. Apple TVs require iTunes accounts, Roku devices require user profiles, and Chromecast sticks work in tandem with Gmail accounts.
Thus, the Fire TV requires an Amazon account, and it makes even more sense that you're automatically logged in when you power up for the first time. Amazon simply logs you into the account that purchased the device. It's a simple time-saver, although I don't know how it'll work when purchasing the Fire TV as a gift.
After an introductory video that explains the basics, you're off to explore the world of the Fire TV—it's that easy.
Interface & Usability
For Amazon Prime loyalists, it doesn't get any better.
If you simply want to find something to watch as quickly as possible—and you have an Amazon Prime subscription—Fire TV is a great choice.
The interface looks sort of like the Modern UI on Windows 8: Rectangular boxes represent apps, movies, TV shows, and games, which are all organized by categories on the screen's left side. These categories include Home, Movies, TV, Watchlist, Video Library, Games, Apps, and Photos. Overall, this is clean, attractive design.
Traversing the interface and loading content is faster than on any other streaming device I've used.
Coupled with the Fire TV's 1.7GHz quad-core processor, traversing the interface and loading content is faster than on any other streaming device I've used. Even the Roku 3, which is quite snappy, pales in comparison to Amazon's product du jour.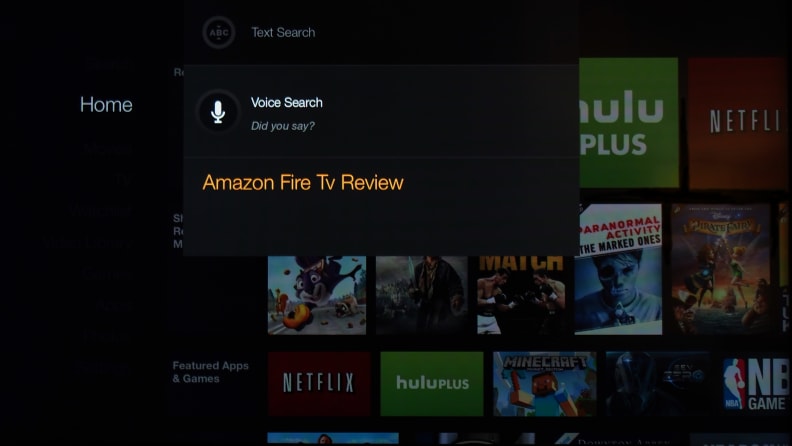 ×
software_gal
Movies and TV shows are obviously the bread and butter of Fire TV, and since this is Amazon's product, there's a heavy focus on Amazon Prime Instant Video service—for better and for worse.
Every movie and TV show that you see in these categories is based on Amazon's offerings. If you're a Prime subscriber, that's good news, because many are complimentary with your subscription. Feel like watching Ancient Aliens or Kill Bill? Both are free for subscribers. Let's say you want to indulge in some Breaking Bad, though. Amazon's video service offers it for $2.99 per episode—even though the entire series is available via a Netflix subscription.
The device won't work hard to help you locate content on services other than Prime—you have to go digging.
Therein lies the biggest downfall of Fire TV: It offers other services, but it doesn't make using those services very easy. You might be (and probably are) a Netflix subscriber, but since Fire TV is an Amazon product, the device won't work hard to help you locate content on services other than Prime—you have to go digging.
This is especially sad because Fire TV has a killer feature: voice search. The dedicated voice button on the remote lets you say anything, at any time, and Fire TV will search for it. The actual voice recognition is incredible: Everything I said was recognized accurately and instantly, and that's with talking in a conversational tone and not like a robot.
But it appears that Amazon's voice search only works with Prime Instant Video and Hulu Plus. It's nice that Hulu Plus subscribers get some love, but you have to click an option that says "More Ways to Watch" in order to see this. While the Roku 3 doesn't have a voice search function, it does have a universal search that scours Amazon Instant Video, Hulu Plus, and Netflix.
Apps
Some missing suspects, HBO Go among them
Fire TV has some nice app offerings, but there's no dedicated app store. If you want to add a streaming service or game, you have to wade through the interface and find it yourself. Since apps you've already downloaded aren't separated from ones you haven't, this is a real pain.
Most of the usual suspects are here: Netflix, Hulu Plus, and of course Amazon Instant Video. There's also YouTube, Crackle, Showtime Anytime, and a handful of lesser known services—not a bad selection at all.
One major disappointment is the lack of an HBO GO app, especially considering that Fire TV came out at the same time as the new season of Game of Thrones. HBO GO is notoriously slow to adopt new platforms, though, so maybe Fire TV will get it eventually. The fact that it isn't on Amazon's device now might sway consumers in another direction, though.
One major disappointment is the lack of an HBO GO app.
Arguably Fire TV's biggest hitch is streaming your own content to the TV. If your movie library consists of purchases made on Amazon's video service, then congrats—Fire TV is your new best friend. If you have a massive library of content from other services, though, your only option at the moment seems to be Plex—and it's not a free app like it is on Roku or Chromecast.
There's a USB port on the back of the device, but it doesn't do anything at the moment. Seriously: Movies, music, and pictures on my USB drive wouldn't show up at all on Fire TV.
As for music, Amazon includes a few options like Pandora, iHeartRadio, and the aforementioned Plex app (that you still must pay for). Not included are Spotify and Amazon's own Cloud Player. The latter is a huge oversight, since Fire TV seems to link all of your other Amazon content.
Finally, the Fire TV may be used as a gaming device. This isn't meant to compete with the Xbox One or PS4, but there are better games on here than on most smart TVs. Since they're all backordered, I wasn't able to get my hands on Fire TV's game controller (an additional $39.99), but I did try some games with the standard remote.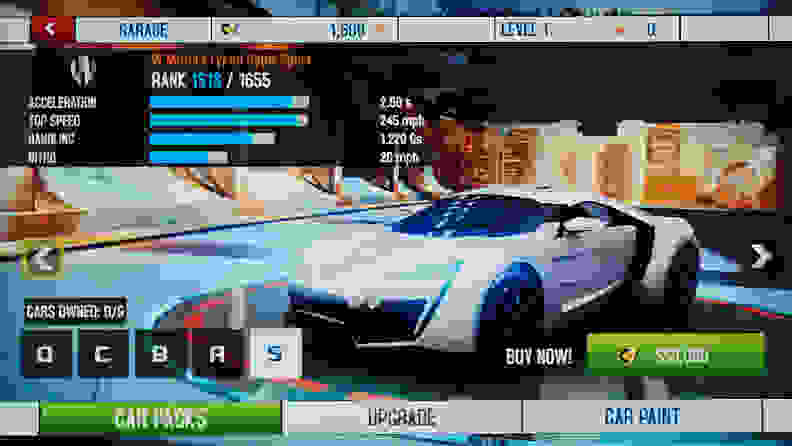 Two racing games, Asphalt 8: Airborne and Riptide GP2, controlled nearly identically with the remote, and both are actually pretty fun. They're barely more than smartphone games, but both are good time killers, especially if you don't have a dedicated gaming console.
For those with a controller, the mobile version of Minecraft is available, as is a Fire TV exclusive: a third-person shooter called Sev Zero. While I wasn't able to try these, they show that Amazon is serious about offering a decent gaming experience on Fire TV.
The Verdict
Strictly for the Amazon loyalists
I can't blame Amazon for catering mostly to Prime subscribers on Fire TV. After all, this is a company that streams digital media. If Netflix were to make its own streaming box, I would expect much the same.
If you don't partake in Amazon's Prime service, there's absolutely no reason to purchase the $99 Fire TV over the equally priced Apple TV or Roku 3.
As a consumer, you have plenty of options for streaming movies to your TV. If Amazon Instant Video is your main source for movies and TV shows, then Fire TV earns a wholehearted recommendation. If you don't partake in Amazon's service, though, there's absolutely no reason to purchase the $99 Fire TV over the equally priced Apple TV or Roku 3.
For hardcore cable-cutters, Roku 3 still offers the best selection of content. Also, if you're heavily invested in Apple's iTunes ecosystem, then Apple TV is the obvious choice.
Hopefully, Fire TV's next iteration will add some much-needed content like HBO GO, USB media support, a better way to stream your own media files, and universal search. Prime fanatics are in for a treat, but everyone else should carefully weigh the options.