Televisions
Sharp says Sharp-brand TVs in the US are 'shoddily' made
Sharp's owner is suing Hisense over the quality of its US TVs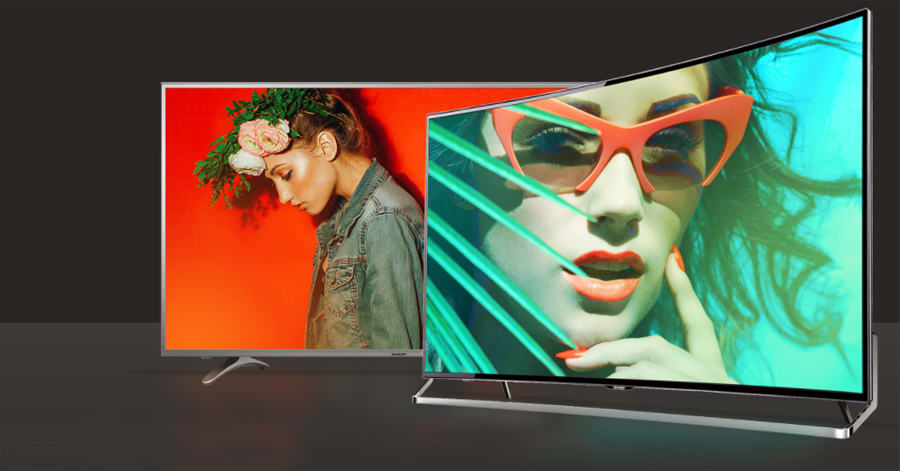 Credit: Sharp
Editor's Note
Since this article originally ran, Hisense replied to Sharp's allegations in a public record. The company's response is noted below.
If you've been thinking about buying a 2017 Sharp TV, you may want to hold off for now. According a lawsuit filed by Sharp's new parent company Foxconn, the advertised specs—such as resolution, picture size, and overall brightness—may be bogus.
On Monday the Wall Street Journal reported that Japan's Sharp is suing Chinese manufacturer Hisense over a claim of "shoddily manufactured" TVs in the US. Engadget followed up, documenting court documents wherein Sharp claims "its brand and trademark are at risk of being destroyed."
How did all this get started? Back in 2016, China's Hisense bought Sharp's struggling North American TV business for $23.7 million, including the company's factory in Mexico and the right to sell TVs under the Sharp brand in the United States. In an unrelated deal, Sharp itself was then sold to Foxconn in a deal worth $3.8 billion.
At CES this past January, Hisense announced dual TV lineups, one with Hisense branding and several Sharp-branded series. Those Sharp-branded series appear to be the main reason that Foxconn is filing suit.
When we asked about how the company would go about marketing both brands back in January, Hisense made it clear that its main, Hisense-branded TVs would be marketed more towards American millenials and younger shoppers looking for either more cutting-edge features or built-in smart platforms like Roku.
American buyers are familiar with Sharp, and are more likely to trust a brand they've heard of.
By contrast, the company stated that the acquired Sharp brand would continue to offer appeal to what essentially amounts to "loyal customers"—Americans who know Sharp from the 70s, 80s, or 90s.
While selling to Hisense was a bit of a desperate move for Sharp in Japan, it appears that parent manufacturer Foxconn isn't content with how Hisense is handling things. According to Steve Dent at Engadget, Sharp-branded TVs in the US
"violate FCC rules on electromagnetic interference emissions, and [...] Hisense gave consumers deceptive information about picture size, brightness levels and the 4K resolution."
Does this mean you shouldn't buy any Sharp TVs you find in the wild or online? Maybe—but it could also be baseless kerfuffle from Foxconn, who could very well be maneuvering to wrest the Sharp name back from Hisense. Still, if super basic specs like resolution and picture size are being misrepresented, those are very easy things for consumers and reviewers to verify, too.
Update: Hisense has since issued a public document refuting Sharp's claims, and making three key points regarding this case: 1) Sharp made it clear that it would play "the hard way" to try to get its brand name back in the US; 2) Sharp tried to sue for this, despite that licensing agreements arranged that disputes should go to arbitration and not open court; 3) Sharp hasn't backed up its claims, and all Sharp-branded TVs made by Hisense were approved by Sharp.
Here's the actual statement:
"The allegations underlying Sharp's purported termination of the TLA are directly at issue in the Arbitration and are identical to the facts and allegations in this action (and the California Action). Specifically, Sharp seeks to terminate the TLA on the grounds that certain of Hisense International's manufacturing and marketing practices relating to Sharp-brand products violate U.S. laws and regulations, including Federal Communications Commission and Federal Trade Commission standards and regulations. Those same allegations underlie Sharp's claims in this action. Significantly, Sharp had never before complained about any of the products at issue; in fact, Sharp itself reviewed and approved each TV model prior to market launch. Nor has Hisense received any complaints from customers or inquiries from any regulators about the issues raised by Sharp, further demonstrating the pre-textual nature of Sharp's complaints. Hisense has also carefully looked into each of the issues raised by Sharp in its complaints, and is confident that Sharp's claims have no merit. Hisense looks forward to vindicating its rights under the TLA in the pending Arbitration."