Televisions
Think Before You Buy These 5 Black Friday Doorbusters
Just because something is cheap doesn't mean it's a deal.
Credit:
These days, Black Friday is more or less the Christmas to Thanksgiving's Christmas Eve. This most sacred of shopping holidays finds retailers at their best, offering endless varieties of jaw-dropping deals on items you've wanted all year long.
But sometimes our basic human instinct to save a buck blinds us from seeing how silly some of these "deals" really are. Do you really need a leaf blower when you already pay for a landscaping service? How about that half-price blender. Yeah, it'll be great for all those protein shakes you won't drink. Even worse are products that may be dirt cheap, but offer little in terms of long-term satisfaction.
The $98 TV
A TV for $98? I'll take 10, please!
But really, before you decide to wait outside on Thanksgiving day for this two-figure marvel, take a deep breath and think about it. How badly do you need a 32-inch TV? And what kind of picture quality are you going to get for $98?
The TV in question is from Japanese company Funai, and will be available to a few "lucky" shoppers at Walmarts around the country this Black Friday. For an idea of where Funai's coming from, check out its website, which apparently hasn't had a design facelift since 2000. While we've never reviewed a Funai TV, we have seen our fair share of similar bargain-bin displays. The results have been far from encouraging.
Here are some features you won't get on cheapo TVs like this one:
Complete color controls
Backlight control
Advanced motion processing
Speakers that don't rattle
Buyer beware.
The Sub-$200 Laptop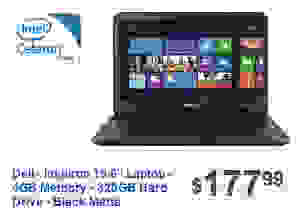 I already have a perfectly capable laptop, but seeing one advertised under $200 still has me reaching for my wallet. This 15.6-inch Dell Inspiron laptop—advertised at Best Buy for $177.99—is temptation personified. Wouldn't your kids be thrilled to get a brand new computer for the holidays?
You know who won't be thrilled? You. Whoever you gift with this technological blunder will be complaining to you in a few months about how slow it is. This laptop is equipped with a 1.6GHz Intel Celeron processor, a 320GB hard drive (clocked at a glacial 5400 RPM), and a 720p screen. In other words, you're getting:
A dreadfully underpowered processor
The slowest hard drive available
A screen that isn't full HD
If you can live with these shortcomings, more power to you. As snobby tech enthusiasts, though, specs like these just won't cut it with today's consumers.
The Portable DVD Player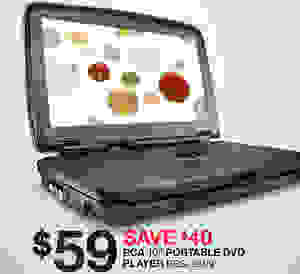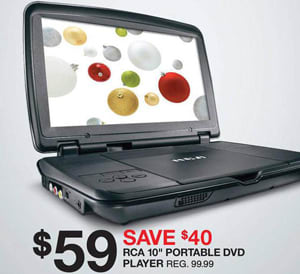 A portable DVD player makes as much sense these days as a portable CD player. Both are outdated technologies that are not improved by a portable form-factor. Seriously, you don't need one of these useless devices in your life, even if Target is selling them for as cheap as $59 on Black Friday.
If you own every season of Breaking Bad on DVD, well, shame on you. Don't you know physical media is dead? Instead of buying a portable DVD player, you can watch movies on:
A smartphone
A tablet
A laptop
Like cassettes and VHS, DVDs are quickly becoming extinct. Plenty of retailers are offering Black Friday deals on tablets—a much smarter investment to slake your endless thirst for media.
The Free Snow Globe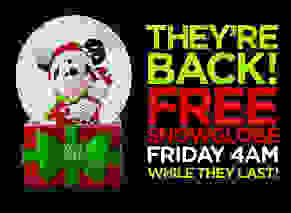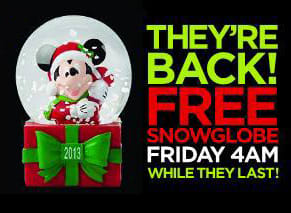 Kids these days want to be wowed. To impress the average 10-year-old, you need a Playstation 4, an Xbox One, or a jetpack with a built-in flamethrower.
I might be a 10-year-old, actually.
This year, JCPenney is advertising free snow globes to entice shoppers to stop on by. Snow globes. When I saw that, I did an actual double-take. They couldn't be serious, could they? But, yep: snow globes. Snow globes aren't fun for anybody.
Items that are more entertaining than a snow globe are, in no particular order:
The free toothbrush your dentist gives you
A power strip
Unflavored seltzer water
Ketchup packets
If you expect to snag a free snow globe and impress your nephew with it, you need a reality check.
Anything With a Mail-in Rebate
Whether you own a nice house in the 'burbs or you just moved into your first apartment, there are a few small appliances that everyone needs to own. They include:
Okay, maybe there aren't a lot of essential appliances. Regardless, JCPenney has you covered if you require a coffee maker, electric griddle, slow cooker, or waffle maker—they're all selling for $9.99 after a mail-in rebate.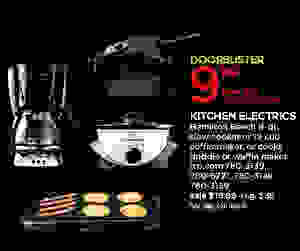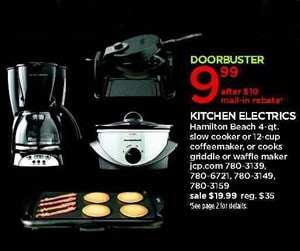 A mail-in rebate that you will never, ever mail.
This could be the biggest scam in all of retail: Pay full-price for an item, mail a proof of purchase and a rebate slip to the manufacturer, and wait months in the vain hope that you'll actually get your check. The savings are often so minuscule that the process of packing an envelope and walking to the mailbox isn't worth your time, and your chances of getting anything back are sketchy at best. And why are we forced to use snail mail in 2013?
If you see any stores offering mail-in rebates this Black Friday, run away.
---
[Hero image: Flickr user "James Cridland"]