Televisions
Samsung Announces OLED TVs
Hot on LG's heels, the South Korean giant just introduced its own curved OLEDs.
Credit:
New York City is colorless from rain this afternoon. Samsung's latest living-room beauty is anything but: The company just announced that its curved OLED TVs will be available tomorrow, August 14th—hot on the heels of LG's recent debut.
The 55-inch OLED from Samsung—the KN55SC9—sells for $8,999.99 ($6k less than LG's same-sized offering). Buyers can begin shopping as early as tomorrow on the company's own website—and soon in big box stores as well, like Best Buy's Magnolia Home Theater.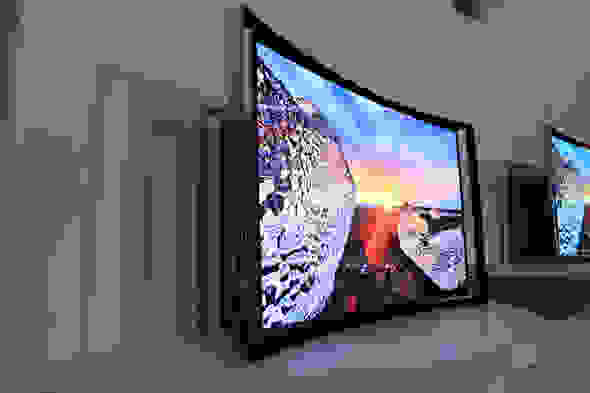 Outrageous prices aside, OLED technology is something to get excited about. Due to the light-generating nature of individual cells, these TVs capture the same searing brights, shadowy darks, and intense colors that the best LCD and plasma TVs on the market are known for—without using tons of power. In short, OLEDs offer all the advantages of current TV tech, and none of the disadvantages. Moreover, OLEDs offer monster viewing angles and extra-wide color gamuts, so even from extreme angles, these televisions look spectacular.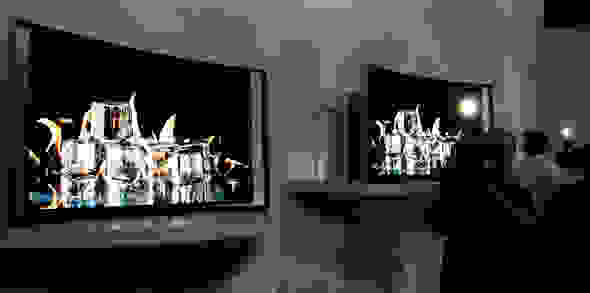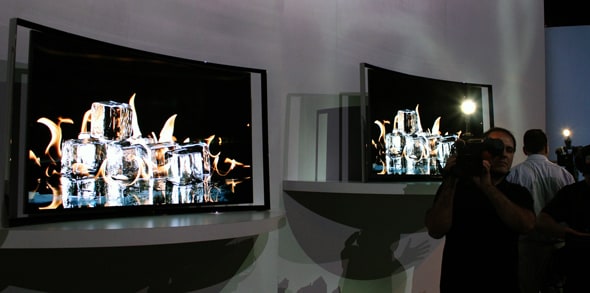 Along with Samsung's smart platform, the Smart Hub, the KN55SC9 offers a "marriage saver." Officially, this jocular term refers to a feature called MultiView that allows two users to watch two different programs on the same TV, all in full HD (and 3D, if you prefer). Each active pair of glasses emits private audio, essentially delivering a sort of two-in-one TV experience.
This coming Thursday, we'll be visiting Samsung's QA labs to personally test and calibrate one of these bedazzling displays. Stay tuned for the results.