Televisions
Samsung's 2013 Smart Platform: Explained
Samsung's Smart Hub is completely redesigned for 2013. It's also quite good.
Credit:
Overview
When you've played with as many smart televisions as we have, you start to wonder how these devices get away with the moniker "smart." We get it: They're connected to the internet, they have apps, and they allow us to stream video content. But where's the real intelligence? Where's the ability to think for us? When we watch TV, we want to relax, not solve a puzzle.
Thank goodness Samsung is tackling this problem head-on. Its smart platform—still called the Smart Hub—is completely redesigned for 2013. This retooling of our 2012 Smart Platform of the Year puts a greater focus on how you watch content. Gone is Samsung's focus on apps that the 2012 Smart Hub had. Connecting your smart TV with a cable box is vital to how the new Smart Hub functions.
Also vital (but not as vital): Samsung's redesigned Smart Touch Remote. This shiny new piece of hardware has an accurate touchpad and a microphone for voice commands. Spoiler alert: These commands actually work quite well. Unfortunately, only the high-end Samsung smart TVs come with this, but it can be purchased separately.
While we have our issues with Samsung's new platform, we can safely report that it is in fact smart after playing with it for a week.
How to Use It
Some setup required
Got your new Samsung smart TV fired up and ready to go—or perhaps a 2012 smart model with an Evolution Kit? Excellent. Navigating to the new Smart Hub is incredibly simple: Just find the colorful Smart Hub button on your remote. Simple, right? For the most part, it is, but there are a few steps to setting up the Smart Hub.
You need an HDMI cable and the included IR extender to set up the Smart Hub.
If you buy a 2013 Samsung smart TV, a guide will help you through setup when you first power on your new display. This "process" involves plugging an HDMI cable from your cable box to your TV (shocker). You will then be instructed to plug the included IR extender into the TV—this part is very important.
The IR extender is a little device—about the size of a piece of sushi—that lets the Smart Touch Remote communicate with your cable box. In other words, you will be able to turn the cable box on and change channels with the Smart Touch Remote—no need for that clunky cable remote. We do have one piece of advice: Keep the IR extender close to the cable box. If it's more than two feet away, the Smart Touch Remote will not be able to change channels.
Television, Movie, & Video Content
Content is king. Thankfully, Samsung realizes this.
There are five main screens that you will use in the Smart Hub: On TV, Movies & TV Shows, Photos, Videos & Music, Social, and Apps. After pressing that Smart Hub button, the On TV screen greets you. This "home page," if you will, is Samsung's base of operations.
The new interface is incredibly well-designed, especially compared to your cable box's TV guide.
The left-side of the screen shows what you are currently watching, while the right-side lists upcoming shows in a pleasant icon-style display; the bottom of the screen lists upcoming shows in the same icon-style. Selecting a show that is in progress will bring you to the channel. Clicking an upcoming show will bring you to a page with additional information about it, including the option to schedule a viewing when the show begins. The new interface is incredibly well-designed, especially compared to your cable box's TV guide.
The next screen on the Smart Hub is aptly titled Movies & TV Shows. It differs from the previous On TV screen because it shows content that is available to stream/purchase/buy. How does this work? Clicking on any of the titles displayed—these will change as the TV better recognizes your tastes—will bring up a screen with detailed information, including cast, Rotten Tomatoes rating, and related movies/shows. By clicking Watch Now, you can see where the movie is playing and how much it will cost to rent/purchase. Clicking on Rango, for example, shows us that we can purchase it for $17.99 on VUDU, or stream it on Netflix if we have a subscription. Useful!
Voice & Gesture Controls
Gesture controls feel like an afterthought this year, but that's OK—voice controls are that good.
Last year, we thought Samsung's voice commands were totally awesome. Saying something like, "Hi TV, power on" to turn the ES8000 blew our minds. In retrospect, it was gimmicky and didn't add much value to the product. Thankfully, Samsung vastly improved this feature—voice commands are actually useful this year.
How well does this feature work? Here's an example: You are alone on a Friday night and desperately want to watch a Ben Affleck movie—trust me, I've been in this situation plenty of times. By pressing the Voice button on the Smart Touch Remote and then saying "Ben Affleck movies," you will be greeted by a list of his most recent films at the bottom of the screen. The fourth movie listed is The Town, and you definitely want to watch it because you have a thing for Boston accents. You can either say "fourth," or just select it with your remote. Once selected, Smart Hub displays the cast, the Rotten Tomatoes rating, and where to view the movie.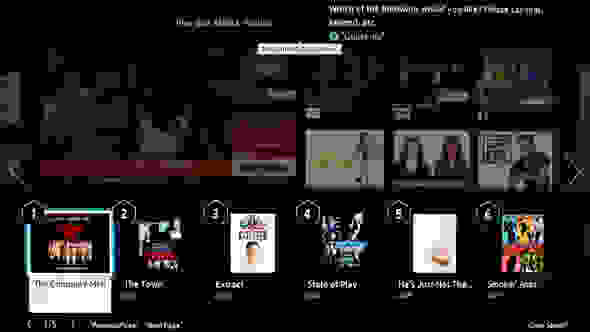 Gesture controls seem like a tacked-on gimmick.
Voice commands aren't just limited to finding movies with Boston actors, though. Once your TV is hooked up to a cable box, you can have it change the channel by saying, "Go to ESPN." Maybe you want to play your Xbox 360, which is hooked up to the second HDMI port. Just say, "Go to HDMI two" and the TV will actually do it. I wish Samsung would teach my cats to listen this well.
As much as we enjoyed the improved voice commands, gesture controls seem like a tacked-on gimmick. Don't get us wrong: They work, but voice commands coupled with the Smart Touch Remote work better. Users must stand from a particular distance to get this feature to work, and even when it does, the capabilities aren't mind-blowing. Yes, go ahead and make a fist to select another Ben Affleck movie—if you have the Smart Touch Remote, you can do this quicker with voice or touch controls.
External Media
Accessing media from a USB drive works flawlessly. Unfortunately, Dropbox doesn't.
In the days of yore, TVs would let you access photos and music—and videos if you were lucky—on a USB drive. Smart Hub expands on that idea: USB media is still a way to access your precious digital memories, but now you can connect to a computer or a cloud storage service like Dropbox to find files… in theory.
There are three cloud storage services that Samsung allows you to view media with: SugarSync, SkyDrive, and Dropbox. I've never heard of SugarSync and can't think of anyone who uses it. SkyDrive is Microsoft's cloud storage option, but again, I don't know of many people that use it. Dropbox is something we're all very familiar with, so I tried syncing my account to the Smart Hub. It didn't go well.
Clicking on the Dropbox option on the Photos, Videos, & Music screen makes you sign into your account via Samsung's web browser. Easy enough. Once you go back to the media screen and try to access your account, it says it isn't linked even though I just linked it. After restarting the TV, my Dropbox account finally synched, but refused to display any media. The Smart Hub said I had no pictures and no music on my account, but I know for a fact there are photos aplenty and quite a few Dr. Dre songs, too.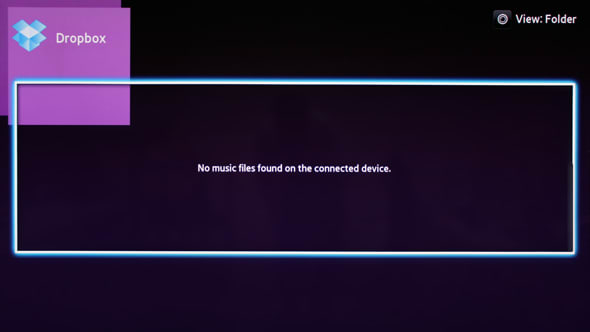 Fortunately, accessing files via USB works perfectly, but that's so last year.
Social Media
Sometimes it's more fun to be anti-social.
Samsung included a Social screen on the Smart Hub, so clearly social media plays a large role on this smart platform, right? Well, it wants to, but it's a wholly forgettable experience.
It doesn't appear that you can post status updates or tweet from your TV. Yes, this is a very good thing.
After logging into my Facebook and Twitter accounts, the Social screen updated to show the most recent Facebook status updates that link to YouTube videos. This is kind of a neat feature, especially since you can watch these videos on your large-screened smart TV.
The problem with these social media apps remains the same across all platforms. Checking a friend's timeline? Easier on your phone. Giving that girl you're crushing on a "like" on her latest cat photo? Easier on your phone. And Twitter? It clearly wasn't built with the Smart Touch Remote in mind—controls are listed at the bottom of the screen using buttons that only the "plain" Samsung remote has. Nothing on the Twitter app is easier to do on your TV. Stick to your smartphones, people.
We will end on a positive note: It doesn't appear that you can post status updates or tweet from your TV. Yes, this is a very good thing—no one wants to endure the frustration of typing anything longer than a password using the on-screen keyboard.
Apps
Aside from the content-streaming services, these apps are for suckers.
Did we seriously just leave the Apps section for last? Guilty as charged, but hear us out: If you learn anything from this guide, it should be that Samsung put the Smart Hub's focus on accessing content, not meaningless apps.
If you learn anything from this guide, it should be that Samsung put the Smart Hub's focus on accessing content, not meaningless apps.
Let's talk about apps, though, because there are plenty of them. Are they useful? The ones that stream video content are—remember, at the end of the day, this is still a TV. Netflix, Amazon Instant Video, Hulu Plus, and HBO Go are all here. Lesser known apps like Media Hub, Crackle, and Blockbuster (!) are here, too.
There are some other genuinely interesting apps, as well. The Spotify app lets you access all the musical goodness that the desktop version has, although it is only a 2-day free trial (if you subscribe, disregard that). The web browser is still a TV web browser—mostly useless compared to a computer, phone, or tablet browser—but it is quicker than previous versions. There is also a camera app, which makes use of the built-in camera that higher-end Samsung TVs have. The quality isn't that bad, but you can judge for yourself.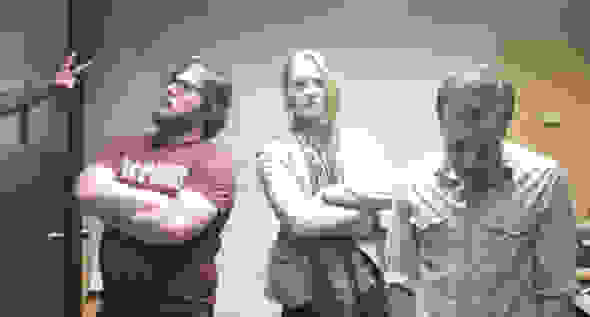 Last, and certainly least, are the games. If you have any interest in video games, you probably have an Xbox, a Playstation, or even a Wii. There is nothing that will interest you game-wise on Samsung's app store. You will only be disappointed—it's all garbage, unless you consider solitaire with a TV remote high culture.
Some Final Thoughts
The Smart Hub may have its share of problems, but we can't help feeling impressed.
What an adventure this has been. Samsung's revamped Smart Hub is deep—there are more features than any other platform currently on the market. The crazy part is that the best of these features—interfacing with your cable box, voice commands, finding movies and TV shows—actually work. Samsung made a giant leap forward in how we interact with our TVs. You will never want to look at a cable box again after using this platform to find content.
This is a bold new direction for how we interface with our TVs.
The Smart Hub isn't perfect, though. Social features feel underdeveloped and just plain useless. If you're addicted to Facebook and Twitter, you probably have your phone on you at all times to check these services. Media connectivity with Dropbox was also a major letdown, seeing as it didn't work at all. And then there are the apps: Aside from content streaming apps, everything else is useless, especially the games.
It may sound like we have a lot of gripes, but the positives definitely outweigh the negatives. The new Smart Hub's ability to simplify cable content and help you find something—anything—to watch are what set this platform apart from the competition. This is a bold new direction for how we interface with our TVs and we're genuinely excited to see what Samsung comes up with next.