Televisions
GE's Smart LEDs: Bright, Cheap, and Super Long-Lived
This really is a bright idea.

Credit:
In its brief year of existence, the partnership between GE and crowd-sourced invention site Quirky has already yielded some exciting products: a smart air conditioner that learns your habits, "everything" sensors, egg freshness trackers, and more.
Next on the docket? Smart LED light bulbs that can be controlled from your smart phone.
The Link series is composed of three different LED bulbs designed to work with Quirky's multipurpose Wink app. You can turn lights on and off remotely, adjust brightness levels, or program them to dim gradually while you're getting ready to go to sleep.
Other examples provided in a GE press release include checking to see if your kids left the lights on when they went to school, and turning lights on and off when you're away on vacation to deter burglars. (Beyond those relatively mundane activities, we're willing to bet Rock Hudson could have come up with some interesting uses for wireless lighting that might not have made GE's radar.)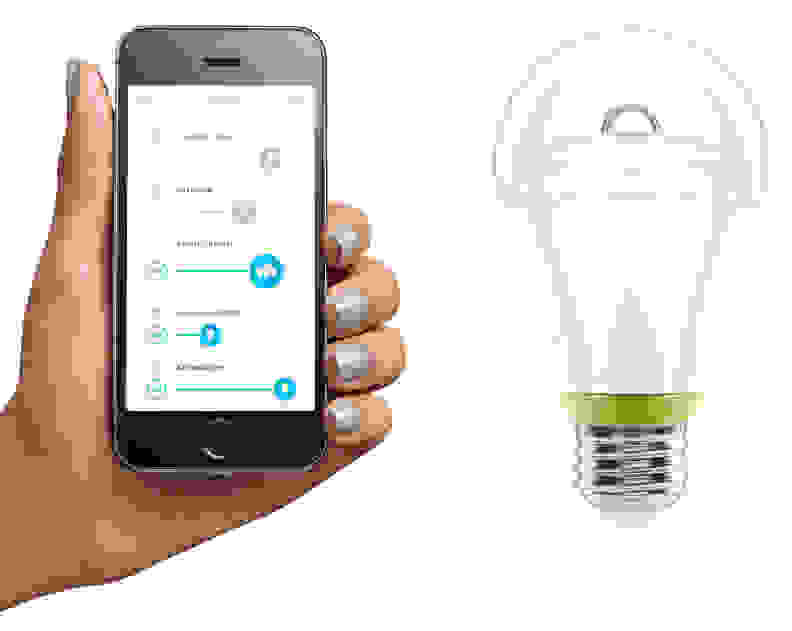 The lighting options are surprisingly varied. Consumers can choose to mix and match with a 60-watt equivalent LED for table and floor lamps, a 65-watt equivalent floodlight (the kind you'd see in a recessed fixture above a dining room table), and a 90-watt equivalent indoor/outdoor LED that's perfect for security spotlights. Every bulb is dimmable, which means specialty three-setting bulbs may no longer be necessary.
According to product descriptions on Home Depot's website, you'll need to purchase a Zigbee-compatible Link hub that plugs into a single outlet in order to control the bulbs from your phone. Even so, the entire system is surprisingly affordable.
The starter kit, which includes two 60-watt bulbs and the hub, can be preordered for under $50. In order of increasing brightness level, the bulbs are $15, $20, and $25 each. Sure, there are some cheaper LEDs that cost less, but many "dumb" bulbs cost more than twice as much. And these—if the specs are to be believed—will last an estimated 22-plus years.
Everything is available for preorder through Home Depot now, with expected delivery dates as early as this holiday weekend.
Imagine: A world without ugly brightness sliders on the wall, and one where you don't have to fumble for a switch halfway down a power cord. GE and Quirky are definitely on to something with their innovative gadgets. We're betting the Link bulb series is going to be another feather in their crowd-sourced caps.