Televisions
'HBO Now' Arrives on Amazon Fire TV and Fire TV Stick
Your move, Roku.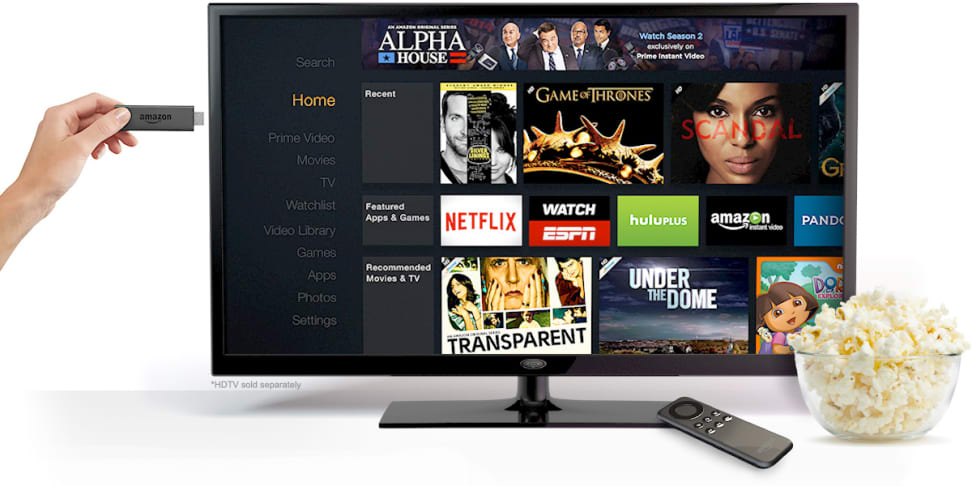 Credit: Amazon
HBO is continuing the slow rollout of its standalone subscription service, HBO Now. This week, the network announced the arrival of HBO Now on Amazon's two streaming devices: the Fire TV and the Fire TV Stick.
Amazon joins the ranks of Apple, Google, and Dish Network, whose media streaming platforms—Apple TV, Chromecast, and Sling TV, respectively—already support HBO Now. That leaves Roku as the only major streaming media dongle or set-top box that doesn't offer access.
Roku is now the only major streaming device that doesn't offer HBO Now.
Of course, if you already have an HBO cable subscription, you can access HBO GO on any of the above services.
The news is sure to please fans of shows like Game of Thrones, True Detective, and The Wire, most of whom have been begging HBO to launch a standalone streaming network for years. The launch of HBO Now for Apple TV last April marked the end of that era.
The service provides on-demand streaming access to all HBO content, including all its shows, documentaries, and sports programs, as well as a host of movies and (pretty soon) Sesame Street.
HBO did not announce a date for the launch of its streaming service on Roku devices, although the company has previously stated that it intends to roll out Now on as many different platforms as possible.
Related Video