Televisions
LG: Staying Ahead Of The Curve
LG announces new 55-inch curved OLED TV available next month in South Korea.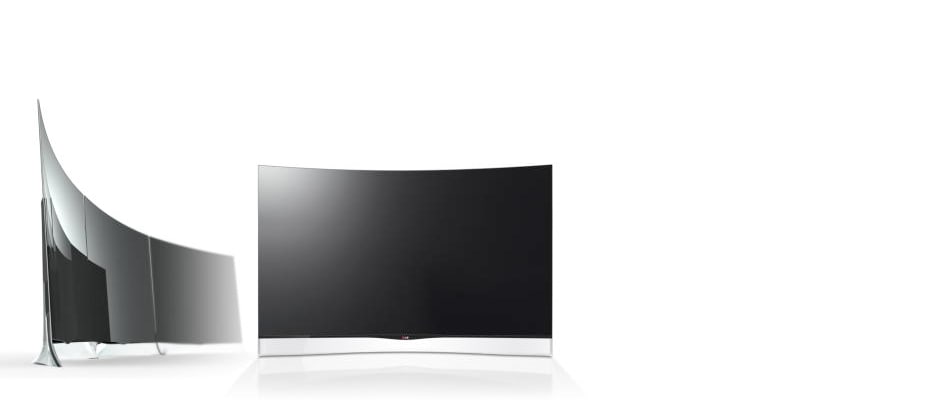 Credit:
Earlier today, LG Electronics announced in a press release that its curved OLED TV—the EA9800 series— would soon be available for pre-order in South Korea. The 55-inch TV will be priced a little under $14,000, so it's definitely an early-adopter item—the first of its kind available in the world. The allure here lies in the way that OLED pixel technology differentiates from liquid crystal and plasma panel technology, as well as the advantages inherent in a curved versus a flat screen.
"The 55-inch TV will be priced a little under $14,000."
OLED technology was one of the most visually exciting things on display during CES 2013. OLEDs, or Organic Light Emitting Diodes, use a new light-source technology that combine elements of carbon and hydrogen to create light and colors. Commonplace LCD televisions require lightbulbs, which cast light through red, green, and blue sub-pixels to create an on-screen display. OLEDs differ from this formula in that individual OLED pixels can create red, green, or blue light naturally—without the use of sub-pixels—to create an on-screen display. The result is a brighter overall luminance, plasma-like black levels, and a richer color saturation. OLED TVs can also reverse the traditional formula, using a white sub-pixel to regulate the brightness and saturation of individual pixels on-screen.
Because of the nature of the elements used in organic LED displays, it's possible to manufacture them in ways previously impossible to the displays industry—transparent screens, curved, and rollable OLED screens are all possible, if a bit expensive to pursue at this point in time. LG's 55-inch display makes use of the curving ability of OLED tech to create a curved screen that will, according to Havis Kwon, President and CEO of LG's Home Entertainment Company, provide an "IMAX-like" experience in the home for consumers. The curved screen imitates the curvature found in a cinema scenario, which matches the curvature of the human eye more succinctly than traditional flat screens, adding a three-dimensional effect to viewing that is more natural and realistic than current 3D brain trickery.
Official pricing and availability of the LG 55PA9800 will be announced in the next month. As always, stateside timing will depend upon initial commercial success.