Televisions
Massive 4K TV for the Prosperous Doodler
Here's lookin' at you, doodler.

Credit:
The Write TV for Businesses?
The name Westinghouse dates back to George Westinghouse, famous for his 20th-century squabble with Thomas Edison over DC vs. AC electricity. Westinghouse won. Whether the company can win over buyers with giant 4K whiteboard TVs is another matter.
I spotted the Westinghouse booth at CE Week today, alive with journalists, buyers, and reps, all doodling away on a massive 84-inch panel. The company simply calls it the LED 4K Interactive White Board. It hit the market last week, but I think its price tag makes a bigger splash than the TV itself—$16,000.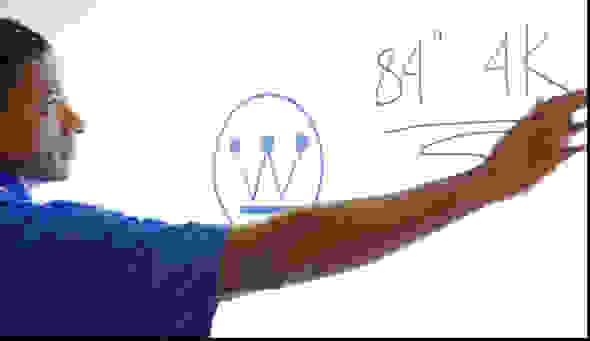 This massive panel with built-in PC could serve as a real boon to ritzy corporate offices; a six-point infrared system proved quite accurate and sensitive to touch, allowing more than one user to scribble simultaneously. Moreover, the Intel i5-powered display runs Windows 8—and it looks impressive in super-sized form. In addition to built-in WiFi, users will find a LAN port, 6 USB connections, VGA, mic in, and audio out on the back of the massive panel.
Along with competitors, this display offers upscaling capability, which is designed to improve a parent HD signal to suit a UHD display, but with the built-in PC, users can enjoy native 4K content from the web.
The LED 4K Interactive White Board TVs are available with and without the built-in PC. Without, the display is available in 84-, 70-, 65-, and 55-inch sizes for $16K, $8K, $7K, and $5K, respectively. If you want the PC built in, it will add $1000 to your price tag.