Televisions
Nintendo's Wii U to Feature "TVii" Content App
i.TV & Nintendo team up to bring cable, streaming, and DVR into one application.

Credit:
Nintendo's 90 million-selling video game console, the Wii, is about to get an upgrade. The "Wii U" (essentially the Wii 2) will be coming out just in time for Black Friday. Nintendo is finally ready to take advantage of today's current technology, showing off impressive 1080p graphics, HDMI-capability, and the included "Wii U GamePad," which is a combination of a game controller and tablet computer.
What may be most intriguing about the Wii U is its new television service, dubbed "TVii" (pronounced tee-vee? ...tee-vee-ee?). Nintendo has decided to partner with i.TV, "the #1 TV guide in the [iTunes] App Store," to bring social media and television together.
The standalone i.TV application is already available on Android, iPhone, iPad, functioning as a digital TV guide. Users can check out local TV listings, set alerts, bookmark shows, get up-to-date entertainment news, as well as search for shows on iTunes, Hulu Plus, and Netflix. The only thing missing from the app is, well, the actual television.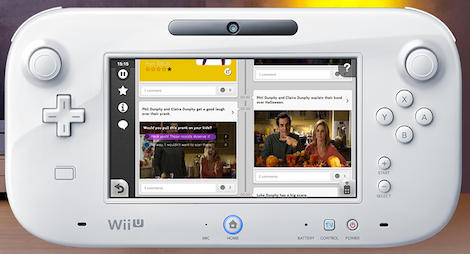 This is where Nintendo comes in. The selling point of TVii (and the Wii U itself) is the GamePad: a second screen that works in tandem with the Wii U and your television. Using the touchscreen, families can select any number of shows based on their own preferences and have them display on the big screen.
TVii will work with Netflix, Hulu Plus, Amazon Video, TiVo, and your existing cable network (somehow). You'll be able to view sports statistics, read tweets about this week's episode of Breaking Bad, and check out other relevant information about whatever show you're viewing. All this is done through the Wii U's GamePad, allowing for uninterrupted television viewing. Check out i.TV's press release here.
Have Nintendo and i.TV finally come up with a way to combine social media and television? More importantly, will it be as functional and simple as they make it out to be? Microsoft's Xbox 360 already hosts a number of apps on their Xbox Live service (which is subscription-based), including ESPN, HBO Go, Verizon FiOS, Xfinity. But what could set Nintendo apart from Microsoft is the promised simplicity of the Wii U GamePad. Microsoft is also preparing SmartGlass, their own smartphone-compatible service for Xbox, coming this holiday season. We'll just have to wait and see how things pan out.
TVii will come free with every Wii U when it launches on November 18. Nintendo is all about the kids, so we hope that even a child will be able to figure out this new technology.