Televisions
Samsung's TV Business Is Dominant, but Not Standing Still
The brand's global head of TV talks OLED and the year ahead.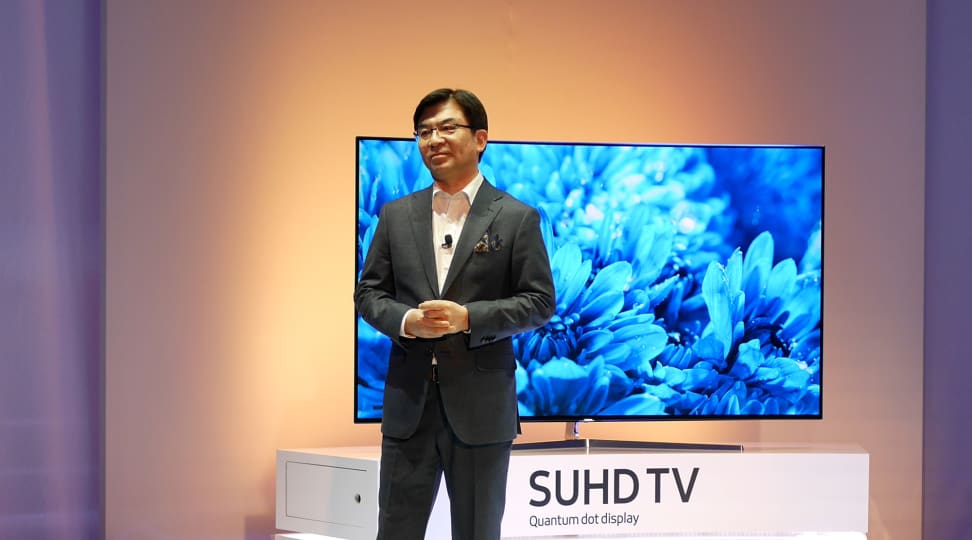 Credit: Reviewed.com / David Kender
In a world of fast-changing technology and fickle consumers, Samsung has not only managed to keep pace with the TV industry, it's completely dominant.
The Korean manufacturer currently holds a near 37% revenue share for North American TV sales, according to NPD Data. That's more than twice as much as second-place Vizio.
The only way for the company to remain on top, says Hyun Suk Kim, president of visual display business at Samsung Electronics, is to better understand its customers. We sat down with him for a wide-ranging interview that touched on everything from display tech to the U.S. Federal interest rate.
"We have manufactured TVs and devices for a long time," said Kim through an interpreter, "but we still cannot say we understand customers one hundred percent." So his research continues.
In the burgeoning 4K TV market, Samsung holds an incredible 53% revenue share in North America. There's little doubt that 4K will continue to grow, but increased competition has started to eat away at the segment's profitability.
Kim seems resigned to the fact that 4K is no longer a premium feature that can demand a sky-high price tag. "I think it's just a normal trend. If you look at the history of the flat-panel TV, the price came down very quickly."
The company's 2016 TV lineup includes a broad variety of price points and feature sets. There are plenty of entry-level and midrange options, but it wouldn't be CES if Samsung didn't bring out a crazy, expensive, jaw-dropping set, too.
This year's flagship is the KS9500, which packs a veritable alphabet soup of features. It's a 4K, high dynamic range (HDR) model that also features quantum dot color enhancement. There's also a "360-degree" design that virtually eliminates the bezel surrounding the screen. It's quite striking in person, but don't expect it to be wallet-friendly.
Despite Samsung's command of the market, homegrown rival LG has frequently earned the highest praise from reviewers. LG's OLED TVs are widely regarded as the best displays available, though eye-popping prices have kept sales figures low.
Only a few short years ago, Samsung and LG went head-to-head with competing OLED TVs. At Reviewed.com, our lab results showed Samsung's take to be the better product. But Samsung put OLED aside soon after, amid rumors that the fabrication process for large OLED panels was simply too expensive. (The company continues to make millions of small OLED displays for mobile devices, which do not present the same manufacturing challenges.)
"We have never given up on OLED."
Since then Samsung has all but waged war on LG and its OLED televisions. That's why it was a revelation to hear that the company is still exploring OLED's TV potential.
"We have never given up on OLED," said Kim. "In fact, we have continued the R&D investment in OLED."
Before Samsung commits, however, Kim said that OLED would have to satisfy two masters: consumers and the bottom line. "It should be able to create a sufficient profit," he stated. "In that respect we are not satisfied yet."
Related Video