Televisions
Sharp Enters 2013: Huge TV, Little Semi-Conductor
Sharp is on the bigger-is-better, 4K-or-bust bandwagon.

Credit:
In its 2013 press conference, Sharp purported an amalgamation of improvements to its 2013 HDTV line-up, focusing primarily on ever-larger screen sizes, Ultra High Definition resolution, and a new 4K-related technology: a compound semi-conductor called IGZO. IGZO (Indium Gallium Zinc Oxide) is probably the only really exciting announcement from Sharp's press conference this year, and it's really no surprise to see the company hopping onto the bigger-is-better, 4K-or-bust bandwagon.
2012 saw Sharp focusing heavily on manufacturing larger-than-average screen sizes, promoting the questionable Quattron four-pixel LCD technology, and attempting one-percenter appeal with the "Elite" sub-series of televisions. Frankly, 2013 already seems more promising, especially if you like really, really big screens.
Sharp corners the large-panel market
Of course, Sharp has been aiming at big screens since 2010, and that trend continued through 2011 and 2012, growing each year from mass-produced 60, 70, and 80-inch TVs, and culminating with a 90-inch Sharp AQUOS TV last year. We're just speculating at this point, but we wouldn't be surprised if consumers were hard-pressed to find smaller sized 1080p HDTVs from Sharp this year: it's allegedly producing no less than 21 different TV models, 60 inches or larger.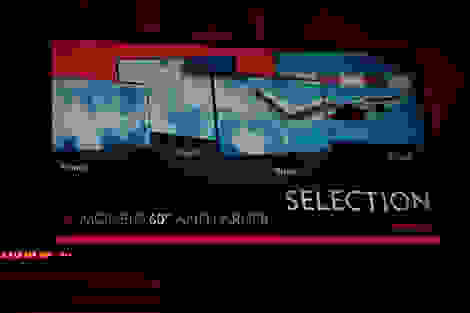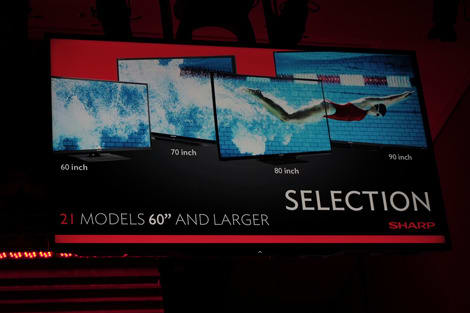 The descriptor tagline that Sharp's employing for its 2013 line-up is something like, "all smart, all 3D, 60 to 90-inch Quattron-equipped 1080p HDTVs," the lot of which will be available soon, in March. This focus on gratuitously large-screened LED LCD TVs may have a large portion of consumers—you know, that rare breed that lives in apartments—scratching their heads. Maybe Sharp will offer to knock out one of your walls with the purchase of a 90-inch TV; otherwise, many of these massive sizes are simply impractical, titillating as they might be on paper.
Sharp's 4K displays utilize IGZO, a new LCD transistor component
While many other companies (Toshiba comes to mind) are working to crank out larger and more impressive 4K HDTVs, flirting with 80 and 90-inch models, Sharp has gone in the opposite direction by introducing their smaller-size option (32 inches!) "ICC Purios" and "Aquos Ultra HD" line of 4K Ultra HD TVs. This series is, of course, also available in a 60-inch size. Aquos Ultra HD is the other 4K series—and both are, surprisingly, available in smaller screen sizes than we've seen for 4K so far. This may, to the delight of many, be an attempt by Sharp to create a more consumer-friendly 4K price point.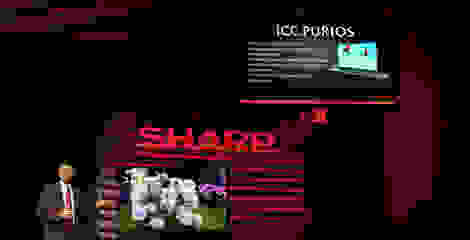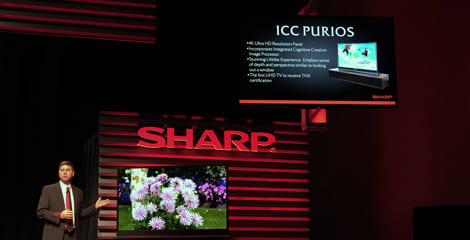 But what's really got us interested is IGZO, the compound semi-conductor that will translate Sharp's LEDs from the back panel to the screen. IGZO is the result of Sharp's partnership with Corning, whose "Lotus Glass" will make for hyper-responsive touch screens in tablets, phones, and—eventually—Sharp televisions. IGZO is apparently capable of super high resolution and clarity due to harboring much smaller transistors than traditional LCD silicon-based TFT transistors; this also results in a much lower power consumption, meaning those huge TVs will be easier to run—and your Sharp smart phone will hold a charge for days. The IGZO transistors also provide much higher touch-screen response, which will be utilized by Sharp's 4K "ICC Purios" TVs. 4K with a touchscreen? Sounds pretty cool, assuming it works.
Sharp's 4K displays ought to be on the market by early summer.
Sharp hints at new tech for 2014
Finally, Sharp deigned to announce two new technologies for 2014: a "Moth-eye" nanoweb panel and a much-needed update to the Quattron (four pixel) tech. The Quattron update doesn't sound too exhilarating; while Sharp's people insinuated that they had found a way to compress their four-color (red, green, blue, and yellow) pixel tech into a single pixel, they didn't have any examples of how this would really improve the picture quality—and we already have our qualms about the usefulness of a yellow pixel, as is.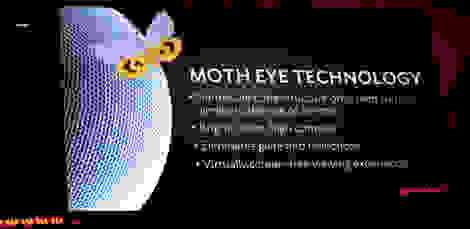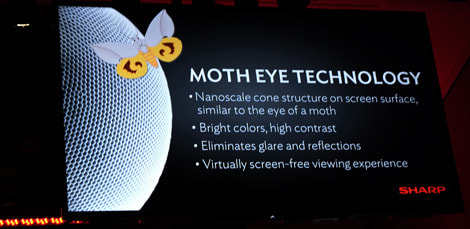 However, "Moth-eye" sounds intriguing. Sharp implied that it would drastically reduce screen reflectivity while boosting viewing angle to plasma-like proportions. These new advances are all well and good, but Sharp's 2013 mainstay looks to be yet another foray on the jumbo-screen path, staking its claim in the ever-growing 4K consumer market, and pushing the new IGZO technology to multi-device functionality.
Additional Information

8-Series
60 inch class - LC-60LE857 (March) MSRP: $2999.99
70 inch class - LC-70LE857 (April) MSRP: $3999.99
80 inch class - LC-80LE857 (April) MSRP: $6499.99
7-Series
60 inch class – LC-60LE757 (April) MSRP: $2299.99
70 inch class – LC-70LE757 (April) MSRP: $3499.99
80 inch class – LC-80LE757 (May) MSRP: $5999.99
60 inch class – LC-60LE755 (February) MSRP: $2199.99
70 inch class – LC-70LE755 (March) MSRP: $3399.99
60 inch class – LC60C7500 (March) MSRP: $2099.99
70 inch class – LC70C7500 (March) MSRP: $3299.99
6-Series
60 inch class – LC-60LE657 (March) MSRP: $1799.99
70 inch class – LC-70LE657 (March) MSRP: $2799.99
60 inch class – LC-60LE650 (February) MSRP: $1499.99
70 inch class – LC-70LE650 (February) MSRP: $2499.99
80 inch class – LC-80LE650 (May) MSRP: $4999.99
60 inch class – LC-60C6500 (Q1) MSRP: $1499.99
70 inch class – LC-70C6500 (Q1) MSRP: $2499.99
80 inch class – LC-80C6500 (Q1) MSRP: $4999.99