Televisions
Sharp's Premium 2015 4K TVs Are Now Available in the US
New Android-equipped 4K TVs color Sharp's lineup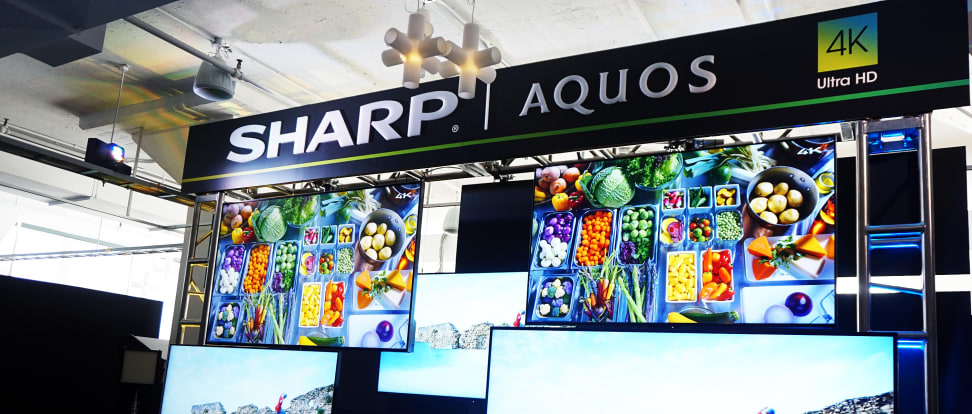 Credit:
This morning Sharp announced the US availability of its UH- and UE-series 4K TVs. The entry-level UB-series hit retailers (and Amazon) in April, and now the pricier, premium models are joining them.
President Jim Sandusky took the spotlight before a literal wall of bright, colorful 4K televisions at a press event this morning. "To say that 4K has arrived would be an understatement," he began, and assured investors that Sharp "[doesn't] plan to exit the US market."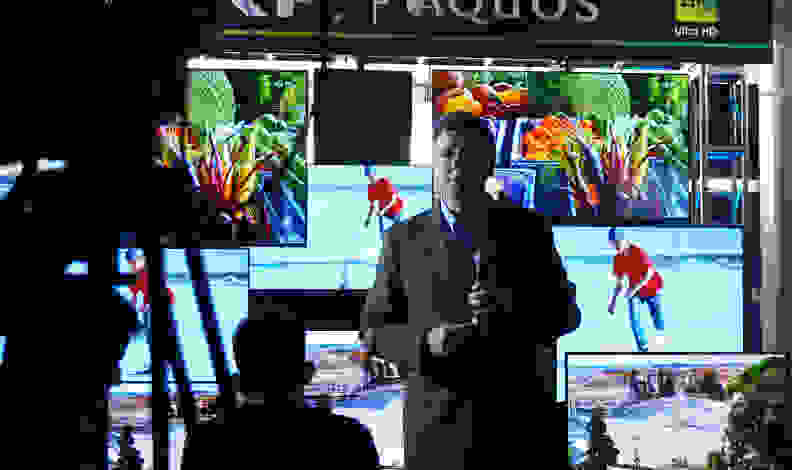 Sandusky touted the affordability of Sharp's 2015 4K lineup, which starts at $599 for the 43-inch UB30 and tops out with the flagship 80-inch UH30, available for a whopping (but relatively affordable) $6,299.
While the UB30 series has been available for a couple of months, it's technologically wan compared to its larger, pricier kin, both of which aim to compete with the best 4K TVs available this year.
Sadly, there was no news on the availability of the company's "Beyond 4K" Quattron option, which impressed us during CES earlier this year.
UE30 Series
Each of the UE30 televisions (available in large 60-, 70-, and 80-inch sizes) is equipped with Sharp's AquoDimming technology, a software-based local dimming function, as well as the usual cavalcade of 4K goodies: a dedicated upscaler; a quad-core processor; HDMI 2.0-compatible inputs; and HEVC/h.265/VP9/HDCP 2.2 codec and compression functionality.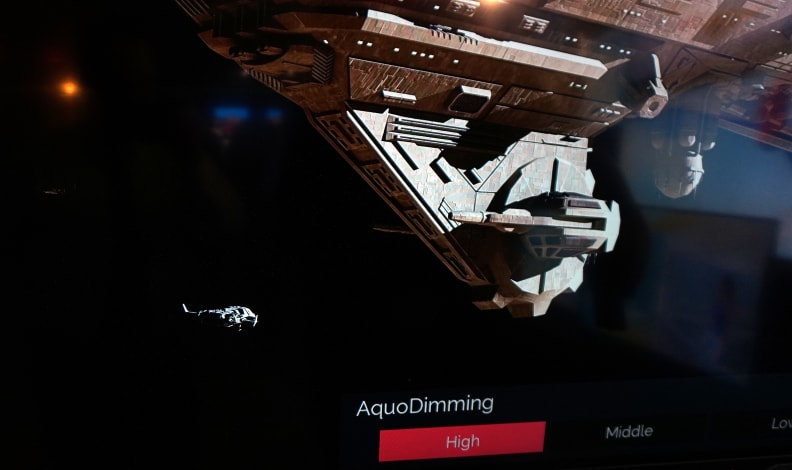 I saw AquoDimming in action on the 70-inch UE30. While it was difficult to tell how much (if any) the TV's black level was improved by the function, it definitely helped highlights (like starlight on the edges of a spaceship) stand out brightly against the black backdrop.
The UE30 televisions are available for $2,099 (60-inch), $2,899 (70-inch), and $5,599 (80-inch).
UH30 Series
The UH Series (available in 70- and 80-inch sizes) also includes Sharp's AquoDimming and the latest 4K accoutrement, but ups the ante a bit via organic phosphor-based color enhancement—an erstwhile competitor to quantum dot–that Sharp calls "Spectros."
According to the press release, the Spectros color enhancement process creates a 21% increase in color fidelity. We had the chance to see a 70-inch UH30 (with Spectros) side-by-side with a 70-inch UE30 (without), and there was a marked difference between the colors on both TVs.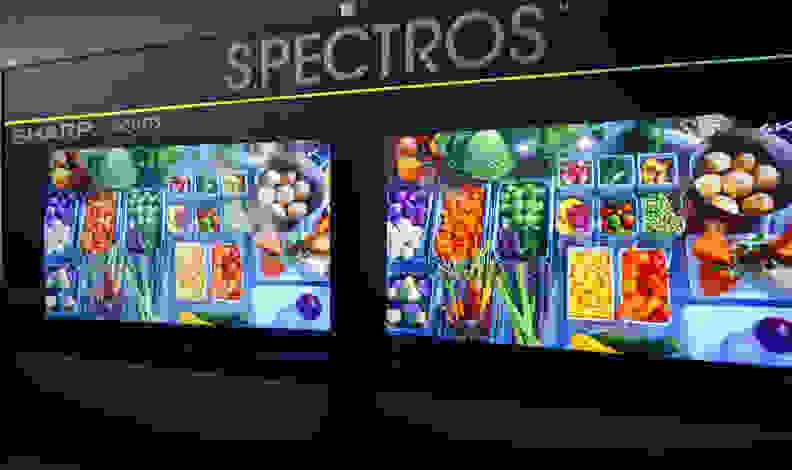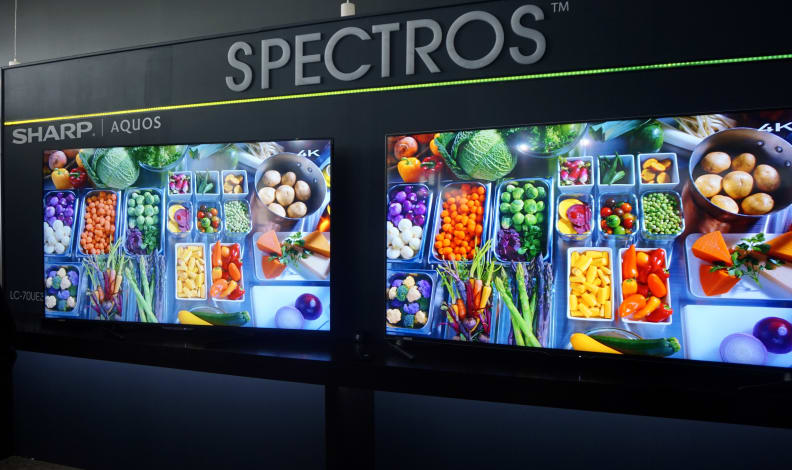 The 70-inch UH30 is also one of the first THX-certified 4K televisions available, having allegedly passed over 400 quality checks and tests on its way to market. The 70-inch UH30 is available for $3,299, with the 80-inch topping out Sharp's price bracket at $6,299.
Android TV
LG has webOS 2.0, Samsung has Tizen, but Sharp has opted for a very consumer-friendly approach to smart TV this year via an Android TV smart platform, available on both the UE30- and UH30-series 4K TVs (the UB30 uses the SmartCentral platform).
One of the biggest highlights of Android TV is the inclusion of the Google Play store, and Sharp claims over 600 apps will be available. The company went on to confirm "console-like" gaming made possibly by 16GB of internal memory for game and app downloads.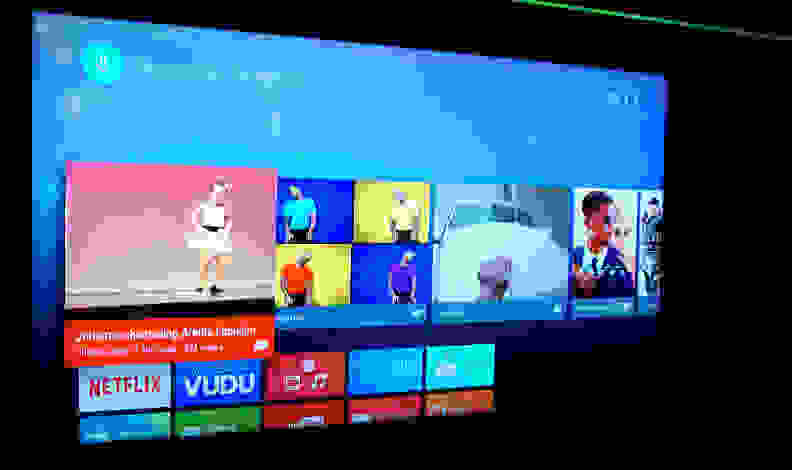 Android TV will include apps like Netflix, Hulu Plus, YouTube, and of course Google video services.
Perhaps the coolest feature, however, is Google Cast. This function (not unique to Sharp, but included here) allows users with Android mobile devices to mirror their devices onto the TV's screen.
All in all, Android TV looks promising: A hands-on demo revealed a high degree of fluidity and quick boot times, though I wasn't able to personally scour the Google Play store for certain apps.
Finally, Sharp's new remote also includes a microphone for voice search (not included with the UB30). I watched a few successful voice searches, though again, wasn't able to try out anything terribly eclectic.
Look for the Android-friendly UE30 and UH30 4K TVs at local retailers, including Best Buy, Amazon, and HH Gregg. And as always, stay tuned to Reviewed.com for our upcoming reviews of the UB30, UE30, and UH30 4K TV series.
Related Video