Televisions
The 5 Goofiest Remote Controls
All kinds of remotes keep our entertainment systems in order, but we hope it won't be one of these five convoluted clickers.
Maybe you can finally teach Grandma how to program the first four seasons of "Are You Being Served?". Available from $18 in regular, glow-in-the-dark, and Tron editions.
TV Remote Cube with Speaker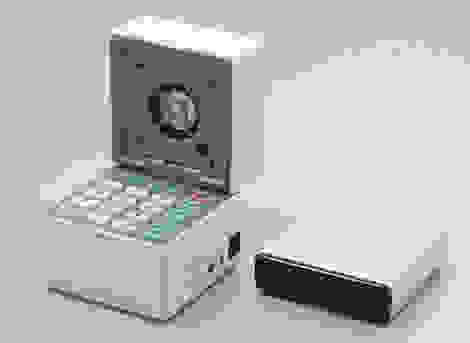 Released in Japan, this little remote will be the piece de resistance for your cubist living room. "Say, is that a LEGO in your pocket?" "It's actually a television remote! With a built-in speaker!"
Buyers beware: You may have to buy two of them if you want full stereo sound, or integrate it into your surround sound system, finally fleshing out the "gunshot I heard over by the table that COULD have been real" sound that your movies have been missing. That speaker could also be useful if your grandma needs help hearing all those episodes of "Are You Being Served?" It'll run you about 4,000 yen, or about 50 bucks.
Pultius TV Remote

Take that, On Demand. The Pultius remote has no need for "MENU", "BACK", or even "INPUT". A Wii Remote through the TV is definitely dangerous, but this weapon can do double the damage from triple the distance.
If your grandmother was too put off by the previous two remotes, she could get a real nostalgic kick from this strip of candy buttons. It's also suitable for imitating your favorite sword fights! This remote might also make a great gift for your grandfather if he can't pull the jumbo remote away from your grandmother. The Pultius is really an art project designed by some Russian outfit, and doesn't even seem to be available on their web store. Keep dreaming!
It's hard to imagine using this thing as anything other than a party trick, but we're willing to pull it out every time we watch The Witches, Lord of the Rings, or...the Wizard of Oz? Might be great for kids, until they accidentally start ordering Sabrina the Teenage Witch on Netflix. No need to shout incantations, thankfully.
Television Remote Control Wrist Watch
If you've ever wanted to impersonate James Bond, this is not the way to do it. Having removed the laser rope-cutter from the original design, The Television Remote Control Wrist Watch can be used to awkwardly fumble through the 800s. Who would have guessed that a Tachymetre can be used to measure your channel-flipping speeds?
The picture makes this watch look innocent enough, but we wouldn't advise wearing it to the airport or even a crowded baseball game. Tampering with electronic devices outside of your home is just an excuse to get your TV privileges taken away for good. It looks like Hammacher stopped carrying this gem, but we found it on eBay for as low as $16.99.