Televisions
Toshiba's 2013 TV Line-up: Cloudy with a chance of 4K
CES 2013 gave us a glimpse into Toshiba's entire line-up of 2013 HDTVs.

Credit:
It's CES time again, and for us, that means getting a peek at the slew of new HDTVs slated to hit the market during 2013. One of our first stops along the way was Toshiba's pre-CES cocktail mixer at Mandalay Bay, where there was much more on display than assorted charcuterie—we got a hands-on look at three of its new HDTV series for the coming year. It's clear right off the bat that Toshiba has decided to slim-down rather than to bulk-up, and after the dizzying panoply of decked-out models in Samsung's 2012 line-up, a more minimalist approach is really rather refreshing. In attempt to please a wider and more diverse audience, Toshiba's launching just six new series for 2013, covering a wider array of screen sizes and feature sets than last year. That's got to be a positive thing, right?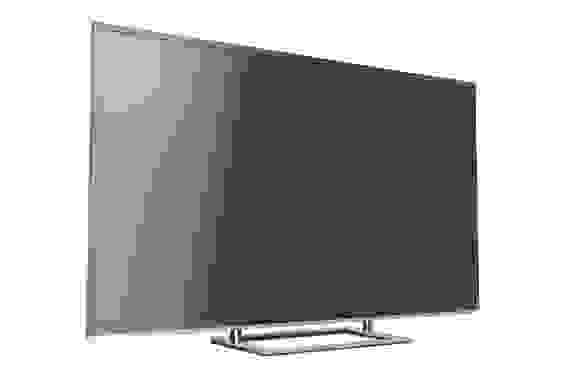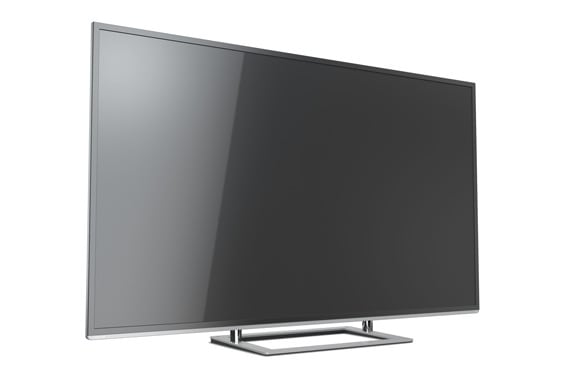 The breakdown is simple. The L1350 series consists of the lowest of the low-end; this line comes in glossy black, and it excludes both 3D capability and compatibility with Toshiba's new smart platform (more on that below) as well. What's most interesting about the L1350 is that, despite being a "bare bones" model, it comes in a 50-inch screen size (as well as 39, 32, 29, and 23). Those of you in-the-know might be thinking, "Those are some odd screen sizes." You're right! And it's clearly an attempt to satisfy a niche market's desire to fit a screen to an "exact" space. Furthermore, the 39 and 50-inch L1350s are full 1080p HD, another oddity for a low-end series.
Next up is the L2300 series. If you're more fashion prone, this line's gunmetal, deco design might catch your eye, but it only comes in three screen sizes: 32, 39, and 50 inches.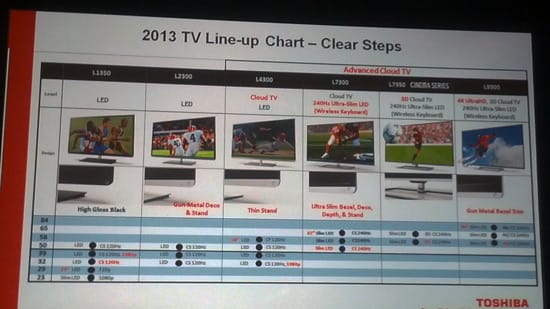 Things don't really get "interesting" until the next four series: L4300, L7300, L7350, and Toshiba's Ultra High-Definition L9300 flagship. Each of these new lines features Toshiba's new CloudTV smart platform, which (though still called ePortal) is purportedly a large improvement over last year's iteration. We can't say for sure just how new and improved the platform really is, but Toshiba certainly seemed excited about it. I spoke with Robert Ozamkan, who explained that Toshiba's new platform would take advantage of many Samsung-esque abilities (not his words). Reportedly, the platform will be able to stream triple-A games, for example. It will also offer a built-in calendar, a photo album, a message board, and a number of other features that always leave us wondering, "Does anyone really use this stuff?" Admittedly, though—the wireless, trackpad-enabled keyboard that accompanies the L7300 series sounds alluring.
Perhaps the most interesting news of all involves the use of the Wi-Fi Alliance's Miracast standard, a peer-to-peer wireless program that allows for multi-device content sharing—and this is merely a ripple in a giant wave of smart-TV trends hitting the 2013 market. 3D, on the other hand, seems like less of a priority. Only the L7350 and the L9300 will be 3D-ready this year, and that's probably a smart move: 3D on smaller screen sizes is hardly viable, and the smaller of those two series is a whopping 58 inches.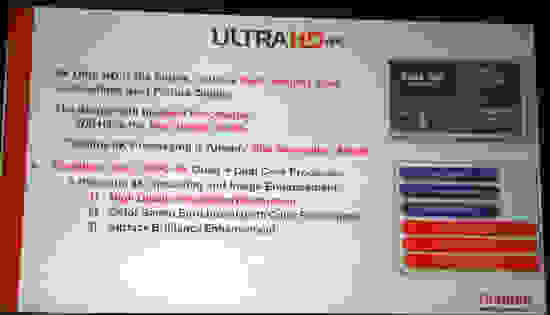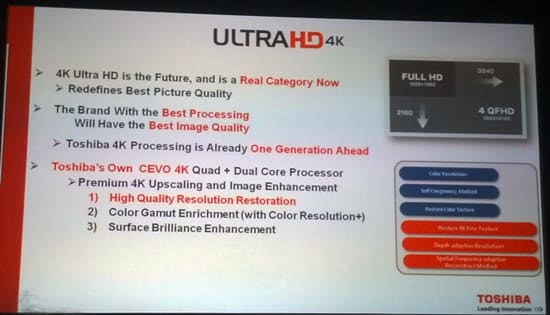 The most exciting (and least consumer-friendly) series is, of course, the 4K L9300, Toshiba's answer to the UHD showings from Sony, LG, and Samsung. Toshiba admitted readily that its 4K L9300 was meant for "early adopters." The 84-inch monster we saw first-hand was impressive—the size alone is staggering—but Toshiba's most interesting promise is that this 4K model can "upscale" regular old 1080p content to "appear 4K." I don't know about y'all, but that sounds a little suspicious to me. Expanded color gamuts are an iffy prospect (how vivid is too vivid?). Sure, it looked appropriate on the 64th floor of a Vegas hotel, but whether that will translate elsewhere (say, your living room) is yet to be determined.
Nevertheless, with the new CloudTV platform and a confident entry into the consumer 4K race, Toshiba may be hot on the heels of mass-volume maestros Samsung and LG. The 2013 models should be out by this summer, and we'll be ready to separate the wheat from the chaff to find out how Toshiba's new lineup will weigh-in against the competition.